Bali's beautiful white and shimmering black sand beaches fringe the entire island. But if your dream is to enjoy the ocean away from the crowds, check into one of these 10 stunning beachfront villas in Bali where the best beaches are just a barefoot step away, and you'll be lulled to sleep by the soothing sounds of the surf.
1. Noku Beach House, Seminyak
Noku Beach House is the ultra-glam star of Seminyak's exclusive beachfront. With six bedrooms, an army of six-star staff including a gourmet chef, and your own personal maître'd, this Seminyak beachfront villa ensures the ultimate in holiday pleasure. An enormous entertaining bale' with decks and covered terraces, a spa with plunge pool plus vast tropical gardens and a fabulous ocean-front all flank the sparkling 27-metre pool. Rooftop gardens overlook the ocean making gorgeous hideaways for sundowners. Noku Beach House is an epic retreat as Zen as it is chic right in the heart of hip Seminyak, Bali.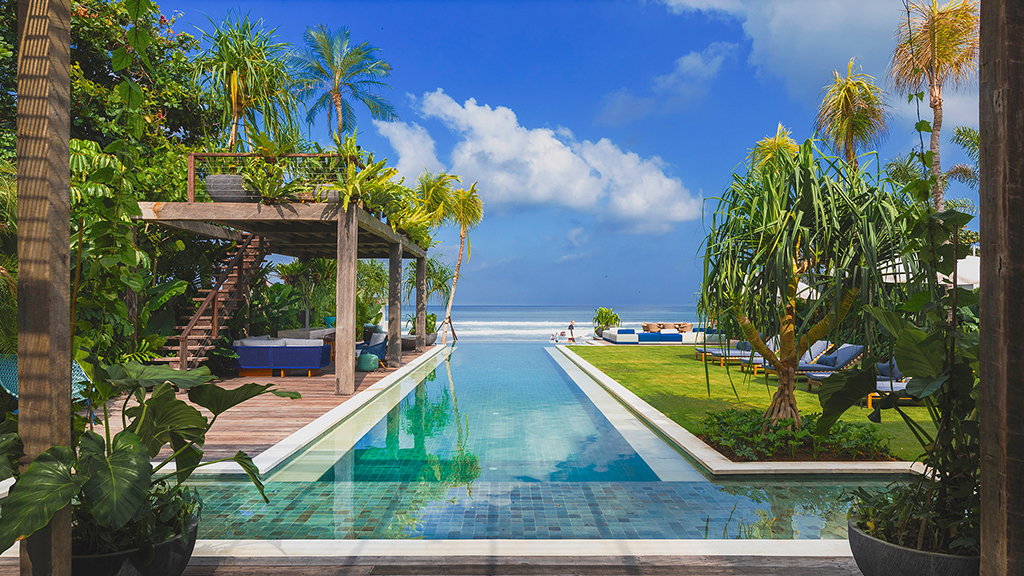 2. The Beach Shack at Sandy Bay, Nusa Lembongan
The Beach Shack at Sandy Bay is an absolute beachfront three-bedroom villa in Nusa Lembongan, Bali. Each of the three bedrooms is appointed with a king-size bed, although The Green room has a king bed that converts to a twin, best for older kids or young adults. The villa houses have an intimate open-plan living and kitchen areas, a dining area at the porch, a 13-metre infinity swimming pool and a wooden pool deck with sun loungers. Clean spaces, floor-to-ceiling glass doors and throws of blue hues complement the airy beachfront atmosphere. The Villa Manager and the housekeeper are available throughout the day, engaged to take care of every guests' needs.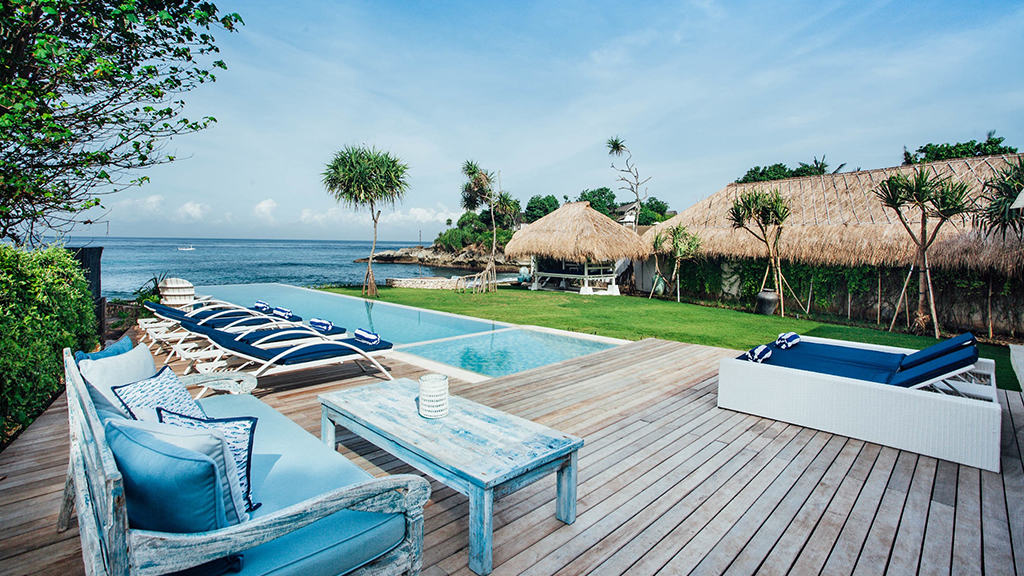 3. Villa Semarapura, Seseh Beach
Overlooking a magical sea temple on Bali's south-west coast, fully staffed Villa Semarapura offers five luxurious bedroom suites and multiple living areas spread across a series of 'modern Bali style' pavilions. Within the glorious gardens is a 20-metre pool, poolside bar, sunset and spa bales, and (shared) tennis court.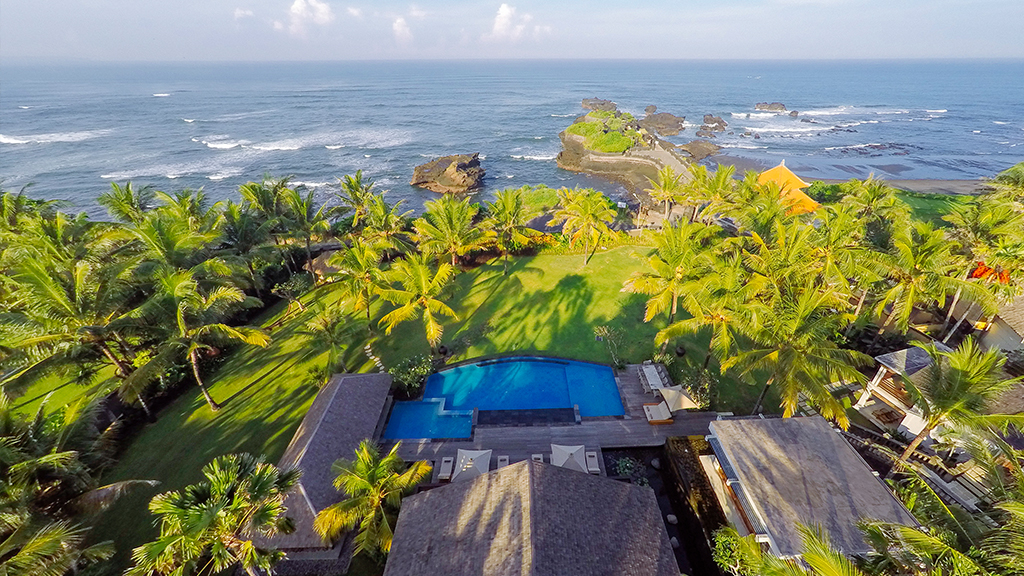 4. Villa Voyage, Nusa Lembongan
A sumptuous five-bedroom hideaway on the pristine white sands of Nusa Lembongan, half an hour away from Bali by boat. Villa Voyage has a distinct personality with designer interiors, safari-themed rooms and a celebrity getaway feel. This fully staffed villa is barefoot luxury at its best.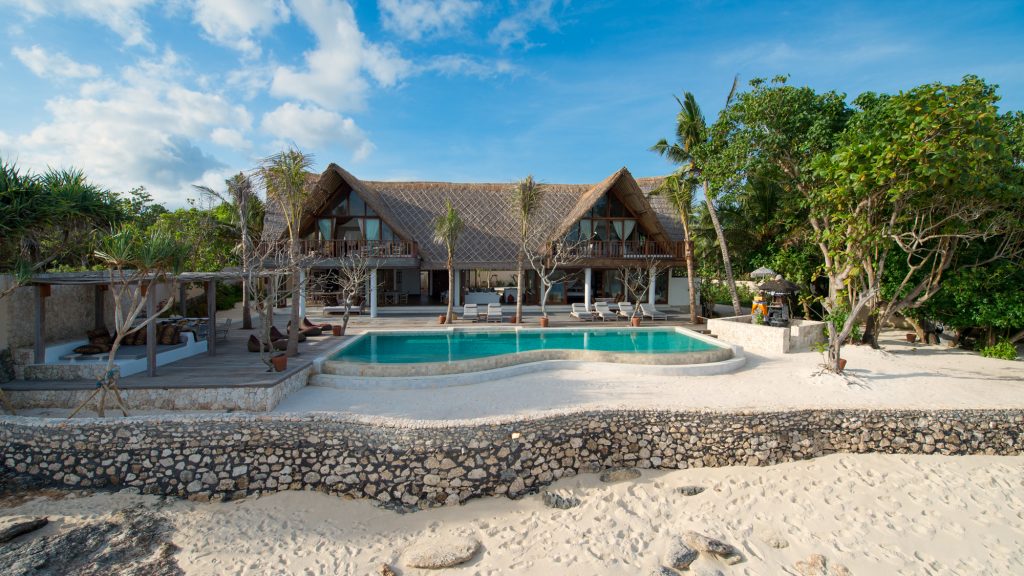 5. Majapahit Villas, Ketewel
Villa Maya, situated absolutely beachfront on Bali's south-east coast presents a three-bedroom main house and a one-bedroom honeymoon villa, each with its own private garden, pool and seaside deck. Ideal for brides and grooms and their friends, Villa Maya specialises in five-star service and beachfront weddings for up to 100 guests.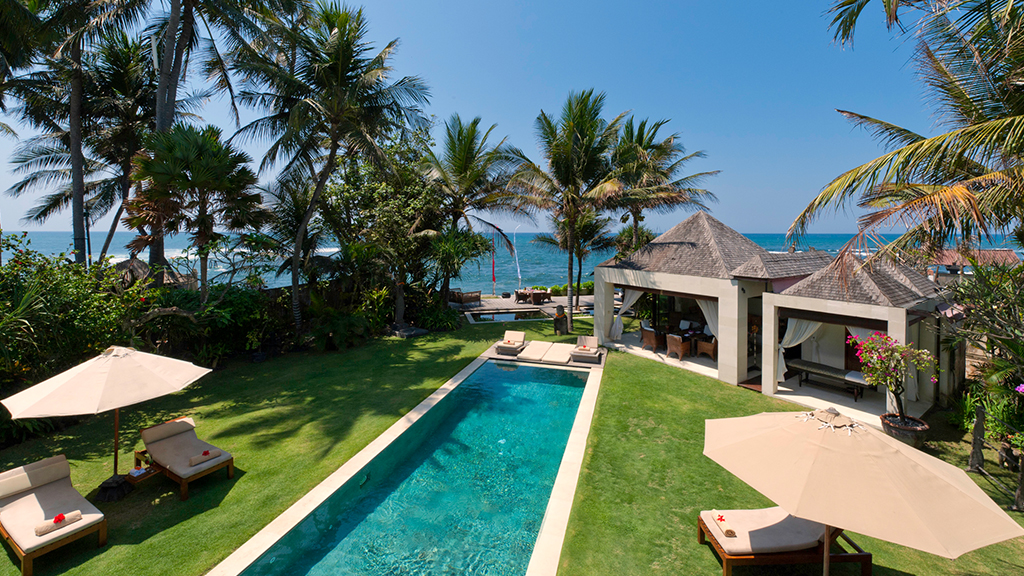 6. Villa Atas Ombak, Batu Belig Beach
Villa Atas Ombak is a beachfront estate set in one and a half acres of mature tropical gardens. Stroll across the villa's manicured lawns dotted with lotus ponds and ancient frangipani trees to the beach and watch the towering waves break onto the sand.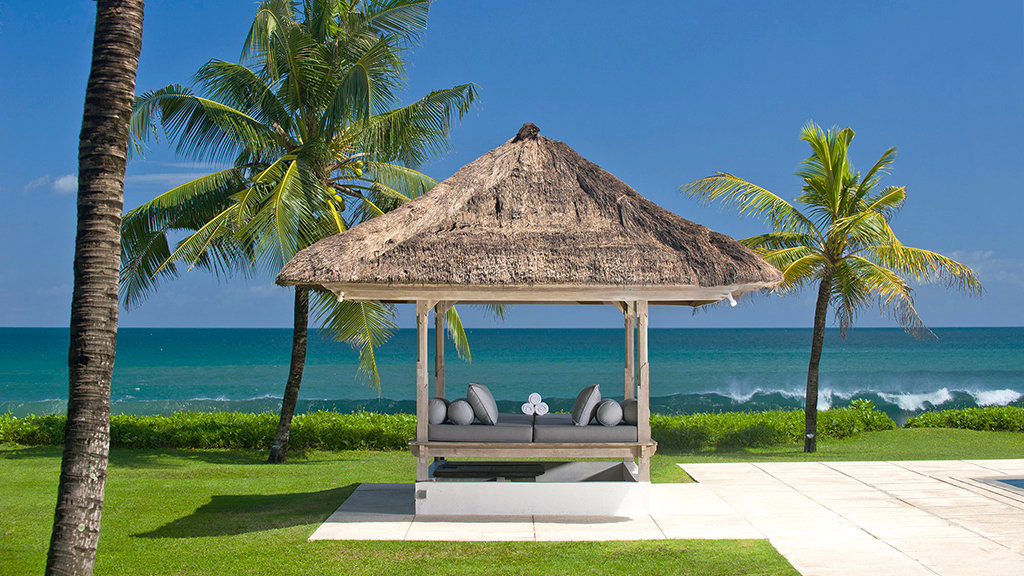 7. Villa Taman Ahimsa, Cemagi
Taman Ahimsa means 'Garden of Peace' and as soon as you enter this magical oasis, you will surrender yourself to the seductive charms of this seven-bedroom luxury oceanfront villa in Cemagi, on Bali's southwest coast.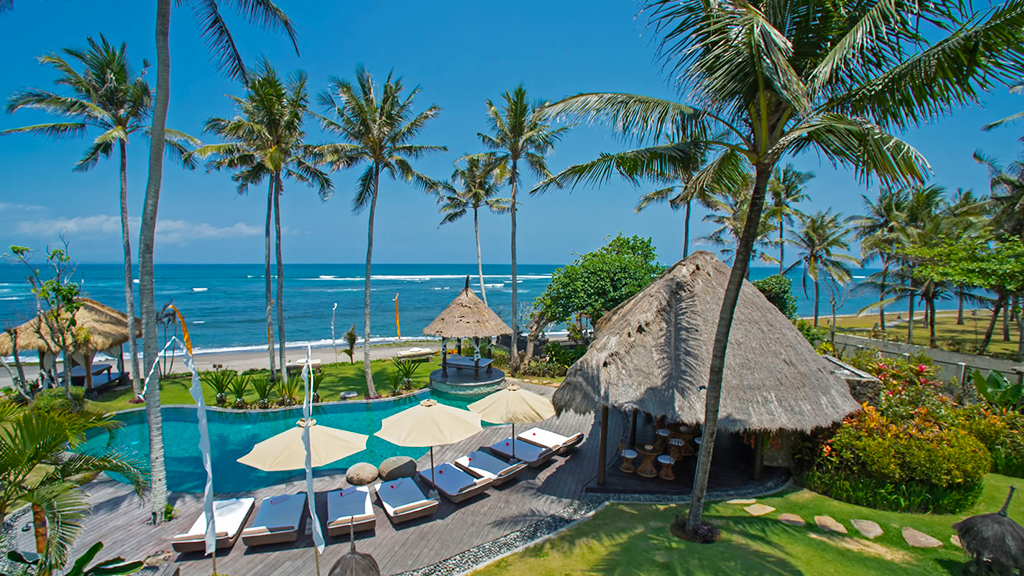 8. Villa Tirta Nila, Candidasa
Villa Tirta Nila is an exquisite, fully-staffed, family-friendly villa, set well away from the hustle and bustle of mainstream tourism, and resting absolutely seafront overlooking the spectacular Amuk Bay in East Bali, complete with four bedrooms, pool, waterfront dining pavilion, and a man-made sandy beach with direct access to the sea.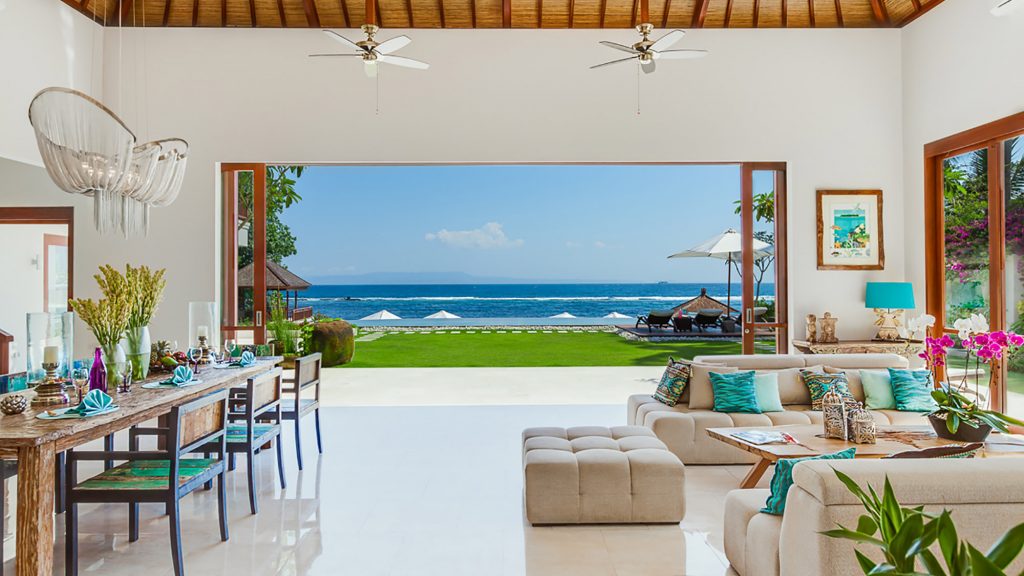 9. Villa LeGa, Seminyak
Five-bedroom Villa LeGa is a fully staffed, luxury beachfront pool villa, located in Batubelig just north of Seminyak. Flaunting two sun decks for taking in spectacular ocean and sunset views, and located right next door to Tropicola Beach Club, this is the perfect party house for young groups.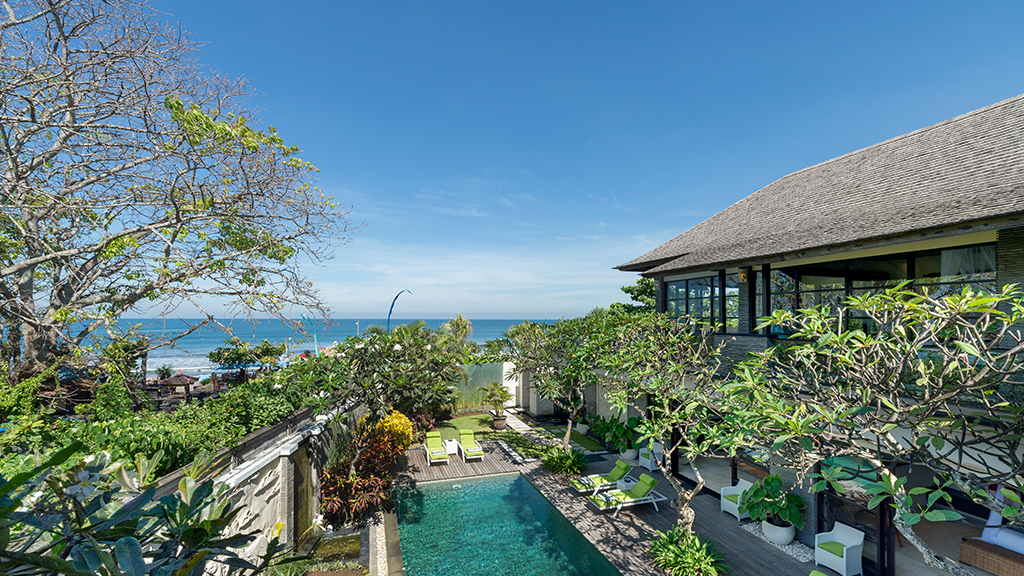 10. Sungai Tinggi Beach Villa, Canggu
On Bali's south-west coast, Sungai Tinggi Beach Villa is a luxury 6-bedroomed estate (also available as a 4-bedroom rental) enjoying 100m of private beach frontage amidst a huge tropical garden bordering river and ricefields. Fully staffed and with an 18m pool, the villa is beautifully designed combining traditional materials with stunning local artefacts.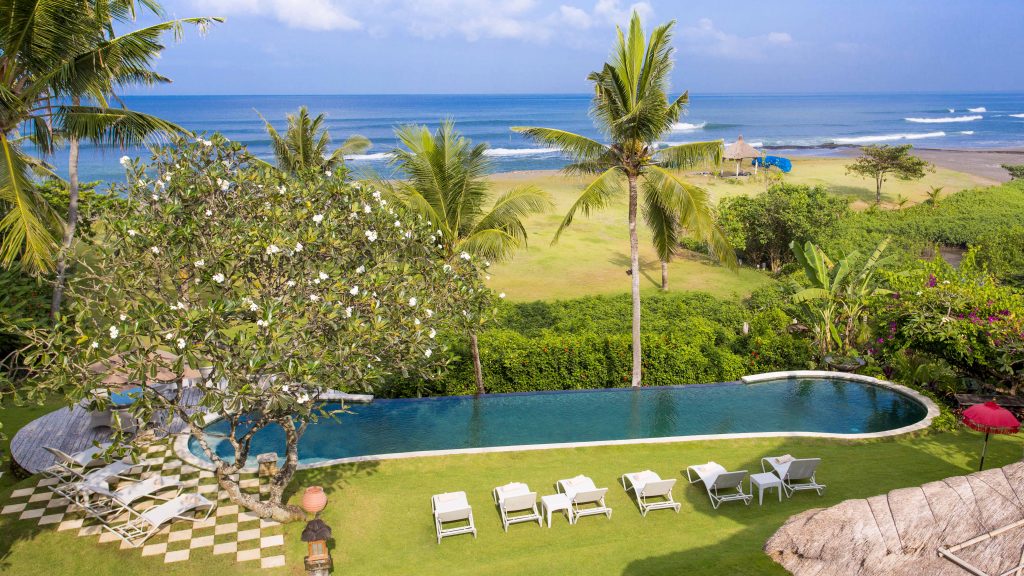 Beachfront villas are what dream holidays are made up of, ideal for families and close-knit groups that like to settle in for unhurried vacations by the sea. Choose from picture-perfect Bali villas with sea views, strategically located Bali villas near the beach and in-demand Bali beachfront villas.