The island of Bali is one of the most beautiful wedding locations in the world, with year-round tropical sunshine and spectacular scenery ranging from cliff tops overlooking crystal-clear waters to secluded pristine beaches and lush jungle backdrops. Whether you opt for an intimate exchange of vows adorned by the peach and blush hues of Balinese sunset or a grand fairy-tale extravaganza, a wedding in Bali will be a magical experience for both you and your guests. And it's the perfect place for a short mini-moon or a long honeymoon after your big day. These 5 heavenly villas will provide the perfect setting for the most important day of your life.
Seseh Beach Villas, Seseh
Seseh Beach Villas are  located in the traditional village of Seseh offering guests the opportunity to witness the daily rural life of the Balinese, enjoy the beauty of the rice fields, take bicycle rides through the country lanes or walks along the beach. Its magnificent tropical gardens make a dream setting for a tropical wedding celebration. Imagine making your way across the soft rolling lawns dotted with fragrant frangipanis and swaying coconut palms, towards the infinity pool with magnificent ocean panorama to say "I do".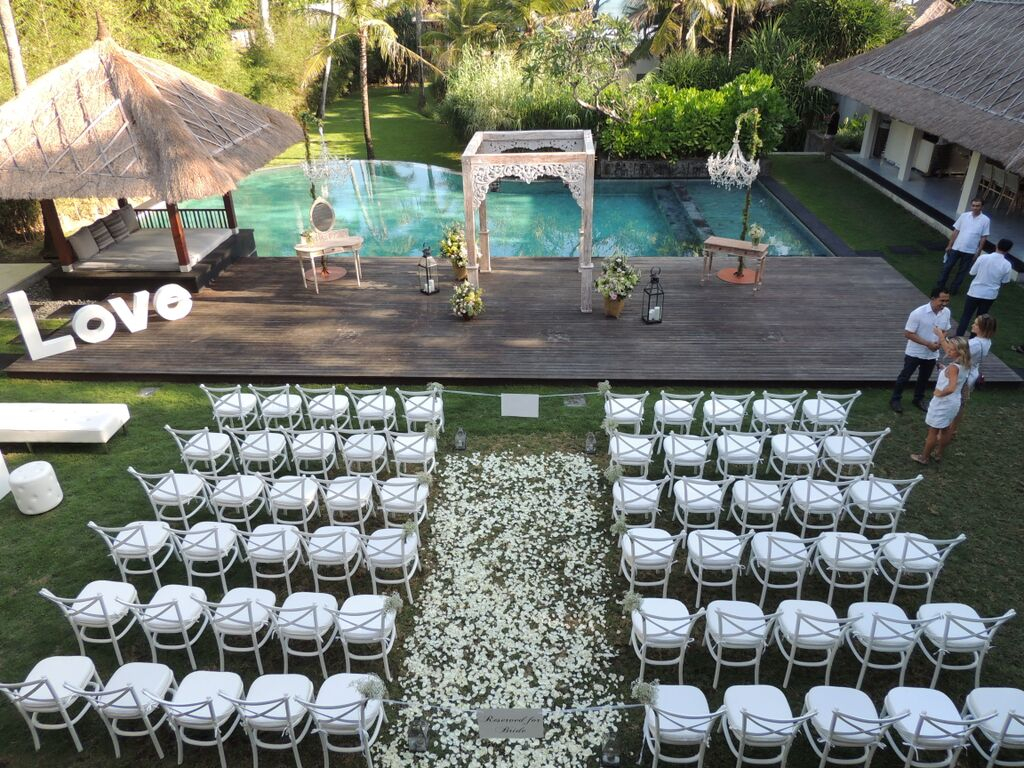 Villa Batujimbar, Sanur
Gorgeous gardens, traditional Balinese living spaces and an absolute beachfront location make Villa Batujimbar a particularly romantic wedding venue. Since Mick Jagger married Jerry Hall here in the '70s, Villa Batujimbar has become one of the most popular wedding venues in Bali. Imagine exchanging vows in the Lembu Bale, then sweeping down the wide steps into the enchanting gardens for a candle-lit banquet under the starry sky. A wedding at Villa Batujimbar promises a magical night and plenty of precious memories.
Pandawa Cliff Estate, The Bukit
Pandawa Cliff Estate is one of the Bali's most sought-after wedding venues. With its dramatic cliff-top setting overlooking the Indian Ocean, its wide lawns, large decked areas and superb guest facilities, Pandawa Cliff Estate is a dream setting for a tropical wedding. The Pala boasts a unique, stone amphitheatre where guests can be entertained with a traditional dance or musical performance, and its garden links through to that of Villa Rose next door, allowing separate areas for cocktails, dining and dancing.
Taman Ahimsa, Seseh–Tanah Lot
There is no greater setting for a wedding than among the swaying coconut palms of a tropical beachside paradise, to a soundtrack of the rolling ocean waves. Say "I do" on Taman Ahimsa's beautiful poolside deck, or barefoot on the soft warm sand of the deserted beach. Continue your special celebration with sunset drinks by the pool while the glimmer of fairy lights create a charming and romantic ambiance throughout the magical gardens.
Chalina Estate, Canggu
With its vast and gorgeous gardens, photogenic vistas and fantastic living spaces, Chalina Estate is one of the top choices for a wedding venue in Bali. Exchange vows against a picture-perfect backdrop of rice terraces, then settle down to a candle-lit banquet on the lawn under a canopy of stars.
For more wedding venues click HERE.