Elite Havens proudly welcomed top Indonesian celebrity Jessica Iskandar to The Iman, a sleek five-bedroom villa, located in Bali's laid-back Canggu neighbourhood, for a week-long luxury villa stay.
On September 27th, Jessica and her son El Barack Alexander, along with a handful of close friends, checked into The Iman for a much needed rest and relaxation. One of the island's most gorgeous villas, The Iman features a contemporary design and is nestled amongst Bali's striking rice paddies and lush green palm groves.
Built with gleaming local stone and finished with honey-hued wood, the villa is minimalist in style yet infused with tropical warmth. The Iman offers plenty of open spaces and endless views from every room.
The Iman is situated in the village of Pererenan in the popular Canggu district. It's an idyllic hideaway for families or group of friends.
Upon arrival and before entering the villa, the lovely group had their temperatures checked, and hand sanitisers were distributed. Strict hygiene controls and cleaning procedures were implemented to adhere to the current COVID-19 situation prior to the group's check-in.
Take a peek of how Jessica and her friends spent their week at this majestic villa in Bali.
The groups of friends had an excellent time lounging and dipping their toes in the infinity pool, which was admittedly their favourite part of the villa. The group also enjoyed a few rounds of billiards and took advantage of the spacious living room to hang out and chill. A private pizza cooking class was arranged at the villa, which El thoroughly enjoyed!
El Barack Alexander was all smiles during a private pizza cooking class arranged at The Iman
Seeking a bit of excitement outside of the villa, the group went jet skiing and enjoyed some time frolicking in the sea. Truly an exhilarating experience!
Vegetarian dishes were prepared and served by a private chef during their stay. They were grateful for the variety of delicious delights. Jessica was pleasantly surprised by the chef's vegetarian take on Beef Rendang, Rendang Tahu (Indonesian tofu), which she loved!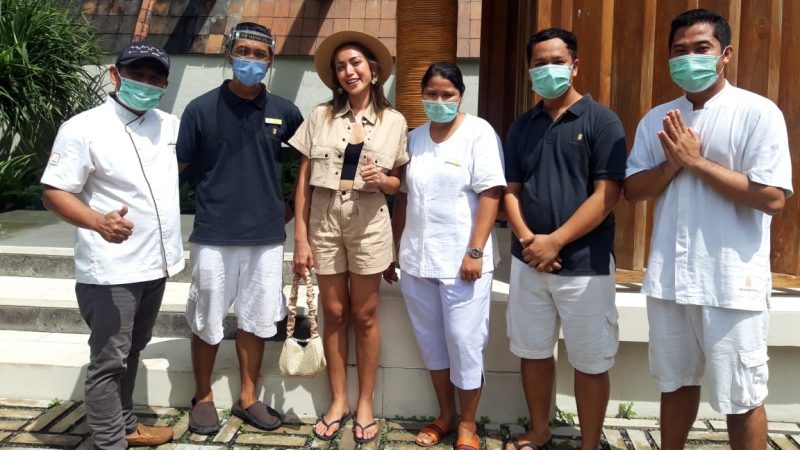 Our in-villa staff members were all smiles as they posed for a quick snap with the famous celebrity
"We had the best stay at The Iman Villa. Quality service and delicious food! We will cherish the memories we had here. We love this villa and recommend it! Thank you." – Jedar
Learn more about the other influencers Elite Havens has hosted and catch a glimpse into their stays here.