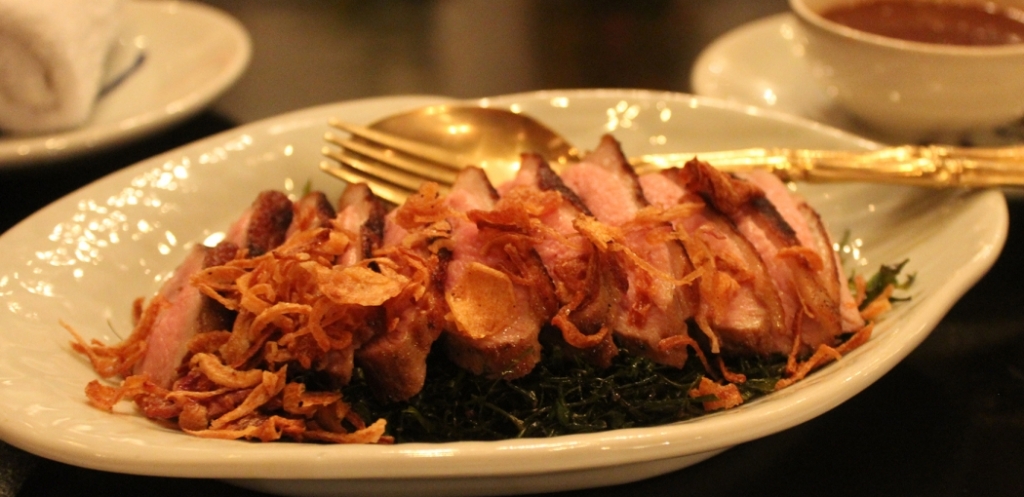 Host to thousands of famed authentic Thai restaurants and plenty of newer culinary hotshots too, each with several exotic dishes to sample, choosing where to dine out in Phuket can be overwhelming. One piece at a time is the best way to take it all in, and this feature serves up recommendations about how and where to enjoy one very specialty entree.
… THE DUCK, PLEASE.
From a plethora of duck or เป็ด entrees popular in Phuket, we found four dishes most likely to wow visitors and leave a lasting impression.
1- Duck Tamarind
The Duck Tamarind is a choice ambassador of the Blue Elephant's Bohemian/Buddhist charm. Roasted duck breast is elegantly stacked atop a bed of fried, shredded kale and topped with crispy fried onions. The rice server glides from table to table, offering never-ending servings of steamy white Jasmine or organic black rice. The tart and sweet tamarind sauce provides an adhesive element for this interesting, impressionable cuisine. The crispy, savory, and tart flavors of the dish left me eagerly anticipating the next bite before I was done with my first.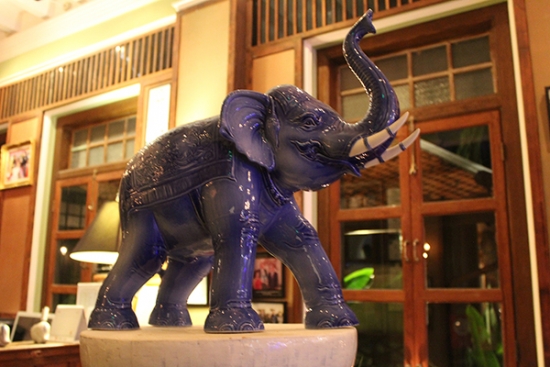 The Blue Elephant
Governor's Mansion, Phuket Town, Mueang Phuket District, Phuket 83000
The Blue Elephant is located inside the historic governor's mansion in Phuket Town. The trail up to the mansion is lit by tiki torches and blue string lights dangling from lanterns hanging from massive tree branches. The mansion's green and white checkerboard floor blends well the limestone colonnades and dark-wood ceiling. The lighting from the antique chandeliers and the brass, orchid-themed sconces create an ambiance that is sleek, historical, and hip all at once. Also, there's an abundance of blue elephant sculptures scattered about, along with traditional Thai art and pictures of King Rama IX.
Afterward, I was given a brief tour of the Blue Elephant Cooking Class room, the famous Blue Bar, the main kitchen, and the upstairs seating for larger parties. The wooden floors, contemporary shark paintings, vintage Buddhist artwork, and blend of freshly cut flowers create an ambiance that the Blue Elephant has become famous for.
The Duck Tamarind is a dish that is justifiably representative of this established restaurant's history. The Blue Elephant has locations in Bangkok, Paris, Brussels, Copenhagen, Malta, Dubai, Jakarta, and Phuket.
2- Stewed Duck and Egg Noodle Soup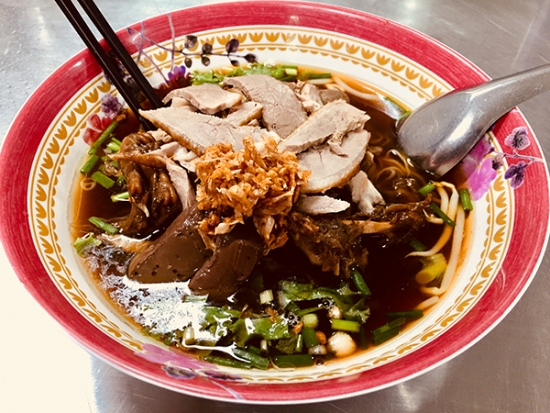 Kitti Duck Noodle
367/30-31 Yaowarat Road,