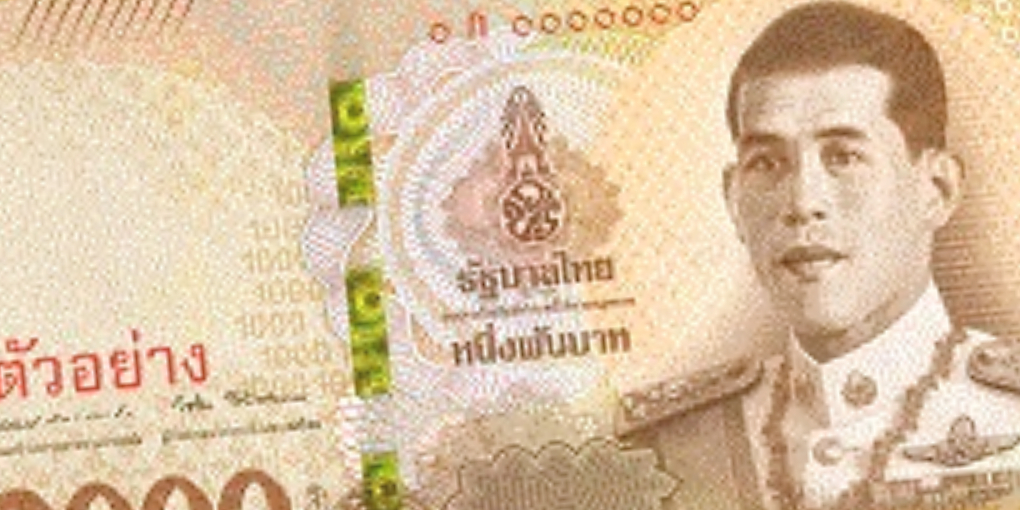 For travel in Thailand, money basics are a need to know. The Thai Baht (pronounced /bɑːt/ and abbreviated to THB, or ฿) is the official currency of Thailand. Thai Bhat is a common misspelling! In Thai, it is written: บาท and subdivided into 100 satang. Coins come in denominations of: 1, 2, 5 and 10 baht, as well as 25 and 50 satang. Banknotes come in denominations of: 20, 50, 100, 500 and 1,000 baht.
A Fresh New Look
What you may not know is that in April 2018 the Bank of Thailand (BOT) began circulating a brand new family of banknotes, 'Series 17', the first ever to feature a portrait of King Maha Vajiralongkorn, whose revered father, the late King Bhumipol Adulyadej passed away in 2016, ending a world record-breaking seven-decade reign. King Bhumibol Adulyadej, also known as Rama IX, has appeared on baht banknotes for the past 70 years.
The main colours and sizes of the notes haven't changed, with the back designs featuring images of the Kings of Thailand from past to present. The 20, 50 and 100 baht banknotes were released on Chakri Memorial Day, April 6, 2018. The final two denominations of 500 and 1,000 baht will be issued on the new king's birthday on July 28, 2018.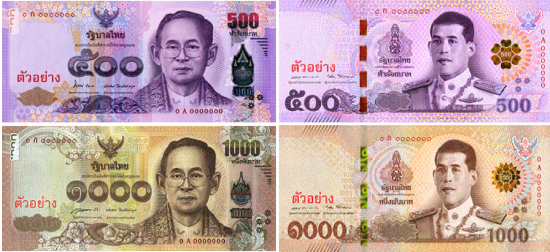 Current (left) V. New (right)
Banknotes (Photos via Bank of Thailand)
The Bank of Thailand will issue a new 'Series 17' set of banknotes on July 28 featuring a portrait of His Majesty King Maha Vajiralongkorn Bodindradebayavarangkun in the Royal Thai Air Force uniform, to mark the 66th birthday of the King. Current 'Series 16' banknotes of the late king will remain in circulation.
Creative Design & Functionality
Unlike some countries in South East Asia the banking sector in Thailand has, over the years, proven to be a major stabilising force for the Thai economy. Lessons learnt from the industry collapse over 20 years ago have seen Thai banks showing fresh resilience today, due in no small part to the regulation of financial institutions.
Once approved by the Minister of Finance, the BOT is responsible for the design, print, issuing, and management of banknotes. Although no longer hand drawn, banknote designers must be able to combine visual artistry and technical expertise with cultural identity and counterfeit deterrence features.