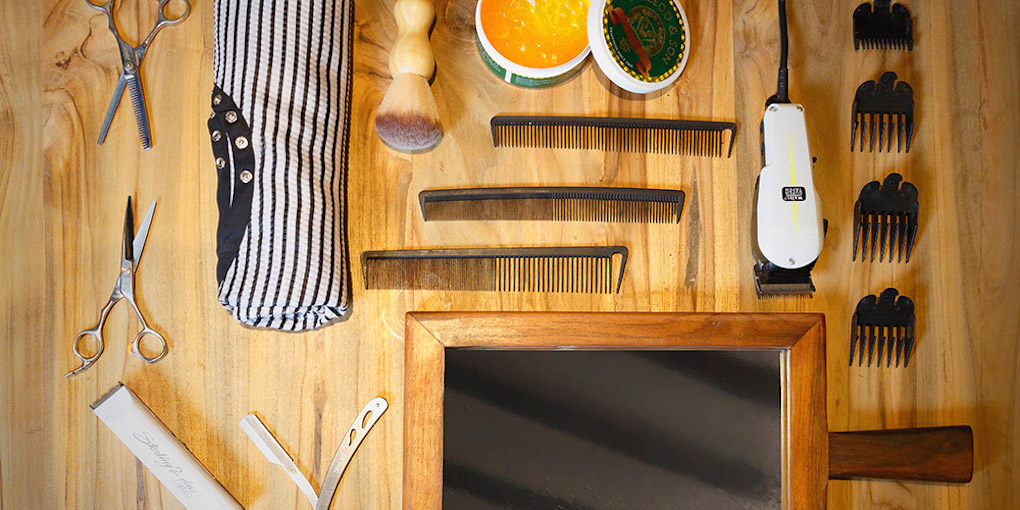 Bali has long been an Asian capital for sensational spas and salons. Seminyak and Canggu are keeping ahead of the trend with a swathe of shape-up shops offering men everything from a simple sports manicure through to the full 'manzilla'. Walk-in, schedule an appointment, or contact them about doing your groomsmen. 
BALI BARBER 
First on the island to put male grooming on the spa map with its flagship Seminyak shop, Bali Barber is conveniently situated above sister operation The Shampoo Lounge. Haircuts are the new hip souvenirs and this Bali Barber has a picture wall of famous sports stars, celebrities and even a couple of coolly coiffed kids, so clients need only point and pick their preferred style.
Pamperings on offer include clipper buzz cuts, scissor cuts, skull shave, sports massage and mani-pedi's plus some 'tactical waxing' from neck, back and shoulders through to the full MANzillian. Check in for spray tanning and the Flip Flop Fleet hot stone foot massage, tattooing, hair braiding and dreadlocking for the surfer look, plus nape undercuts. Bali Barber is legendary among grooms and their mates as the operation will create a full-on pop-up shop in your wedding villa – complete with reclining barber's chair.
The Bali Big Boss includes a haircut and shave that starts with a skin softening aloe vera rub then a hot towel wrap followed by a slathering of rich shaving crème that is brushed on and shaved off with a straight razor. The ritual is finished with non-stinging aftershave lotion and a cold towel press. The Signature Massage is super relaxing, with a good slice of time spent on the head. The Gentleman's Facial is a deep cleansing job that shuns blackheads and enlivens the skin.
The atmosphere is deeply blokey as is the designer rough 'n' ready interior that features ancient televisions, stereos and a glass-fronted fridge packed with cold beer. Expect to hear Meatloaf and AC/DC being pumped through the speakers here in Seminyak and at their shops in Nusa Dua and Poppies in Kuta. shampoolounge.com
GOLDUST BEAUTY LOUNGE 
The local surfers know exactly where to go in deepest Canggu for a great Balinese massage in a male-friendly environment. Goldust in Batu Bolong, Canggu offers knot decimating massages and stress busting reflexology. The Back Buster massage gets right into the neck,