Located in Berawa, bridging the gap between the cool Seminyak scene and the hip hangouts in Canggu, Savage Kitchen has the chance to play by their own rules.
By day, Savage is a health-driven café. From breakfast through to dinner, fans of The Savage Kitchen love their anything goes approach. Build your own meals with a list of basic ingredients that can then be piled high with all the things you love.
At night, the air-conditioned space at the back opens up as a neighborhood bar and restaurant that is as much of a hang out as it is a restaurant. The food here plays with more grown up concepts and is morphing into a seriously delicious destination that ticks a lot of boxes for food lovers.
When the crew from The Savage Kitchen were changing things up a little in the back, they added a great long bar and lounge to make the nights in Berawa a little less lonely, with the addition of a great neighborhood hangout.
Sharing is a popular concept here and the dining room is divided into softly lit tables for two or four. On the opposite side of the dining room large sharing tables are where friends and family can sit down to a whole roasted rib of beef, a leg of lamb, a roasted chicken or a fragrant, whole baked Barramundi
The trimmings are laid on for a family-style feast, to pass around, share and enjoy together. This is the beauty of Savage Kitchen; you really can design your own meal and create your own experience.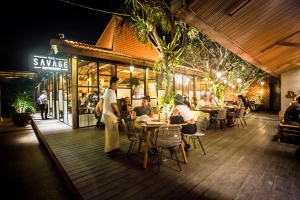 All day dining.
From early morning breakfasts feature smoothie bowls and granola with fresh fruit, to full tilt omelettes, smashed avocado plates piled high with roasted tomatoes and poached eggs, to pancakes or slabs of home-made sourdough toast with wild preserves. They got this one covered and the coffee, needless to say, stars!
Lunch is big, from salad bowls to sandwiches, burgers or vegetarian plates piled high with colour, couscous salad or wild rice, pastas and more. Add a little cheese, chicken, pile up some roasted beef or keep it clean and vegan. It's all about getting what you want. And with an all-day menu, you can rock up anytime.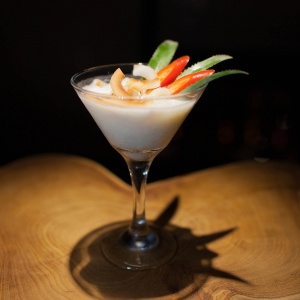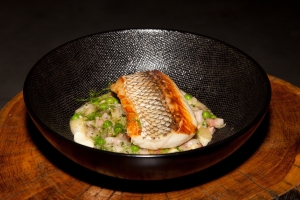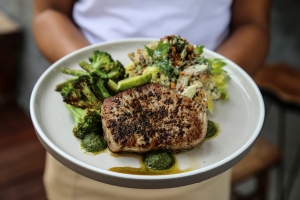 Savage after 5.
Decorated in lots of wood, cowhide and textural elements, The Savage Kitchen by night is an inviting space. The back opens from 5pm and a new menu shines here with everything from vegan and vegetarian selections to their signature large shared plates, or choose from a la carte entrees like the coffee roasted beetroot with goat cheese and honey roasted walnuts or meltingly tender roasted pork belly under a layer of crisp, salty crackling. Mix it up, keep it simple, add wine or cocktails, or just drop in for a quick bite and a beer with a friend.
The Savage Lounge.
The new lounge is catching on quickly with locals who want a night off from the glitz of Seminyak or the cool of Canggu proper. Claiming a space behind the bar, separated from the restaurant, Savage added both bar seats and some private booths for the perfect catch up with friends. Overlooking the dining room, it's an intimate space to start or finish an evening.
Gather with friends to sip a selection of classic cocktails in the sultry space surrounding the bar, or stay for dinner and pair any dish with the wine list curated from small-house wineries all across the globe.
Regular special events include DJ-curated Savage Wednesdays, with cocktail specials for ladies, and the monthly Chef's Table, where the culinary team spreads their creative wings.
THE SAVAGE KITCHEN
Canggu Plaza, Jalan Canggu Club, 
Denpasar, Bali, Indonesia
contact@thesavagekitchen.com
(+62) 0819-1641-4541
Click HERE for the menu.
IMAGES BY thesavagekitchen.com.