Romantic and exotic Bali is an inviting island for destination weddings, where dreams of saying 'I do' with an ocean view come true.
These luxury Bali villas set on dramatic cliff-tops and exclusive beach-fronts are the best sea view event venues you'll find.
Perched on the towering cliffs above Pandawa Beach on the southern tip of Bali, Sohamsa Ocean Estate is coveted by brides-to-be for its contemporary style and sweeping sea views.
With a grand entrance, spacious courtyard and gorgeous backdrop, this pair of villas is perfectly set up for an idyllic outdoor wedding.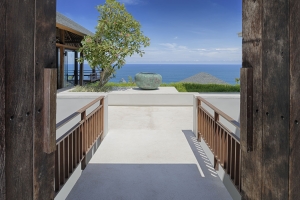 At Villa Soham, the view is complimented by a 22-metre infinity pool and cliff-edge balé pavilion which works as a covered dining area, lounge or dance floor.
Next door Villa Hamsa is as convenient as can be for VIP guests to stay on-site, but in their own separate villa. It can also serve as a lavish behind-the-scenes dressing room on the big day.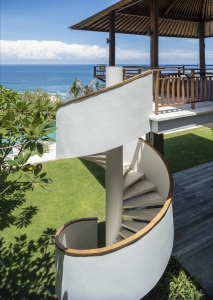 Five-bedroom Villa Soham and four-bedroom Villa Hamsa host 50 people for seated events and can accommodate up to 22 overnight guests.
The multi-tiered property is landscaped with tidy lawns, lotus ponds, lush greenery and understated blooms to create an unbelievably romantic setting for a ceremony and reception. Adding your own wedding flowers and event décor is of course welcome.
Dusk heralds a 'magic hour' for photos in the villa's indoor-outdoor spaces (and picturesque white sand Pandawa Beach is only a two-kilometre drive away, so zipping down to the beach for some shots there is an option too).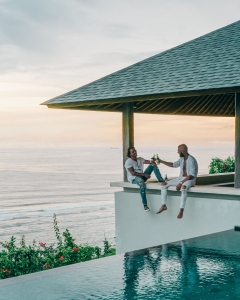 Weather remains sultry into the evening, and the whole venue is beautifully lit at night. Additional party lights and sound equipment can be brought in as needed. Both villas have high-speed WIFI, PABX room-to-room phone system, Sonos sound system and behind-the-scenes staff areas.
We can recommend expert event organisers, florists, decorators and caterers, so you can focus on relaxing and celebrating with your guests.
Before and after your special event, a personal team of villa staff are on hand to help ensure that you enjoy a worry-free wedding. Another bonus of staying at Sohamsa Ocean Estate for your wedding are its wellness facilities – a large gym, massage room, sauna and steam room sit below the main terraces.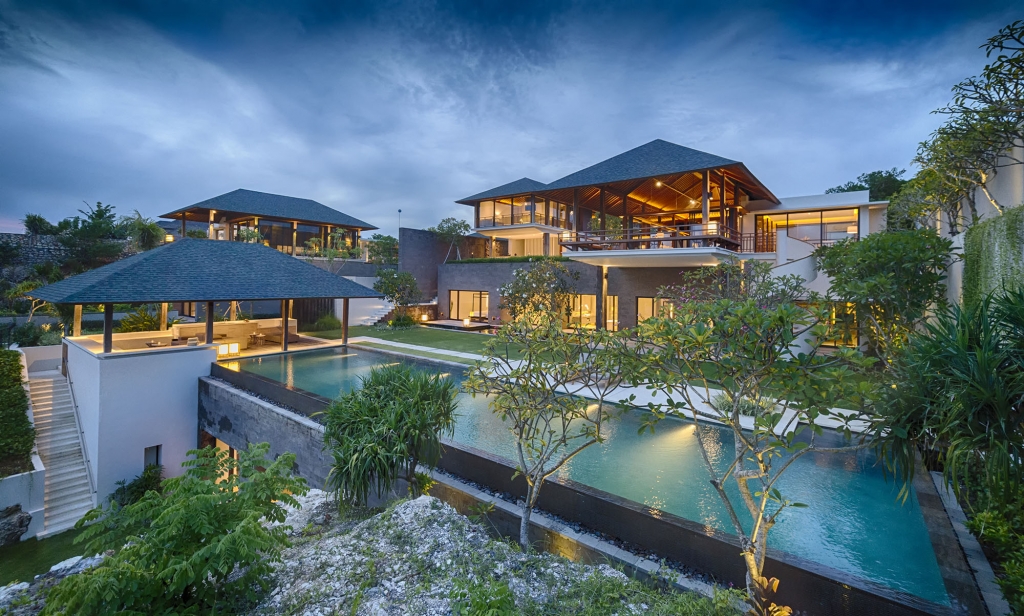 Modern luxury is the theme throughout, and this set of bright white villas is a match made in heaven. enquire now
"You're just too good to be true …
Also positioned along the cliff-top on Bali's south coast with dramatic ocean views, Pandawa Cliff Estate is an elegant and versatile venue for events. This four-villa estate can be booked for events with as few as 50 and as many as 400 guests. enquire now
On Bali's west coast, this Canggu beachfront villa at Nelayan Beach is a dynamic event space for 100 guests with a sprawling lawn and walkways between the modern five-bedroom villa itself and the outdoor facilities. Overlooking the Indian Ocean is a large beachfront balé and bar, and a 20-metre swimming pool that reflects the sunset. enquire now
Sungai Tinggi Beach Villa is a luxury six-bedroom ocean-front property and sought after wedding venue, enjoying 100 metres of private beachfront on Pererenan Beach in Bali, just north of trendy Canggu. enquire now
If a larger tropical beachfront wedding venue is what you're after, you've found it. One of a kind Villa Atas Ombak has a traditional Balinese touch and a sprawling manicured lawn that borders the golden sand of Batubelig Beach on Bali's sunset coast, and it's large enough to welcome 200 guests. enquire now
Perfect for weddings, the absolute beachfront Villa Pushpapuri is located directly on the sands of Pabean Beach, north of Sanur on Bali's quiet east coast. It boasts a 20-metre pool in the large tropical garden, and is blessed with spectacular sea views of the Bukit peninsula and towering Mount Agung. enquire now
Taman Ahimsa means 'Garden of Peace' – an appropriate name for this magical seven-bedroomed beachfront villa with traditional Balinese style. Ceremonies with up to 80 guests can take place on the beachfront or in the villa which is comprised of multiple open-air pavilions with thatched rooftops. enquire now
… can't take my eyes off you"
Hosting a destination wedding is an exciting and memorable way to share your marriage celebration with your nearest and dearest in a beautiful beach setting. For lovebirds with family around the globe, inviting everyone to flock to the same place is often the perfect impartial plan.
Bali is a smart choice for destination weddings thanks to its welcoming culture, year-round equatorial climate and convenient access to gorgeous villas. Each of the luxury sea view villas above is an exclusive private venue within an hour of Bali's International Airport.
Elite Havens' event specialists can help you choose the best villa for your party and recommend professional vendors to help create your dream wedding.