For travel in Thailand, money basics are a need to know. The Thai Baht (pronounced /bɑːt/ and abbreviated to THB, or ฿) is the official currency of Thailand. Thai Bhat is a common misspelling! In Thai, it is written: บาท and subdivided into 100 satang. Coins come in denominations of: 1, 2, 5 and 10 baht, as well as 25 and 50 satang. Banknotes come in denominations of: 20, 50, 100, 500 and 1,000 baht.
A Fresh New Look

What you may not know is that in April 2018 the Bank of Thailand (BOT) began circulating a brand new family of banknotes, 'Series 17', the first ever to feature a portrait of King Maha Vajiralongkorn, whose revered father, the late King Bhumipol Adulyadej passed away in 2016, ending a world record-breaking seven-decade reign. King Bhumibol Adulyadej, also known as Rama IX, has appeared on baht banknotes for the past 70 years.
The main colours and sizes of the notes haven't changed, with the back designs featuring images of the Kings of Thailand from past to present. The 20, 50 and 100 baht banknotes were released on Chakri Memorial Day, April 6, 2018. The final two denominations of 500 and 1,000 baht will be issued on the new king's birthday on July 28, 2018.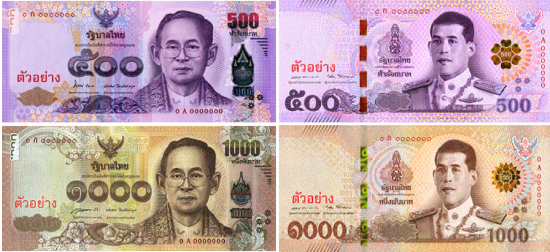 Current (left) V. New (right)
Banknotes (Photos via Bank of Thailand)
The Bank of Thailand will issue a new 'Series 17' set of banknotes on July 28 featuring a portrait of His Majesty King Maha Vajiralongkorn Bodindradebayavarangkun in the Royal Thai Air Force uniform, to mark the 66th birthday of the King. Current 'Series 16' banknotes of the late king will remain in circulation.
Creative Design & Functionality
Unlike some countries in South East Asia the banking sector in Thailand has, over the years, proven to be a major stabilising force for the Thai economy. Lessons learnt from the industry collapse over 20 years ago have seen Thai banks showing fresh resilience today, due in no small part to the regulation of financial institutions.
Once approved by the Minister of Finance, the BOT is responsible for the design, print, issuing, and management of banknotes. Although no longer hand drawn, banknote designers must be able to combine visual artistry and technical expertise with cultural identity and counterfeit deterrence features. And this is something that Thailand has become extremely good at.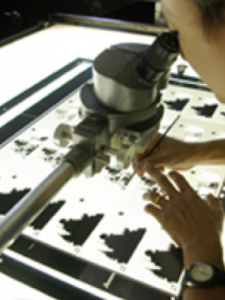 Photo via Bank of Thailand
The Process of Banknote Design
Review of historical information, images and Thai patterns
Metallic plates are hand engraved by highly skilled specialists
Computer programs create background patterns
Platemaking
A History of Inspiring Confidence
From Cowrie Shells to Coins and Banknotes
Two thousand years ago Thailand's medium of exchange consisted of cowrie shells, baked clay coins, glass beads and bracelets. As international trade increased so did the need for money and bullet coins (also known as Pot Duang) were put into use, made from a silver bar bent round in a circle and imprinted with the crests of the ruling monarch and the kingdom. Banknotes weren't introduced to Thailand until 1853, after foreign and diplomatic ties strengthened and the first minting machine was presented by Britain's Queen Victoria in 1858.
For anyone interested in learning more about the history of Thai money, the Bank of Thailand Museum offers visitors an intriguing afternoon showcasing its evolution. Located at one of the beautiful royal palaces in Bangkok and the former residence of H.R.H. Prince Paribatra, the mansion alone is worth seeing with its stunning baroque and rococo architecture from the early 20th Century.
Opening Hours: 09:30 – 16:00 (Monday – Friday)
Location: Bangkhunphrom Palace
Tel: +66 (0)2 283 5286 or +66 (0)2 283 6723
How to get there: By Taxi
Travel Tips
Keep your Small Notes Handy

When in markets it pays to always keep small denominations such as 20 (pronounced yee-sip) or 50 (ha-sip) baht on hand. Phuket is famous for her culinary delights and there is wonderfully tasty and cheap food widely available. You can buy street food for less than a British pound (30 baht), sampling the likes of noodles (pad thai), fried rice (khao pad), noodle soups (kuey teow) and papaya salad (som tum). Sometimes you will see the fresh food put together and cooked right in front of you. Phuket is also renowned for its seafood and the good news is that it doesn't have to cost a fortune to enjoy magnificent dishes. Going up in price, there are restaurants serving up a huge selection of world-class cuisine from across the globe.
Hotel restaurants, gourmet dining and upscale eateries can be quite a bit more expensive – similar to the price you would expect to pay at home. Alcohol can also be expensive. You can expect to pay western prices for beer and over the odds for wine. If traveling on a budget, be advised to drink in moderation!
Bank Cards
Major credit cards such as Visa, Mastercard, JCB and American Express are readily accepted at most hotels, airlines and restaurants around Thailand's tourist centres. To prevent your credit or debit card from being declined, it is essential to advise your card issuer of your travel plans in advance and wise to save the all hours customer service contact information in case of banking issues while abroad.
Baht Exchange Rates
Although Thai baht is widely stocked by most currency suppliers outside Thailand, higher rates are usually obtained once in Thailand. There are many 24/7 currency exchanges and ATMs at Bangkok's international airports, and around all major tourist areas.
Counterfeit Currency
A friend recently withdrew 3 x US $100 banknotes from an ATM in Cambodia and was shocked when he received counterfeit money with the word 'COPY' stamped on each note. To his understandable dismay, there was no way he could prove that the ATM had dispensed this counterfeit money and nowhere he could exchange the notes for legitimate currency. This is not a new problem but one that seems to increase around major holidays and during the tourist season.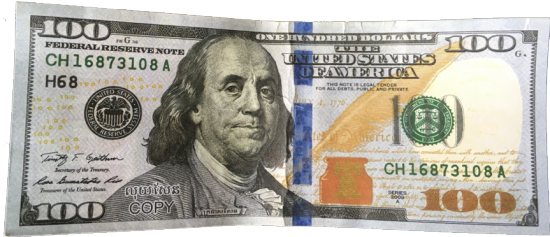 A "COPY" of a US $100 bill withdrawn from an ATM machine in Siem Reap, Cambodia – July 2018
In Thailand, ATMs can easily identify a counterfeit 1,000 baht note from a real one so, as long as you get all your foreign exchange needs met at a bank or official money changer, you should not have any problems. The current 1,000 baht banknote (originally issued in 2015 but still in circulation today) has even won an international award for its outstanding design and security features. The banknotes also have tactile raised dots, similar to braille characters, to aid the visually impaired and have been hailed as 'fantastic', helping people to better identify their money.
Phuket Prices

There's a handy guide to help you plan your own Phuket tourist budget with an index of prices collected from other travellers. This is what they say at budgetyourtrip.com:
Average daily spending in Phuket (Baht)
| | | |
| --- | --- | --- |
| | Low budget | Luxury travel |
| Accommodation | 643 | 4,900 |
| Food/Water | 227 | 1,464 |
| Transport | 87 | 598 |
| Entertainment | 455 | 3,222 |
| Tips/handouts | 20 | 146 |
| Alcohol | 68 | 550 |
A backpacker on a shoestring budget is likely to spend an average of 1500 baht per day in Phuket
Average daily spending in Phuket for the luxury traveller is 10,880 baht per day

Like other destinations in Southeast Asia, Phuket can be as cheap or as expensive as you want it to be. Surrounded by beautiful turquoise coloured water and blanketed in a hundred shades of green nature, it is a destination that tourists continue to visit in record numbers, making the baht a currency that is in high demand.
We've witnessed a time of monumental change with the passing of King Bhumipol, reflected in the design and release of brand new banknotes. But like the currency, the outlook for this place I'm proud to call home is as bright as ever, and we feel that this is reflected in the design and print of Thailand's new banknotes, which pays tribute to the security and beauty of this country.