Yoga is a must-do in Bali, but you don't need to go all the way to Ubud for an authentic experience. Canggu is a vibrant coastal district located close to – but far enough away from – the busy streets of Seminyak. It's a popular destination for a relaxed holiday.
Canggu is best known for its surf beaches, trendy shops, casual cafes and restaurants, but a growing number of beautiful yoga and Pilates studios are making their way to an evolving wellness scene offering a range of classes for the healthy Canggu community. Whether you're looking to break a sweat with Pilates or just to calm your body and soul doing yoga in a stunning setting – there is a class for you. Be ready for beach yoga poses like Canggu's Instagram yoga babe Yogavive_ (SEE ABOVE, FEATURED IMAGE) in no time.
The highly experienced teachers will ensure you the get the most out of your exercise whether you are a beginner or an expert. Many of the studios feature holistic treatments, onsite spas and healthy cafés to round off your experience. Drop in early to reserve your space, or book a private class beforehand for more intimate exercise. All the studios provide mats and other equipment, so all you need to pack is comfortable, stretchy clothing.
Five yoga classes in Canggu, Bali

HATHA YOGA CLASSES
PERSONAL GROWTH TO THE MOON AND BEYOND
The Practice offers three Hatha yoga classes for varying levels of practice;
Stage1 Moon Hatha class focuses on stability and calmness of body and mind with long holds.
Stage 2 Sun Hatha includes conscious Vinyasa, standing poses and floor work with deep breathing and movements.
Stage 3 Fire Hatha brings together all the elements – Asana, Pranayama, Bandha, Mudra and Meditation.
Typical class length is 90 minutes.
In addition to the Hatha series, yoga programs include Yin, Restorative and Complete Practice, as well as the occasional Yoga Fundamentals workshop tailored to those discovering yoga.
The stunning open-air bamboo studio amidst rice fields (and just few steps away from the beach) also hosts yoga teacher training as well as community groups and life-enriching events. Cute giftshop and yoga-wear for sale here too.
The Practice
Jl. Pantai Batu Bolong No.94,
Canggu, Bali
(+62) 0812 3670 2160
www.thepracticebali.com/yoga/schedule/
CANGGU FLY HIGH YOGA CLASS
WANNA HANG?
Need a break from challenging yoga poses? Want to experience traditional yoga postures in a new and exciting way?
Hang free in the air and let gravity do the work for you. Fly High is a fun and modern approach to aerial yoga focusing on lengthening the spine and returning the body to its natural curves. Your flexibility will increase with the aid of a yoga belt and allow you to stay in inversions for longer periods.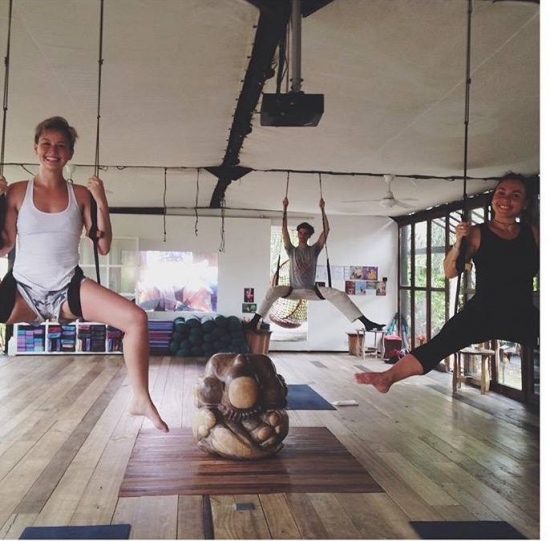 IMAGE: SAMADHI.
Samadi Bali offers two afternoon Fly High yoga classes per week that are suitable for beginners. Other yoga classes: Ashtanga, Mysore style, Vinyasa, Hatha, Yin, Body Mind Flow, Restorative. Join their free Canggu yoga class and movie night on Community Wednesdays.
This centre is dedicated to radical wellbeing and self-empowerment, offering daily yoga classes, yoga teacher training and holistic wellness treatments, plus healthy vegetarian food from their organic café and Sunday market. Oh and a gift shop too.
Samadi Bali
Jl. Padang Linjong No.39,
Canggu, Bali
(+62) 0812 3831 2505
www.samadibali.com/yoga-schedule/                             
MYSORE STYLE YOGA
NOT "MY SORE"
Mysore is a traditional way to learn, deepen and perfect Ashtanga practice gradually. Nataraja Bali Yoga Shala offers daily Mysore style morning classes with the guidance of well-respected Indian guru Yoga Acharya Nilesh R. Tiwari.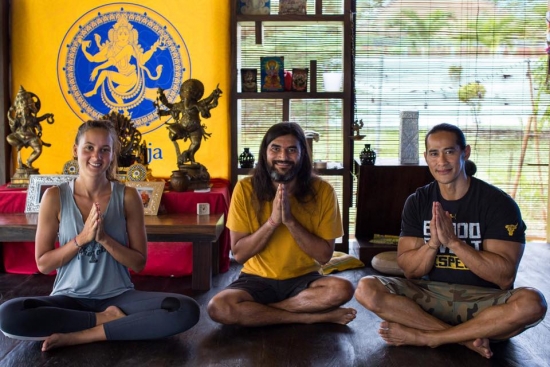 IMAGE: NATARAJA YOGA SHALA.
The class sizes are small and ideal for beginners as they offer individual guidance to develop personalised yoga practice in a peaceful environment. Kids are more than welcome to join!
Nataraja Bali Yoga Shala is in Umalas between Seminyak and Canggu, Bali. Alongside their yoga classes, it is a great place to unwind and connect with likeminded people over a warm cup of chai and delicious Indian home cooking from their vegetarian Vedic kitchen. Peace, love and light!
Nataraja Bali Yoga Shala
Jl. Dukuh Indah No.606,
Umalas, Bali
(+62) 0815 1080 8845
www.nataraja.info/
MAT PILATES IN CANGGU
GET DOWN TO IT
Ready for a full body workout and burning abs? Go for Mat Pilates at The Canggu Studio. This mind-body exercise strengthens the core, lengthens the body and tones muscles using your own body weight, without building bulk. It improves your posture, balance and flexibility.
The Canggu Studio offers Mat Pilates classes twice a week, as well as a special class Pilates for Surfers designed to stretch surfers' tired muscles.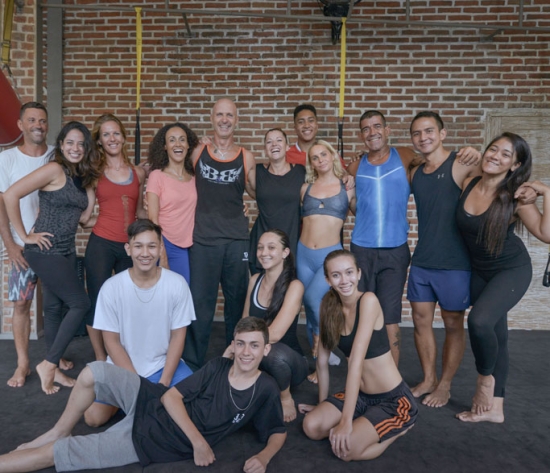 IMAGE: THE CANGGU STUDIO.
The Canggu Studio is a holistic fitness centre that focuses on every part of your well-being, offering a range of classes under one roof. Yoga classes include Vinyasa Flow, Acroyoga and Kundalini. From Yoga to Muay Thai and Dancehall – they've got you covered.
The Canggu Studio
Jl. Nelayan No.32,
Canggu, Bali
(+62) 0812 383 7891
www.thecanggustudio.com/class-schedule/
PILATES CIRCUIT
WEIGHT LOSS AROUND THE BEND
Tone your body by working all your muscle groups and lift your heart rate with the Circuit Class at Sunset Pilates in Berawa, Canggu (also in Legian). Circuit training is a calorie-burning exercise that uses a range of Pilates and cardio equipment focusing on quality of movement. It's an excellent way to maximise your workout time.
Sunset Pilates in The Joglo provides an intimate Pilates experience. Small group classes offer individualised attention to ensure you get the best results from your workout.
Sunset Pilates
2nd Floor at The Joglo café,
Jl. Subak Sari 13 No.8,
Berawa, Canggu, Bali
(+62) 0822 4732 0790
https://sunsetpilatesbali.com/studios/berawa/

IN-VILLA EXERCISE
FANCY DOING YOGA IN YOUR VILLA?
Guests of Elite Havens villas can arrange personalised yoga classes with instruction in the privacy of their luxury villa rental – just ask your villa specialist when booking, or your villa manager on arrival, about availability and pricing.
Bali villas with yoga rooms
See all our Canggu villas