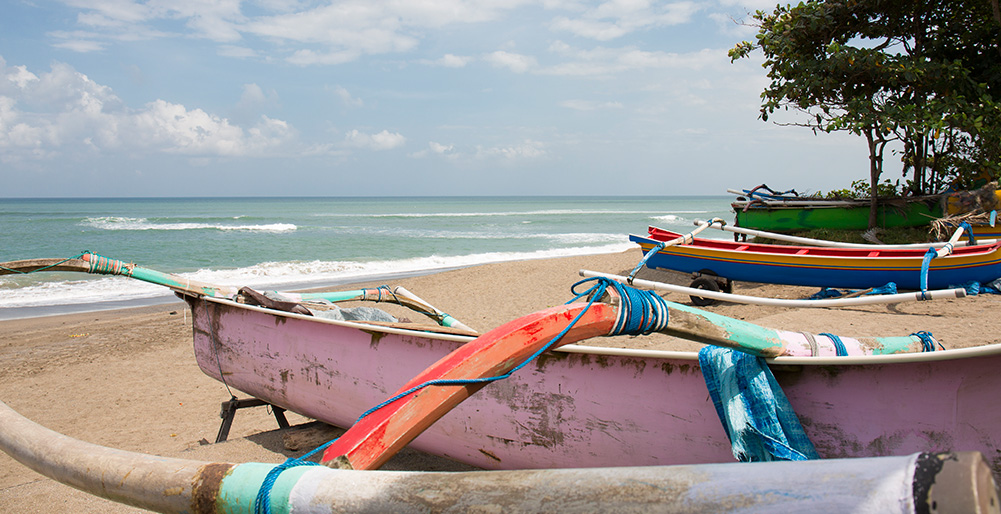 Having settled into your exquisite villa on this island paradise, it's time to head out and explore Bali's hippest 'hood – Batu Bolong.
While Canggu is a cool collection of gorgeous green tropical tracts of rice paddy with smatterings of sacred cows, Batu Bolong is blooming into the hottest locale for chic bohemian lifestyle.
Think organic market and chichi yoga meets beach-bum couture accessorised by celebrity-anointed designers. The food is fab too.
Secure that chauffeur-driven car and kick the day off with a tres authentic French breakfast at the holy shrine of Monsieur Spoon, or graze on the most amazing Nagu Bomb breakfast bowl of sweet local fruit, coconut milk and granola at Betelnut Café. Cool cafés are a growth industry on this strip, so check out the super buzzing Crate, the uber healthy Avocado and the recently opened Bro – an intriguing mash up of 'awesome Chinese and authentic French' – while you're here.
Machine-porn at Malamadre is where custom-created motorcycles are produced from a tiny workshop, while over at the epic Deus ex Machina they are customised alongside surfboard shapers, a barber, live music and food.
Artist types longing to embrace Bali's creative realm will adore silver smithing at the House of Alia where professionals share their painting and jewellery-making skills at workshops for small groups, including kids from age seven.
If the main game is retail therapy, the starting point is near the 'Deus' intersection.
Twentyone/Degrees stocks swimwear, jewellery and clothing ranges, while Flow & Yonder is a smokin' hot surf-wear institution up some super-steep steps.
Puravida has non-resort-style women's casuals while Asmara offers fashion with a Balinese spin. Nearby Horn has concept street-wear while a hop across the road to Bottle Avenue will secure some grape-based libations and vinyl music is sold next door.
Kiki's Kloset has gorgeous beach-bum wear and smashing dresses. Blak is for the little ones and The Berawa Art House is worth inspecting, while opposite is Moon Rocks and 69 Slam – famous for teens.
Batu Bolong blooms restaurants like so many flowers, with a clutch being the chilled siblings of swank Seminyak outfits.
Kitchen Rustica offers classic Italian take-out made with love while inside the pod of shops at Love Anchor is the Roman restaurant Pinsology, dedicated to dishing pinsa – a type of pizza from Rome – plus tiramisu.