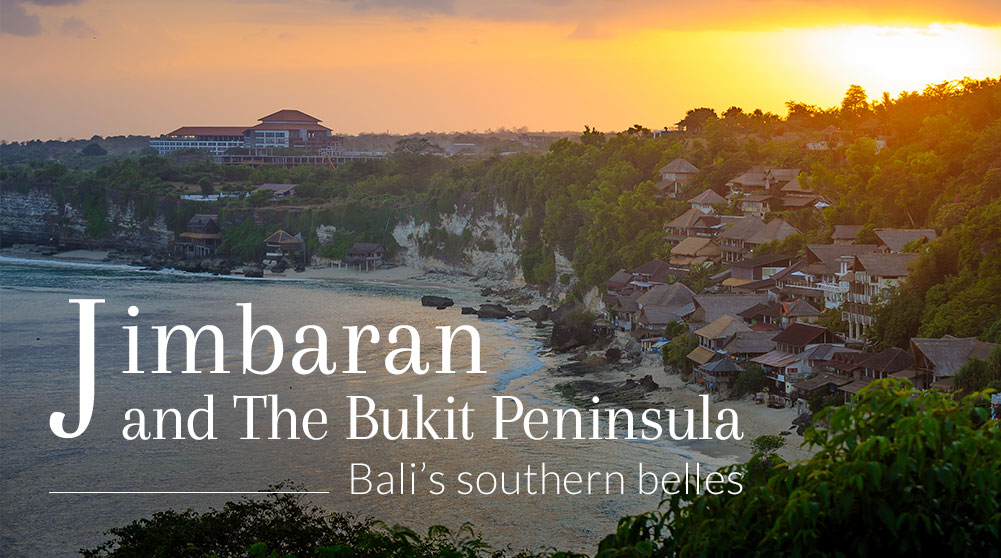 While Bali is perhaps best known for its verdant and picturesque rice-terrace landscape, The Bukit Peninsula possesses a very different kind of beauty. Towering limestone cliffs, thick coastal forest, timeless fishing villages and legendary surf breaks typify this rugged lemon-shaped headland marking the island's most southerly point.
A narrow land bridge separates the sprawling southern plains of Bali from The Bukit, and it's here that you'll find the peaceful fishing community of Jimbaran. The wide, gentle curve of Jimbaran Bay is protected by a reef, which creates a calm lagoon of sparkling turquoise water. Safe swimming conditions and beautiful soft white sand make this lovely beach a hit with families. Colourful jukung (traditional fishing boats) rest on the sand, and casual restaurants line the beach. Jimbaran's nightly seafood barbecues regularly top 'must do' lists in Bali. Choose your fish or seafood, then take a table on the beach while it is basted in Jimbaran's famous spice mix of garlic, black pepper, kaffir lime leaves and chilli, and grilled over coconut husks. Those in search of a finer dining experience and bespoke cocktails can head up to the fabulous beach club, Sundara, tucked into the corner of the bay, while foodies shouldn't miss Cuca, one of the island's most innovative restaurants.
Situated on the gentle rise of Jimbaran Hill, with charming views over the bay, (best enjoyed from a roof-top Jacuzzi,) the light and spacious Villa Aiko is well set-up for families. Nearby are two more fabulously equipped villas, each with ocean views and walking tracks down to the beach: Villa Jamalu is equally suited to jetsetters in search of a luxury pad and families looking for a quite holiday retreat, while the popular, highly contemporary Villa Adenium boasts a massive gym and games room.
Further up the hill is the area known as 'millionaires row,' an exclusive neighborhood boasting million-dollar views and some of the island's most exclusive villas. Early mornings reveal central Bali's dramatic chain of volcanoes, while evenings see the island's southern plains ablaze with twinkling lights. The Longhouse clings to the mountainside, with a stunning design by renowned Balinese architect Popo Danes, and bedrooms showcasing some of the many rich cultures of the Indonesian archipelago.
Back on the coast, golfers can play a round at the New Kuta Golf Course,