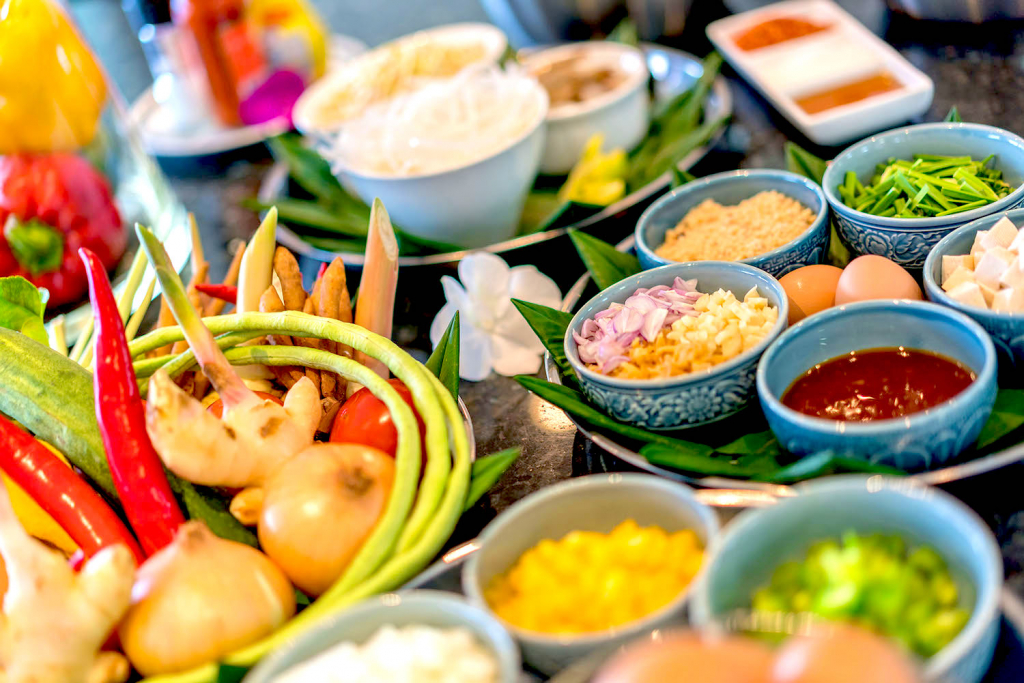 Phuket has a bit of a reputation as the place for parties and play. Yet, in line with the global trend to travel in pursuit of health and wellness, it is also emerging as a tropical island getaway to restore the body and mind. Yoga, wellness and detox centres are popping up all over the island and a growing number of restaurants are promoting good health as well as good taste in their quest to attract diners.
Santosa Wellness Centre, found on the hillside overlooking Kata Bay, is one such place offering several mind-body workshops and a restaurant serving creative raw, vegan and vegetarian cuisine. Santosa's colourfully presented dishes, such as 'summer rolls' stuffed with fresh coconut meat and a mix of vegetables, are as eye-catching as they are delicious, and they also offer regular Saturday buffet dinners for healthy grazing with sunset views.
Other leading-edge restaurants attached to wellness centres include Atsumi Raw Café near Rawai Beach (Indonesian gado gado wrap, raw pad thai, smoothies), Divine at Thanyapura Sports Centre in Thalang near the airport (organic gourmet cuisine and biodynamic wines), and Supernatural at Atmanjai Wellness Spa on Friendship Beach (raw vegetable lasagne, power broth soup, raw chocolate mousse).
Though the practice of cleansing and avoiding meat as a way to restore health is gaining wider appeal around the world, it's not a new concept for many Phuket locals. The annual Phuket Vegetarian Festival dates back nearly 200 years, when members of a visiting Chinese circus troupe fell ill and embarked on a ten-day cleansing rite that included a vegan diet, refraining from sex and alcohol, and performing some rather shocking rituals such as skewering their faces and walking over mounds of fiery hot coals (reportedly adopted from the Hindu festival of Thaipusam).
A number of vegetarian restaurants run year-round, too, with a handful of shops near the Chinese shrines along Ranong Road in Phuket Town serving up fresh and healthful local dishes. One of the best is Ruamjai Vegetarian Restaurant, with a buffet breakfast and lunch that brings in crowds of locals and travellers daily. Just wander in and point to two or three dishes, such as massaman curry or tofu and bean sprout stir-fry, from the large display pots and they'll put them on a plate of brown rice for you.