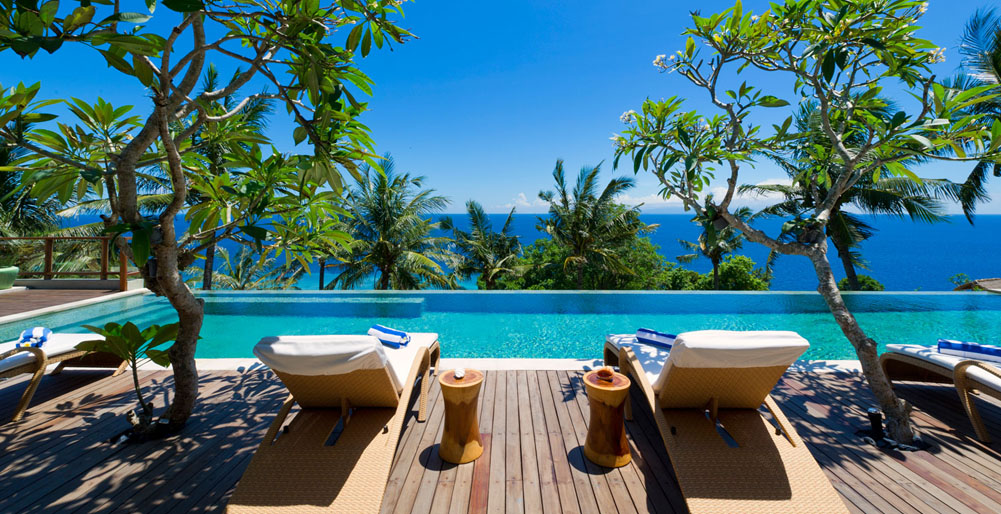 Lombok island is blessed with exquisite white sand beaches, spectacular surf spots, soaring volcanic peaks, forested hiking trails and sublime diving at the coral-fringed Gili islands just few minutes offshore. So if you're looking for a peaceful holiday retreat, surrounded by unsurpassed natural beauty and away from bustling Bali, Lombok is your perfect choice. Still not convinced? Take a look at these four stunning Lombok villas offering complete relaxation in a beautiful tropical setting.
Villa Sepoi Sepoi, Tanjung
Villa Sepoi Sepoi, whose name means 'Sea Breeze', is situated on Sira Beach, on the north-western coast of the beautiful island of Lombok. A dream holiday awaits at this luxury six-bedroomed villa set on a white-sand beach overlooking the Lombok Straits. Villa Sepoi Sepoi offers absolute beach frontage, with six acres of tropical gardens ensuring a secluded and private retreat. Designed as a family home, there is something for everyone here. As well as providing a safe environment for kids to play, there's the stunning 18-hole Kosaido golf course right next door, and diving and snorkelling opportunities on the nearby Gili islands.
Villa Sapi, Tanjung
A masterpiece of design from Canadian architect, David Lombardi, Villa Sapi will surprise and delight at every turn. This five-bedroom tropical oasis features three swimming pools plus a children's pool, a 'space-age' home theatre, a two-bedroom guesthouse, a tennis court, exemplary service and gourmet cuisine. Villa Sapi shares its prestigious neighbourhood with the Lombok Golf Kosaido Country Club, the Tugu and Oberoi hotels, and the superb dive sites of the Gili Islands are only a short boat ride away. This is barefoot luxury at its best.
The Anandita, Tanjung
Spectacular Anandita rests within a huge coconut grove bordering the postcard-perfect, white-sand Sira Beach on the island of Lombok. With acres of space and four delightful bedroom pavilions, The Anandita is ideal for families or groups of friends looking for a get-away-from-it-all holiday in a gorgeous, tropical island location while being pampered by a dedicated team of experienced staff. Outdoor activities abound, from swimming in the 26m free-form pool to volleyball on the lawn, snorkelling, sea kayaking and bike rides through traditional villages, to a round of golf on the adjacent and stunningly situated 18-hole championship course.