A huge wooden deck nestling a lavish swimming pool and spilling out onto the palm-shaded garden is the focal point of the absolute beachfront Villa Ban Suriya, located along Lipa Noi Beach in Koh Samui. Each of the six elegant bedrooms has large glass doors, leading onto the pool deck or lawned gardens. The villa features lavish living spaces, both within the air-conditioned pavilions and outdoors, surrounded by tropical beauty.
Guests at Villa Ban Suriya are spoilt for choice, with their own gym, a spa room, an astonishing sunken library which allows underwater views into the large infinity-edge pool, and an outdoor projector screen for movie nights. It's the perfect villa for swimming the day away and counting the stars in the evening–making for a luxurious and relaxing vacation in paradise.
We sat down with the villa's Chef Max, who told us a bit about his culinary journey.
Elite Havens: Hi Chef Max, do you helm the kitchen here at Ban Suriya?
Chef Max: We have five chefs who rotate between nine villas, so I have to move around.
EH: What do you like to cook?
CM: I like cooking Thai food. But many chefs here specialise in Thai food, so I try to be different. If you really ask me what I like to make—it would be sushi, which also happens to be one of my favourite foods. I used to work in a Thai restaurant, but they offered sushi on their menu.
EH: For how long did you work there?
CM: I worked in the restaurant for five years, but I was the one in charge of sushi for three years.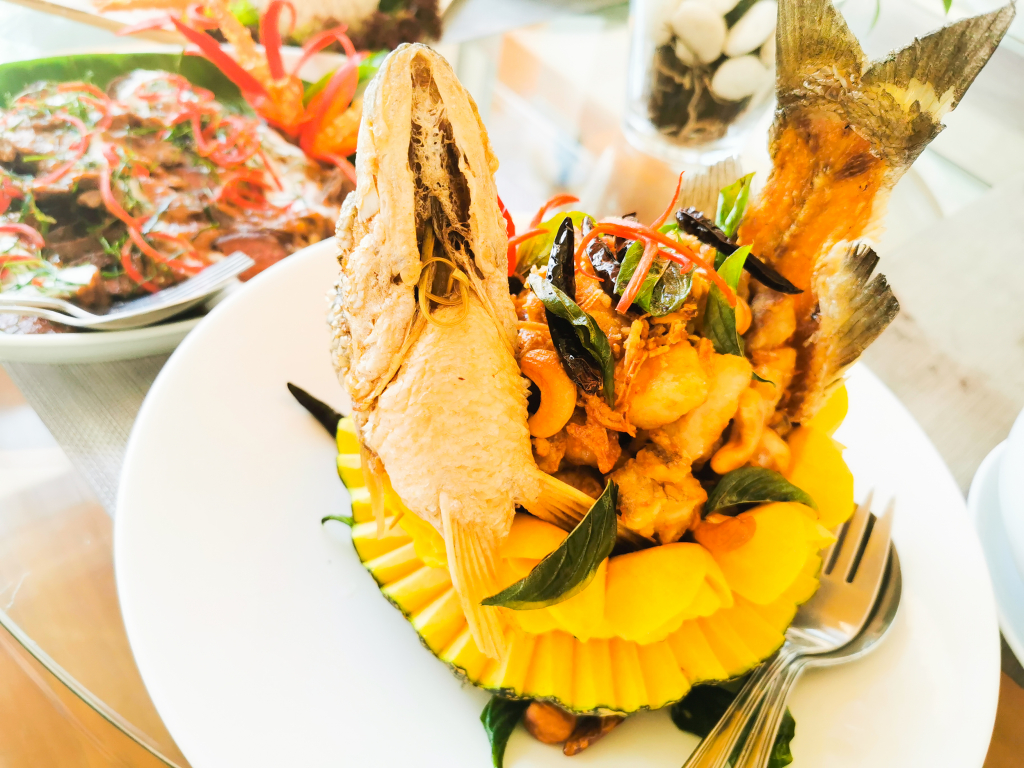 EH: Tell us about your culinary journey before you joined the restaurant.
CM: My journey is unique as I was a private chef with a Russian family and lived around the world.
EH: Where did you stay?
CM: They have homes in Cypress, Austria, Moscow, and they also have a villa in Thailand. So, I would follow them around and got to stay in so many countries around the world.
EH: That sounds intriguing. What did they like to eat?
CM: My sushi was their absolute favourite thing to eat.
EH: So that is your speciality?
CM: Yes, it certainly is.
EH: Here at Ban Suriya, what do guests usually like to order?
CM: Pad Thai is often requested by guests. People come here for Thai food and I like to indulge them with it. But sometimes, I tell them that if they want to try sushi, I will be happy to make it for them.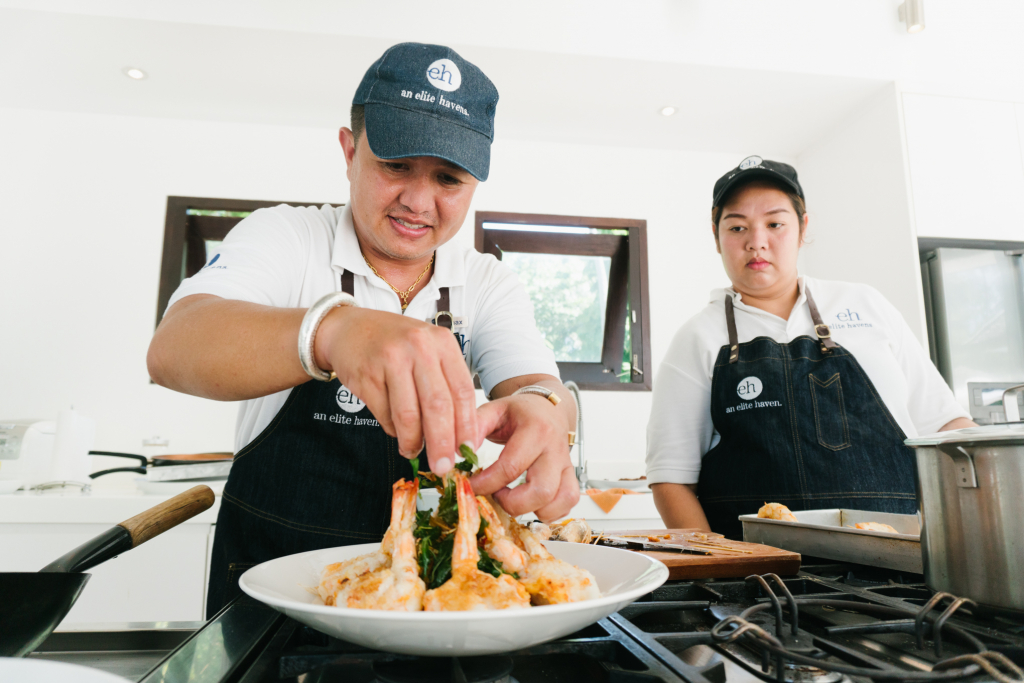 EH: Why do you like being a chef?
CM: My mom used to have a stall in the local market where she used to cook rice soup with curry. I would help out with everything—preparing the vegetables as well as the soup. It is from an early age that I wanted to be a chef.
EH: But how did you learn to cook other cuisines?
CM: I learnt because I was passionate about cooking. I graduated from Dusit Thani College, where they tried to teach me everything about the world of food. Imagine trying to learn about all the types of cuisines in the world during a 4-year course. But if you don't cook every day, you will forget. Now I mostly cook Thai food and some other western dishes like steak.
EH: What advice would you give to someone who wants to be a chef?
CM: Practice, practice, practice. I was not good when I started out at Dusit Thani College. I was just an average student in the class. But now, because I practised hard over the years, I have become proficient in the art of cooking.
EH: Practice makes perfect.
Chef: Yes, I completely agree.
EH: What is your favourite dish?
CM: My favourite is Prawns and Scallop. Why? It is because the recipe retains the crunchiness of the prawns and scallops, while the wine ensures it is not too dry and not too runny. It's just perfect. I usually serve it with Thai-style flair. Scallops are from the United States and the prawns are sourced locally from here. So, I just try to mix cuisines. It's not really Thai, it's a fusion of Thai with western sensibilities.
EH: What quality should you have to become a good chef?
CM: Everybody can be a good cook. You just need to practice to become better.
Shrimp and Scallop with Thai Hot Basil Sauce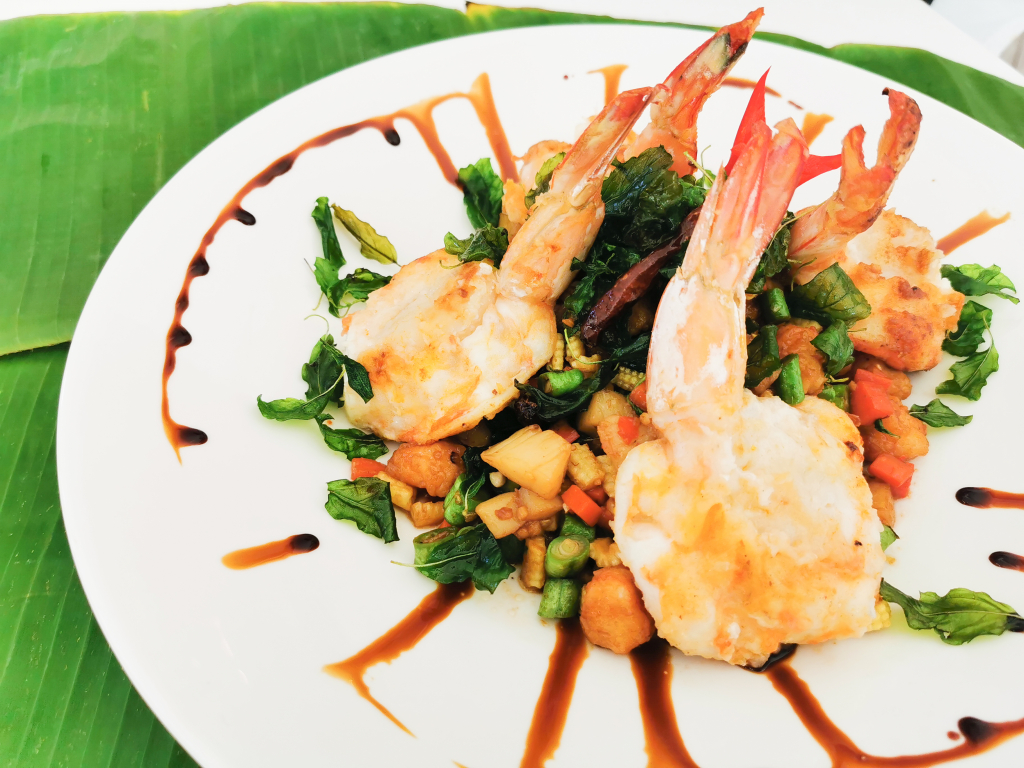 Ingredients:
Tiger prawns, 8 pieces
Scallops, 8 pieces
Thai hot sauce:
Baby corn, 30 g
Carrot, 39 g
Long green beans, 30 g
Garlic, 2-3 cloves
Chilli (Thai hot),​ 2-3 pieces
Thai basil, 1 cup
Fish sauce, 1 tablespoon
Oyster sauce, 1 tablespoon
Black soy sauce, ½ tablespoon
Sugar, ½ tablespoon
Instructions:
Cut prawns and stuff scallops into the prawns. Season with salt and pepper and pan-fry until golden brown on both sides.
Stir garlic and chilli in a hot pan until fragrant, and then add diced scallops, carrots, baby corn and long green beans. Stir-fry until cooked.
Prepare the seasoning with soy sauce, fish sauce, oyster sauce and black soy sauce. Add fried shrimps and basil leaves to this.
Place the fried shrimp and scallops on the fried ingredients and decorate with fried basil leaves before serving.
Enjoy Villa Ban Suriya's festive offer. Book before 30th November for stays during the year-end festive season and enjoy 20% off. Early bird enjoys up to 15% discount when booking 120 days in advance. Last-minute bookings enjoy up to 10% discount. Terms and conditions apply.