Villa Pangi Gita sits in the heart of Canggu but might as well be nestled in the middle of the jungle. That's what it feels like in the verdant areas filled with little houses designed to look like Balinese huts. Each space – including the open-sided living room, the study and the bedrooms – is topped by iron-wood shingle roofs. In tandem with water features scattered throughout, you feel the traditional Bali vibe.
The food in this 3-bedroom villa complements its decor and architecture. Scrumptious with a clean flavour, it's cooked up by Chef Gus, who's skilled in Asian and European cuisine.
Elite Havens: Chef, please tell me your name and what you do in the villa.
Chef Gus: My name is Ida Bagus Adhi Kusuma. People call me Gus, and I am the Chef of Villa Pangi Gita. I've been working in Pangi Gita since 2012 and I love every minute of it. The team has been like my own family.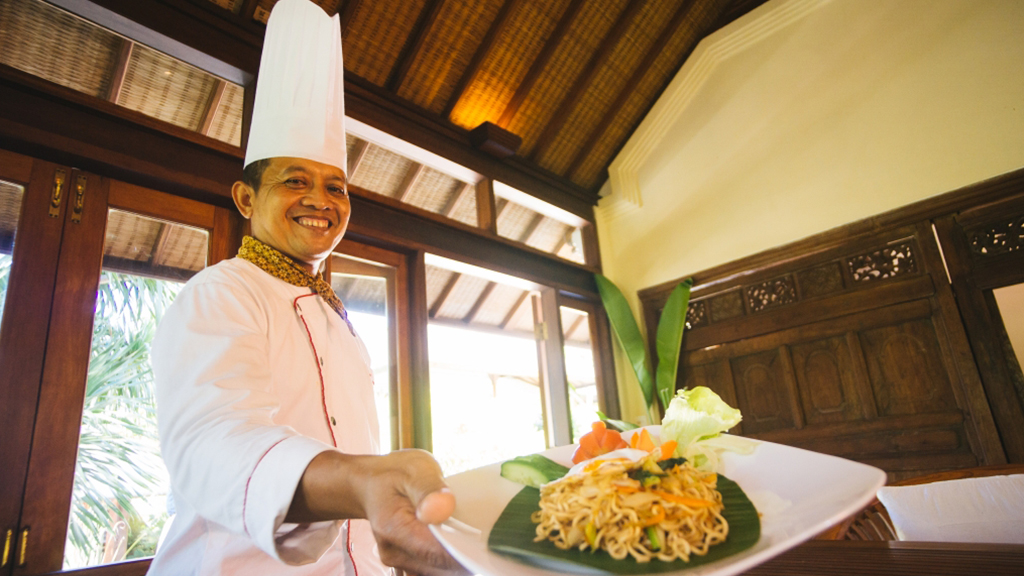 Elite Havens: Did you study cooking before?
Chef Gus: Actually, I graduated from a tourism hospitality university. Diploma 1.
Elite Havens: What is Diploma 1?
Chef Gus: Diploma 1 is a one year program in the University. I took food and beverage products for my course in the Hospitality industry. After graduating, I started working at one of the biggest hotels in Bali. Not only in hotels, but I also have worked in a catering company, some other villas, even at the airport!
Elite Havens: What kind of cuisine do you make?
Chef Gus: I am specialised in Balinese, Indonesian, and European cuisine. Not only that, but I also bake! I used to work as a pastry chef. I remember I made a special carrot cake, specially requested by our retreat guests. Oh, it was memorable!
Elite Havens: What are you making us tonight?
Chef Gus: For starters, we will serve a tuna salad combined with our Balinese spices. There's a special surprise there and the taste will be different than your usual tuna salad. For the soup, we will serve Balinese-style prawn soup. Moving on to the main course, you will be served with a grouper fish wrapped in banana leaves. That banana wrapping technique is called Pepes which will add a distinct aroma of cooked banana leaf. Finally, your dinner will be completed with a Dadar Gulung, a Balinese style crepes filled with coconut and palm sugar which I will be sharing the recipe for our Elite Guests.
Elite Havens: Why did you choose these dishes for us?
Chef Gus: I want you to have the authentic Balinese experience. Not only the Balinese ambience from the villa, but also from your very own plate!
Elite Havens: Any advice for those who want to be a Chef?
Chef Gus: Get more experience from others. As they always say, practices make perfect. You also need to be passionate and eager to learn new things. Food and beverages is a dynamic industry.
Elite Havens: What else is needed?
Chef Gus: Cook from the heart.
Gulung (Balinese crepes)
Ingredients:
The Crepes
250gr of all-purpose flour

½ tsp salt

¼ tsp Vanilla powder

½ tsp Baking powder

1 egg

300ml pandan leaves juice

Margarine for skillet
The filling
400gr grated fresh coconut

200gr palm sugar
Directions:
1. Make the batter
Place the flour, baking powder, vanilla powder and salt in a large mixing bowl. Stir to mix. Make a well in the centre and use a rubber spatula to break the eggs. Start to incorporate the flour from the side while gradually add in some water. Mix until the batter is smooth then add pandan juice. Strain the batter if necessary to get rid of lumps. Cover and let the batter rest for 1 hour. You can keep the batter in the fridge up to 48 hours.
2. Make the crepes
Heat the pan with a bit of margarine over medium-high heat. Pour the batter onto the pan in about less than 1/4 cup of the batter for each crepe, then quickly swirl the pan in a circular motion to coat the pan evenly. Cook for about a minute or until the bottom is light brown, and flip over to cook for another 10 seconds. Remove and set aside. Make pancakes with the remaining batter in the same manner.
3. Make the filling
Place all filling ingredients in a small saucepan, cook it until the brown sugar is melted. Set aside to cool down.
4. Compose the crepe
Place about 1-2 tbsp of the filling near the edge of the lower half of the crepes that you prepared earlier. Fold the bottom over once, then fold the right side and left side to the middle and over once more to make a cylinder shape. Repeat with the rest of the crepes and filling. Serve at room temperature.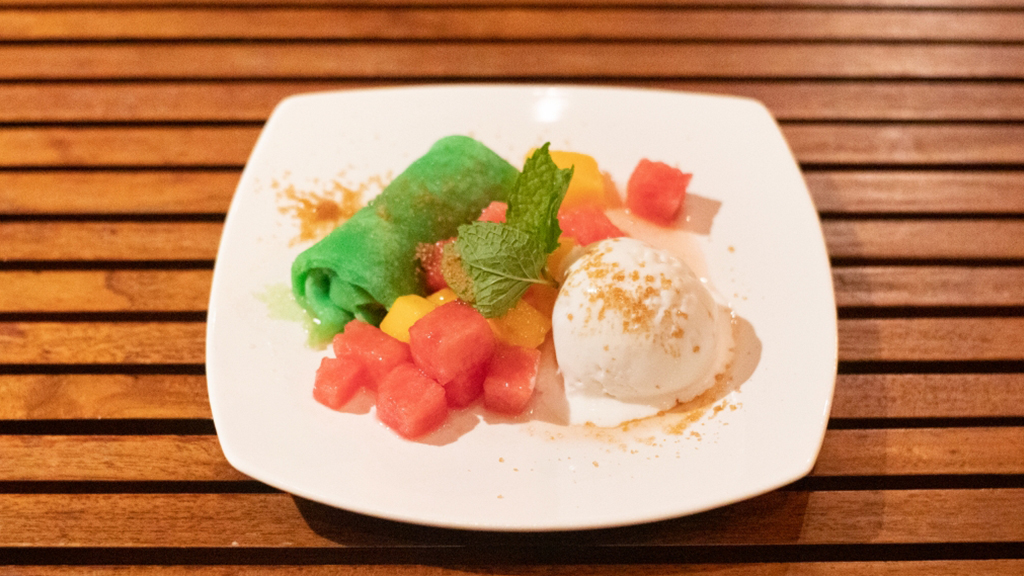 It may sound a bit tricky, but the results will make you delighted. Coconut and brown sugar will never go wrong! Book Villa Pangi Gita and ask Chef Gus to share his cooking tips.