The Songkran celebration is rich with symbolic traditions. Songkran is a Sanskrit word which is combined with Song and Krant that means the entry of the sun into a new sign of the Zodiac. This is the Thai New Year's Day. It usually falls on April 13-14-15 every year.
April 13 is called Wan Maha Songkran, which is the day to mark the end of the old year.
April 14 is called Wan Nao, which is the day after.
April 15 is called Wan Thaloeng Sok, which the New Year begins.
Value and Significance
The Songkran Festival has been organised to celebrate the Thai New Year since ancient time. In this festival, activities are organised by people of all ages and status who are united to express their unity to celebrate the occasion by cleaning houses and temples and harmoniously acquire merits to dedicate the results of their good deeds to their departed ancestors. This is an act to express gratitude to and awareness of their ancestors' virtue. Anointing monks and Buddha images, pouring scented water to the elderly to be blessed by them, entertaining programmes such as indigenous fun-fair are organised to identify the festival that includes water throwing among the young ones and children with a friendly attitude. Such an action leads to generosity to strengthen Thai Culture heritage.
The Songkran festival is traditionally followed at present:
Cleaning houses, communal residences, temples and clothes.
Merit-acquisition.
Releasing birds and fish.
Anointing Buddha images and monks.
Pouring scented water on the elderly to apologise them and to be blessed by them.
Indigenous traditional fun-fair.
The Songkran tradition is recognised as a valuable custom for the Thai community, society and religions:
Values for Family: To provide the opportunity for family members to gather in order to express their love and care, for example, children, sons and daughters, grandchildren to pour scented water onto the hands of their parents and grandparents and to present them gifts including making merit to dedicate the results to their ancestors.
Values for Community: To provide the opportunity to create unity in the community such as to jointly acquire merit, to meet each other and to enjoy the entertaining events.
Values for Society: To create concern upon the environment with the corporation, to clean houses, temples, public places and official buildings.
Religious Values: To jointly perpetuate religions by means of merits acquisition, offerings alms to monks, Dharma Practice, listening to sermon and monks-bathing.
Mornings begin with merry-making. Visiting local temples and offering food to the Buddhist monks is a common practice. Water is poured on Buddha statues and the young and the elderly. This is a traditional ritual during Songkran. It represents purification and the washing away of one's sins and bad luck.
As a festival of unity, people who have moved away usually return home to their loved ones and elders. Giving reverence to ancestors is also an important part of the Songkran tradition.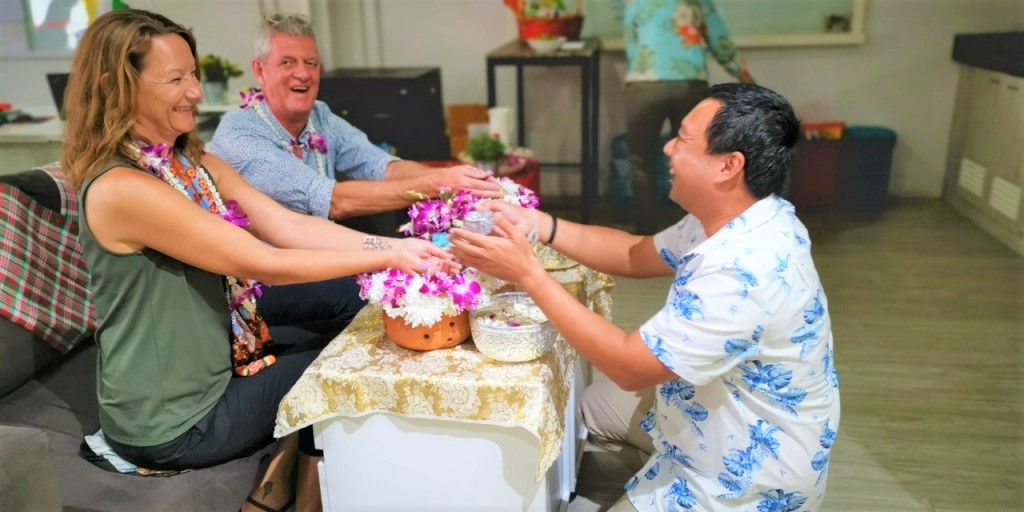 The Elite Havens Phuket office celebrated Songkran with Country Manager Femke Beekers and General Manager Andy Parkhouse being blessed by the office's Chief Engineer, Jook. The entire Elite Havens Phuket 30-member team was blessed one by one, for about a minute each.
Songkran is known for its water festival. Major streets are closed to traffic and are used as arenas for water fights. Celebrants, young and old, participate in this tradition by splashing water on each other. Traditional parades are held and in some venues, a "Miss Songkran," where contestants are clothed in traditional Thai dress, is crowned.
Learn more about Thailand and its colourful traditions. Complete your holiday by staying at one of our beautiful villas.