Its easy to be seduced by the glamour of southern Bali with its trendy restaurants and uber-cool beach clubs, but if you have something a little quieter in mind for your Bali holiday, the pristine Sunrise Coast on the island's eastern shores has a charm all its own.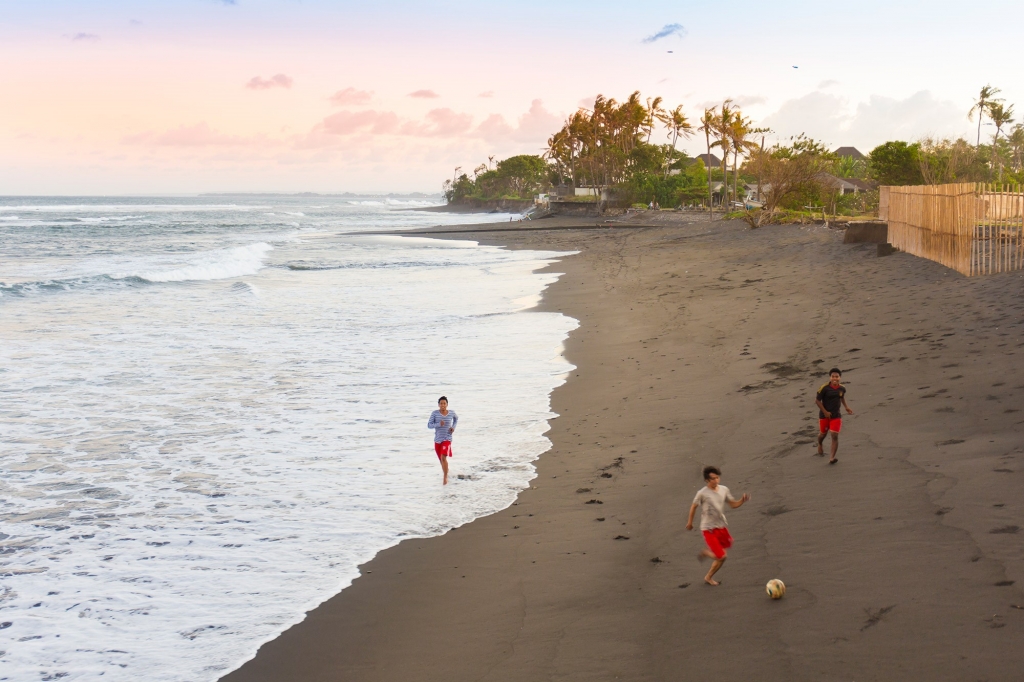 Peaceful coastal villages nestle amidst banana plantations, lush green rice fields and exotic palm-fringed black sand beaches. A trio of volcanos looming in the distance make the most stunning of backdrops, especially when bathed in the pearly pink light of a Bali sunrise.
TOP THINGS TO DO

The atmospheric seaside town of Candidasa is situated mid-way up the east coast just 60km from the airport. Local art shops sell paintings, handicrafts and wood carvings, while casual open-air restaurants are strung along the shore, some with candle-lit tables right on the beach. Make sure to check out the main temple with a dreamy location on the edge of a lotus-filled lagoon.
Adventure-seekers can trek to the top of Mount Agung – the island's highest peak, while water enthusiasts can explore Bali's best dive sites, such as the HMS Liberty Wreck. Adrenalin junkies can get their kicks on a shark dive, or glide through the water with manta rays. The cool waters of Tirta Gangga, an elaborate water palace tucked into the nearby hills, makes a gentler respite with its spring fed pools and water fountains carved from stone.
A few kilometers inland from Candidasa, the 700-year-old walled village of Tenganan is home to the Bali Aga, the island's first inhabitants. It is quite a cultural attraction these days, but still provides a fascinating glimpse into a traditional way of life and is justly famed for its beautiful ikat weavings.
The small coastal village of Jasri is home to Charly's chocolate factory. You won't find Willy Wonka, but you will find delicious chocolate (try the Narkabo dark chocolate nibbles) and great photo opportunities thanks to a quirky assortment of cone-shaped bamboo houses clustered in a grove of coconut palms right on the beach. Nearby, a bumpy dirt road winds through verdant forest to emerge at Pasir Putih (white sand) rightly crowned as Bali's most beautiful beach. Bathe in the turquoise sea, soak up the rays from a deckchair and indulge in fresh fish for lunch, barbecued right in front of you.
Another of Bali's best beaches, Bias Tugel, is located further south, in the pretty fishing village of Padang Bali. Tucked between two headlands this is everything you could imagine in a tropical beach, and a kick back to old-school Bali, with its simple beach shacks serving up fresh coconuts, nasi goreng and banana pancakes. Blue Lagoon is close by, a narrow, picturesque cove with a pretty coral reef. You can rent snorkelling gear from one of the cafes on the hillside.
The 1000-year-old temple Pura Goa Lawah clings to the coast at Pesinggahan and is known as "the bat temple" due to the thousands of bats that live here. According to legend, its dark tunnels are home to a giant dragon-like snake that feeds off bats. You will often spot colourful Balinese ceremonies here, particularly at full moon.
This region is renowned for its sate lilit – a local delicacy of spicy fish sate grilled on lemongrass stalks. Try Warung Mertha Sari for a delicious Balinese meal of skewers, fish soup, steamed fish in banana leaf parcels, and a fiery sambal matah (hot sauce.)
BEST BEACHFRONT VILLAS

There is much to enjoy on Bali's east coast that you may want to stay around for a while, so why not treat yourselves to a real Bali hide-away and check into a luxury beachfront villa. Most villas include the use of a car and driver so you can discover the delights of the Sunrise Coast at a leisurely pace.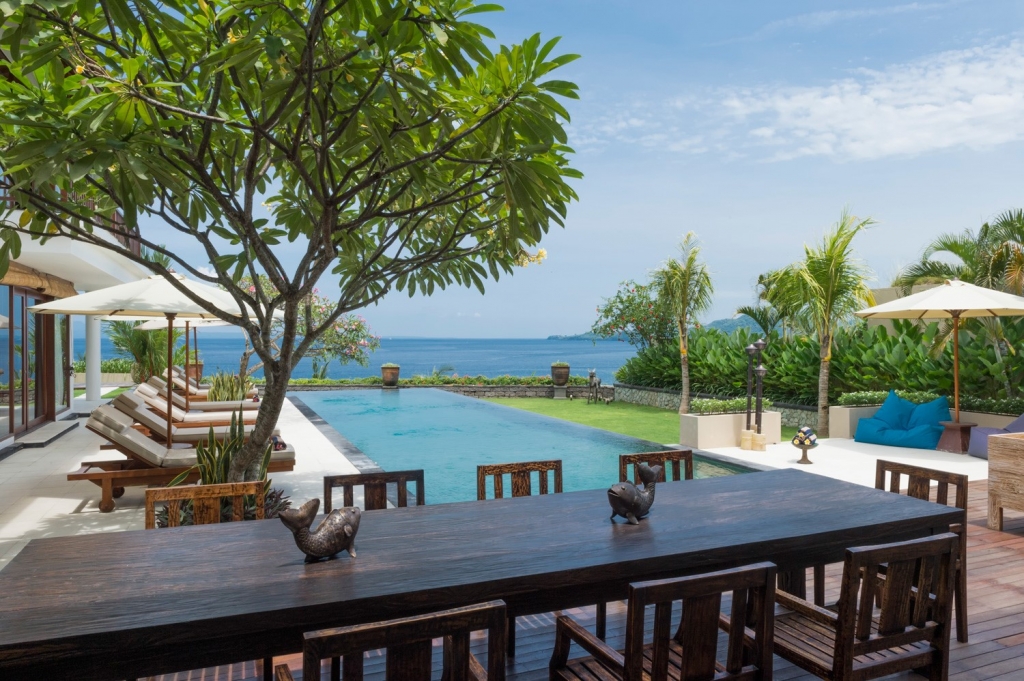 If panoramic ocean views appeal, check out Villa Asada which sprawls across a hilltop at Labuan Amuk Bay on the outskirts of Candidasa. The infinity-edged swimming pool is perfectly positioned to enjoy the seascape.
A collection of tranquil fishing villages, Ketewel is just 30 km from the Bali International Airport. Beaches here are often deserted and surfers will usually find they have a whole break to themselves. Saba is renowned for its gamelan music, legong dancers, and its temple, which rises directly from the shimmering black sand. Those looking for a rejuvenating Bali holiday will love nearby Villa Ylang Ylang a lavish seaside retreat with options for yoga, spa treatments and health conscious dining.
Pabean Beach is reached by a sun-dappled lane that meanders through tobacco plantations, emerald rice fields and banana groves. A small cluster of exclusive beachfront villas nestle on the foreshore. Majapahit Beach Villas is a complex made up of three graceful villas, each with private pool and Jacuzzi. Villa Bayu Gita has a stunning infinity edged swimming pool right on the beach as well as home cinema and well-equipped gym. Villa Pushapuri nestles into a coconut grove between the river and the sea, with separate pavilions housing richly decorated bedrooms.
From Ketewel it's just a quick hop up the hill to Ubud, the arts and cultural centre of Bali, or to Bali Marine Safari Park, home to tigers, elephants and lions. At the salt pans on the beach at Kusamba you can see farmers using ancient techniques to craft 100% natural sea salt by sun and wind evaporation.
Sanur is the most southerly town on the east coast and retains its laid-back charm with leafy streets, art galleries, cosy cafes and seafront promenade. The calm lagoon-like waters and golden sand make it a popular spot for families.
A holiday on the Sunrise Coast will reveal the real Bali, a place of ancient villages, colourful Hindu pageantry and traditional way of life. So head east on a journey of discovery and find out what you have been missing.