Milos Kosanovic had been in the hospitality industry for over a decade when he joined Elite Havens as General Manager, Koh Samui. A watersports enthusiast who was born in Sweden and grew up in Croatia, he chose to make Koh Samui his home after a diving trip around the island. Here, he tells us about his journey and how rewarding it has been.
Elite Havens: Hi, Milos. How long have you been with Elite Havens?
Milos Kosanovic: I've been with Elite Havens since November 2018, when they acquired my company.
Elite Havens: Tell us a little about your career journey.
Milos Kosanovic: I have been a part of this industry since 2007. I started off with real estate and sales, but increasingly found that customers who bought properties from us needed property management services too. And as the global financial crisis hit, sales of new properties dried up but rentals continued. Recognising a shifting market, I modified my business model. In 2010, I was hired by what is now Panacea Retreat, and we set up new systems and management teams. We completely refurbished the villas and also did a lot of work branding them because the owner had very high aspirations for them.
I stayed there for five years as the General Manager of the estate before deciding to open up my own management company, SILK, with several other partners. Our growth was rapid and we reached a quantum of 15 villas at one stage. We managed and marketed the villas, which were limited to Koh Samui as a destination. In 2018, Elite Havens acquired my company and I joined the management team here.
Elite Havens: What does your role at Elite Havens entail?
Milos Kosanovic: I'm the General Manager for Koh Samui and that involves a lot of owner relationship management. I also oversee all the in-villa expenses, as well as guest relations. I've got to keep my eye on the reservations that come in daily, liaising with our reservations team if they need any assistance in closing the sales.
Besides all this, there is a lot of work involved on the maintenance side, ensuring that the villas remain in good condition. I regularly inspect each villa, deciding what needs to be repaired and what must be replaced. Scheduling repairs for popular villas which are always booked out is a difficult juggling act.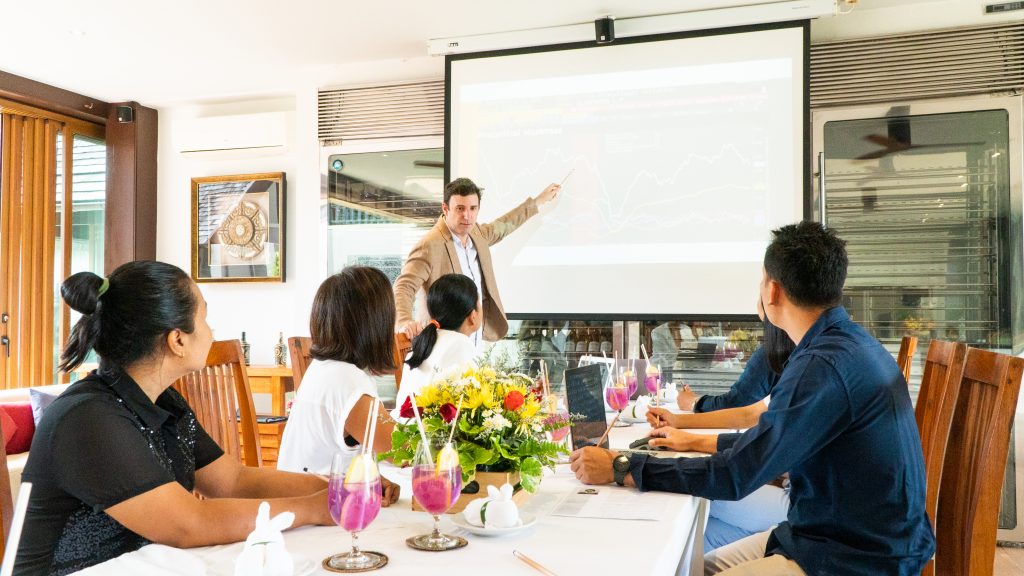 Elite Havens: Can you tell us about an interesting experience you've had while working as a General Manager?
Milos Kosanovic: Something I find very rewarding but also very stressful and challenging is building or refurbishing a villa, ensuring that it is completed within the set timeline. Yet, once completed, everything seems to fall into place at the opening ceremony, making the effort worthwhile.
Before I joined Elite Havens, we once had to retile a villa's swimming pool. Thailand suffered from extensive flooding that year and thus the tiles we had ordered from Bali couldn't reach us. They arrived on time, but they couldn't be unloaded at the port to be delivered to us. So, the pool was bare and ready for the new tiles, which remained elusive. It was close to Christmas time and the villa was booked solid. Guests had paid high season rates to stay there and we couldn't get the tiles for the pool! Imagine the pressure. Thankfully, the tiles finally arrived in the nick of time and we got extra crew and contractors to work together to instal them on time.
When the guests checked in, the pool looked fantastic. We congratulated ourselves and considered the job done. The next day, the water was RED. It turns out that the iron in the water which came from a well, reacted with the chlorine, turning the water red. Unfortunately, the first person who noticed it was a guest who was up at 6 in the morning. He saw the red water while having his coffee and wondered to himself, "What is going on here?" But he was very kind about it. We got the pool contractors to come in and they put hydrogen peroxide into the water. Like magic, the water cleared up in front of our eyes. The pool was that beautiful blue colour again and the water sparkled. I think I grew a few strands of grey hair during this episode.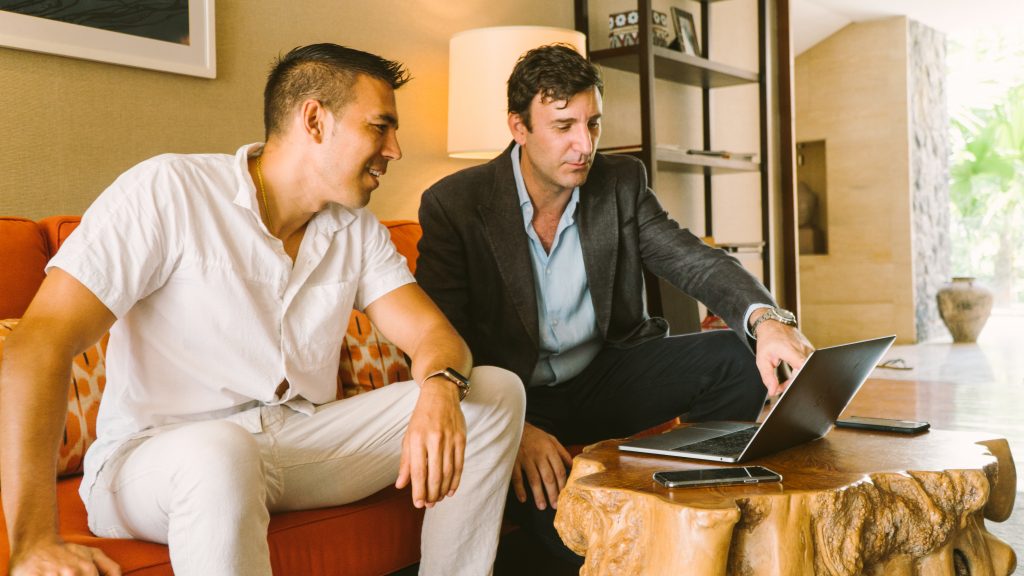 Elite Havens: In your opinion, what are the qualities required to be a good General Manager of a region?
Milos Kosanovic: First of all, you have to be great at managing relationships. The unique thing about our industry is, as someone put it: we have two wives – the guests and the villa owners. So you have to be able to handle them both expertly. Another thing most GMs know is that sometimes you have to push the staff, keeping the company's larger objectives in mind. It may not make you very popular, but you have to get the work done. And most importantly, you have to be well versed in several different disciplines. You cannot be an expert in only one field, focusing on just one thing. It is a constant juggling act – maintenance, accounting, HR, guest relations, food and beverage services, marketing, reservations and management. That's where I think I excel, I multitask well. If I did not juggle multiple things at once, I would get bored.
Elite Havens: Where do you hail from and how did you get into this business?
Milos Kosanovic: My story's a bit long and it journeys around the world. I was born in Sweden, though my family is originally from what is now Croatia but back then it was called Yugoslavia. After Sweden, we moved to Germany, where we lived for a few years and then moved on to Croatia and later, Holland. I then spent ten years in London, where I finished school and university. And after university, I decided to travel a bit. I went to Thailand and found myself enjoying scuba diving in Koh Samui and Koh Tao much more than expected. I decided to grow roots and become a scuba instructor in Koh Samui in 2001. Four years later, I found myself getting more and more involved in real estate: I started investing in it and working in the real estate industry. And from that point on, my love story with villas began.
Elite Havens: What do you do in your spare time? Or are you on-call 24 hours?
Milos Kosanovic: I'm pretty much on-call 24/7 but when I get a day off, I take my motorbike for a spin with some friends. We go cruising around the island. It's a great way to see the island and to find new aspects of Samui. I also enjoy sports and play quite a lot of basketball, sometimes even during the week. Golf is something I don't play often enough. I wish I could play a bit more but it is time-consuming. So, between my job and my wife, it's a bit tough to get four hours of golf in, someone will get upset.
Scuba diving is what drew me to Samui in the first place and I still like to go diving, though I don't dive as often as I'd like to.
Elite Havens: What do you love about Koh Samui? What keeps you here?
Milos Kosanovic: Initially, it was scuba diving. And at that time I spent most of my time in the water. I could live on a boat, that would be my dream home.
But as I got into the real estate industry, I began to discover more of the island's inland and it's really a special place. The mountains are amazing and of course, it's the people that make the place. I have a very good mix of friends here, both locals and ex-pats. Another amazing thing about Samui is that it's a crossroad where you find travellers of all kinds. Some people come and go regularly, while others stay for months at length. I've made so many amazing contacts and friends here that today I could go to New York and have a place to sleep. Or Melbourne or Hong Kong or Johannesburg or Madrid. I've made friends from all over the world on this little island.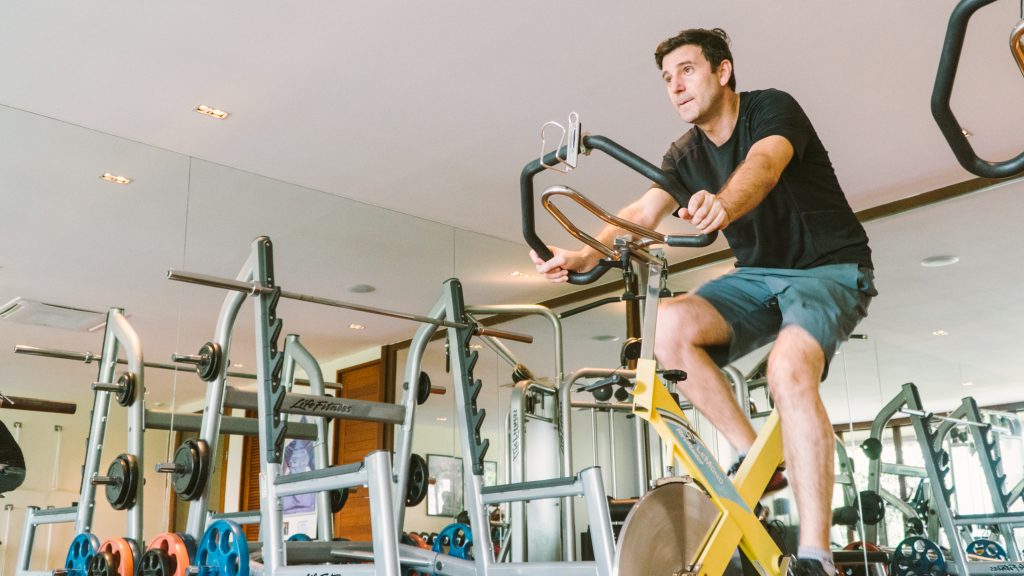 Elite Havens: What can you reveal to us about Elite Havens' plans for Koh Samui?
Milos Kosanovic: We currently have 23 properties in Koh Samui. We are also working on improving our F&B offerings. Our villa chefs are fabulous and guests can't stop raving about the food, but we'd like to increase the variety of cuisines on offer. Previously, we were quite focused on Thai food but we're expanding into other Asian cuisines and some western menus as well. Several of our chefs already have the requisite skills and they will train the other chefs within our portfolio.
We are focusing a lot on building up the Elite Concierge service and offering unique experiences to our guests by partnering with the best companies on the island, such as adventure tours. Imagine a jet-ski safari where you go on four-hour jet-ski tours accompanied by back-up speed boats, cruising around Koh Phangan Island. Or an ATV (all-terrain vehicle) tour all over Samui's lush hills. See the real Samui, the beautiful interiors that are dotted with fruit farms and plantations.
Elite Havens: So there are a lot of new things in store.
Milos Kosanovic: The travel industry is veering more towards experiential travel. So while we do get a lot of guests who come to the villas to just sit back and relax, many of our guests want to try a variety of new experiences. We craft these as part of the Elite Concierge service and try to cater to all their wishes.