Looking to escape the humdrum of everyday life? Pack your bags for a dreamy glamping experience in Lombok, one of Indonesia's most scenic, yet relatively unknown treasures. Settle into paradise in a luxury tent, an amble from the glistening beauty of Selong Belanak Beach. Bright-coloured reefs and cascading waterfalls of Gili Islands remain at a striking distance.
Soak in the solitude and freedom of being amidst nature, while savouring the luxuries of a ritzy five-star stay. Take refreshing dips in your sparkling private plunge pool, unwind in the cosy air-conditioned room, and lounge on sprawling sun decks engulfed by magical views of the ocean. Our Elite Concierge is the cherry on the cake.
Camping with a difference
Imagine the most picturesque tree house or log cabin and you get an idea of what a luxury tent in Lombok's Selong Selo Resort & Residences has to offer.
Perched high on the canopy of a hill, accessible via steep steps, the Kemah luxury tent villas greet you with bird's-eye views of the mesmerising ocean and fragrant, lush valleys of the island.
An inviting studio-style living area with large picture windows offers the perfect spot for indoor-outdoor vacationing. Breezy interiors with abundant natural light and glossy wooden flooring combine the rustic charm of a tent in the woods with the state-of-the-art facilities of an elegant hotel.
Enjoy stylish fixtures, efficient plumbing and comfy air-conditioned rooms. Lay back on puffy sofas and bask in the greenery before you.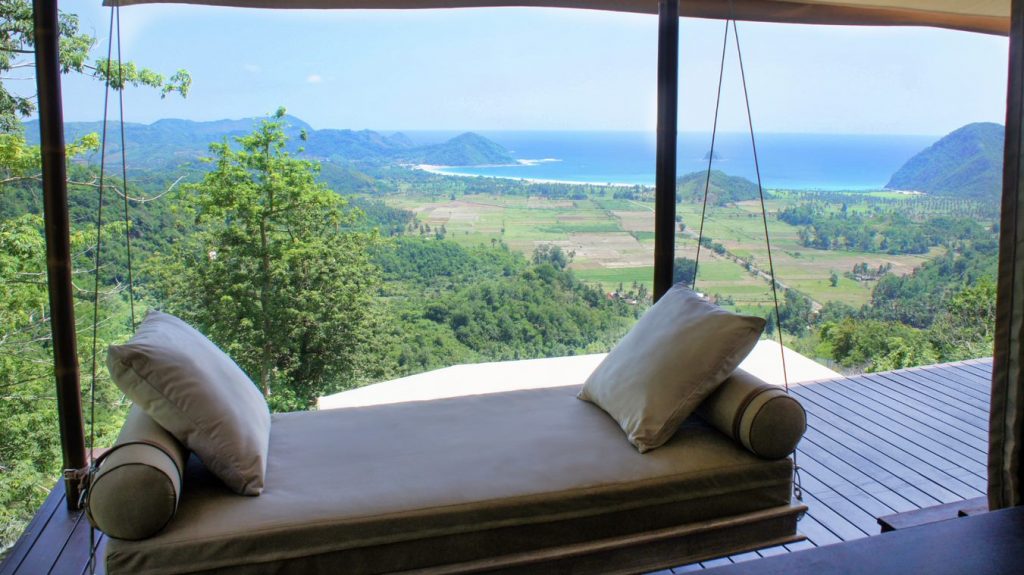 For a cosy time indoors
Like the rest of the space, the bedroom gives the sense of being outdoors even when you're not. The luxury tent's canvas walls can be rolled up to make you feel like a part of nature. Settle into canopied king-sized beds and let gentle sounds of nature lull you to sleep. Or, head to the adjoining open deck for an unforgettable snooze under the stars.
Glossy ensuite bathrooms are equipped with sizzling, hot showers. A blessing, if the lack of plumbing puts you off camping trips. Glamping in Lombok is nothing like the rustic camp trip you envisioned.
A wealth of outdoor beauty
Settle down at the alfresco coffee table and treat yourself to a sumptuous breakfast in the lap of nature. Cosy double swings on the deck are sure to bring out the child in you.
Bask in the warm, tropical sun on daybeds or take a cool, refreshing dip in the private plunge pool. How about getting a massage on the outdoor deck? With the ocean spread out before you, what could be a more calming place to try out the many offerings of the Selong Selo spa?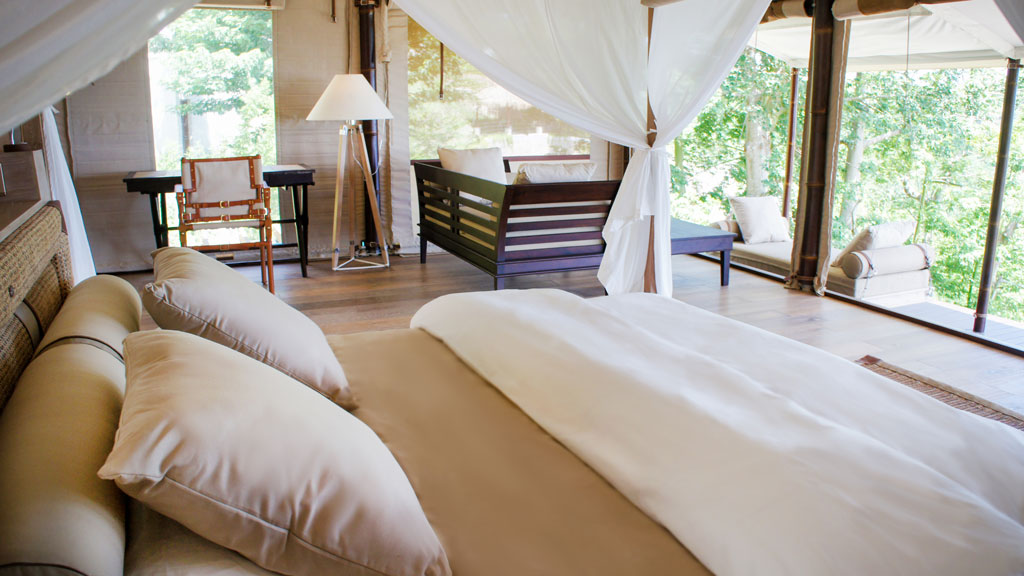 A haven for digital nomads
Sitting in an idyll of rural bliss, Lombok is a haven for artists and creative thinkers. Come, get inspired by its quiet, unspoilt beauty while you work remotely.
Curl up on the sofa and let the surrounding foliage be your muse. Get your creative juices flowing at the wooden writing desk, or head to Aura Lounge and Bar when you take a break.
Dining here is a grand affair
Ditch burnt marshmallows and soggy breakfast cereals. Glamping in a Selong Selo luxury tent means decadent meals whipped up by professional chefs. You can dine at Aura, the resort's restaurant. Or you could request room service in your glamorous tented villa. Dig into a variety of local Asian delicacies personalised just for you. Enjoy first-class room service for late-night snack cravings or treat yourself to a delightful in-villa barbecue by the pool.
Sign-up for a private cooking class at Aura Lounge and Bar. Relish its prime location on the edge of a cliff, flanked by mystical jungles and stunning views of the sea.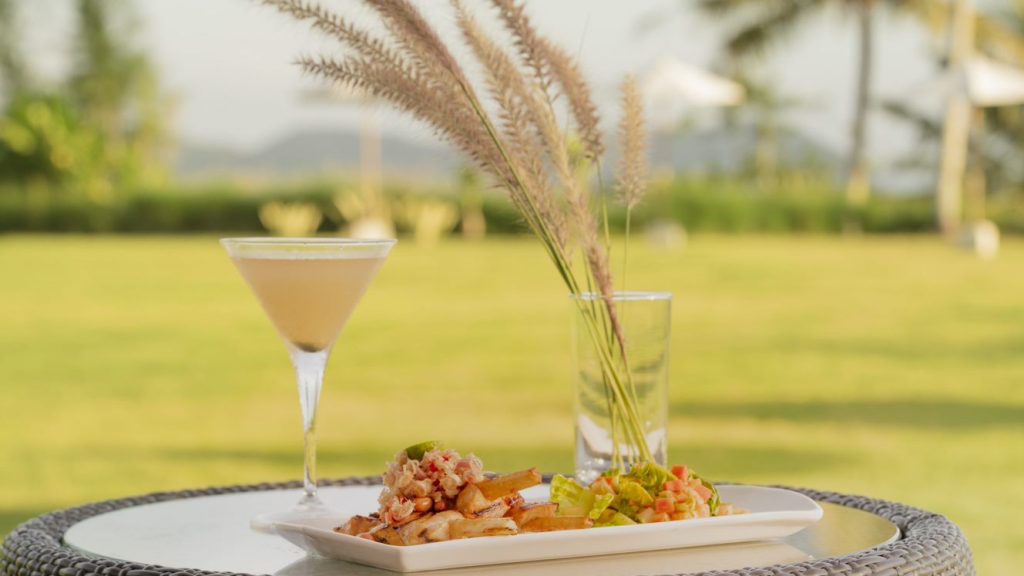 Service that goes above & beyond
Let the army of warm, highly-trained staff pamper you for an especially relaxing time. The Elite Concierge is always delighted to help, providing you with local insights on hidden gems that commercial brochures often forget.
You can hire a chauffeur-driven car to ferry you around the area and shuttle service to Selong Belanak Beach is complimentary. The staff is happy to assist with any kind of travel arrangement, big or small.
When in Lombok
Voted by tourists as one of Asia's best, Selong Belanak Beach is only a 15-minute drive. If you're a novice surfer, its soft, lapping waves are perfect for you. In the evenings, locals bring their cattle for walks along the beach, much to the delight of visitors who love taking pictures. Complimentary shuttle service is available to bring you back and forth.
The mountainous slopes of Lombok are a trekkers' delight. Scale the forested heights of Mount Rinjani — Indonesia's second tallest volcano, which boasts jaw-dropping vistas of the surrounding landscapes. Considered sacred to both, the Hindus and the Sasak population, the summit is popular with pilgrims who leave behind offerings for their gods.
Head to Benang Stokel and Benang Kelambu, located 50 kilometres away. Here, you can set up a picnic for a memorable time amidst scenic 20-meter waterfalls.
For a peek into Indonesia's deep spiritual history, the Pura Lingsar temple is a must-see. Cradled by swaying rice fields, this is the holiest site in Lombok. One of its unique qualities is that it's multi-denominational and consists of a temple for Balinese Hindus as well as one for Wetu Telu, a unique sect of Islam.
Beat the crowds and visit the Taman Wisata Alam Kerandangan nature reserve to witness endangered butterflies and black monkeys. And spend the day hiking through the dense tropical rainforests and explore the Shallow Cave waterfalls.
Some much-deserved R&R
After a day of sightseeing, what can be more appealing than an indulgent massage? Surrender yourself to the expertise of local spa therapists and unwind inside a canopied spa with soothing views in the backdrop. Or, you could ask the resort to arrange for spa services in your luxury tent Kemah Villa. Privacy and seclusion add to the charm of the massage.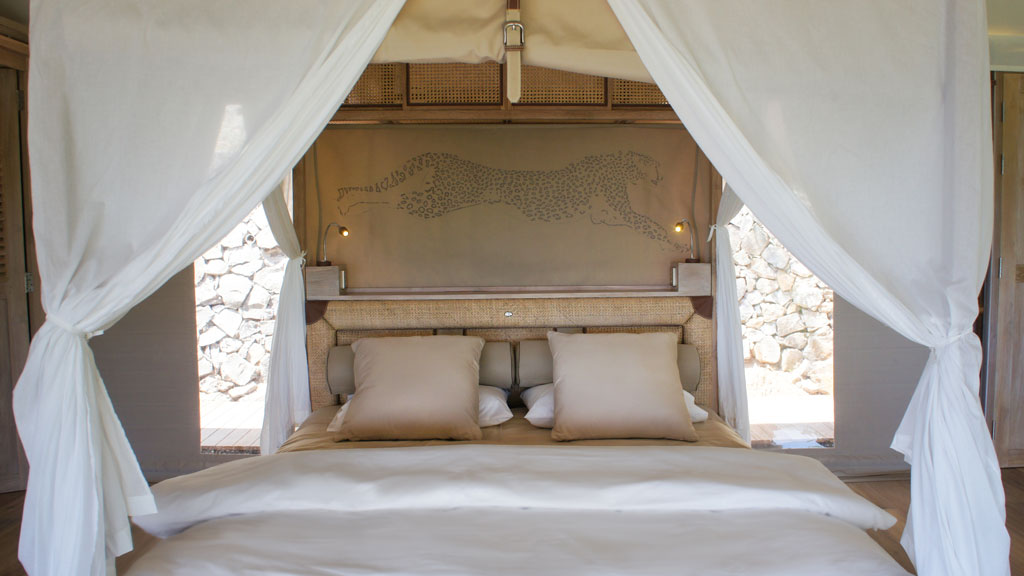 How to reach Lombok
Lombok is accessible by direct flights from every major airport nearby. These include Bali, Kuala Lumpur, Perth, Singapore and Jakarta. You can take a direct flight from Singapore by Scoot, and from Perth and Kuala Lumpur by AirAsia. New direct flights are also in the works from Guangzhou by Garuda Indonesia.
If you're travelling domestically, Lombok is easily connected by flights operated by Garuda Indonesia, Lion Air and Batik Air. A quick 25-minute flight will take you from Bali to Lombok. Meanwhile, tourist hot spots such as Serangan and Padangbai are approximately two hours away by speed boat.
Please note that the Kemah tented villas are situated on a steep, jungled slope. Thus, they many not be suitable for small children, the elderly, and guests with special needs.
Kemah luxury tents are a part of the picturesque Selong Selo Resort, 21kms from Lombok International Airport.