If you have always dreamed of a destination wedding, look no further than Bali, the Island of the Gods. Picture exchanging vows with your special someone on a clifftop, against the backdrop of the shimmering sea, with the sound of the surf crashing below. Or go barefoot bohemian and declare your love on the beach, with the sand between your toes and the setting sun sending flames across the sky. Or perhaps enveloped by the seclusion of a rural oasis, on the rim of a mountain ravine, surrounded by rice terraces. Sounds unbelievable that so many options could exist on one island, doesn't it?
Visualise the details – delicately woven palm frond decorations and penjor flags framing the ceremonial space; three-tiered temple parasols and tropical blooms; flaming bamboo torches and candles amidst a garden of colossal foliage; the hypnotic sound of Gamelan music; a lattice of party lights strung like pearls illuminating the darkening sky. And amid that enchanting setting, imagine being in the arms of your partner, dancing together for the first time as husband and wife.
If you want a magical Balinese wedding, the first step is to pick the ideal villa as the venue. Once you have your perfect elite haven, the rest is easy from thereon. Here's a glimpse of some of our favourite wedding villas in Bali. Which one would you pick for your special day?
Noku Beach House
Noku Beach House is considered the glamorous queen of Seminyak with its beachfront view. Its chic all-white aura and luxurious living spaces make it a favourite with youngsters, and those with a taste for the finer things in life. If you have an eye for design, you will love the avant-garde art pieces that dot this celebrity-style villa.
Made for the stylish set favouring outdoor living, Noku has a cosy entertaining balé, best for watching endless sunsets, as well as decks and lawned gardens stretching alongside the sparkling 27-metre pool. Its fabulous beachfront location makes for an idyllic wedding venue, with rooftop gardens overlooking the ocean and covered terraces offering spaces for smaller set-ups.
The lush lawns are large enough to accommodate 150 people for a formal wedding breakfast, lunch or dinner.
A beautiful wedding ceremony can be held at the beachfront deck, right in front of the ocean, whilst the dinner reception can be set up around the pool if there are less than 50 guests. For larger numbers, the villa's manicured lawns are available, with a separate upper deck for bands and DJ setups. It's a sensational space, overlooking the vast ocean. Dance the night away on the beachfront deck or enjoy elegant sunset cocktails with the only sound countering the tinkle of glasses, is that of the waves rolling onto the shore.
If you want to say your vows celebrity-style, it doesn't get classier than Noku Beach House.
Taman Ahimsa
Host your intimate wedding party at Taman Ahimsa, an extraordinary beachside designer villa. Your wedding will be the talk of the town with the villa's unique architecture and its beachfront setting. A beguiling and harmonious space, the villa's buildings are designed to resemble boat hulls and seashells, while Indonesian artefacts and embellished handmade fabrics lend character to its interiors. Materials like thatch, coconut husks, bamboo, rattan and recycled wood enhance the nature-inspired look.
Taman Ahimsa means 'Garden of Peace' – a wonderfully apt description. This seven-bedroom beachfront retreat offers an enchanting setting for a wedding celebration, under swaying coconut palms and surrounded by nature. Villa Taman Ahimsa can accommodate up to 100 guests standing or 80 guests sitting. Gardens tumble onto the beach, making Taman Ahimsa the perfect location for those seeking an event venue which captures the tropical essence of this beautiful island.
Villa Anucara
Villa Anucara with its astonishing oceanview setting, guarantees a delightful and comfortable stay. With chic, white-walled, contemporary grandeur, this five-bedroom villa is located in the seaside village of Cemagi in south-west Bali, moments from the beach and the remarkable sea temple of Pura Gede Luhur Batungaus.
The villa features a sunken poolside lounge, a rooftop terrace, a 35-metre swimming pool, secluded bedroom pavilions and mesmerising tropical landscaped gardens. The grand entrance, large garden and terraces combine to make Villa Anucara an ideal tropical setting for weddings and parties.
Kaba Kaba Estate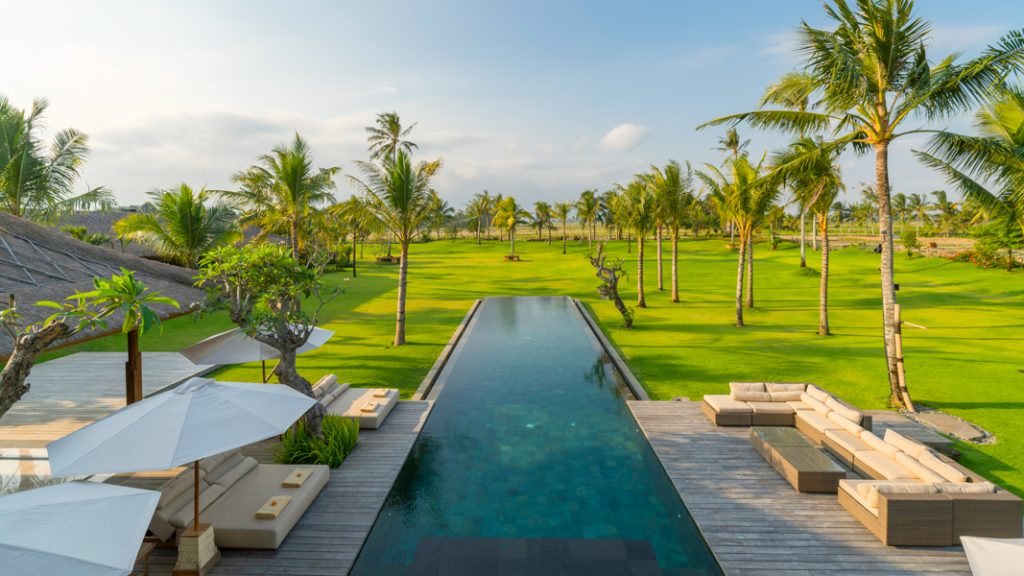 Situated in a rural rice-terrace setting, Kaba Kaba Estate is the epitome of private luxury. This fabulous villa does not disappoint with eight bedrooms, generously stretched over more than three acres. Picturesque views, antiques decorating the interiors, and curated art pieces are what makes this villa distinctively unique.
Considered as one of the best wedding venues, this estate offers a different kind of magic for brides and grooms to be. Let your wedding be the talk of the town with its endless lawned gardens, backdropped with enviable views of nature.
The Chalina Estate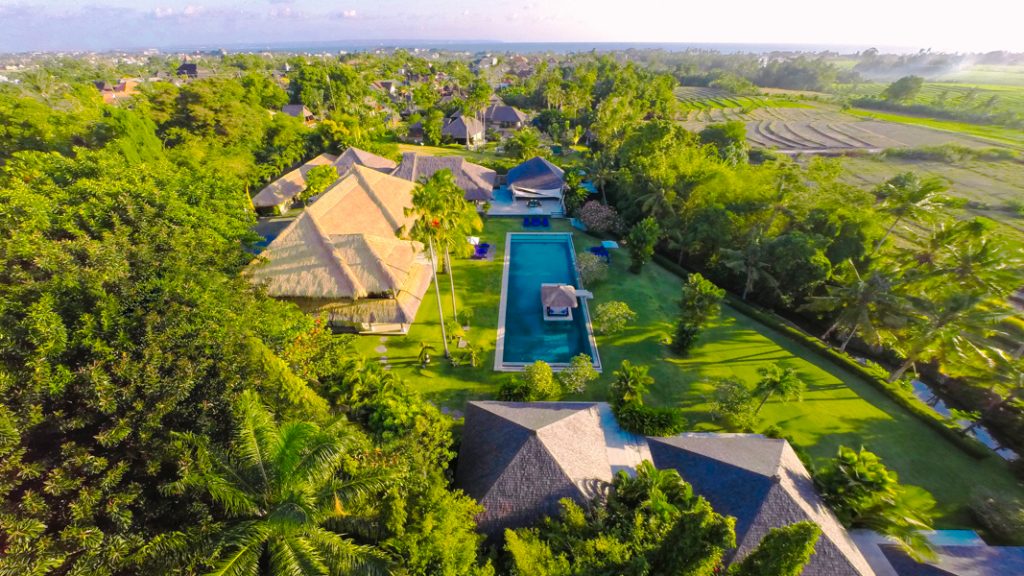 The Chalina Estate provides exceptional experience with its riverside setting. Sitting on 5,300 square metres of lush lawns, up to 120 guests can be accommodated. True to its Balinese form with classical architecture, rice-field views and a palatial space making it idyllic for family and friends to gather. Traditional meets modern with classic Balinese architecture. Dark hues of wood floors, sandstone walls and alang-alang covered roofs.
The perfect place for exchanging vows, it is loved for its spacious grounds, majestic sunsets, and sights of the famed Batukaru volcano.
Seseh Beach Villas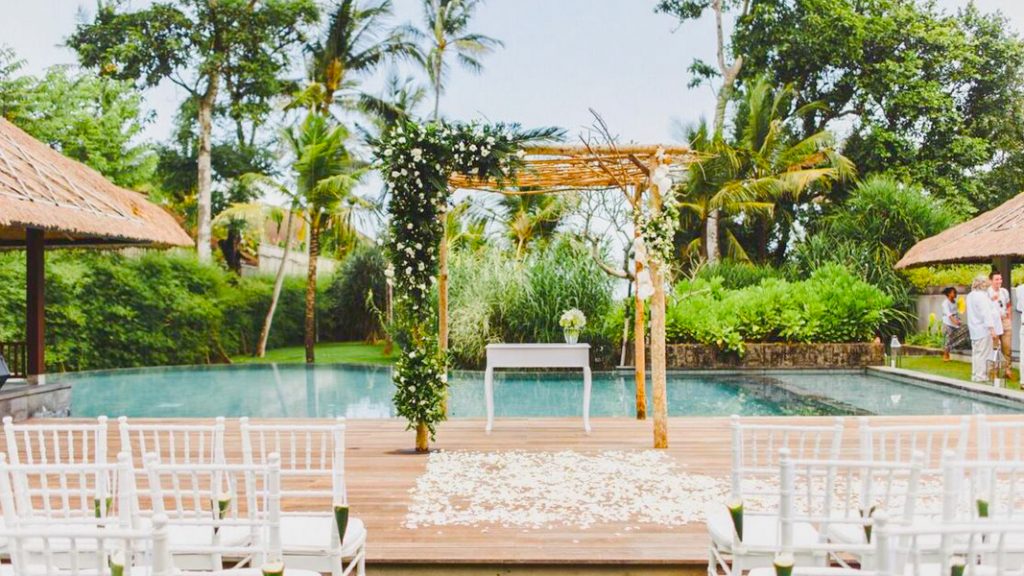 Seseh Beach Villas is a contemporary-designed luxury property with a rural view setting, tucked in the fishing village of Seseh. Experience the unspoilt traditions and culture of Bali while enjoying the elegance and luxury the villa holds.
Undoubtedly a spacious property which can host up to 200 guests. With 11 bedrooms, vast gardens, two large swimming pools, an event space situated right on the beach, ultimately, the wedding destination of your dreams.
Pandawa Cliff Estate
With its dramatic clifftop setting overlooking the Indian Ocean, it is no wonder that Pandawa Cliff Estate is one of the most sought after wedding venues in Bali, hosting up to 100 weddings each year. Wide lawns, large decked garden areas and superb living spaces characterise the four interconnected villas set within this exclusive estate.
When all four villas are rented together, the estate offers a total of 21 double bedrooms and can accommodate up to 42 adult guests, with the option of extra beds for children. This makes Pandawa particularly attractive to those wishing to provide convenient 'on-site' accommodation for guests attending their wedding or special event. The accommodation options also make it a favourite with corporates for meets and retreats.
Each villa in the estate is steeped in luxury. The Pala has an amphitheatre where guests can be entertained with a dance or musical performance, and its garden links through to those of Villa Rose and Markisa – allowing separate areas for cocktails, dining and dancing for up to 400 guests. Villa Markisa's cliff-edge master bedroom featuring a private pool is a dream bridal suite, and its ocean view garden is the perfect setting for sunset nuptials. The four villas also share a sports centre with a full-size tennis court, squash court, gym and spa.
For more details, get in touch with event specialists who will not only help you pick your dream villa, but will also be happy to connect you with the best wedding organisers in Bali. All you'll need to do is to find the perfect dress and look forward to the day you start this journey with your special someone.
Special thanks to Hitch'd Weddings & Events, Flipmax, Bali Event Hire, The Isle Co, 3G, Dijon, Flora Botanica, Azimuth, Butter Bali and The Cottage Beauty House.