Bali's dining scene is constantly evolving. The problem is not what to eat, but where to go. Here is our round-up of some of the latest dining destinations in Seminyak and Canggu.
Ji at Bale Sutra 1706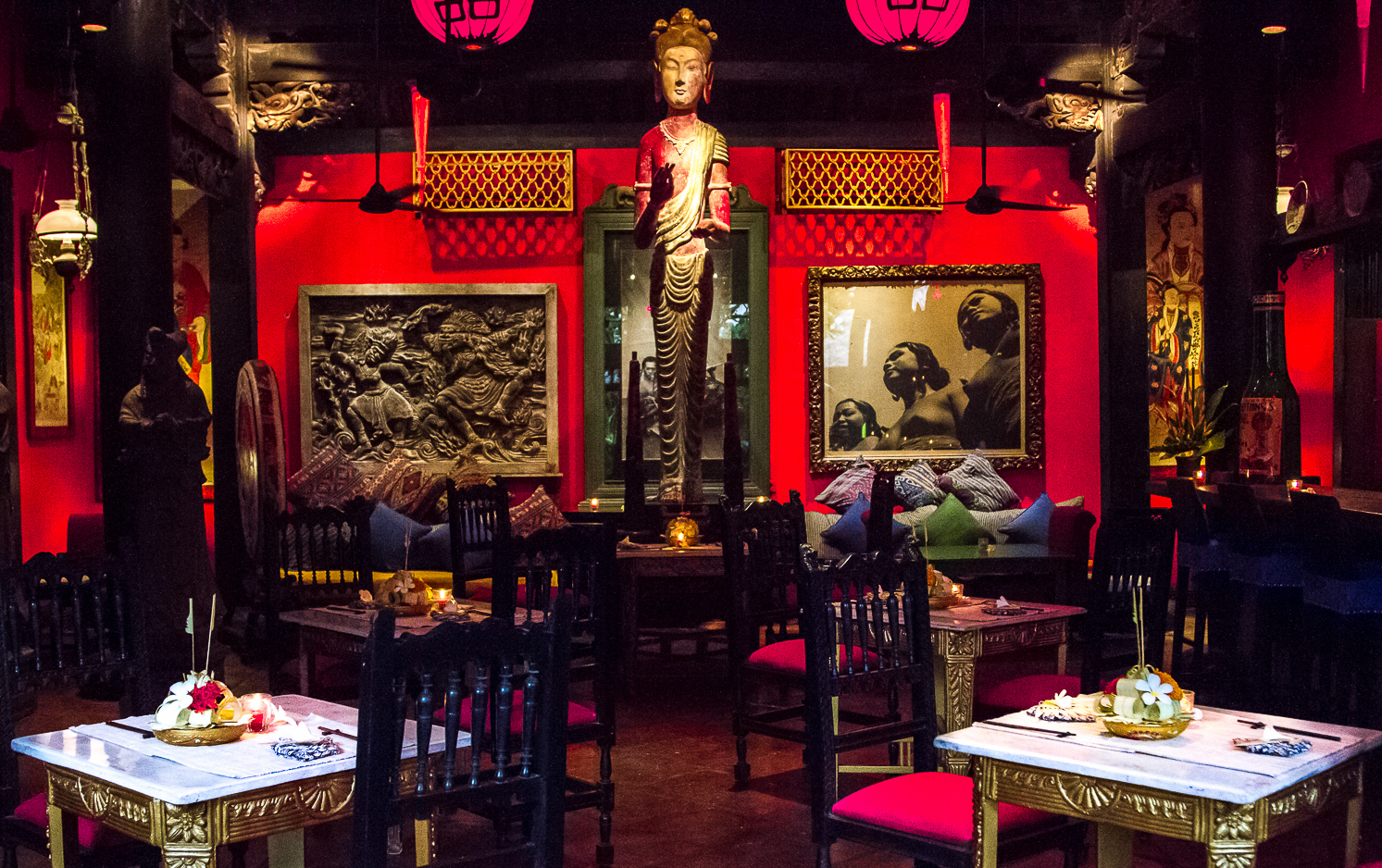 What was once a house of worship is now an exotic dining destination. The man behind Tugu Hotels, Anhar Setjadibrata, saved a 310-year-old Kang Xi period temple from ruin in Java and gave it new life – and purpose. The temple's new identity is Ji at Bale Sutra 1706. Standing proudly on Jalan Pantai Batu Bolong, just moments from the beach, Ji seduces passersby effortlessly with its entrance guarded by stone lions, tall green bamboo walls and a striking golden Buddha. Once inside, antique furniture, mythological animal carvings in the roofs and ceilings, bright red walls and stunning oriental paintings bring a sense of style and history to the elegant dark wood temple. Drawing inspiration from the traditional cooking methods of Japan and other East Asian countries, the menu at Ji features a selection of Japanese fusion dishes, fine wines and sakes. Those looking for the perfect spot to enjoy Bali's magical sunsets can head to the alfresco bar on the second floor. Coming with a large group? Book the private dining room and Ji will surprise you with a performance called Forbidden City.
Drinks to start: Coco Sexo – inspired by Indonesian volcanoes – is a mix of Brazilian spirit Sagatiba Cachaca, coconut, vanilla and passion fruit. Gin and Tea – a blend of dragon tea infused Tanqueray gin mixed with Aperol, grapefruit and lemon juice.
Dishes to try: Pork Belly with ginger and scallion – crackling skin, soft juicy meat, served on wooden skewers. Kobe style Black Angus Tenderloin – tender beef cubes, sweet red onions, citrusy ponzu sauce and tangerine peel. Spicy Yellowfin Tuna with shichimi peppers.
Desserts to finish: Young Coconut Crème Brûlée – light coconut custard flambéed with young coconut. Sweet Bento Box – an assortment of six homemade sweets – mochi filled with green tea ice cream, tangy lemon meringue, melt-in-your-mouth white chocolate pistachio truffles.
Jl. Pantai Batu Bolong, Pantai Canggu
www.jiatbalesutra.com
Gatsby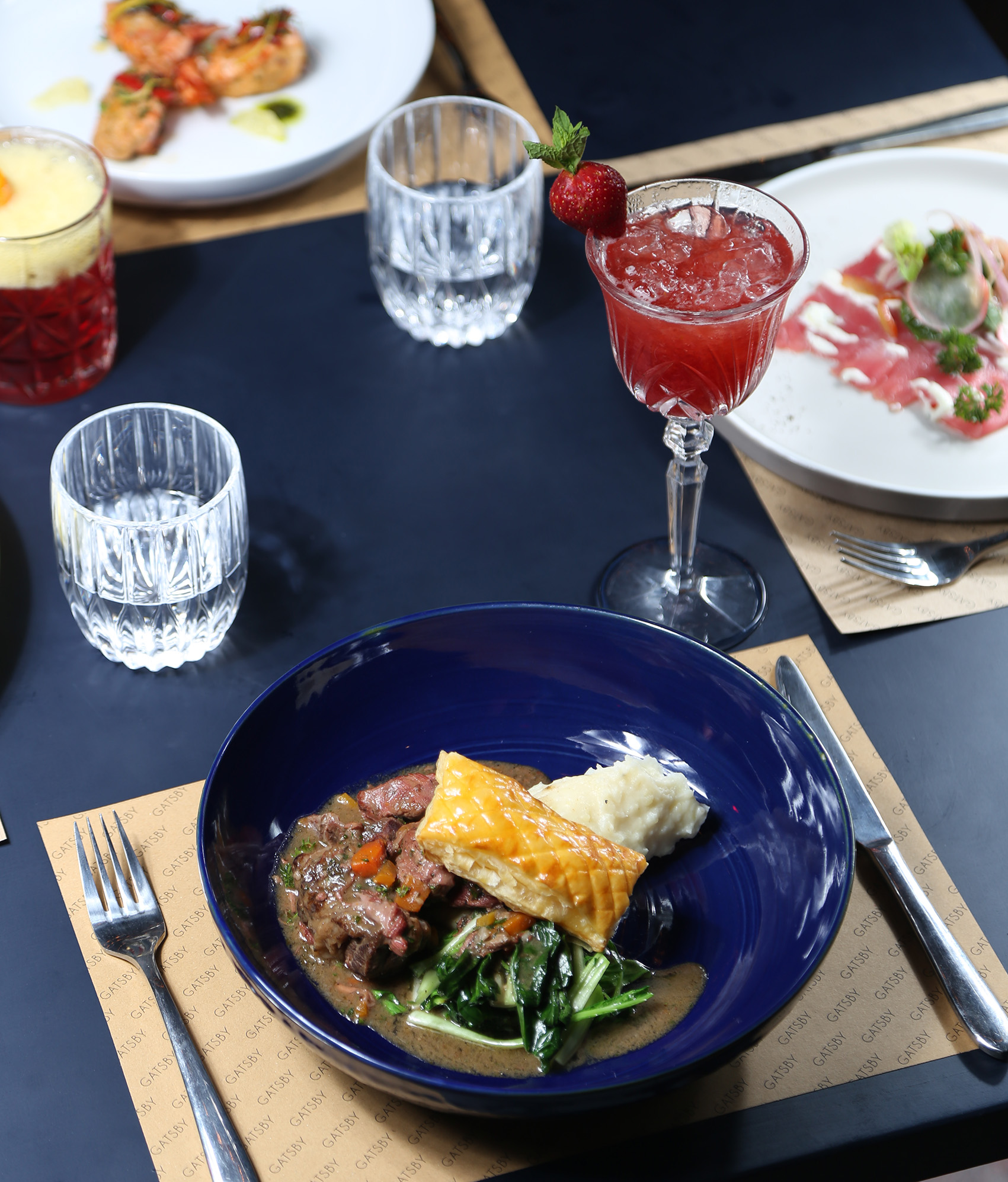 Playing things up in Seminyak is Bali's only "Theatre Restaurant & Club", Gatsby Bali. This fabulous speakeasy-themed dinner club is a new venture from the people behind Hu'u. Open from 6pm for dinner every night, Gatsby is pulling in the crowds. To accompany the gourmet Mediterranean and Southern Italian cuisine, high-energy dancers and entertainers perform on the restaurant's centre stage – every night of the week! Order from a three-course set menu for only IDR 150++ and take yourself back to The Golden Era with one of Gatsby's designer signature cocktails, named after silver screen sirens Audrey Hepburn, Marilyn Monroe and Sophia Loren among others. With themed evenings such as Grease Party at Gatsby and Studio 54 Party (a night of 1970s hedonism), Gatsby's elegant hospitality, state-of-the-art lighting and superb sound systems guarantees a night of glamour and excitement with a touch of modern pop culture. Every night is a big night at Gatsby. Let the show begin!
Drinks to start: Gatsby – the best gin shake with earl grey syrup, lemon juice, bitters and egg white. Marilyn – alluring flavours of fresh mango, white rum, coconut rum, cacao brown and lemon juice.
Dishes to try: Slow Cooked Lamb Shoulder – vol au vent filled with soft juicy lamb resting on a bed of pureed green peas. Crispy Skin Duck Leg – succulent duck served with red lentil dahl, fluffy rice pilaf and crunchy mango pickle.
Desserts to finish: Hot Raspberry Souffle with Coconut Ice Cream – cold, fluffy and delicious. Chocolate Mousse Tart with Basil Gelato – chocolate and gelato, need we say more?
Jl. Petitenget, 80361, Badung
www.gatsbybali.com
Where to stay in Seminyak
The Savage Kitchen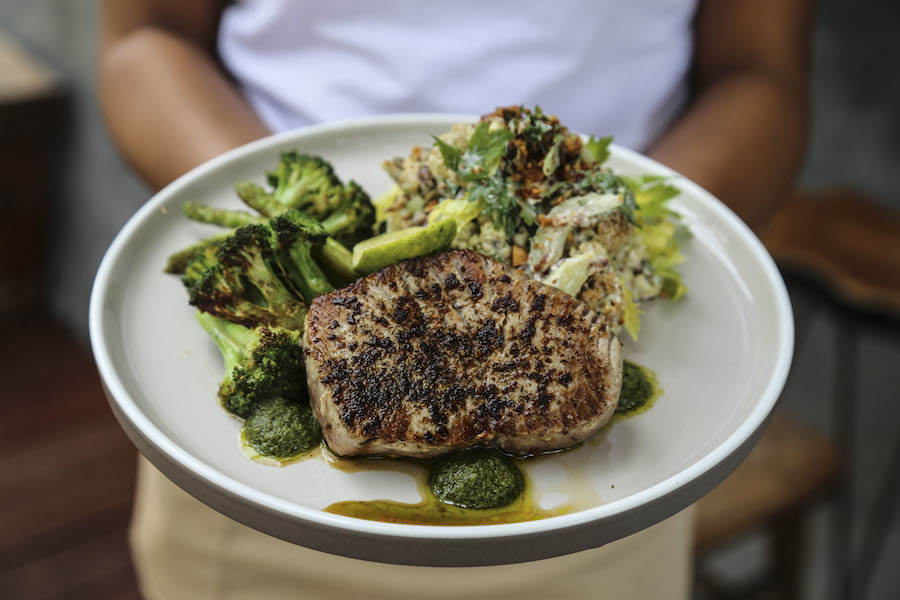 The Savage Kitchen (TSK) is not as vicious at its name suggests. In fact, this grab 'n go, café, deli, restaurant and bar serves sumptuous health-driven fare using locally sourced and grown ingredients for 'feel good food'. The modern minimalist restaurant is the realisation of a seven-year dream for chef and co-owner Josh Davies. With more than 20 years of experience working and consulting in some of the best restaurants, bars, boutique hotels and cafés in Australia, New Zealand and Bali, it is natural for Josh to open his own place. Located in the Plaza Club Canggu, this cosy eatery boasts myriad options for foodies with special dietary requirements. No wonder vegetarians, vegans, Paleos and health-conscious carnivores are including TSK in their to-go list. TSK opens at 6.30am, so if you're looking for a hearty breakfast after a morning's surf session, you know where to go. The two large communal tables and lounge areas are perfect for dinner gatherings. The air-conditioned Restaurant, Bar & Grill, known simply as 'S A V A G E', provides a more refined experience with an à la carte menu, table service and a choice of classic cocktails. Whichever you choose, you're in for a treat.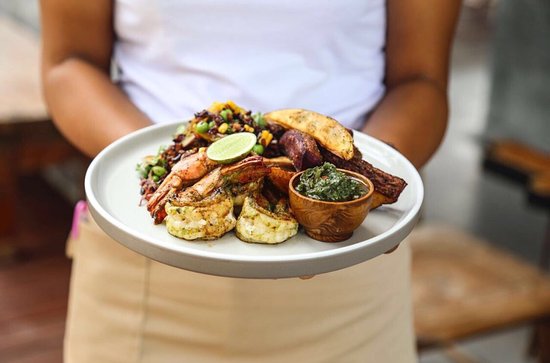 Drinks to start: Frozen S A V A G E Daiquiri – perfect for that warm evening. Wild Red Ginger Nectar with forest honey – buy the full bottle to take home.
Dishes to try: S A V A G E French toast made with banana flour and topped with seasonal fruits. Anything from the DIY Savage Creations, where you can mix and match proteins, salads and sides, will do.
Desserts to finish: Signature Raw Chocolate Cake – decadent and satisfying. Creamy Lemon & Blueberry Cheesake – zesty, smooth and heavenly.
Plaza Club Canggu, Jalan Raya Pantai Berawa
www.thesavagekitchen.com