Elephants in Tourism
After the logging industry declined, many domestic elephants were left out in the wild by their mahouts (professional elephant keepers). In the early 1990s, the tourism industry in Thailand started to rise, thus giving the domestic elephants a place to work and a chance to be "cared for."
In many of the camps, the conditions for both the elephant and the mahouts were very poor. Elephants were forced to do so-called tricks, paint pictures and give rides for the enjoyment of tourists, and of course for revenue for the camp owner.
Elephants endured beatings daily and were stabbed with hooks to make them obey and spent most of their time in chains and you can tell by watching them roll their heads side to side and shuffling from one foot to the other they have and are suffering from psychological trauma.
Although some of these elephant camps have closed, with one quick google search even on things to do in Phuket, it is clear that there are still many to choose from and, sadly these camp owners are also getting smart and starting to use the words elephant conservation in Thailand and elephant sanctuary in Thailand, in many of their marketing materials making people believe that they are doing the right thing.
Weddings and other events have also been part of the mistreatment of elephants with most of Thailand's hotels and event planners offering the "baby elephant experience." Most of the time the baby elephant is put on the back of a pickup truck and driven to the location and then spends time being a sideshow, with guests having their picture taken with them and being made to perform various so-called tricks.
One such episode hit the international media when The Telegraph (UK) picked up on a story from Nikki Beach Phuket who had shared pictures of a baby elephant, carrying a performer who was serving Champagne and then being ridden by drunk tourist, on its Facebook page. Luckily many of the hotels and resorts have outlawed the experience, but sadly there are some that still do offer this service.
Sangduen "Lek" Chailert, Elephant Whisperer and founder of the Save Elephant Foundation have devoted her life to rescuing and rehabilitating working elephants. Having launched the Elephant Nature Park in Chiang Mai to international acclaim in 1996, Lek has now co-founded similar parks in Phuket and Koh Samui. These ethical elephant sanctuaries make a fascinating and educational day out.
The mission of the Phuket Elephant Sanctuary and Samui Elephant Sanctuary is to meet the highest standards in animal welfare and educate elephant camp owners and tourists on how to treat and respect the majestic elephant – Thailand's national symbol.
Visitors to these sanctuaries won't be invited to ride on the elephants' backs, watch them do tricks, hug or bathe them – all activities that are damaging and stressful for the animals. Rather, visitors will be encouraged to simply observe these gentle giants in their natural habitat where they can just be themselves. Observation platforms overlook natural pools where visitors can watch the elephants splashing each other and covering themselves in cooling mud; open fields and jungle-covered hillsides provide plenty of space for elephant play and socializing.
Both sanctuaries offer morning and afternoon programmes that start with video presentations to inform visitors about what to expect from their elephant encounters and explain a little about the elephants' stories and why they so badly need protection. You will get up close and personal with the magnificent residents during their breakfast and dinner times when you can help feed them a healthy diet of fresh fruit. In between, there's plenty of time just to watch the elephants at play and marvel at their intelligence and grace. Both half-day sessions include a tasty Thai buffet and transfers to and from the sanctuaries. It is important to book your session in advance as neither of the sanctuaries accepts visitors outside the set programme times or who arrive without prior bookings.
Introducing the elephants
At Phuket Elephant Sanctuary, where the elephants can roam freely over 30 acres, you'll make friends with Richy, Tong Kwaw, Baan Yen, Jan Jao, Gaew Ta, Madee, Kannika and Dok Gaew. All of these extraordinary elephants more than deserve their peaceful retirement – some are more than 70 years old!
At Phuket Elephant Sanctuary, these retired and rescued elephants can live in their natural habitat and are treated with the utmost respect. It was founded as a partnership between Mr Montri Todtane, ex-owner of an elephant camp in Phuket; world-renowned elephant rescuer and conservationist Lek Chailert, founder of Save Elephant Foundation; and Louise Rogerson, founder of EARS Asia.
Choose between the morning program or the afternoon program, where you can observe these grand animals from a respectful distance. Sit in the strategically placed observation salas and witness the elephants go about their natural daily routine – bathing, playing and just being themselves. As a special treat, you can also take part in the feeding ceremony where you will be allowed to feed the gentle beasts bananas, pineapples and cucumbers.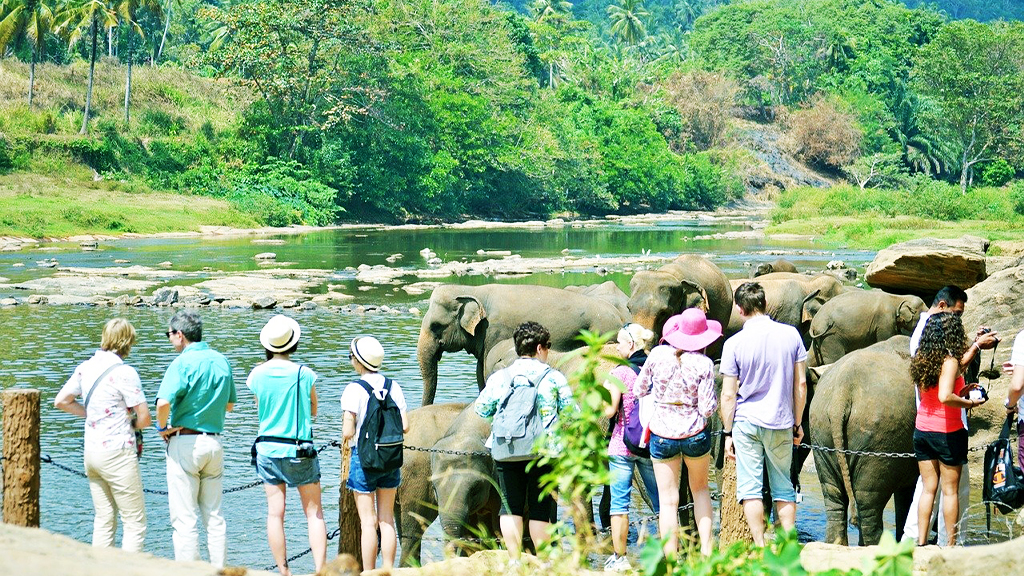 At Samui Elephant Sanctuary, you'll be introduced to five adult elephants; Kham San, Sri Nin, San Kham, Nong Pech and Moloair (the two latest additions to the family) who have the run of 10 acres of forested land on their island haven.
These five elephants that now live, at the Samui Elephant Sanctuary, have come from an extremely hard life, working long hours in the entertainment or logging industries. These stunning animals have been beaten and made to do what their owners wanted by the use of force and torture. Having a chair strapped to their back or painting a picture has never been part of their natural environment. The positive news for elephants is that times are changing and projects such as the Samui Elephant Sanctuary are becoming the new way for a tourist to experience elephants.
The Samui Elephant Sanctuary is the perfect opportunity for families, couples, and friends to discover the life of elephants in a stunning natural setting and enjoy these beautiful creatures in a way that does not take advantage of the animal. The project works under the Save the Elephant Foundations "off Saddle" program.
​A visit to these places is guaranteed to move and inspire, leaving you with wonderful memories of the beauty and charm of these majestic animals. Ask your Elite Havens Concierge to make a reservation for an experience that – just like an elephant – you will never forget.
For a wonderful holiday in Thailand, book one of our wonderful Elite Havens. The Elite Concierge team will be happy to arrange for private transfers and tickets to the sanctuary. Let them take care of the logistics so you can relax and enjoy the experience itself, with exclusive direct access to the sanctuary as soon as you arrive there.