Decadent restaurants, classy drinks and shopping galore. Welcome to Seminyak, where bars and cafes that line the roads outdo each other in trendiness and sophistication. Besides shopping for the latest in designer wear and international brands, Seminyak is also big on art and local finds. Its major landmark, Petitenget Temple is hundreds of years old and also the namesake of the street that runs parallel to the beach. Gorgeous sunsets can be witnessed at Petitenget, which sits beside Masceti Ulun Tanjung Temple, where local villagers pray.
If you're looking for activities for children, head down to Dream Museum Zone (DMZ) for a fun and interactive experience. The kids will love it, it has three large levels to discover. For an intimate art experience, Nyaman Gallery has a range of pieces by local Balinese and Indonesian artists. International talents' works are also on display. Top off your day of art-sightseeing at the Biasa Art Space, where you'll find conceptual and avant-garde pieces. Biasa focuses on emerging, progressive art to ensure adequate exposure to young Javanese artists. Make Theatre Art Gallery your last stop. Beautiful Indonesian puppets called wayang will delight you here.
You might be tired after a day of culture—but you've come to the right town. Seminyak is famous for its abundance of spas. Bodyworks is known for soothing massages and various treatments. If yoga is more your thing, Seminyak Yoga Shala is popular. You can also opt to stay in your villa, get an expert massage, and have a yoga teacher come to you.
Here, we list five 3-bedroom villas in the heart of Seminyak where you and your family can enjoy the Easter holidays.
The Layar, as it's famously known, was once Paris Hilton's temporary lair. The star stayed here several years ago—which is not a surprise. The Layar is upscale and chic, yet has all the comforts of home. Most of all, it is design-savvy, with angled walls and large living and dining rooms that open onto an inviting swimming pool. Various floor levels create an interesting play for the eye. Under overlapping roofs, each of the eleven 3-bedroom suites has an outdoor space —whether a deck, a terrace, or a bathroom garden.
You'll feel a sense of privacy in The Layar, down to the dining and lounging space in the garden beside the pool. Order from the villa complex's renowned restaurant, Settimo Cielo, for a delectable meal.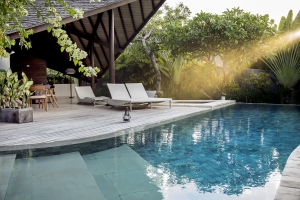 The Layar
Guest reviews
"Great property, lovely breakfast, buggy service to the towns was helpful, especially our butler Bayu. This man did an amazing job, just find him if you stay at The Layar. He offered us a great family barbecue in the villa. We will come back again and bring more people."
-Funtraveler, February 2019
In the heart of Seminyak sits Villa Adasa, designed in traditional Balinese style. There are open-concept pavilions that make for a seamless indoor-outdoor feel. Vaulted ceilings are thatched with ironwood shingles, adding to the villa's local vibe. Turkish rugs and prints from the 1930's are part of the tasteful and elegant decor. Large daybeds suggest a relaxing and luxurious vacation.
There are four butlers at your service, along with the chef, housekeeper, security guard and gardener.
Guest Reviews
"Thank you for a lovely, relaxing holiday in Bali. We thoroughly enjoyed Villa Adasa and your team was very accommodating and caring. The villa is one of the best we have stayed in – perfect location, beautiful premises, amazing service, all perfect. We thank you for caring for our family and making our trip so easy and so memorable."
-Shannon K, Australia, January 2019
Villa Ramadewa is a chic 3-bedroom villa in Bali. Understated yet ultra-luxurious, Villa Ramadewa boasts of museum-worthy antiques from Bali and beyond. Iconic art fills the entire villa, spilling into the garden. There's a 15-meter pool to match a vaulted living pavilion, glamorous dining areas to host intimate events, sophisticated bedrooms and Philippe Starck-filled bathrooms. Villa Ramadewa has been featured in many magazines for its elegant beauty.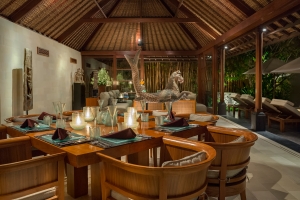 Villa Ramadewa
Guest Reviews
"Thank you for a wonderful stay. The food and service was fantastic and we absolutely loved the party you created for Oscar's third birthday. He had a blast. We look forward to returning to Villa Ramadewa very soon."
-Erica W, Australia, September 2018
Designed with luxury in mind, the 3-bedroom Villa Eshara I houses Swarovski chandeliers, cowhide chairs and vivid artwork. High ceilings and glass windows are seen throughout the villa which is perfect for small families. Situated on a quiet street, Villa Eshara I has a tropical living concept with a pool deck you can lounge on or enjoy candlelit dinners at.
Personal butlers and an in-house chef make your stay perfect.
Guest Reviews
"Everyday has been perfect here. The rooms are well attended to, morning and night. Really value having mosquito coils and lights every night. Fresh towels daily have been much appreciated. The constant available service for drinks – with each staff member remembering how to make for each guest, wonderful. Fresh towels by the pool tidied on a daily basis, all has made for a very relaxing time. We have constantly been made to feel welcome by all staff. I also forget to say how much we appreciated all the arrangements made for us, whether calling taxis, arranging shopping, making phone calls to help us do a fast track for everyone at the airport and more. Whatever we have asked, nothing has been ever been too much trouble. We deeply appreciate all the details attended to and many other little things, which we've noticed but not mentioned."
-Kristy N, Australia, December 2018
Much like Villa Eshara I, Villa Eshara III is made up of two pavilions around a tropical garden and swimming pool. Artefacts and lush fabrics fill the house, along with brightly-coloured artwork. The pool deck is trimmed with coconut trees, frangipani and a slew of other tropical plants. You can have anything you desire, courtesy of the large staff.
Guest Reviews
"Our stay at Eshara Villas in Eshara 3 exceeded our expectations. The villa's location was perfect and within walking distance to all the best restaurants, shopping and the beach. The villa itself was beautiful, well appointed and very quiet. The staff, Nyoman, Wayan, Susi, Eka and Lina were amazing and went above and beyond for us, they could honestly not have done more. We ate many meals at the villa and the food was excellent, including a beautiful Christmas dinner for fourteen people. I will recommend Eshara Villas to my friends and hope to return. The reservation system and Concierge (especially Melky) were wonderful too. Thank you for a wonderful time in your beautiful villa."
-Karen C, Canada, January 2019