Excited about your trip to Phuket, but don't know what to do while you're here?
Having lived in Phuket for 10 years I have experienced a multitude of the amazing activities that you can do while you stay on the pearl of the Andaman. Phuket attracts a host of different types of tourists, tourists from all over the world, all with different budgets and all with different needs and wants from their tropical island experience.
Phuket now has some amazing new and exciting attractions for you to come and try which will enhance your island experience. Here are some great activities that I recommend.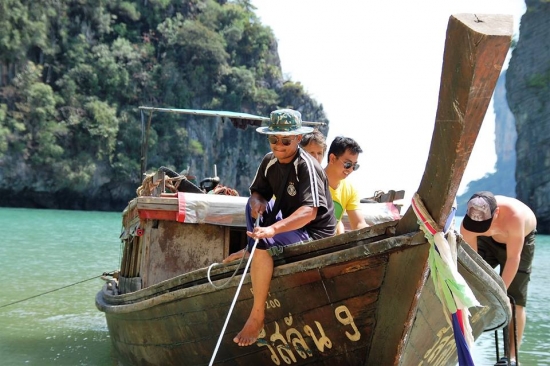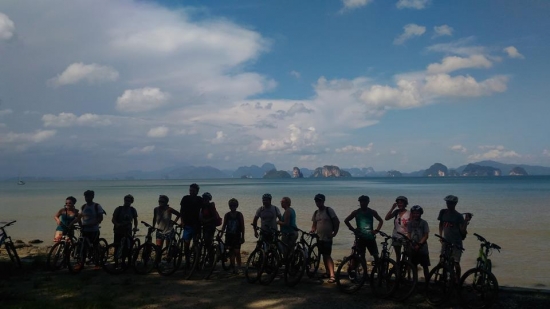 Bike Tours
Biking and triathlons have taken the ball and rode with it over the past few years and become much more mainstream, and this has not been missed by businesses in Phuket and the amount of new biking companies offering a host of different tours has grown year on year. One truly amazing tour which is actually three tours in one is Andaman Nature Tours.
This tour starts on a boat and takes you to one of Phuket sister islands Koh Yao Noi for a biking tour. The terrain is relatively easy and has stunning scenery. You will ride through paddy fields and meet local farmers who are the real organic hipsters, then up into the rubber plantations, and then hop on a traditional Thai Longtail to take you for lunch on a secluded palm-fringed white sandy beach, back on the boat to finish the tour riding along next to the beach. This is my favorite tour 100%.
Wake Boarding and Stand Up Paddle Boarding
Stand Up Paddle Boarding has been one of the fastest growing watersports in the world and Phuket has its share of SUP tours and adventures. Companies such as Skylas Surf & SUP club offer a range of SUP tours and trips as well as SUP Yoga and hire.
During the surf season May – November, they also offer surf courses and board hire. The west coast, during November to April, is the perfect flat water that you need to enjoy SUP, but if you are looking for more of an adventure then book on a SUP tour to the east coast. You will experience paddling through mangroves and seeing a host of natural wildlife.
There are also two Cable Ski lakes, both provide beginner, intermediate, advanced level coaching for those who wish to step up their riding skills with Anthem Wakepark also offering an inflatable wipeout style floating playground, which I am not embarrassed to say was amazing fun.
Rock Climbing
Rebel Rock Climbing is the first indoor rock climbing facility in Phuket, and luckily for those who love watersports and rock climbing, it's located on the same site as Anthem Wakepark. The facilities include over 700 sqm of wall space which consists of boulder wall, top-out boulder wall, boulder cave, top-rope wall, lead climb wall and deep-water solo wall. If you didn't understand any of that, then the floating wipeout style playground might be more your thing. The rock climbing is great fun for children and for adults.
Zipline and Sky Walk
If you have acrophobia, then skip this one. Phuket has a few zip line adventures and one of which is Hanuman World which has been carefully built upon the hillsides in the thick jungle but with every care taken to not impact the environment and natural balance of the jungle.
Hanuman World is a thrilling, exciting and fun experience that will have you flying from tree to tree via zip lines starting and ending on 28 different platforms. The longest zip line is 100m long, and they also have a 15m abseil as well as a honeymoon sling, which sounds rather interesting. The activity area is huge and covers 80,000 square meters of lush jungle forest. You will need to have some level of fitness for this adventure. It is family friendly although not good for younger children. Always fun to be a monkey for the day.
Ethical Elephant Tours
Gone are the days of the elephants treated like slaves, having to carry hordes of tourists on their backs and paint pictures for entertainment. Unfortunately, the last sentence is not 100% true YET, but the change is happening, and the first ethical elephant sanctuary in Phuket is pioneering the change.
Located in the lush tropical jungles of Phuket's east coast, bordering the Khao Phra Thaeo National Park, the 30-acre Phuket Elephant Sanctuary, offers the most idyllic retirement for sick, injured and old elephants, all who have had exhausting lives, either in the logging trade or working in the many elephant trekking companies around Thailand. I went on this tour and you can read my full experience here. It changed my view of these majestic beasts and taught me so much. I highly recommend this experience.
Phuket Golf
Phuket offers seven golf courses all offering unique play, stunning landscapes and challenging play for beginners and experienced golfers. Lock Palm is a popular choice for both residents and visitors due to its charming course and central location. Twisting its way through the rugged landscape of an old tin mine, Red Mountain offers an exciting variety of play to match the stunning variety of nature. Blue Canyon Country Club has two courses, the Canyon Course, which has held international tournaments with the likes of Greg Norman and Tiger Woods and the Lakes Course which is another award-winning masterpiece by renowned architect, Yoshikazu Kato. Mission Hills is nestled amongst rubber plantations and coastal mangrove forests in the north of the island. Phuket Country Club was the first golf course on Phuket and the first in Southern Thailand of international standard. Laguna Golf Phuket is an 18-hole, par-71 golf course, set within the expansive Laguna Phuket Resort complex.
Yachting and Boating
Yes, yachting has been a mainstay of Phuket for many years, but new younger companies have come and hoisted their jib in a different direction from the wind (sorry trying to get as many boating puns in this as possible). The likes of Isabella Yachting have started to change the way people see Phuket from the water. Offering to take you to Phuket's best-kept secrets and avoiding the classic standard crowed tour stops, Isabella and her team give you far more freedom. The 50ft Interceptor, which takes 15pax is the ideal boat for Island hopping and would be my personal recommendation for getting out and seeing the wonders of Phuket and Phang Nga Bay.
I have only scratched the surface of the new and exciting tours and adventures in Phuket. There are of course still the spas, cultural tours through Phuket Town, stunning beaches and nightlife at beach clubs and there are new attractions opening very soon, including an ice rink – that's right an ice skating rink in the tropics and a slip 'n' slide fun park.
Phuket has something for everyone!