Villa on View.
A glimpse of our elite portfolio. Outstanding villas, chalets and holiday homes for your next luxury holiday.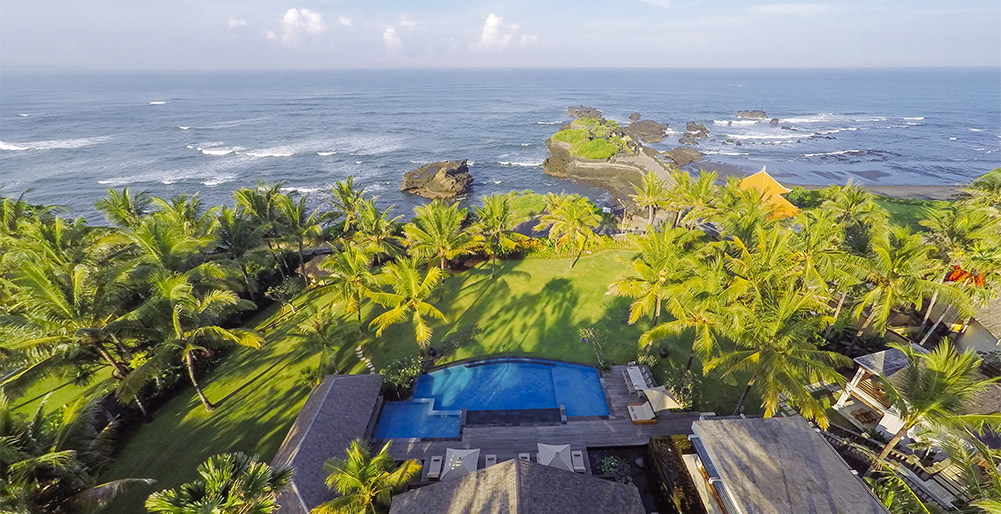 If you're a golfer looking for a lavish base for a golfing holiday, you'll love this hand-picked list of luxury Bali golf villas conveniently located no more than 10km away from a spectacular world-class golf course. Enjoy sublime views of the beautiful sea temple of Tanah Lot from the award-winning 18-hole course at Nirwana Bali Golf Club designed by legendary golfer Greg Norman.
Sungai Tinggi Beach Villa, Canggu
The traditionally styled Sungai Tinggi rests on the shores of black-sand beach in the peaceful village of Pererenan. It comprises 6 bedrooms, a glorious open-sided living and dining pavilion and an 18-metre infinity edge pool.
Distance to the course: 10km
https://www.sungaitinggibeachvilla.com  
Villa Maya Retreat, Tabanan
Villa Maya Retreat rests at the base of a gorge on the banks of the Penet River in the pretty village of Cepaka. The tropical architecture and interiors pay tribute to traditional Balinese design, with open-sided alang- alang thatched living pavilions facing the 12-metre green-stone swimming pool, and 6 individual bedroom pavilions.
Distance to the course: 10km
https://www.villamayaretreat.com
The Arsana Estate, Tabanan
Set in a beautiful rural area of rice fields and jungle-clad river valleys in Tabanan, this splendid 5-bedroom villa occupies an expansive estate flowing down a terraced hillside in the hinterland of southwest Bali. The Arsana Estate offers the perfect setting for weddings, events, or large family and group retreats.
Distance to the course: 10km
https://www.arsanavillaestate.com
Villa Pangi Gita, Canggu
Echoing the lush green rice terraces that surround it, the enchanting 3-bedroom Villa Pangi Gita gently flows down the hillside to the banks of the tranquil Pangi River in the sleepy village of Pererenan. It presents traditional-style living and sleeping spaces and expanses of glass that open out to the lush green surrounds.
Distance to the course: 8.7km
Seseh Beach Villa I, Seseh
This 5-bedroom luxury home overlooks the Indian Ocean. It's location in the traditional village of Seseh offers guests the opportunity to witness the daily rural life of the Balinese, enjoy the beauty of the rice fields, take bicycle rides through the country lanes or walks along the beach.
Distance to the course: 9km
https://www.sesehbeachvillas.com/
Kaba Kaba Estate,