"Bow your head. Show them respect. The elephants created this jungle. Where they made furrows with their tusks the rivers ran. Where they blew their trunks the leaves fell. They made all that belongs: the mountains, the trees, the birds in the trees. But they did not make you." – Disney's The Jungle Book movie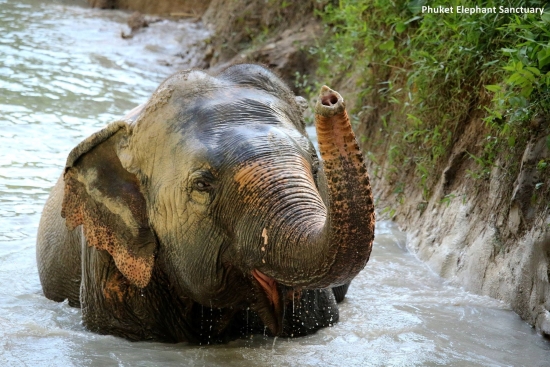 Growing up in Essex in the UK, my only experience with the majestic beast that is the elephant was on TV. Although I had travelled half the world by my early thirties it wasn't until I landed on the tropical shores of Phuket, Thailand that I came face to trunk with these huge, intelligent animals.
In the UK I had been used to cats, dogs, and guinea pigs, and there weren't any elephants in Antigua, Turkey or Greece, so when I first came up close and personal with the largest land mammal in the world it was rather overwhelming. I will admit that I was a little scared, not sure I had pachydermophobia, (the fear of elephants, adding to my word count with that one), but I was definitely nervous.
I have, of course, done what every tourist has done when coming to Phuket – book an elephant ride. So far in the ten years I have been in Phuket I have gone out twice. Both times has been a good experience, although not amazing, it wasn't until I visited the new pioneering Phuket Elephant Sanctuary that I finally fell in love with Thailand's national animal.
PHUKET ELEPHANT SANCTUARY
---
Located in the lush tropical jungles of Phuket's east coast, bordering the Khao Phra Thaeo National Park, the Phuket Elephant Sanctuary offers the most idyllic retirement for sick, injured and old elephants, all of whom have had exhausting lives, either in the logging trade or working in the many elephant trekking companies around Thailand.
Founded in a partnership with Mr. Montri Todtane, ex-owner of an elephant camp in Phuket, world-renowned elephant rescuer and conservationist Lek Chailert, founder of Save Elephant Foundation, and Louise Rogerson, founder of EARS Asia, the Phuket Elephant sanctuary is a tranquil home for these majestic beasts and a place where they can be elephants again.
ELEPHANTS IN TOURISM
---
After the logging industry declined, many domestic elephants were left out in the wild by their mahouts (professional elephant keepers). In the early 1990's the tourism industry in Thailand started to rise, thus giving the domestic elephants a place to work and a chance to be "cared for."
In many of the camps the conditions for both the elephant and the mahouts was very poor. Elephants were forced to do so-called tricks, paint pictures and give rides for the enjoyment of tourists, and of course for revenue for the camp owner.
Elephants endured beatings daily and were stabbed with hooks to make them obey and spent most of their time in chains and you can tell by watching them roll their heads side to side and shuffling from one foot to the other they have and are suffering from psychological trauma.
Before you're taken into the jungle to walk with the elephants, the Phuket Elephant Sanctuary shows you a short video of how the elephants are broken in as well as how they make the elephants paint pictures and all other abuse that they go through to domesticate them. After seeing this it opened my eyes, which at the end of the video had tears in them.
Although some of these elephant camps have closed, with one quick google search even on things to do in Phuket, it is clear that there are still many to choose from and, sadly these camp owners are also getting smart and starting to use the words elephant conservation in Thailand and elephant sanctuary in Thailand, in many of their marketing materials making people believe that they are doing the right thing.
Weddings and other events have also been part of the mistreatment of elephants with most of Thailand's hotels and event planners offering the "baby elephant experience." Most of the time the baby elephant is put on the back of a pickup truck and driven to the location and then spends time being a sideshow, with guests having their picture taken with them and being made to perform various so-called tricks.
One such episode hit the international media when The Telegraph (UK) picked up on a story from Nikki Beach Phuket who had shared pictures of a baby elephant, carrying a performer who was serving Champagne and then being ridden by drunk tourist, on its Facebook page. Luckily many of the hotels and resorts have outlawed the experience, but sadly there are some that still do offer this service.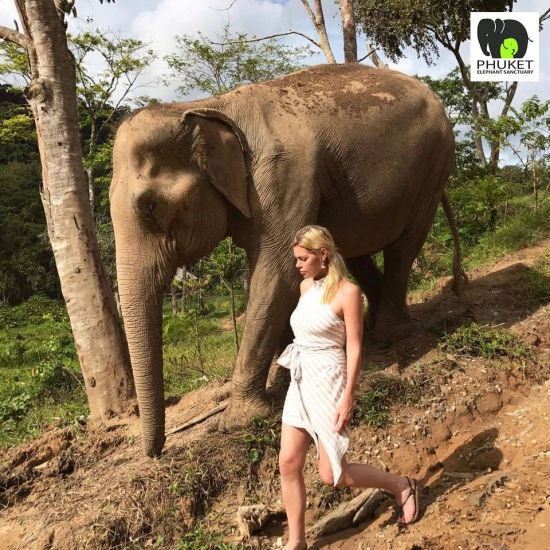 SEEING ELEPHANTS IN PHUKET
---
The Phuket Elephant sanctuary offers a very unique, amazing and educational experience for guests who wish to visit, but visits are by booking only (you can't just turn up).
REGISTER FOR A VISIT:
www.phuketelephantsanctuary.org/book-here
You will be able to observe these retired working elephants as they rehabilitate back into forest life, and you are also supporting sustainable, ethical and compassionate approach to elephant tourism in Thailand. The staff are very knowledgeable and very friendly and the lunch overlooking the jungle and the lake is one of the most beautiful views from ANY restaurant in Phuket.
Celebrities such as Leonardo DiCaprio, Tyler Blackburn (best known for his role as Caleb Rivers in the hit series Pretty Little Liars), rock band Coldplay and other actors and artists like Aaron Paul, Goldie and Sophie Monk have all visited the Phuket Elephant sanctuary giving their support to this wonderful project.
You will be deeply moved, as I was, once you have spent a special day at the Phuket Elephant Sanctuary, seeing the largest land mammal on earth roaming throughout the jungle, socializing and bathing naturally in the huge freshwater lagoons, and watch them cover themselves in the lovely thick mud. Bottom line, you will watch elephants be elephants.