With its dreamy sailing waters including the karst island-studded Phang Nga Bay and the Similan islands, Phuket has long been a leisure-yachting haven. But for sailors seeking a more challenging day out, Thailand's largest island offers plenty of racing action as well.
The Phuket King's Cup Regatta, held every year in early December, is one of Asia's best known and biggest sailing events. This prestigious race was first held in 1987 in honour of His Majesty the King of Thailand. Every year since the first celebration, it has attracted a mix of sailors with a competitive spirit, from royals to the Royal Thai Navy to expat yachtsmen who join races worldwide.
Now part of the Asian Yachting Circuit, the King's Cup includes several competition classes and brings in hundreds of yacht owners and crew from around the world. But more than just a sailing race, the King's Cup is also one of Phuket's most-anticipated social events, with glittering parties held each evening and a chance for local and international sailors to mingle and explore the island beyond the regatta circuit. Those not joining the race are encouraged to at least make a sunset visit to Kata Beach during King's Cup, where most of the regatta's yachts are moored after a day of racing. It's a picture-perfect sight!
Phuket Raceweek is a newer regatta, held every July in what are considered more challenging conditions than those of the calmer, fair-weather month of December. Sponsored by the Cape Panwa Hotel, races are held off Phuket's picturesque east coast over four days, with gala events each night at the resort's gorgeous beachfront location.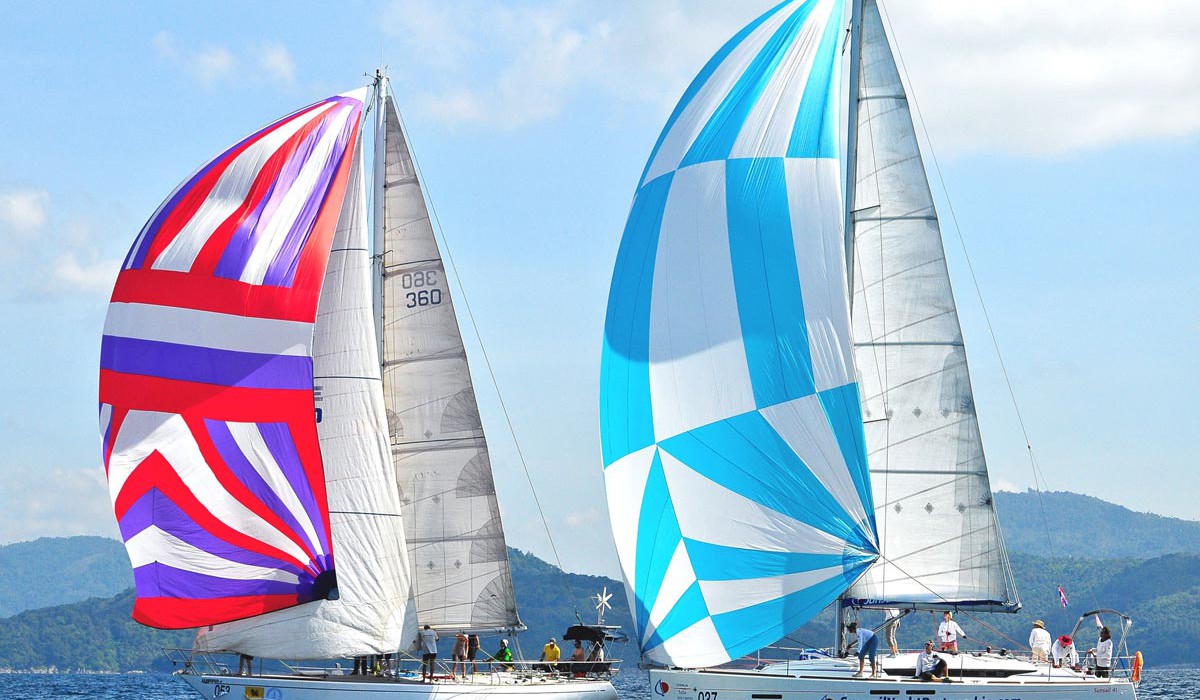 Local yacht design skills are on full display at Raceweek, with one of the most popular divisions being the single-design Firefly 850 Sports Class – a fleet of sleek racing catamarans designed and built in Phuket. Another one-design class making a comeback in 2016 is the Platu class, a monohull design that's popular among the Pattaya and Phuket sailing crowd. Championship titles in the IRC 1, 2 and Cruising, Multihull and Bareboat Charter classes are all up for grabs, with yacht charters available for those without their own boats on Phuket looking to join in the action.
Chinese New Year brings another week of sail races, with the Phang Nga Bay Regatta taking place each year around the Lunar New Year month. The next race is due to set sail on 15 February 2017. Known as the "party regatta", this event is as much about the socialising as the racing, with the circuit taking the yachting fleet to a different location each night around Phang Nga Bay.
Phang Nga Bay Regatta
The Phang Nga Bay Regatta is what Instagram was made for, with the bay's karst island-scape forming a stunning backdrop to the billowing sails of all kinds of yachts including some fantastic classic multi-masted beauties. Competitors navigate a circuit that starts on Phuket's east coast, then leads to Koh Yao Noi and around the islands of Krabi before returning to Chalong Bay on Phuket.
For those who miss the chance to visit Phuket during one of its regatta events, the Phuket Yacht Club holds several races and sailing events throughout the year. The popular Sunday race series has alternating weeks of dinghy races and larger yacht races, attracting sailors of all ages and abilities. The club is open to all, with non-members paying slightly higher prices for food and drinks at its scenic open-air restaurant. Charters are also available.
Building up its growing local sailing community, Phuket Yacht Club has been rapidly establishing itself as the premier place to learn sailing on Phuket with RYA-certified courses available for kids and adults alike. The club has a fleet of dinghies used for instruction, perfect little vessels for beginner sailors learning the ropes. The club's setting at the edge of Chalong Bay – the island's most popular mooring spot for visiting yachts – is a majestic and inspiring location for aspiring sail racers and sea voyagers alike.
With its prime location as a safe harbour along the edge of the Andaman Sea, Phuket is an island with a rich history of seafaring, with evidence of merchant ship arrivals from India, Arabia and China dating back hundreds of years. Though sailors visiting Phuket these days are usually here for more leisurely pursuits, there's still some treasure to mine in the form of internationally-recognised yacht racing glory, for those who join the races.
Phuket Sailing Events
Phuket Raceweek, 20-24 July 2016, https://phuketraceweek.com
Phuket King's Cup Regatta, 3-10 December 2016, https://www.kingscup.com
Phang Nga Bay Regatta, 15-19 February 2017, https://www.bayregatta.com
Phuket Yacht Club, ongoing Sunday race series, https://phuketyachtclub.com