Host to thousands of famed authentic Thai restaurants and plenty of newer culinary hotshots too, each with several exotic dishes to sample, choosing where to dine out in Phuket can be overwhelming. One piece at a time is the best way to take it all in, and this feature serves up recommendations about how and where to enjoy one very specialty entree.
… THE DUCK, PLEASE.
From a plethora of duck or เป็ด entrees popular in Phuket, we found four dishes most likely to wow visitors and leave a lasting impression.
1- Duck Tamarind
The Duck Tamarind is a choice ambassador of the Blue Elephant's Bohemian/Buddhist charm. Roasted duck breast is elegantly stacked atop a bed of fried, shredded kale and topped with crispy fried onions. The rice server glides from table to table, offering never-ending servings of steamy white Jasmine or organic black rice. The tart and sweet tamarind sauce provides an adhesive element for this interesting, impressionable cuisine. The crispy, savory, and tart flavors of the dish left me eagerly anticipating the next bite before I was done with my first.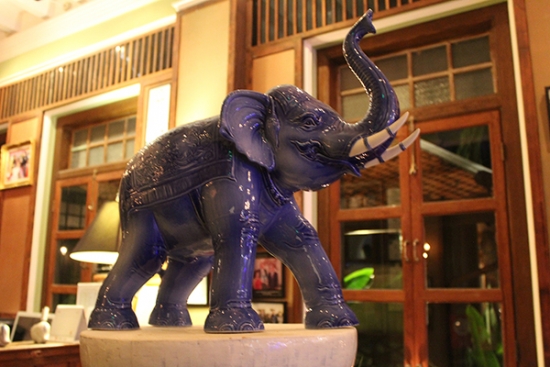 The Blue Elephant
Governor's Mansion, Phuket Town, Mueang Phuket District, Phuket 83000
The Blue Elephant is located inside the historic governor's mansion in Phuket Town. The trail up to the mansion is lit by tiki torches and blue string lights dangling from lanterns hanging from massive tree branches. The mansion's green and white checkerboard floor blends well the limestone colonnades and dark-wood ceiling. The lighting from the antique chandeliers and the brass, orchid-themed sconces create an ambiance that is sleek, historical, and hip all at once. Also, there's an abundance of blue elephant sculptures scattered about, along with traditional Thai art and pictures of King Rama IX.
Afterward, I was given a brief tour of the Blue Elephant Cooking Class room, the famous Blue Bar, the main kitchen, and the upstairs seating for larger parties. The wooden floors, contemporary shark paintings, vintage Buddhist artwork, and blend of freshly cut flowers create an ambiance that the Blue Elephant has become famous for.
The Duck Tamarind is a dish that is justifiably representative of this established restaurant's history. The Blue Elephant has locations in Bangkok, Paris, Brussels, Copenhagen, Malta, Dubai, Jakarta, and Phuket.
2- Stewed Duck and Egg Noodle Soup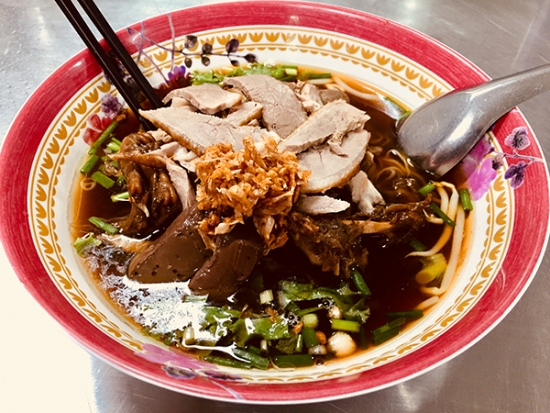 Kitti Duck Noodle
367/30-31 Yaowarat Road, Talad Yai, Mueang Phuket, Phuket Town, Phuket 83000, Thailand
Kitti Duck Noodle is a lowkey gem in Phuket Town. It's no-windows, open air environment provides diners with an an authentic Thai experience. For the adventurous consumers of game bird, Kitti Duck Noodle is an essential stop. Plus, it's super cheap. For 80 Baht (roughly $2.67 USD) patrons can experience Kitti Duck Noodle's variety of stewed duck and noodle dishes. The first words that hit ravenous explorer's eyes are "duck blood jelly," which sounds like the name of noise-rock group from the grimmier haunts of Los Angeles.
The Noodle with Sliced Duck, Stewed Duck Wings, and Stewed Duck Legs is nearly the entire duck stewed and served in a savory brown broth with green onions, lettuce, sprouts, and cilantro. This dish left me thinking "I can't believe I just ate stewed duck's feet and duck blood jelly…and thus, I crave more."
The stewed wing, legs (the entire leg), and sliced breast and thigh meat are artfully piled atop an alluring bed of curly egg noodles and submerged in an aromatic broth with just the right amount of cracked pepper. The duck legs, including the feet, are stewed to point of being considered silky. The duck blood jelly, when mixed with the broth and the crispy fried onion the soup comes with, is a stunning, buttery adventure of its own. Finishing this blend of noodles, duck meat, and broth leaves one feeling like some hybrid Viking-Samurai.
Curious duck-enthusiasts looking for an affordable, impressionable thrill will find excitement at Kitti Duck Noodle.
3- Red Duck Curry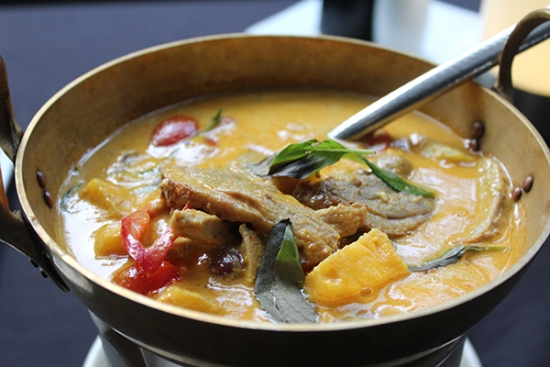 The Oriental Spoon
106/46 Moo 3, Surin Beach Road, Cherngtalay 83110, Phuket, Thailand
The Oriental Spoon is a luxury restaurant that's attached to the Twin Palms Resort in Surin Beach. It's adjacent to several lush palm trees, wild steers, the undulating Andaman Sea, and the picturesque shores of Surin Beach. The staff is calming blend of professional and casual.
Prior to diving into a handsome, ambitious presentation of Red Duck Curry, I was given a complimentary plate of Meang Kum—diced cuts of ginger, lime, roasted coconut and peanuts, chilis, and shallots are folded into a crisp betel leaf, covered with palm sugar syrup and eaten in one palette-expanding bite.
The Red Duck Curry is presented like an edible trophy. A brass pot full of creamy red curry, savory duck, Phuket-grown pineapples, white grapes, and stout basil is set atop two tea candles that keep the dish at the perfect temperature. Again, this dish is a team effort.
Along with the curry comes five vibrant scoops of celebrated Thai rice: Jasmine, white; Butterfly Pea, blue; Pandanus, green; Turmeric, yellow; and Roselle, purple-ish/red/pink.
The most aesthetically intoxicating combination arrives when the right armount of curry, roasted duck breast, pineapple, grape, cherry tomato, and basil are arranged on the green Pandanus rice. The rice's nutty fragrance artfully elevates the texture of the duck, the sweetness of the pineapple, and the basil led my the taste buds to previously unknown exotic heights.
4- Peking Duck
When globetrotting expats Google "best Duck in Phuket", the Royal Kitchen's Peking Duck comes up at the top of the list. The Royal Kitchen itself is located 25 stories up and is perched atop the Royal Palm Springs in Patong. Culinary enthusiasts can view the bright, bacchanalian neon lights of Bangla Road from the vantage point of the Royal Kitchen's 180-degree eagle's view.
The masterful presentation here is a flashy expo in how to carve up a duck. The waitress brings out a cart of Peking Duck, a plum sauce, dim-sum steamers full of lotus leaf pancakes, carrots, cucumber, and spring onion. Tableside, the waitress surgically slices the thin, crispy skin off the duck. The skin is laid atop the thin and fluffy lotus leaf pancake, topped with cucumber, and drizzled in a sweet and tart plum sauce. The crunch of the duck skin combines with the plum sauce and pancake for combination that pops, crunches, and illuminates. The remainder of the duck is brought out later. Diners have the options of having it grilled a variety of ways. The garlic and cracked pepper option is savory, and again bodes well with the plum sauce.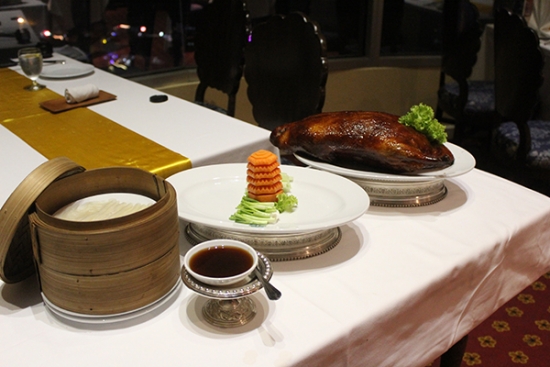 The Royal Kitchen
135/23 Rat-U-Thit 200 Years Road, Patong, Kathu, Phuket 83150, Thailand
The Peking Duck is as much a delicacy as it is a mission. Mainly, diners should bring their squad with them.