"For the herds of wild elephants show no resentment when domesticated animals join them. They have none of that herd instinct directed against the stranger that one finds in cattle, in small boys, and among many grown-up men. This tolerance is just one of the things about elephants which makes one realize they are big in more ways than one."
― J.H. Williams, Elephant Bill
Samui Elephant Sanctuary opened on 16 January 2018 by Founder Wittaya Sala-Ngam and is the first ethical elephant sanctuary in Koh Samui. Currently, there are five elephants in their care; Cartoon, Kham San and Sri Nin (50 – 60 years old) who came to the sanctuary from the local riding camp on Koh Samui. The sanctuary also has two younger elephants; Nong Pech (7 years old) and Moloair (9 years old) who came to the elephant sanctuary from Surin province.
Samui Elephant Sanctuary offers tours that educate visitors about the importance of these extraordinary, majestic giants. You will be able to feed and walk and observe the elephants as they forage, socialize and play, and do what elephants do, and that's be elephants.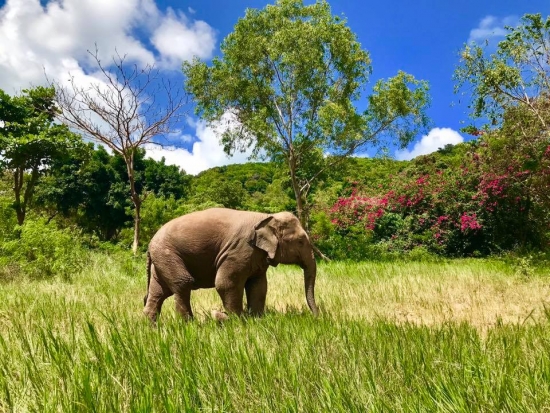 These five elephants that now live, at the Samui Elephant Sanctuary, have come from an extremely hard life, working long hours in the entertainment or logging industries. These stunning animals have been beaten and made to do what their owners wanted by use of force and torture. Having a chair strapped to their back or painting a picture has never been part of their natural environment. The positive news for elephants is that times are changing and projects such as the Samui Elephant Sanctuary are becoming the new way for a tourist to experience elephants.
The Samui Elephant Sanctuary is the perfect opportunity for families, couples, and friends to discover the life of elephants in a stunning natural setting and enjoy these beautiful creatures in a way that does not take advantage of the animal. The project works under the Save the Elephant Foundations "off Saddle" program.
On arrival, you will be welcomed by extremely friendly and highly dedicated team of staff, many of whom are volunteers, that are all committed to the well-being of the animals. The tours focus on observation of the elephant's natural behaviors and as such, they do not allow guest to join the elephants in the mud pit or swimming pool and of course NO RIDING.
The tours follow a very relaxed program which starts with an introduction to the Samui Elephant Sanctuary's work via a short video, then feeding the herd, and watching them play, take baths and just live their own lives in a beautiful setting. Guests are invited to walk into the sanctuary and feed the elephants then watch the elephants as they make their own decisions about what they would like to do each day. The tours are very much guided by the herd!
As a visitor, you get to come as close as touching the animals and sharing their space. While you feed the elephants the amazing staff will explain all about what the organization is doing for the well-being of the animals and they will also answer any questions that you might have about the elephants, their environment, and their daily routine.
The Samui Elephant Sanctuary treat elephants with the dignity and respect they deserve. They do not allow riding or any type of performance, they want guests to see elephants being elephants. They work with the herd through positive reinforcement through food and they turn their backs on the traditional use of the bullhook and cruel training techniques.
You will not see and head shaking or elephants just moving side to side while chained up, which are both signs of animals in distress. The elephants are happy and free. You will have a day to remember, and knowing that you did not ride them, or get them to paint a picture for you and you purely enjoyed them being themselves in their own environment will be a memory that will last a lifetime.
And even more good news is that profits raised at the sanctuary are reinvested into rescuing other elephants and bringing them to live out their lives as elephants at the sanctuary.
The Samui Elephant Sanctuary is a must do when visiting Samui. Being able to be so close to those majestic animals is truly an incredible experience that should be shared with your loved ones and it is also a perfect way to teach and re-educate you about how these elephants have been treated in the past and how these times are slowly changing. Small steps such as The Samui Elephant Sanctuary as well as the Phuket Elephant Sanctuary are both at the forefront of change in Thailand for the national animal. Like an elephant's memory, you will have an unforgettable day at the Samui Elephant Sanctuary.
Tour Schedule
Morning 9am-12
Afternoon 2pm-5pm
Pick up from your villa
Welcome and introduction to the sanctuary and it's work to protect elephants
Prepare food for the elephant herd. After food preparation, feed the beautiful gentle giants
Observe and walk with the elephants in the sanctuary
Watch them as they forage for food, bathe in the pool & mud pit
Enjoy a delicious vegetarian buffet lunch/dinner
Transfer back to your villa
How much does the Samui Elephant Sanctuary cost?
3,000 baht (adult), 1,500 baht (5-12years) under 5 free of charge. Includes tour, English speaking guide, villa pick up / drop off, lunch / dinner.