Elite Havens' villa chefs share their special recipes
Elite Havens villas are synonymous with superb dining, prepared by skilled chefs – many of whom have trained in internationally renowned restaurants. Villa menus include an extensive range of Western and Asian suggestions, and our chefs will also do their best to cater to guests' special requests. But of course every chef has his or her own 'special' dishes – the ones that guests ask for again and again. With much coaxing and cajoling, we've prised some of these secret recipes from our chefs to share with you.
In this issue, Komang, the outstanding chef at Villa Ramadewa on the Laksmana Estate in Seminyak, shares two of his favourite dishes with us.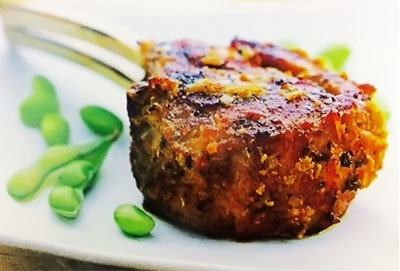 Villa Ramadewa's Grilled Lamb Chops with Lemongrass Marinade
Serves 4
INGREDIENTS:
4 double loin lamb chops
Freshly ground black pepper to taste
8 pods fresh green soybean boiled until tender (discard shells)
For the marinade:
2 tsp cumin seeds, lightly toasted
3 inches fresh ginger, chopped
1 ½ inches fresh turmeric, chopped
4 shallots, chopped
4 cloves of garlic, chopped
4 stems of lemongrass, finely sliced
2 tbsp sugar
1 tsp salt
2 tbsp vegetable oil
PREPARATION:
To prepare the marinade, first grind the cumin seeds to a fine powder in a spice grinder. Add all the other ingredients except the oil. Process to a smooth paste adding a little oil if needed to keep the mixture turning.
Heat the oil in a small pan and stir-fry the paste over heat until fragrant and cooked (8 – 10 mins). Transfer to a bowl and leave to cool.
Sprinkle both sides of the lamb chops with a little freshly ground pepper, than rub generously with the marinade. Set aside to marinate for at least 30 minutes. Grill the chops to taste and serve garnished with the cooked soybeans.
In the unlikely event that there is any leftover meat, slice and wrap in pita bread for a delicious lunch snack.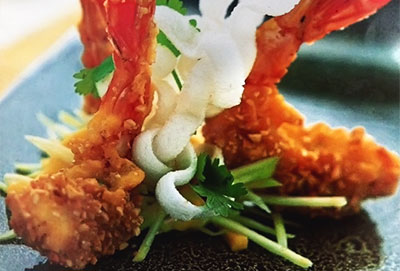 Villa Ramadewa's Peanut-crusted Prawn on Green Mango Salad
Serves 6
INGREDIENTS:
For the prawns:
3 medium-size fresh prawns per person
4 candlenuts, chopped (can substitute with macadamia nuts if necessary)
3 cloves of garlic, chopped
2 tsp finely chopped turmeric
1 tbsp finely chopped aromatic ginger (Kencur)
1 egg lightly beaten
125 – 185 ml water
120 g rice flour
40 g cornstarch
¼ tsp white pepper
¼ tsp coriander pepper
2 tsp salt
3 kaffir lime leaves (very finely shredded)
125 g dry roasted peanut
Vegetable oil for deep frying
10 g dried kwe tiau (kway teow) flat rice noodles broken into 5 cm lengths; deep friend in very hot oil until crisp
4 sprigs of coriander leaves
For the green mango salad:
3 unripe mango, julienned to yield about 225 g
4 pieces ripe but firm jackfruit, julienned
2 red chilis, seeded and julienned
1 tbsp fresh coriander leaves
1 tbsp chopped mint leaves
1 tbsp lime juice
1 tbsp brown sugar
1 ½ tsp fish sauce
6 dried shrimp
PREPARATION:
To prepare the mango salad, combine all ingredients and refrigerate in a covered bowl while preparing the prawns.
Peel the prawns, leaving the final section and the tail intact. Discard the head and the shell. Cut down the back of each prawn to remove the dark vein. Set prawns aside.
Process the candlenut, garlic, turmeric and aromatic ginger until finely ground, adding a little water if needed to keep the mixture turning. Put spice paste in a bowl and whisk in ½ cup of water and beaten egg. Set aside.
In a separate bowl, combine rice flour, cornstarch, pepper, fresh coriander and lime leaves, stirring well to mix. Slowly stir in the water and spice paste, adding little more water if needed to make a thick batter. Stir in the chopped peanut.
Heat oil for deep-frying in a wok. When the oil is very hot, hold each prawn by the tail and dip it into the batter to coat all over. Carefully slip prawns into the hot oil, frying a few at a time until crisp and golden brown (about 3 minutes). Drain on paper towel and keep warm while cooking the remainder.
Arrange some of the green mango salad on each dish and garnish with fried noodles and sprigs of coriander. Add 3 prawns to each plate and serve immediately.