It is astonishing how much the charming tropical Thai island of Koh Samui has changed just over the last 10 years. Expansion of the airport and direct flights from cities such as Hong Kong and Singapore have transformed the island from a backpackers' haven to a sophisticated and vibrant resort island with leading international 5-star resorts, fabulous restaurants, and a wide choice of private holiday villas all over the island.
Holidaymakers looking to rent a villa in Samui are spoiled for choice by the Elite Havens collection which offers a superb range of luxury beachfront residences on some of the islands most beautiful beaches, spectacular hillside retreats with jaw-dropping views and palatial pleasure palaces with every imaginable luxury, available for rent.
There's nothing quite like a villa stay for those who want to relax and be themselves among friends and family, where you have the flexibility and total freedom you never quite get in a hotel.
In Samui, whichever villa you decide on, the relatively small island – you can drive around it in just over an hour – means you are never very far from anywhere. It's an easy island to explore and fall in love with.
Baan Puri is a peaceful sanctuary of Thai-inspired pavilions set in lush tropical gardens surrounding a pool on the beachfront at Lipa Noi – one of the most beautiful beaches on Koh Samui's tranquil west coast. With six luxurious en-suite bedrooms, this spacious villa is well suited for family holidays, parties of friends or retreat groups.
Rejoicing in glorious sunsets and stunning panoramic views over the picturesque Five Islands group, this idyllic hideaway is customised to relax and recharge – with friendly staff taking attentive care of you in true Thai style.
Perched on a prime hillside location, Villa Solana is an extraordinary seven-bedroom luxury villa that can accommodate up to 14 guests. It offers an unparalleled view of Samui's picturesque north-east coast, adorned with outlying islands and glistening blue seas. Spread across three levels, the villa seamlessly blends indoor and outdoor living, featuring a spacious open-plan living and dining area that leads to a modern show kitchen.
The highlight is the clifftop sitting area with its iconic circular sunken sala, surrounded by a shallow pool, providing a panoramic sea view that becomes your favorite spot. Whether you choose the master bedroom on the top floor or opt for privacy in the terrace or one level below, each bedroom offers stylish elegance and breathtaking sea views.
Villa Chi Samui is a seafront haven, located within a private tropical estate on Koh Samui's Bang Po Beach in Mae Nam. It undoubtedly is one of the island's most beautiful spots, with a spectacular panorama of the sapphire blue sea and the distant islands of Angthong Marine Park and Koh Phangan.
Sophisticated and comfortable, this delightful five-bedroom private pool villa is a sought-after retreat for families and groups of up to 10, as well as a venue for special events such as weddings.
With attentive staff taking care of your every wish, it may be hard to stray far from the villa. But if you do, the vibrant tourist areas of Bophut, Fisherman's Village and Chaweng are a short drive away.
Another secluded hilltop sanctuary is Villa Suralai. Tucked away in the jungle-clad hills above Fisherman's Village on the north-east coast, this exceptional, stand-alone villa which combines striking Thai-inspired architecture and elegant contemporary design, is a peaceful retreat to relax and recharge from today's stressful lifestyles.
The villa overlooks a stunning sunrise-to-sunset panorama of Bophut Bay, while its north-facing aspect means lower temperatures than on the beach, with cooling daytime breezes and balmy evenings.
Six luxurious double bedrooms all with their own terrace, overlook the 24-metre infinity pool and gardens, to views of the sea and surrounding hills, comfortably accommodating up to 12 guests.
Above it all, a vast living and dining pavilion with a soaring cathedral ceiling and expansive terrace give the villa an uplifting sense of grandeur and space – as perfect for a moment of quiet of solitude admiring the view or sunset, as for house parties and larger events such as weddings.
Taking care of everything at Suralai is your own staff led by a highly experienced villa manager and resident chef renowned for his exceptional Thai and western cooking.
Samui's vibrant shopping and dining scene at trendy Fisherman's Village and it is a must-see' Friday night market is actually within sight of the villa, and the beaches of Bophut and Chaweng a few minutes further away.
Family Fun on Samui
Samui is a wonderful place to show youngsters some of the exotic animals, birds and reptiles indigenous to Thailand. Samui Elephant Sanctuary provides a sanctuary for rescued elephants that previously endured difficult lives that included logging, elephant riding, street begging, and performing in circus shows. Join the morning or afternoon program where you are welcome to feed, walk with, and watch these gentle giants roam, as they forage, socialize and bathe and enjoy the peaceful life they deserve.
How about a day at Paradise Park Garden for some family fun? Set in the mountains at Khao Pom – Samui's highest point – this sprawling, 20-acre nature park overlooks awesome views of the surrounding countryside and the magical Five Islands on the southwest coast. Young ones can get up close to many species of birds including macaws, parrots, love birds and parakeets that live there, as do deer, goats, emus and a pony in a separate enclosed area. Stay for a Thai lunch followed by a swim in the incredible infinity pool.
Don't miss Samui's spectacular islands for a day of 'island hopping'. Hire a private speed boat, pack a picnic and head for the Ang Thong National Marine Park – an archipelago of 42 magical karst islands about an hour from Samui. Towering limestone islands, thick jungle, white-sand beaches, mangroves, waterfalls and soaring cliffs, hidden caves, lakes and lagoons are just waiting to be explored, along with a rich variety of exotic wildlife and sea treasures. Organised day-tours include lunch, refreshments and supervised snorkelling and kayaking excursions.
If its thrills and excitement you're looking for, you'll be amazed by the variety of action activities available on Samui. From kite surfing at Nathon, off-road safaris on three and four-wheeled ATVs or 4WDs, bungee jumping, zip-lining through the rainforest, canopy walks and waterfall hikes to high-speed Go-karting.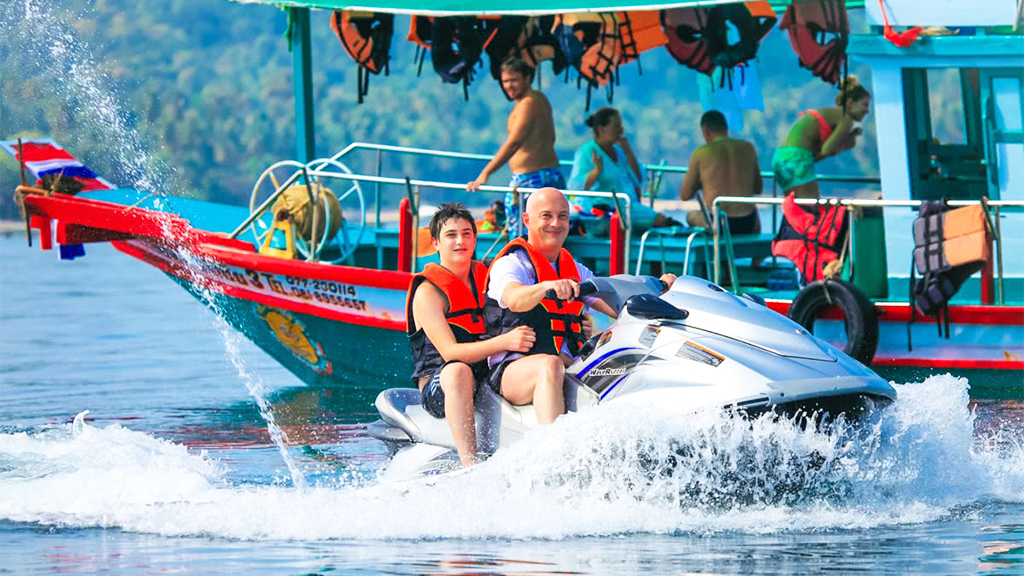 At the beach, jetpacking is a relatively new activity, while a jet ski safari is something exciting and thrilling for the whole family to enjoy together. On Chaweng Beach, and inflatable playground Aqua Park offers youngsters, endless fun and challenging water activities in a safe environment.
For an intimate family getaway and all the fun and luxury-style living, get the best of both worlds when you stay at Elite Havens.