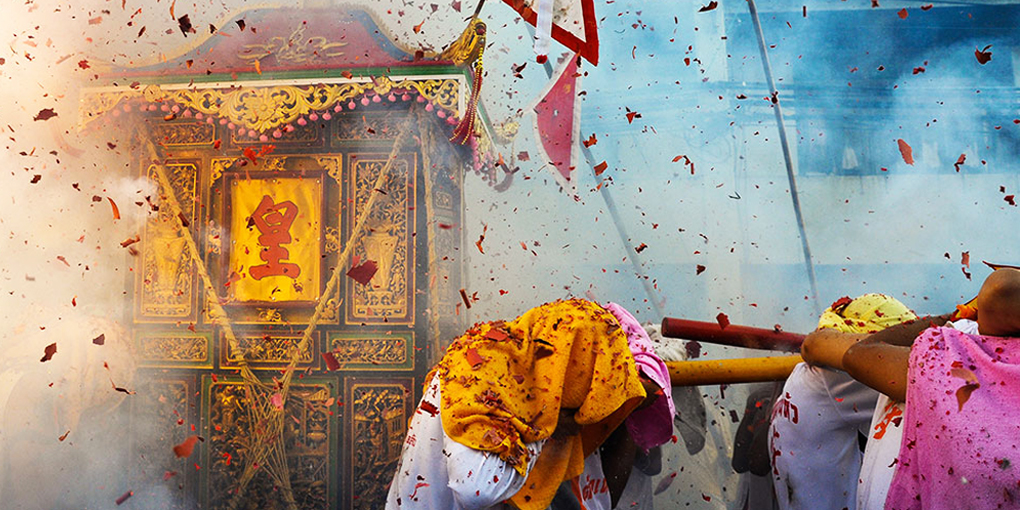 During the ninth lunar month of the Chinese calendar, the Phuket Vegetarian Festival (or jia chai in local Hokkien Chinese dialect) is held. The colourful event celebrates the Chinese community's belief that abstinence from meat, sex and alcohol and merit making at the many Chinese shrines and temples throughout the seven to ten-day festival, will cleanse the body, mind, and spirit.
The Phuket Vegetarian Festival can be, hold on, IS a rather gruesome, crazy and loud experience, but saying all that, it is one of the most interesting, colourful, amazing and yes gruesome and loudest festivals I have ever seen.
not recommended for the faint-hearted
If the festival is on your bucket list, the finale in Phuket town is the part you cannot miss, but make sure you take earplugs and a mask, oh yes and perhaps a few drinks.
A little history lesson
It is believed that in 1825 when Phuket was the tin mining capital of Asia, a wandering Chinese opera group, who were performing on the island to entertaining the tin miners of whom a large percentage where Chinese, fell ill with malaria. The opera group decided to adhere to a strict vegetarian diet and also pray to the Nine Emperor Gods, which they believed would purify their mind and body.
As with many stories, this one has a happy ending, and the opera group made a complete recovery, which lead to everyone celebrating the fact they had survived what was and still is a fatal illness, and a festival was held to honor the gods.
My first experience, and it was an experience
Phuket Vegetarian Festival, October 2007. I had never encountered anything like this before and, although I had done some research and knew a little bit of what to expect, I was so wrong. On the first day, the whole island seemed to be waiting for the sun to go down so that the ceremonies could start, the anticipation was like a haze over Phuket. Everyone dressed in white, the official colour for everyone to wear. I knew that each night there would be these ceremonies at all the Chinese temples around Phuket, and the ceremonies included fire walking and climbing sword ladders. I also knew that some people would become mediums for the gods, and these men and women would pierce their cheeks with metal spikes,