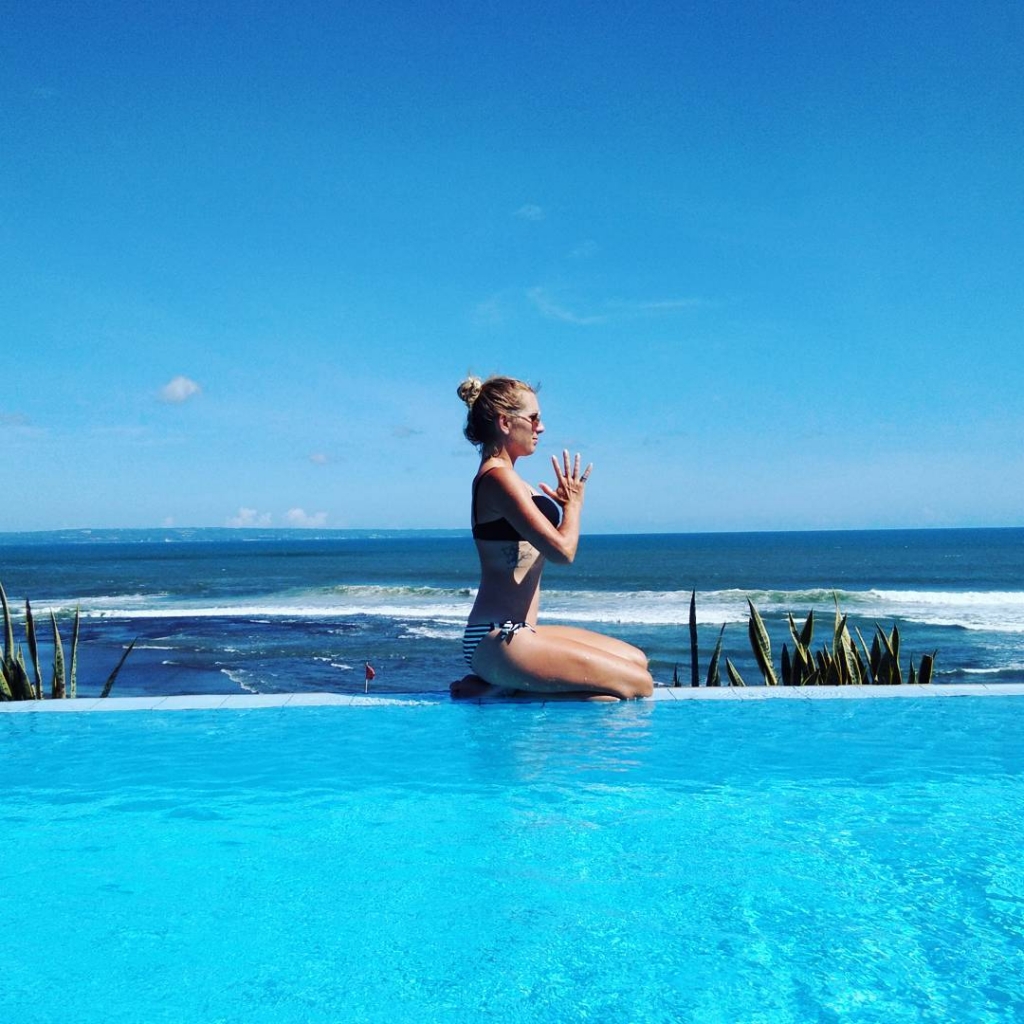 Yoga is a must-do in Bali, but you don't need to go all the way to Ubud for an authentic experience. Canggu is a vibrant coastal district located close to – but far enough away from – the busy streets of Seminyak. It's a popular destination for a relaxed holiday.
Canggu is best known for its surf beaches, trendy shops, casual cafes and restaurants, but a growing number of beautiful yoga and Pilates studios are making their way to an evolving wellness scene offering a range of classes for the healthy Canggu community. Whether you're looking to break a sweat with Pilates or just to calm your body and soul doing yoga in a stunning setting – there is a class for you. Be ready for beach yoga poses like Canggu's Instagram yoga babe Yogavive_ (SEE ABOVE, FEATURED IMAGE) in no time.
The highly experienced teachers will ensure you the get the most out of your exercise whether you are a beginner or an expert. Many of the studios feature holistic treatments, onsite spas and healthy cafés to round off your experience. Drop in early to reserve your space, or book a private class beforehand for more intimate exercise. All the studios provide mats and other equipment, so all you need to pack is comfortable, stretchy clothing.
Five yoga classes in Canggu, Bali
HATHA YOGA CLASSES
PERSONAL GROWTH TO THE MOON AND BEYOND
The Practice offers three Hatha yoga classes for varying levels of practice;
Stage1 Moon Hatha class focuses on stability and calmness of body and mind with long holds.
Stage 2 Sun Hatha includes conscious Vinyasa, standing poses and floor work with deep breathing and movements.
Stage 3 Fire Hatha brings together all the elements – Asana, Pranayama, Bandha, Mudra and Meditation.
Typical class length is 90 minutes.
In addition to the Hatha series, yoga programs include Yin, Restorative and Complete Practice, as well as the occasional Yoga Fundamentals workshop tailored to those discovering yoga.
The stunning open-air bamboo studio amidst rice fields (and just few steps away from the beach) also hosts yoga teacher training as well as community groups and life-enriching events. Cute giftshop and yoga-wear for sale here too.
The Practice
Jl.