Elite Havens villas are synonymous with superb dining, prepared by skilled chefs – many of whom have trained in internationally renowned restaurants. Villa menus include an extensive range of Western and Asian suggestions, and our chefs will also do their best to cater to guests' special requests. But, of course, every chef has his or her own 'special' dishes – the ones that guests ask for again and again. With much coaxing and cajoling, we've prised some of these secret recipes from our chefs to share with you here.
In this issue, the outstanding private chef at The Longhouse in Jimbaran reveals how to make one of Indonesia's most popular dishes. Gado-Gado, with its spicy peanut sauce poured over blanched veggies, is a delicious treat. At the Longhouse, spices are ground and the sauce is made before your eyes at the dining table. Here is the recipe.
The Longhouse Gado-Gado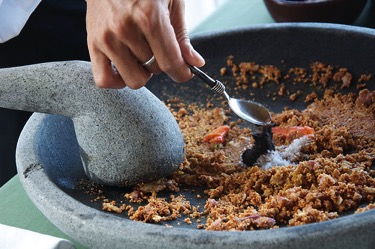 Serves 4
Special equipment: pestle and mortar/grinding stone. (If not available, you can substitute with a food processor.)
INGREDIENTS:
100g spinach, washed and blanched
100g bean sprout, washed and blanched
100g long beans (green beans), cut into 5cm pieces, washed and boiled
1 large fresh tomato, washed and cut into wedges
1 fresh cucumber, washed and cut into half-moons
200g fresh tofu, cut into 2cm cubes and deep fried
4 tbsp sweet soy sauce to serve
Fried shallot to serve
Prawn cracker to serve
Peanut Sauce:
400g fried peanuts
4 fresh shallots, peeled and cut in half
4 fresh garlic cloves, peeled and cut in half
2 tsp black soy bean paste (available in Asian Markets)
1 fresh bird eye chili
4 tbsp palm sugar (brown sugar is a substitute)
3 cups water
1 tsp lime juice
1 tsp salt
PREPARATION:
Peanut sauce: grind peanuts, shallots and garlic in the mortar stone until smooth. Add black soybean paste, chili, palm sugar and grind again very well. Add water little by little continuously until the mixture becomes a smooth paste. Add lime juice and salt to taste.
2. Toss the vegetables in the peanut sauce and divide onto plates.
3. Serve topped with crisp prawn crackers.
SALAMAT MAKAN!