No matter what time of year, expect a holiday in Bali to be bustling with activity. But in the months of July and August, when the days are sunniest and the weather is driest, the island turns into a veritable party island. A wealth of activities are on-hand. Whether you're travelling with friends, family, or your significant other, expect to be flooded with choice. Festivals, concerts, events and conventions are aplenty. These are the months Bali is most alive.
In September, as things die down, there is still a plethora of activities – what with less traffic and cheaper airfare. Everyday is a discovery, but with less people populating the streets.
Whichever month you choose to come to Bali, an elite haven will always be waiting for you. Grab your suitcase and head to the Island of the Gods!
JULY
Surfing Contests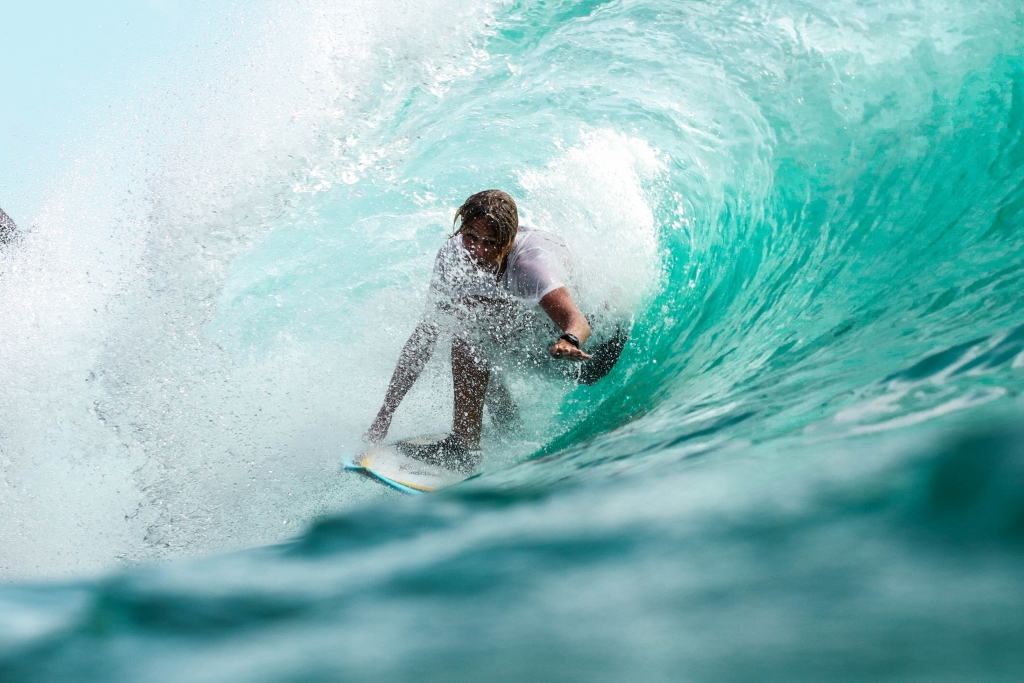 The sponsors and activities change every year but you'll find top international surf contests being held throughout the summer. It's not just peak tourist season but also peak wave season! Surf to your heart's content!
When: July and August
Where: Padang Padang Beach, West Sumatra
Gypsy Land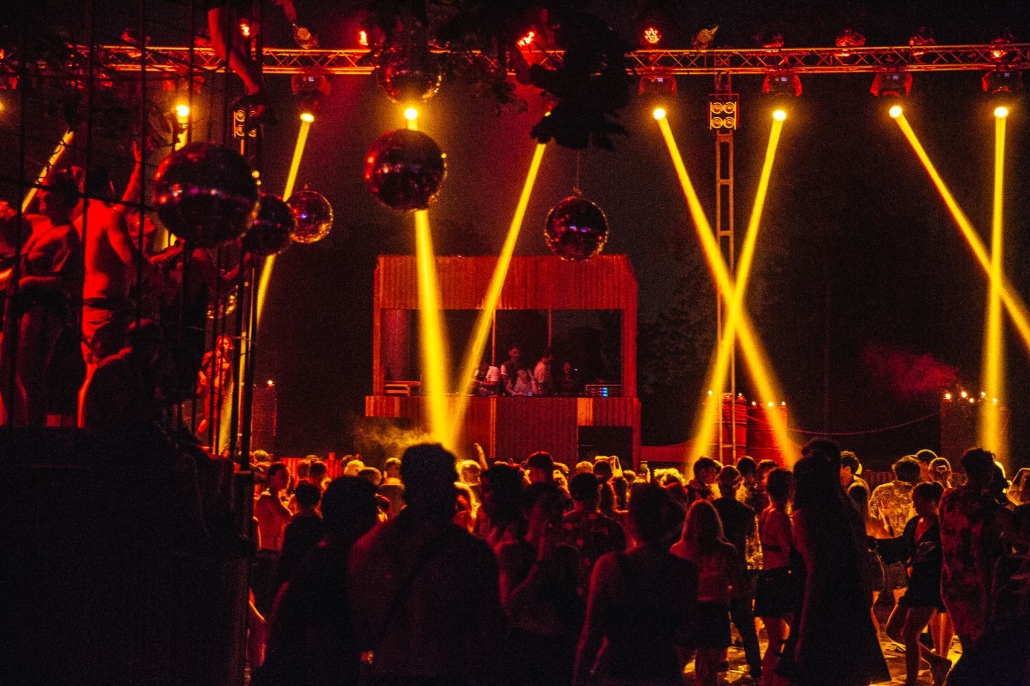 Equivalent to Burning Man – but in Bali – Gyspy Land is an art-filled techno festival in Seminyak. Three hectares of land are flooded with revelers dressed in outrageous gear and costumes that will make your eyes pop. There are two themes to explore: Alice in Wonderland and Mad Max.
When: July 13-14
Where: Seminyak
Bali Blues Festival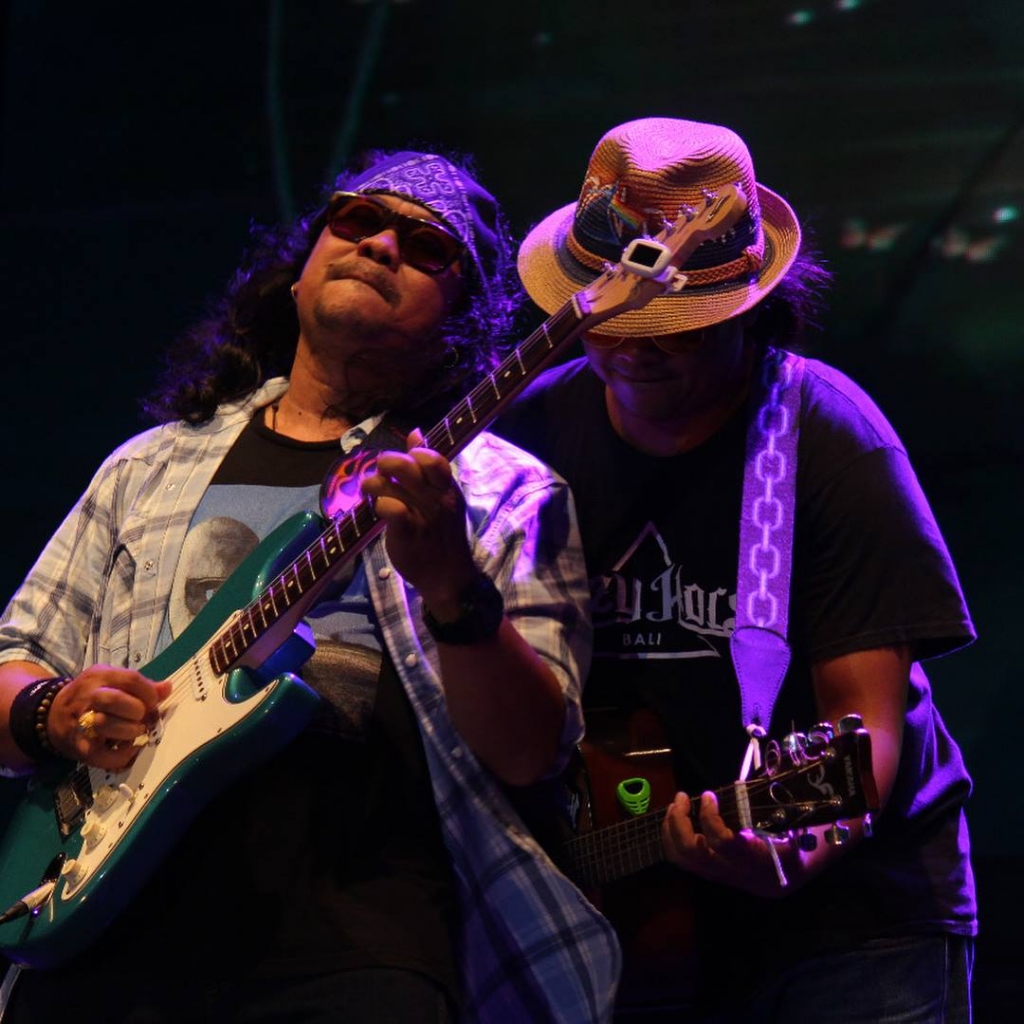 Does the smooth sounds of the Blues titillate you? Then this is where you need to be. The Bali Blues Festival is back for its fifth year, featuring musicians from around the globe.
When: July 13 – 14
Where: Peninsula Island, Nusa Dua
Makepung Race, Governor's Cup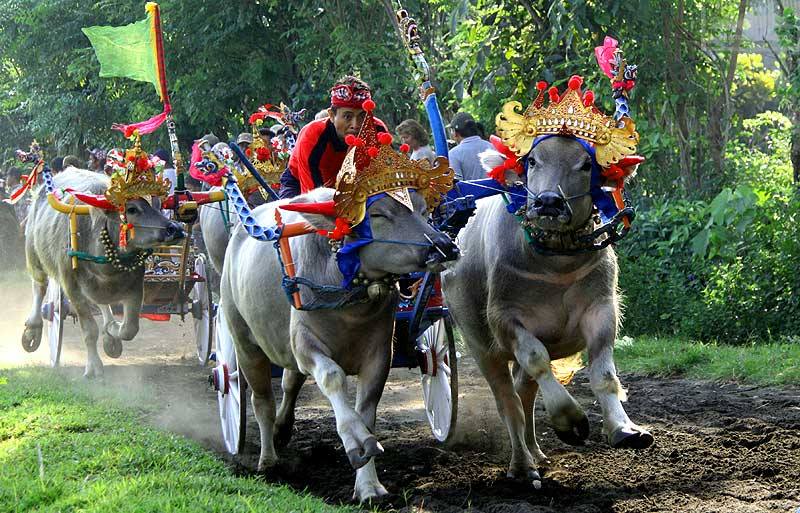 Makepung is a tradition from the agrarian livelihood of the island and the race of water buffalo is a wonderful spectacle. The racing course is about 2 kilometres and the farmers come to race for honour.
When: July 14
Where: Jembrana, West Bali
Tulamben Festival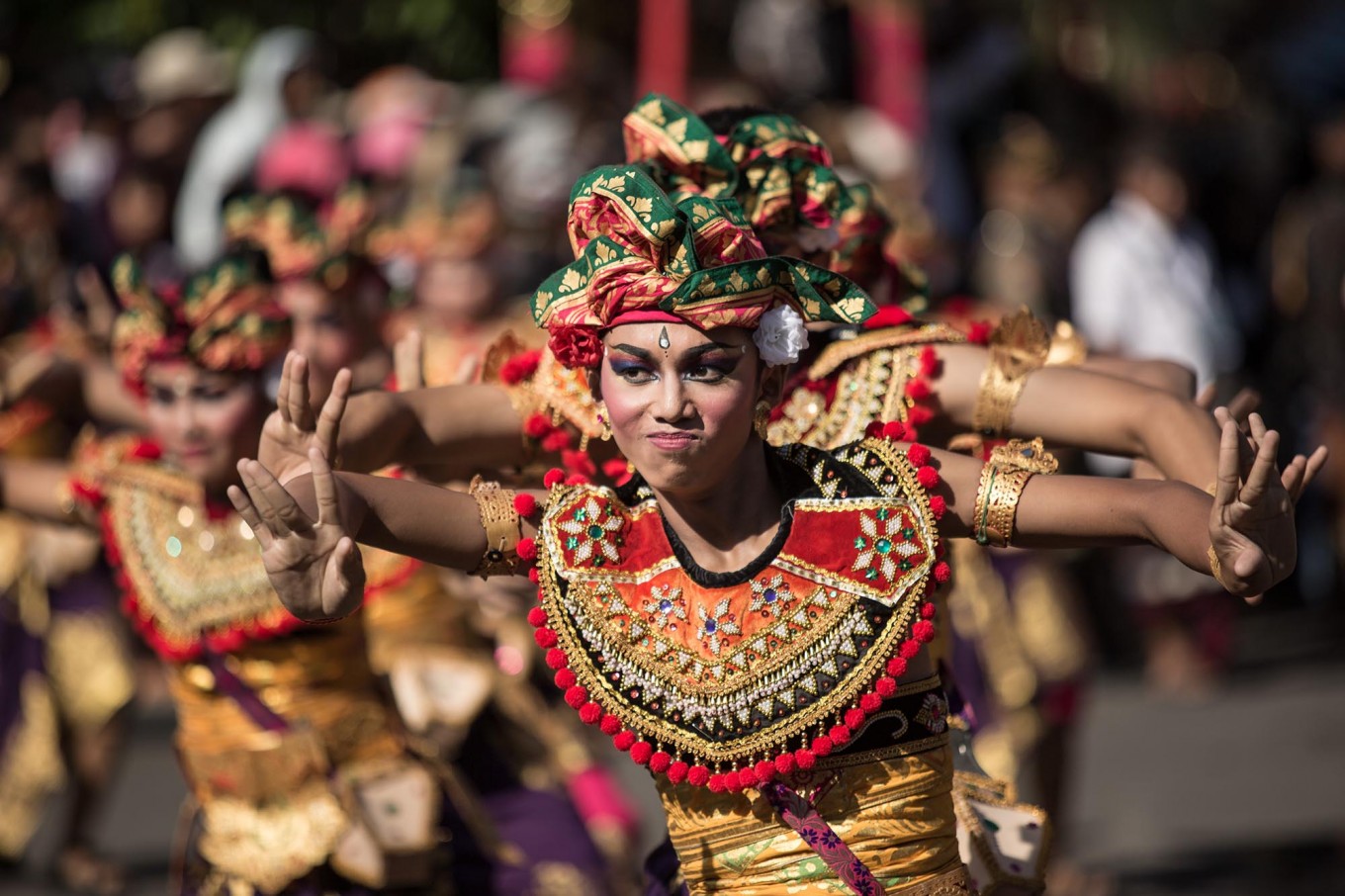 This event highlights exhibitions and a fantastic art and culture parade. Traditional wind-powered Jukung (Indonesian boat) races will be held to showcase the skills of the local fishermen.
Where: Tulamben, East Bali
When: July 27-29
August
Bali International Kite Festival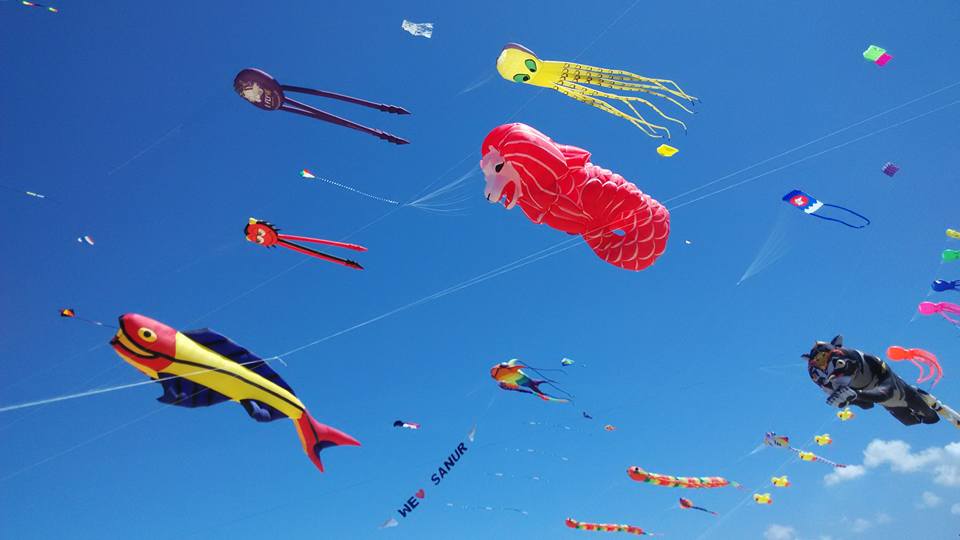 Traditional giant kites are raced competitively by local and international teams. The event is a seasonal religious festival intended to send a message to the Hindu gods to create abundant crops and harvests.
Where: Multiple locations
When: August 15-18
Ubud Village Jazz Festival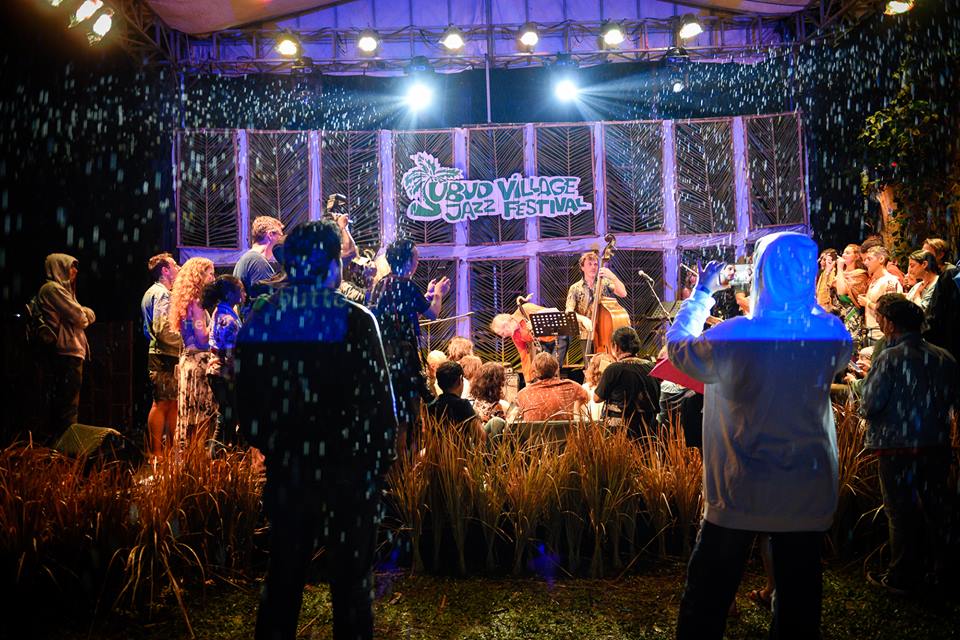 The Ubud Village Jazz Festival began in 2010. Entirely reliant on a volunteers, the event is held annually and features a magnificent array of jazz artists from Bali and around the world. A must for lovers of music.
Where: Ubud
When: August 16-17
Indonesian Independence Day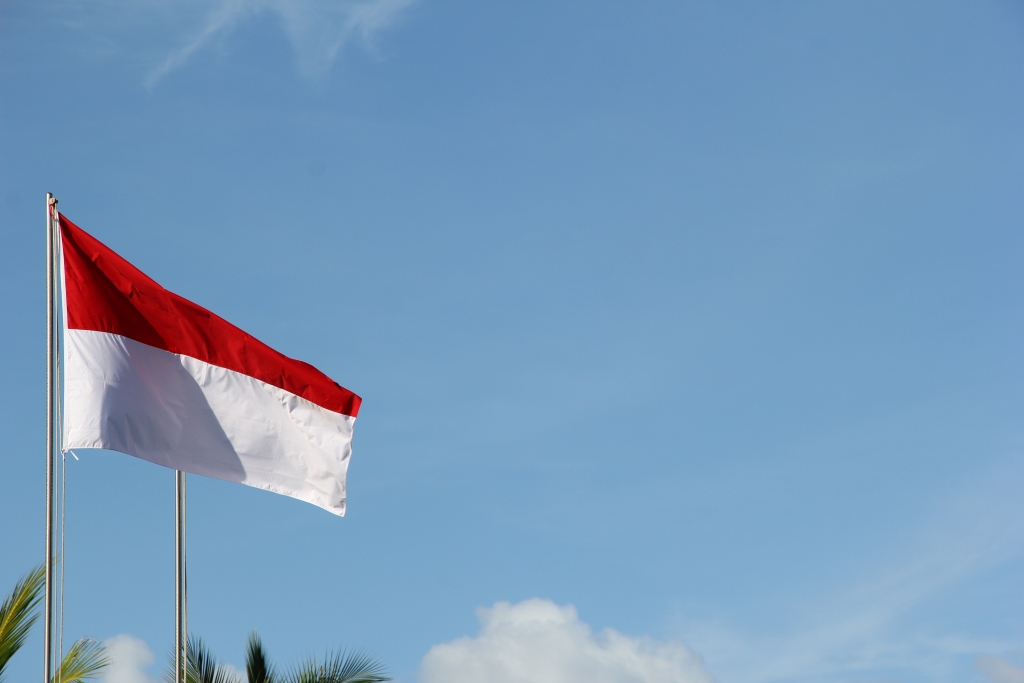 August 17 is the day Indonesia's independence from the Dutch was declared in 1945. Flags fly high and fireworks are shot off. You'll encounter school children celebrating on the streets.
Where: Multiple locations
When: August 17
Sanur Village Festival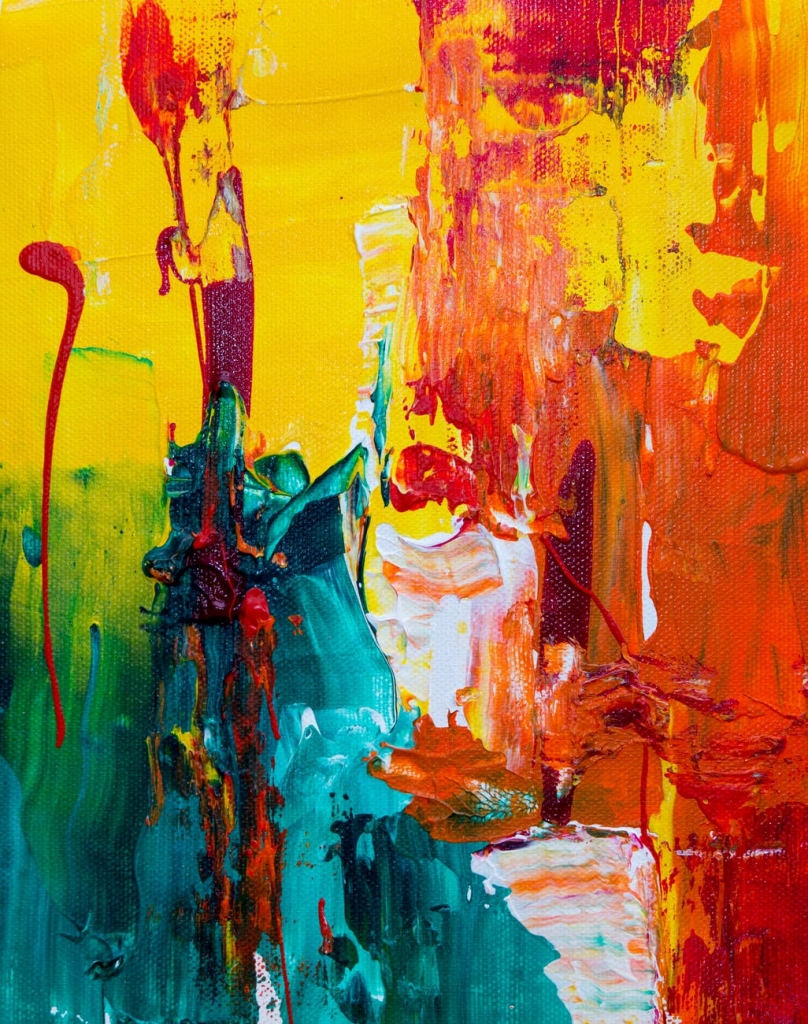 The Sanur Village Festival celebrates the spirit and heritage of the Island of the Gods. This year, the festival will feature the theme Dharmaning Gesing – the glorifying of bamboo. Events include everything from traditional boat competitions to painting contests.
Where: Multiple locations
When: August 21-25
Sunny Side Up Festival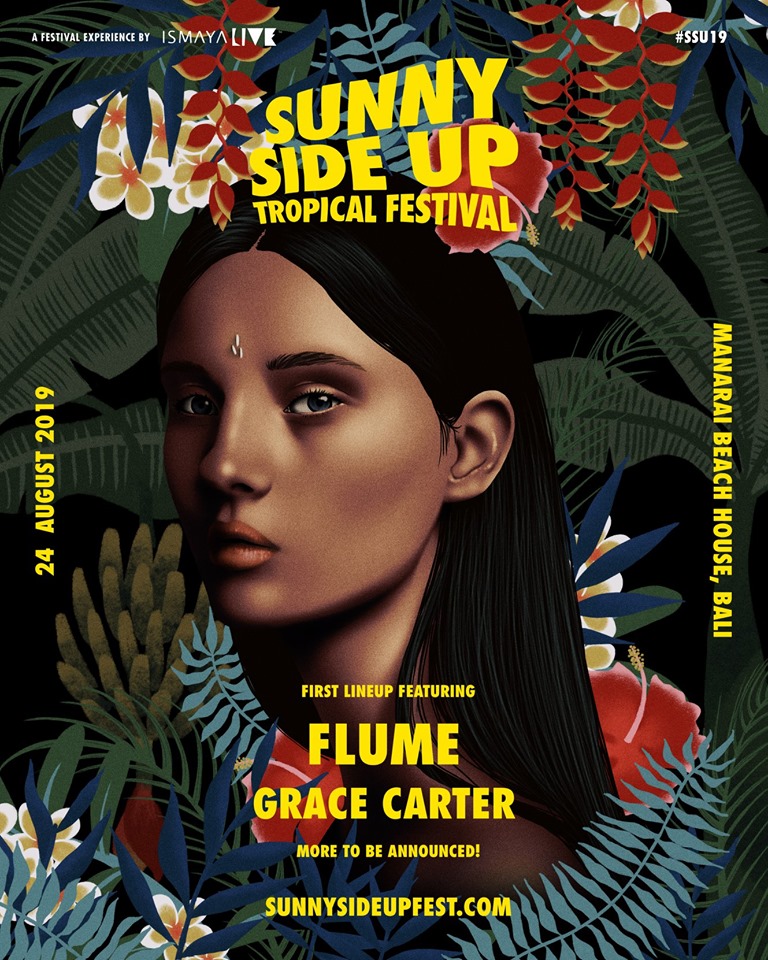 Sunny Side Up is a tropical music and culture festival which brings together international headliners, cutting-edge artists and famous DJs. Previous performers have included Disclosure, Mark Ronson, Ellie Goulding, Azealia Banks, Holy Ghost, Madeon and Motez. You don't want to miss this!
Where: Nusa Dua
When: August 24
Café del Mar Bali Pool Club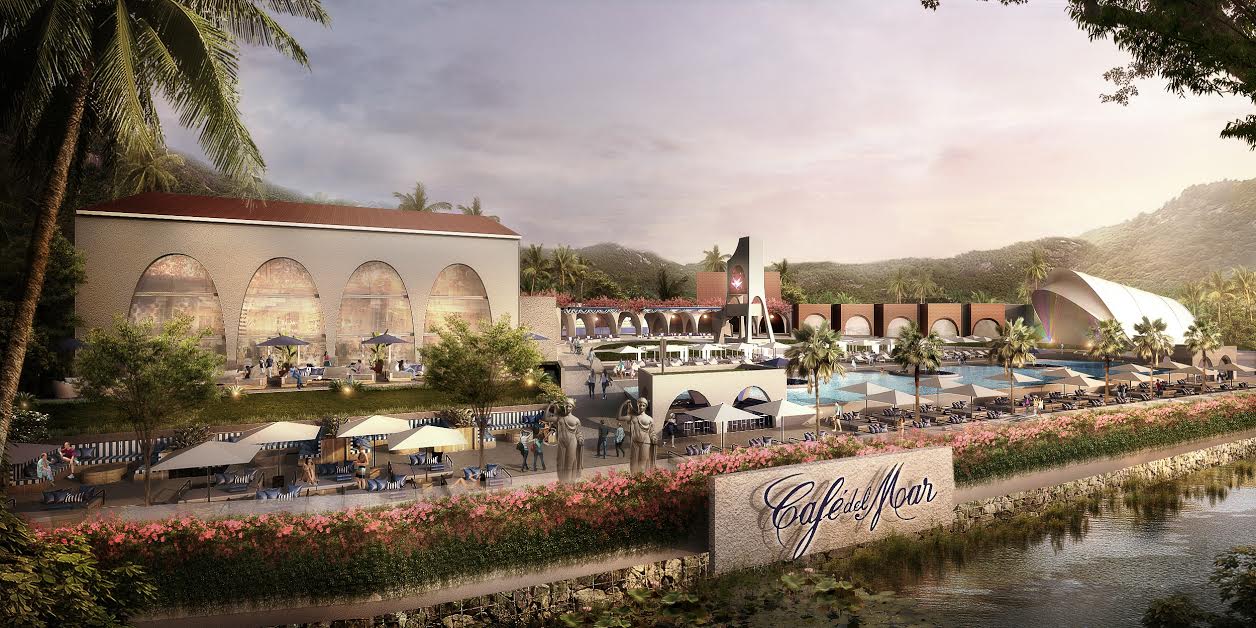 The celebrated Ibiza club brings its beat to Bali. The Mediterranean lifestyle experience can be had on the Island of the Gods! Get ready for a rocking good time!
Where: Canggu
When: End of August to early September
September
TEDxUbud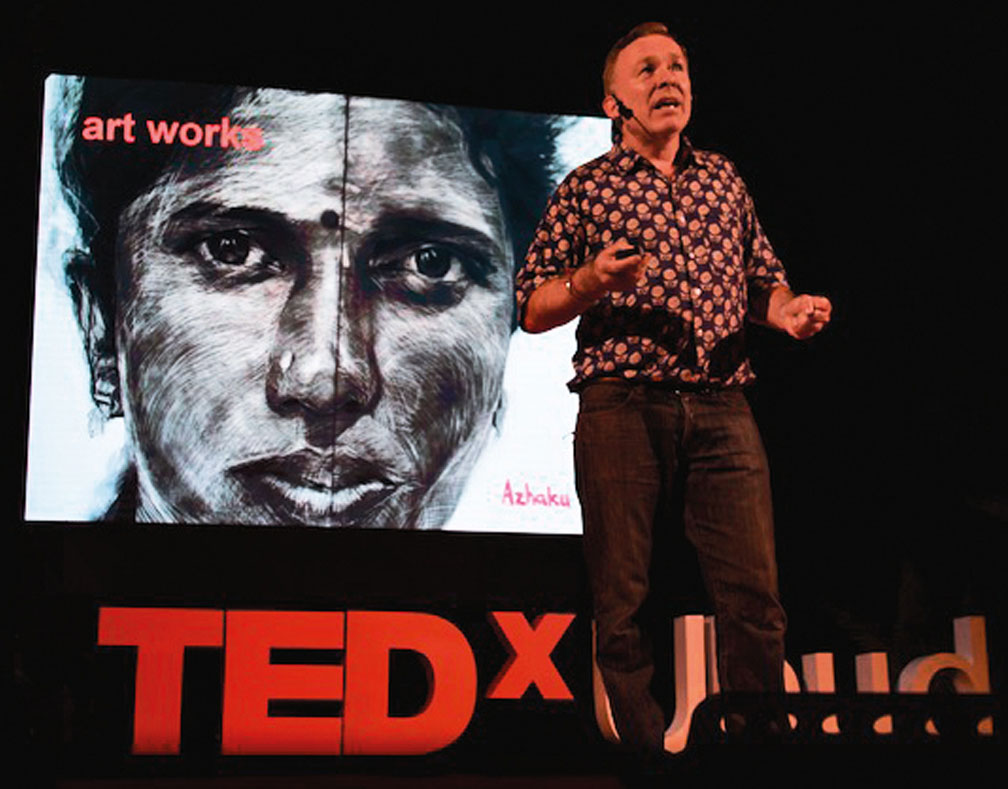 Created in the spirit of TED's mission, "ideas worth spreading," the TEDxUbud program returns to Bali this year. Don't miss this fantastic and inspiring event, which is designed to give organisations and individuals the opportunity to stimulate dialogue at the local level.
Where: Ubud
When: September 7
Petitenget Arts and Spirit Festival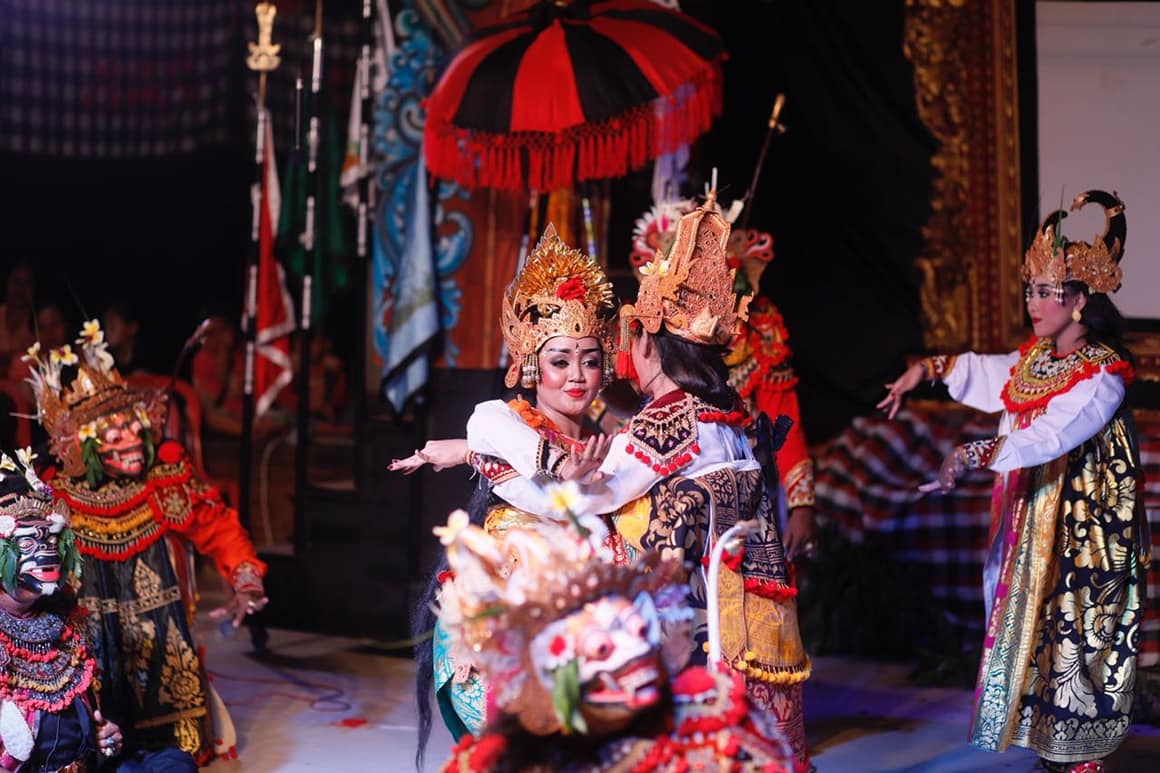 The Petitenget Arts and Spirit Festival showcases music performances, human puppet shows, yoga sessions, and traditional dance performances. Don't miss this authentic Balinese event.
Where: Petitenget, Seminyak
When: September 14 – 16
Ujung Water Palace Festival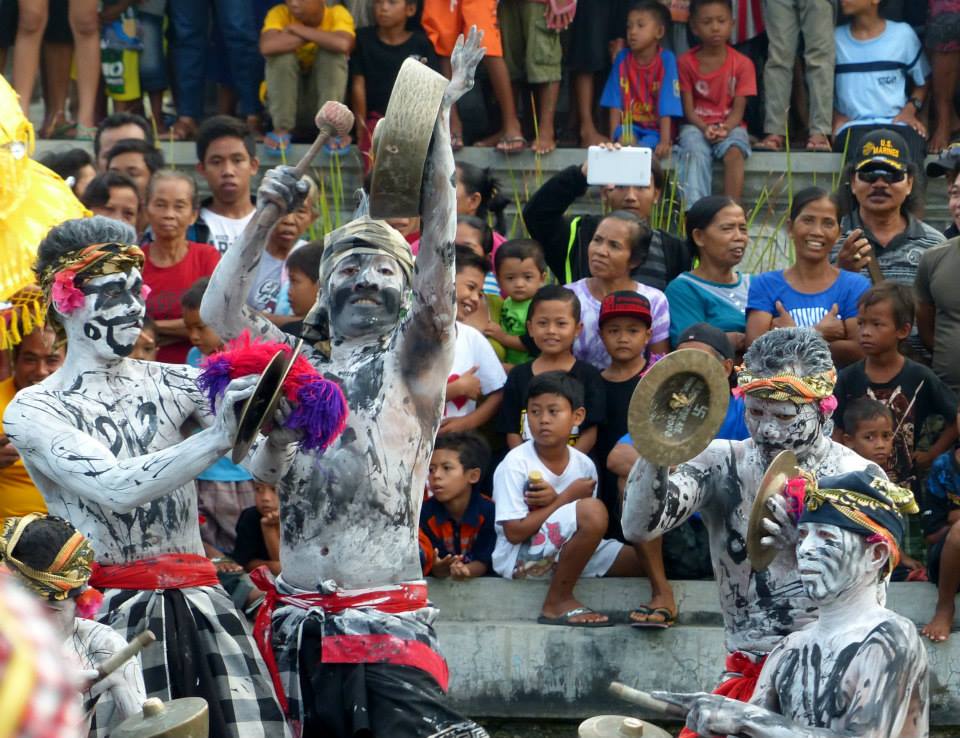 This three-day festival features a cultural parade and art installations by the local youth community. Visitors can experience the beautiful water palace and relax on the grass while enjoying amazing performances.
Where: Karangasem Regency
When: September 15-17
Balinale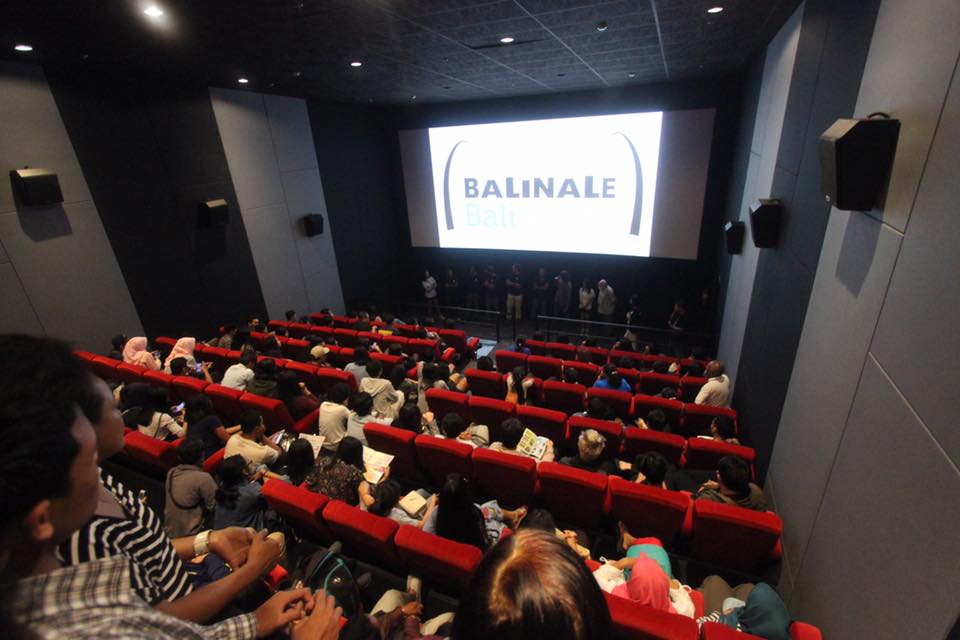 The Bali International Film Festival or Balinale is on its 12th year. An outstanding lineup of intriguing documentaries, shorts and fiction features representing many countries are featured this year. A truly international film event!
Where: Sanur
When: September 24-29
Lovina Festival
The Lovina Festival emphasises the beauty of Lovina Beach with its black sand and breathtaking sunset. Enjoy traditional dances, puppet shows and a cultural parade. The festival's highlights are the fireworks show and parade.
Where: Lovina Beach
When: September 25-28
Luxuriate in your Bali villa this summer and choose from one of our amazing offers. Enjoy up to 15% Early Bird discount when booking in 120 days in advance. Last minute bookings enjoy up to 10% discount. Terms and conditions apply.