Elite Havens' villas come in many shapes and sizes. That they are all luxurious homes in some of Asia's most prized locations, brimming with first-class facilities and tended to by a caring team of staff, goes without saying, but beyond that, each and every villa has its own distinctive character. Many are the fulfilment of their owners' dreams and have interesting stories attached to their creation.
'Through the Keyhole' takes a peek behind the scenes and chats with some of our villa owners to find out how the dream became a reality. Naam Sawan owners tell us about their stunning beachfront home on Phuket's east coast.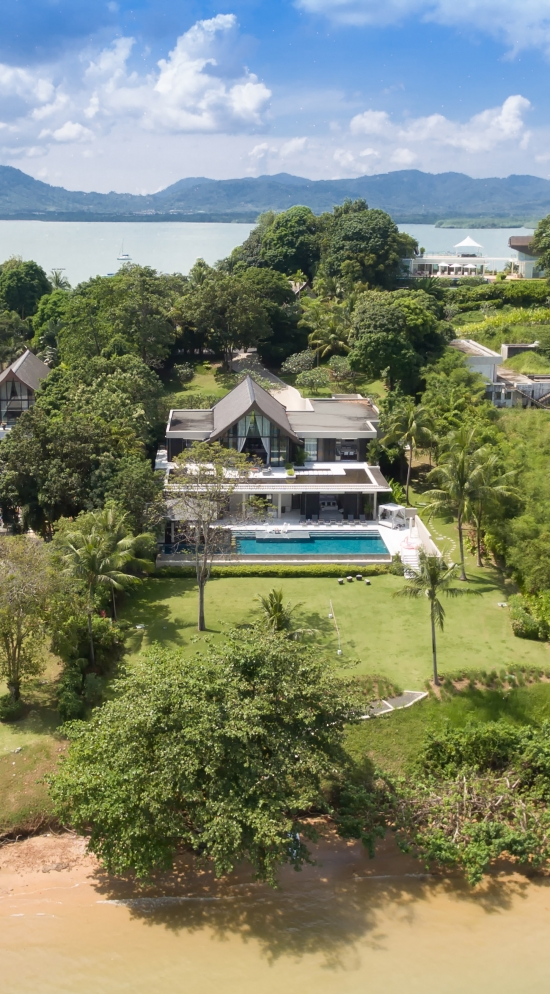 Why did you choose to buy your villa in Phuket and at this location?
We were living in Singapore in 2004 and looking to invest in a vacation and possibly a retirement home in Asia. When you look into it properly and consider all that you may need there are actually very limited options. We had visited Phuket many times, and I had viewed many properties up and down the busier crowded west coast towns, beaches and developments. An agent showed me an undeveloped piece of dense jungle on the east coast with a dirt track cut through the trees. Within 2 days we had staked out a lot with 4 small posts as we were the first to commit to the project. It took some time but we eventually built, and now 14 years later the estate, hotel, restaurants and all the amenities and facilities are complete. There are very few locations available with a private accessible beach, incredible jade waters, views of the Phang Nga islands and a full service resort, and city like facilities all around you. We are near yachting marinas, golf resorts, shopping malls, the hills and mountains, schools, hospitals and endless entertainment – and only 20 minutes from the airport. And no crowds or traffic.
What is your inspiration for the villa design?
As written on the websites, the master design was by Stark and Gatthy with preset principles of external structure to show a modern contemporary vision of the Thai pavilion as the center piece. Additional features included the vaulted ceilings with tall columns, and the shade and cooling management for the villa being efficient through louvered external window and wall lattice, protecting large picture view windows. The interior we chose with M2 design was to be of a cool, breezy, contemporary and definitely an "at the beach in Thailand" theme which many villas we had considered did not seem to have. Large, light, airy and bright rooms with simple colouring with heavy wood accents in flooring and ceiling paneling gives a strong but relaxing and calming contrast.
What features make the villa unique?
Firstly, location location location. Absolute beach front, with our own beach steps, and usable flat lawns for family games and events. We are within a very unique resort development with a full service 5 Star hotel, the top ranked restaurant in Phuket is close by, we have additional tennis and sport facilities, and we as a peninsula have our own gated security services as well.
The entire estate is managed by the owners committees and management company so we tend to everything with a quality first and efficient line of thinking before anything else. The views from our villa are unparalleled in Asia, added to the contemporary Thai style in our design, makes for a very unique combination.
Lastly the size and scale of all the living and bedroom suites makes living or visiting a very peaceful and relaxing experience, and the villa team led by the villa manager and concierge are trained and willing to make sure guests have a total 5 Star experience.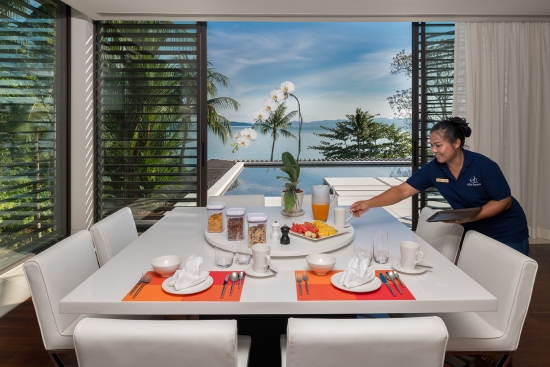 What would you like the guests to experience at your villa?
As above, the location, the views, the beach and waters, the tranquility, the peace of mind from our security services, the food and service of the villa team, the peace and quiet away from the maddening crowds of the west coast, the amenities of the hotel and restaurants – and when you leave to go home – you know you have been somewhere very special.
Why do you think guests would select your villa?
As above, for the unique blend of all that our location, villa and resort have to offer, our family sized villa makes for a relaxing, spacious experience without having to rent a massive villa with far too many rooms and miles of hallways and walkways, and to be able to use the vast flat lawns for games and events, picnics etc.
Additionally our pricing is extremely competitive for the quality of our offering, and is designed to welcome either 2 or up to 12 guests. We've been in the vacation market only a few months and already had a family book 3 times.
Lastly I have seen many families or groups choose location based on a preference of watching sunrise or sunset from their rental villa. We have an amazing location in that we can watch sunrise from our terraces or on the beach, and watch sunset wash around the bay in the evenings and go enjoy the view with a cocktail right by our entry slopes.
What do you do in the area when you visit?
We enjoy relaxing in the villa and in the pool, around the pool bar and pool Sala, playing lawn and table games and sports, tennis, swim laps in the 30 meter pool lane, lounging and enjoying massages, kayaking and paddle boarding from our beach steps, taking long beach walks and runs, going to nearby marinas to go out boating and fishing for the day, going to the island beaches and bars, hiking the nearby waterfall forests, riding a5 the ATV parks, playing golf, going shopping or to the many restaurants and bars nearby, or chill out reading or watching a movie off Apple TV in the cinema room.
Perhaps a favorite combination is to take an early morning beach walk and watch sunrise as the sun comes up over the island off our beach and the rays hit our ponds and pool, AND TO ALSO watch the sunset orange sweep around our bay as the sun sets by our own entry lawns – best enjoyed with a cocktail at the nearby Breeze restaurant on the view deck. A sunset cocktail up at the hotel after using their facilities or playing tennis is a treat too.
What authentic local experiences would you recommend to the guests?
Visit the local restaurants, visit the fisherman's floating villages for the most incredible fresh seafood banquets. Go fishing in the bay straight from our beach steps or just float for hours in the kayak or on a stand up paddle board. In season go snorkeling and diving, or just crab picking off the bay of Cape Yamu. Go for a day of island and beach hopping from the nearby marinas, visit the elephant and gibbon sanctuary, hike in the hills, play golf at a top resort nearby, visit the temples and many monastery's and meet the local monks, enjoy the beach clubs, enjoy facilities at the hotel within our resort, do the Sunday brunch at Breeze, drive to the cities for a real Thai town experience just 30 minutes away. Visit the many Thai and Asian festivals and markets.
Which dish would you recommend from the private villa chef?
Any dish from the menu as they are very experienced and well trained. Of course Thai specialties are a must.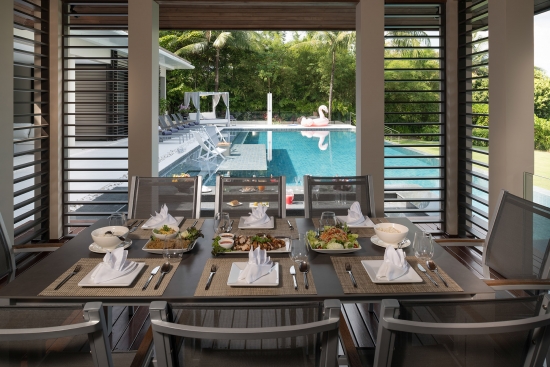 Learn more about Naam Sawan on the website www.naamsawan.com.