When holidaying with family, everyone needs their own space. Set within our tropical gardens, these large and versatile, three-bedroom villas are perfect for both multi-generational family vacations and special gatherings with friends. With multiple indoor-outdoor lounging corners, a private pool and oversized living and dining areas, there's plenty of space for everyone in your party to find the quiet – and fun – they seek.
Canggu provides for those craving a holiday destination that offers a blend of privacy, ease of access, seclusion and serenity while being a short walk from restaurants, shops and the beach. It's the understated, slightly more relaxed version of neighbouring Seminyak. Imagine it as a sophisticated older cousin, nonchalant and confident while being hip enough to hang with the cool kids.
In the 1970s, adventurers arrived to surf the waves and take in the landscape. Cut to the 2010s and the coastal village has turned into a see-and-be-seen area, managing to keep its local vibe and laid-back ambience. The number of expats living here is significant, and new bars and restaurants open everyday. While neighbouring Seminyak can be crowded, Canggu still has areas that are sparsely populated. Rice fields dot the landscape and there are many shortcuts you can take through them. Uluwatu is close by, with wild waves that excite pro-surfers.
Canggu's Echo Beach is hailed as the most popular surfing area in this surf-crazy town and the main area to discover cafés and restaurants. The beach has a 180-degree seascape and advanced reef breaks with cafés up and down the shore. If you don't surf, simply relax and chill with a drink in hand. Wander around and discover street art which the village is known for.
Other beaches in the area are Batu Bolong Beach, Berawa Beach, Perenan Beach and Nelayan Beach. All are known for their spectacular sunsets so keep them in mind for end-of-the-day selfies.
If you want some fun for the whole family, head out to Finns Recreation Club, where a water park and an indoor trampoline area will keep your children entertained. Adults can check out La Laguna Gypsy Market, which has over 150 stalls selling organic products or the Love Anchor Canggu market in an open-air shopping centre next to Monsieur Spoon, an artisan French bakery. The Samadi Bali market is flocked by Canggu locals and the nearby neighbourhoods of Seminyak, Umalas and Kerobokan.
If cultural sights are more up your alley, go to the Pura Tanah Lot Temple, which is a 30-minute motorbike ride away. Located on top of a rock formation, this is another place for resplendent sunsets and enviable photos.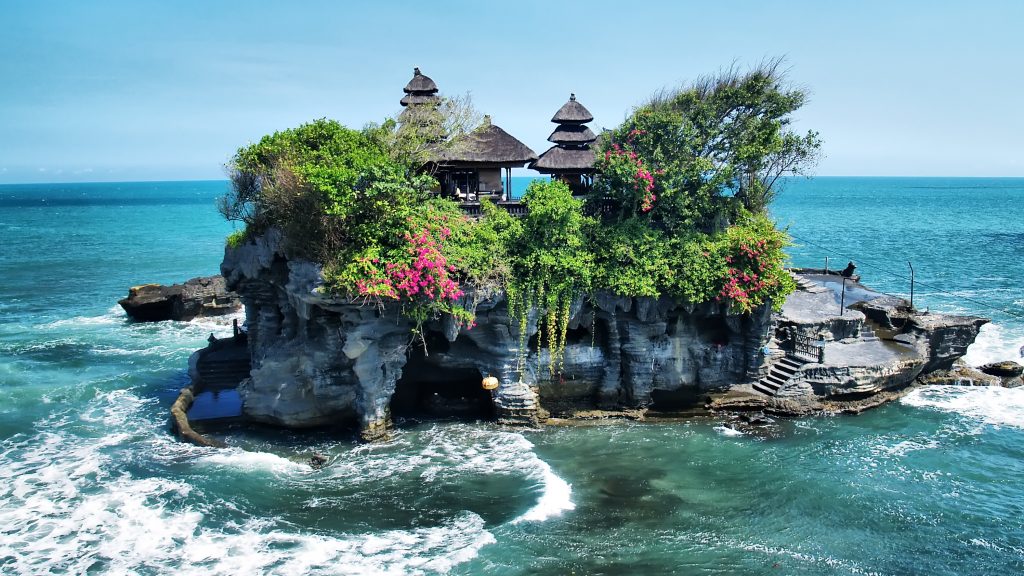 Most of all, if you're a foodie, you've come to the right town. There are over 300 cafés and restaurants, many of them, havens for gourmet eats. Of course, you can always ask your villa chef to whip up something spectacular. That way, your meal is customised to your preferences and you get to enjoy it in the privacy of your own villa.
Here, we suggest five 3-bedroom villas for the ultimate holiday in Canggu.
Pangi Gita
Luxurious rooms that remind of you of traditional Balinese huts dot the garden at Villa Pangi Gita. Each space is decorated with both locally and internationally-sourced antiques and furnishings. The sun and sky reflect on the intimate swimming pool and the river nearby. With its own little compound, the Pangi Gita ensures absolute privacy. Fantastic meals can be whipped up by the Villa Chef and service is at its best.
Guest Review
"Thank you for a wonderful stay at Villa Pangi Gita. Everything has lived fully up to our expectations. The villa and garden are all beautifully decorated. Everything is spotless and clean and well functioning. The staff is in a class of its own! All were very, very kind and make you feel welcome all the time. The meals are wonderful and also very healthy. Gus is a great chef. We have enjoyed every minute in this paradise on earth. All the best to everyone."
– Jorgen K, Denmark, March 2020
Villa Amy at Dea Villas
For the ultimate experience in luxurious Bali living, Villa Amy is the place to be. Walls and surrounding surfaces are made of traditional brown wood that exudes a local vibe. Open-sided living and dining pavilions are the perfect match for the swimming pool and poolside bale, all making for an elegant garden area. A mere five-minute walk to Berawa Beach, Villa Amy promises guests an authentic and luxurious Bali experience.
Guest Review
"Dea Villas was a great spot for me and my wife honeymoon. The service was great, the food even better. It's an experience you would have to try, for sure is best place for a holiday."
– Vanessa P, United States, March 2020
Villa Levi
Set in a real 'hotspot', Villa Levi can be reached via paths amidst rice fields. The location makes for a very peaceful environment, where nature beckons and welcomes guests. Only local houses and other private villas are in the immediate vicinity, as well as a few small grocery stores. Echo Beach is about two kilometres away. The villa, lush with greenery, has been designed by Alberto Cortes and Yvinne Hulst, who also designed The Purist in Ubud and The Residence in Ibiza.
Guest Review
"Time just flew too fast. We loved staying at the villa. Great meals and very kind and helpful staff. We would not hesitate to return and look forward to coming back."
– Blair R, Indonesia, March 2020
Have a relaxing stay at these 3-bedroom villas in trendy Canggu and experience ultimate luxury.