More than 50 tiny Hawksbill sea turtles recently hatched at Elite Havens' Villa Sepoi Sepoi on Sira Beach.
the most incredible experience
Many beaches throughout Indonesia are known nesting sites for the endangered sea turtle, which goes by the local name Penyu Sisik (and in Latin Eretmochelys imbricata). There were two clutches of over 100 eggs buried on the villa's private beachfront grounds on the north shore of Lombok near the Gili Islands, and the patient team of villa staff did an outstanding job of welcoming these unexpected guests.
MEET THEM NOW:
The world's population of Hawksbills is critically low because these special sea turtles were hunted for hundreds of years. They are considered a delicacy to eat and their shells are the best natural tortoiseshell material. Now, harvesting this species of turtle is outlawed in most countries, but they need our help to avoid extinction.
Hatchlings usually emerge from the sand during the night and instinctively crawl to the safety of shallow waters, guided by the reflection of the moon. Sadly, many hatchlings do not survive the journey from their birthplace into the water without help from humans, especially if they are born during daylight, because they fail to crawl in the right direction toward the sea or get eaten by seabirds and crabs.
The staff at Villa Sepoi Sepoi helped many of the baby sea turtles by pointing them toward the ocean and keeping another 52 from the two hatchings safe and secure on the private villa grounds. Once their shells become hard, the turtles are introduced to safe shallow pockets of the sea around the villa, and after approximately one year they are released into the wild.
There are some local organizations dedicated to the protection of Hawksbill sea turtles, and the local government also encourages individual conservation efforts. As a bonus, many of the villa guests enjoy joining in the excitement.
HERE ARE SOME OF THEIR REVIEWS:
"It was an unforgettable moment with you at the Sepoi Sepoi Villa! Marceau and Rosalie will always remember the little turtle, Sixtine and Victoire will keep the last of Made's amazing pancakes and Laurent and Caroline have these awesome massage before the sunset. Thanks to all the staff for your smiles, friendships, we felt like we are at home."
– Mathilde E, France
"Thank you a million times for making our experience here in Lombok so wonderful. We have our wedding here and WOW. What a beautiful celebration we had, the staff and Akmal have made our time here so relaxing and enjoyable, we could not have asked for more! The food was TOP class! Every meal was memorable and the turtle hatching on David's birthday was the most incredible experience. Thank you so much for the beautiful surrounds, looking up to this villa every morning has been like a dream, the first words I spoke of this villa will be the same as the last "Heaven on Earth" We will be back for our anniversary in few years to come!"
– David & Anne, Australia
"The Villa Sepoi Sepoi is a great place for our family, beautiful villa and amazing experience, thank you all so much for making our stay so wonderful, we will be back. We certainly find one of the best place in the world and keep taking care of the turtles."
– Isabelle D, France
ABOUT SEPOI SEPOI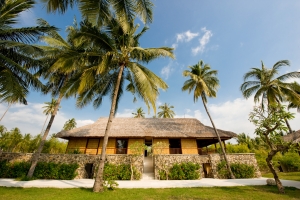 Luxurious six-bedroomed Villa Sepoi Sepoi has a 20-metre pool, bar, Wii and WiFi. Staff include a chef, manager and housekeepers. www.sepoi-sepoi.com
COVER IMAGE © WWF.org/Ooi Ying Chieng