Ubud is known as the cultural and spiritual heart of Bali, a place to seek tranquility amidst lush green rice terraces, traditional villages and sacred Balinese Hindu temples. A hot spot on the tourist trail and one of the healthiest cities in Southeast Asia, charming Ubud is a sanctuary of well-being and an oasis for yogis and spiritual seekers.
There are many yoga studios in Ubud to choose from, several of them doubling as holistic healing centres, spas or cafés, and supporting environmentalism and charity projects.
The choice of yoga classes for visitors is vast. From Yin to Ashtanga and Bikram, there is a yoga style for everyone, whether you're a beginner or an experienced yogi. At many centres, you can book your class beforehand. You can also drop-in just before a class, but be sure to go at least 30 minutes early as they do fill up quickly. All the studios provide yoga mats and other equipment, so all you need to bring is comfortable clothing and positive mind.
5 yoga classes in Ubud, Bali

UBUD BEGINNNER YOGA CLASS
CALLING ALL NOVICE YOGIS
The Yoga Barn offers a beginners' class daily at 2pm. Intro to Yoga is an ideal class for anyone new to yoga with discussion on how yoga can benefit our everyday lives, with simple breathing techniques and basic yoga poses.
Being the most popular yoga centre in Ubud, the class sizes are big – their studios cater up to 60 people. Intro to Yoga is great choice for beginners and those wanting to meet new people.
Yoga Barn's gorgeous space offers over 15 yoga classes a day, plus dance class and guided meditation. They also have an on-site healing centre 'Kush' and Garden Kafe.
The Yoga Barn
Jl. Raya Pengosekan,
Ubud, Bali
(+62) 0361 971 236
https://www.theyogabarn.com/schedule.html
ACROYOGA CLASSES IN UBUD
TAKE YOUR STRETCHES TO NEW HEIGHTS
Looking for a fun and challenging yoga class in Bali? Elevate your routine with Acroyoga!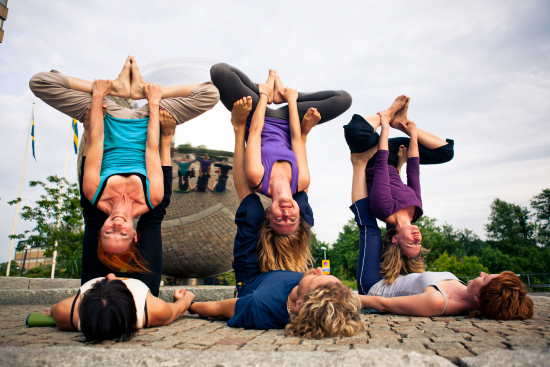 IMAGE: ACROYOGA INTERNATIONAL.
This fun movement class incorporates yoga and partner acrobatics to build strength and balance, as well as some deep stretching poses influenced by traditional Thai massage techniques.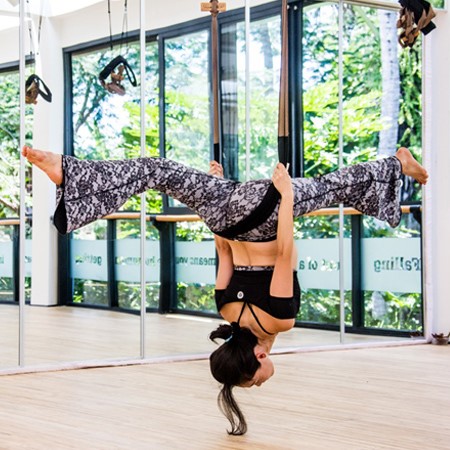 IMAGE: UBUD YOGA CENTRE.
Sky Yoga or Flying Yoga classes add the element of a yoga belt to suspend your body in aerial poses. Harness your core muscles and have some fun.
Radiantly Alive Yoga, the second largest yoga studio in Ubud, offers  Acroyoga, Sky Yoga Core, Sky Yoga Flow, Sky Yoga Therapeutics, dance yoga classes and more – over 55 open-level classes per week. Their classes are designed for adults, however kids from 12-years and up are welcome.
Radiantly Alive Yoga
Jl. Jembawan No.3,
Ubud, Bali
(+62) 0361 978 055
www.radiantlyalive.com/classes#class-schedule
UBUD BIKRAM (HOT) YOGA
THIS ONE HAS A WINE BAR
Bikram Yoga sessions at Ubud Yoga Centre are the best hot yoga classes in town, ideal for detox and toning your muscles. The 26 Asana series is designed to warm and stretch the body allowing for a greater range of movements. "Hot yoga" improves blood flow, oxygen delivery and overall well-being, helps you lose fat and speeds up your metabolism.
Ubud Yoga Centre is a beautiful modern yoga studio focused on Bikram Yoga, but designed for everyone from kids to grandparents. The yoga class calendar boasts Bikram, Yin, Hatha, Ashtanga, Vinyasa, Yoga Meditation, Pilates and FlyHighYogaTM. In addition to yoga studios, you'll find a gong centre, kids centre, gift shop and café & wine bar.
Ubud Yoga Centre
Jl. Raya Singakerta No. 108,
Ubud, Bali
(+62) 0361 898 7207
https://ubudyogacentre.com/timetable-and-booking/
 UBUD SUNRISE YOGA CLASS
RISE AND SHINE
What could be a more perfect morning ritual than yoga in serene green rice fields? Make this dream your reality with Sunrise Yoga at Ubud Yoga House, the perfect class for a calm awakening in a magical natural environment.
These Iyengar inspired Hatha Yoga classes held in the gorgeous open-air bamboo studio are gentle and relaxing, paying close attention to breathing and asanas, bringing peace to your mind and body.
Ubud Yoga House is a hidden gem by a river, situated away from busy central Ubud. All their classes are student-centred to meet individual needs.
Ubud Yoga House
Jl. Subak Sokwayah,
Ubud, Bali
(+62) 0821 4418 1058
www.ubudyogahouse.com/booking.html
UBUD YIN YOGA CLASS
ZEN OUT WITH DOWNWARD DOG AND CHILD POSE
For an inspirational and energizing experience, try Yin Yoga at Taksu Yoga. This yoga class targets the deepest tissues and the lower parts of your body, holding poses up to five minutes. This style is ideal if you are feeling tired or your mind is overactive. The class sizes in Taksu Yoga are small, allowing you to have personalised guidance from the teacher.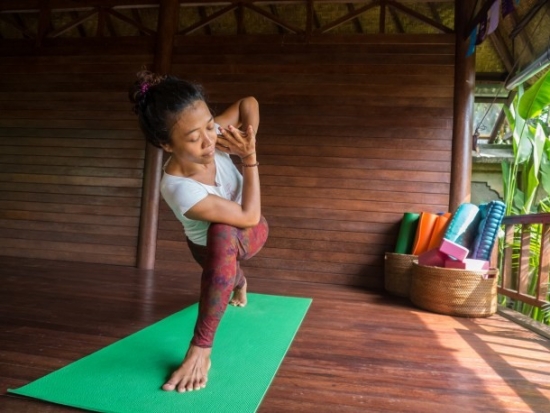 IMAGE: CERTIFIED INSTRUCTOR, TAKSU YOGA UBUD.
Taksu Yoga features a yoga studio, healing haven, healthy restaurant and spa. Their classes are open for all levels of practice.
Taksu Yoga
Jl. Goutama Selatan,
Ubud, Bali
(+62) 0361 971 490
www.taksuyoga.com/schedule/
DIY UBUD YOGA RETREATS
BECAUSE EXPERIENCE IS THE BEST TEACHER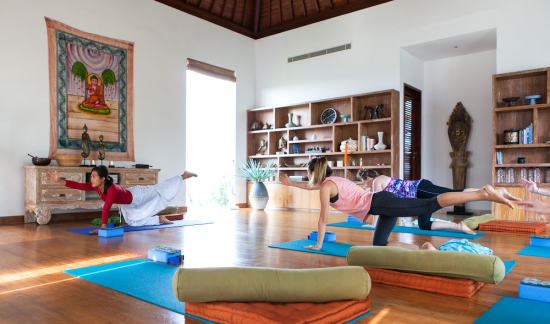 IMAGE: VILLA MALAATHINA – AN ELITE HAVEN. UMALAS, BALI.
Guests of Elite Havens Ubud luxury villas can arrange personalised yoga classes with instruction in the privacy of their luxury villa rental – just ask your villa specialist when booking, or your villa manager on arrival, about availability and pricing.