Absolutely astounding, with unending ocean views and white Meditteranean hues, Arcadia at Cape Laem Sor Estate is the perfect escape from the daily grind. Its contemporary, open-sided living room is great for social evenings, dotted with quirky pieces such as a life-sized, white wooden cow. Enjoy the breeze and amazing 180-degree ocean views from the outdoor dining table, giving new meaning to the term island living. Watch in fascination as the sky and the sea seemingly merge at the horizon.
Reached via an elevator, the villa's focal point is an enticing 21-metre saltwater infinity pool surrounded by a lawned terrace. Lie back on the loungers and soak in some sun or get a relaxing massage. It's also a great venue for weddings and other celebrations.
The white theme continues into the bedrooms, each of which maximises on splendid ocean views, even from the master bedroom's bathtub.
Arcadia is a destination in itself, with five comfortable and stylish bedrooms, a fully equipped gym, delicious food served by the in-villa chef and plenty of spaces to retreat to for a quiet moment.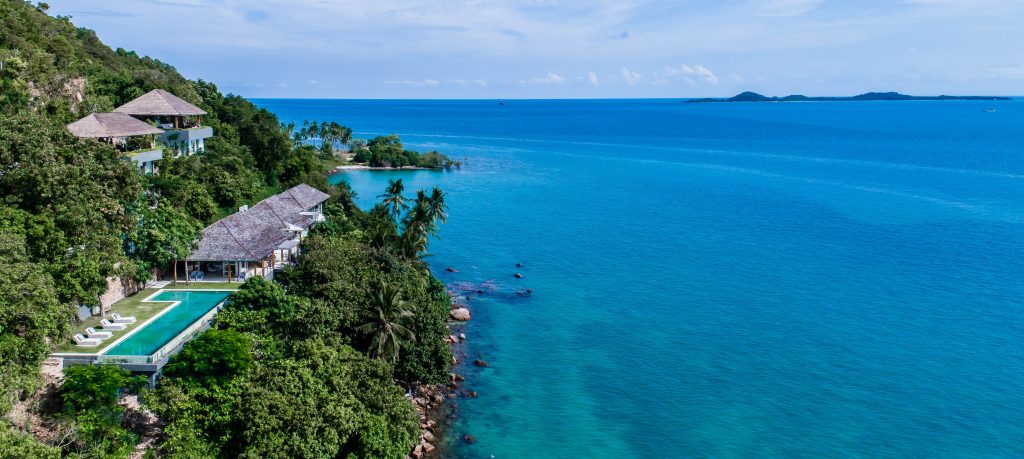 The modern kitchen (replete with a breakfast bar) is helmed by Chef Pueng, who is trained in various cuisines and serves decadent meals to guests staying at the villa. We sit down for a little tête-à-tête.
Elite Havens: Hello, could you tell us a little bit about yourself?
Chef Pueng: Hi, I'm Chef Pueng and I am part of Elite Havens' chef pool. Thus, I work at different villas, depending on the schedule. I rotate between Villa Arcadia, Villa Baan Puri, Villa Baan Suriya and others.
Elite Havens: Tell us about your journey, how did you become a chef?
Chef Pueng: I went to culinary school, majoring in Hotel Management. I started my career as an assistant chef at five-star hotels like the Marriott. After a while, I went back to my hometown and worked as a chef there. When Elite Havens started their Koh Samui operations, I was the first chef they hired.
Elite Havens: Why did you choose this as your career?
Chef Pueng: My family loves to cook, so I grew up helping my mother in the kitchen. Later, when I went to culinary school, I discovered I had found my calling and thus I decided to work as a chef.
Elite Havens: What do you think makes a good chef?
Chef Pueng: You have to be happy doing what you do. And a good chef always tries to find the best and freshest ingredients to create any dish. It is important to pay attention to guests, understanding their likes and preferences, so that your food pleases their palate. One size does not fit all.
Elite Havens: We can't wait to find out what you've cooked for us today.
Chef Pueng: I've prepared some of my signature dishes: tuna salad, crab in yellow curry and taro balls with coconut milk. Whenever I serve these, especially to European guests, I always get requests for an encore everybody loves these.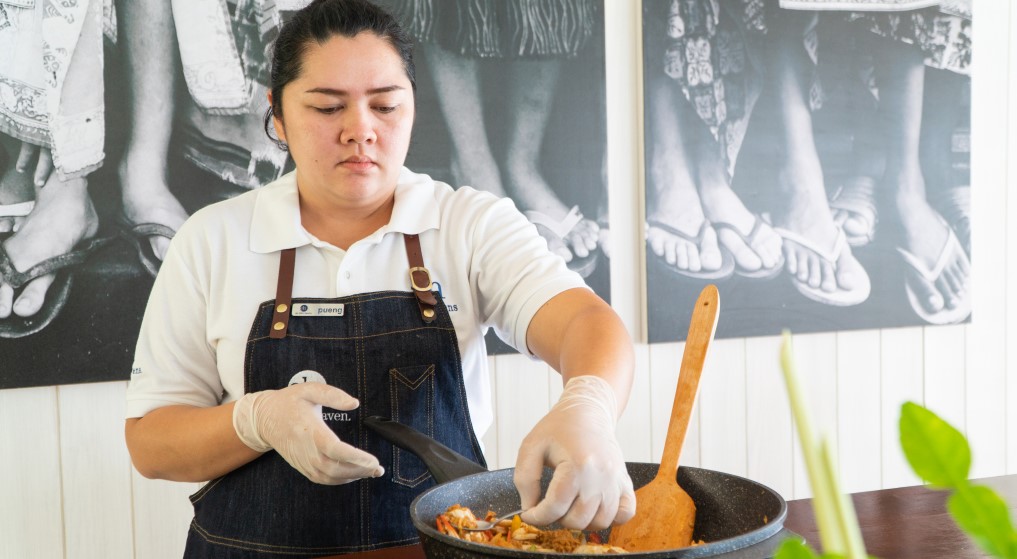 Elite Havens: Which of these three dishes do you personally like the most and why?
Chef Pueng: I love the tuna salad as it is a mix between western and Thai cuisines. Thai people rarely eat raw food, but Europeans enjoy dishes like steak tartare. My version of tuna salad combines high-quality tuna with Thai flavours.
Elite Havens: Do you like fusion dishes in general?
Chef Pueng: Well, I like creating new dishes because it poses a challenge. But I also love to cook authentic Thai cuisine like curries and spicy salads.
Elite Havens: Do you have any advice for people who want to become chefs?
Chef Pueng: Yes, I would urge them to look within and ask themselves if they love cooking. Not just eating food, but the painstaking process of creating it. It's not enough to make delicious food. One always has to pay attention to details like allergies or dietary restrictions. It's an art, creating delicious dishes within the boundaries of preferences and restrictions. But if you manage to do this, you can make people very happy and that is a reward in itself.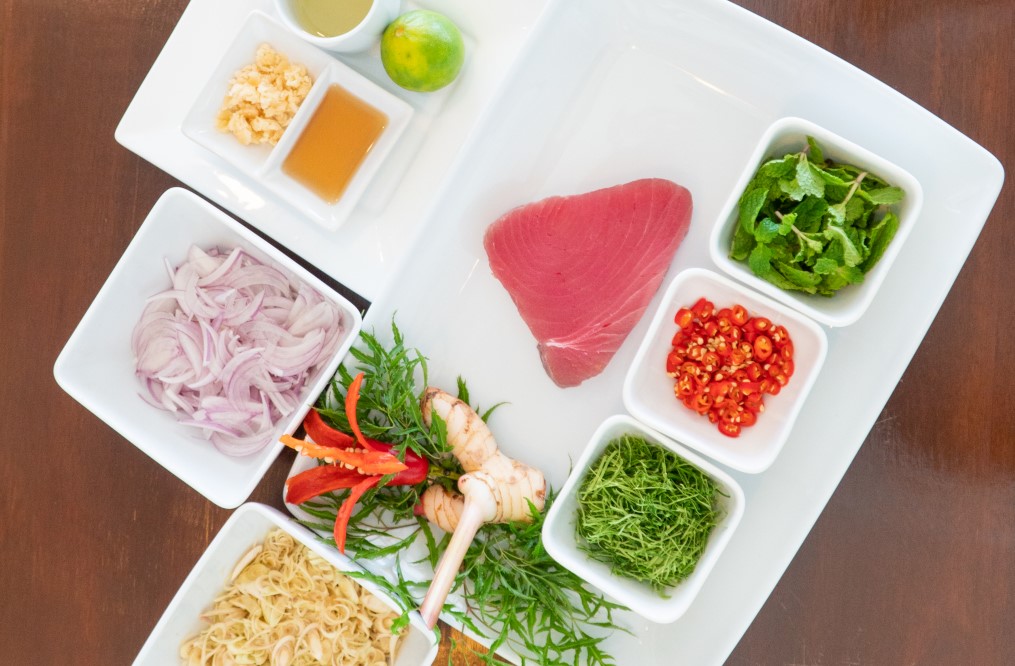 Chef Pueng's Tuna Salad
Ingredients:
Raw tuna, 400gm
Fish sauce, 2 tbsp
Chilli paste, 2 tbsp
Palm Sugar, 1tbsp
Lime juice, 2 tbsp
Chopped red chillies, 1 tbsp
Chopped shallots, 2 tbsp
Chopped kaffir lime leaves, 1 tbsp
Chopped lemongrass, 2 tbsp
Mint leaves for garnish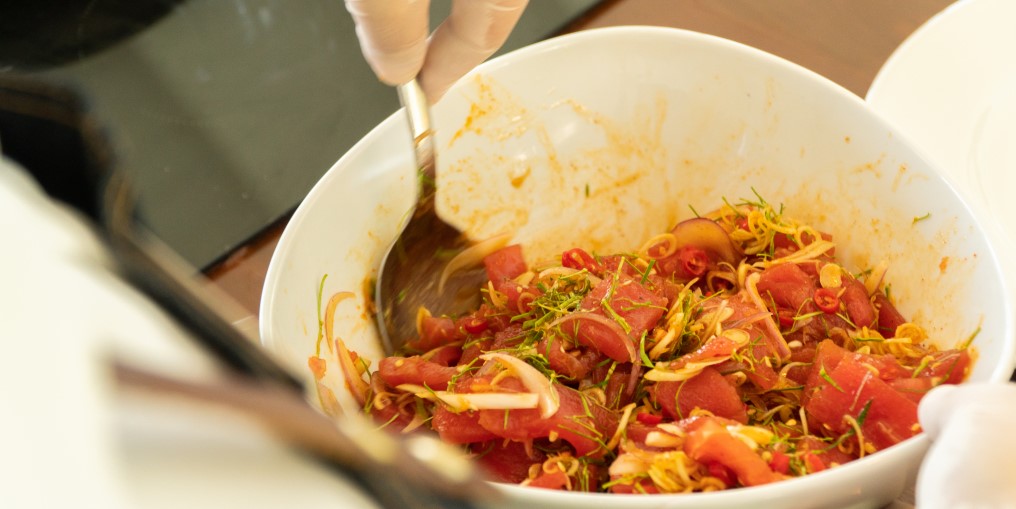 Instructions:
Chop raw tuna into bite-sized pieces and keep in the fridge to retain freshness.
For the salad dressing, mix the fish sauce, lime juice, chilli paste and palm sugar into a mixing bowl and follow with chopped herbs and aromatics such as chillies, kaffir lime leaves, shallots and lemongrass.
Gently add the raw tuna into the mixing bowl and mix. Tuna should absorb the juices from the dressing. Transfer to a serving plate and top with mint leaves.
Serve with fresh vegetables on the side such as cucumber, cabbage, carrots and long beans.
Stay at Arcadia at Cape Laem Sor Estate to try Chef Pueng's delicious food or choose from one of our other Elite Havens in Koh Samui.