At Elite Havens, each villa's menu showcases an extensive range of Asian and western delights to cater to every guest's tastes, but of course each chef has his or her own specialties that shouldn't be missed.
The stylish six-bedroom escape Villa Amarelo, part of the Sava Beach Villas estate, seamlessly melts into the white sands of Natai Beach, less than half an hour's drive north of Phuket airport. Featuring a 25-metre pool, a garden gazebo, private chef and large indoor and outdoor living areas, Villa Amarelo makes for a memorable holiday and wedding destination on the shores of the Andaman Sea, the ideal spot for a family holiday, dream wedding or group soiree.
In the kitchen at Villa Amarelo, which has stunning views of the swimming pool and the beautiful Natai Beach, Chef Lek cooks up a traditional Thai starter Goong Sarong, 'wrapped prawns'. It looks great and tastes even better.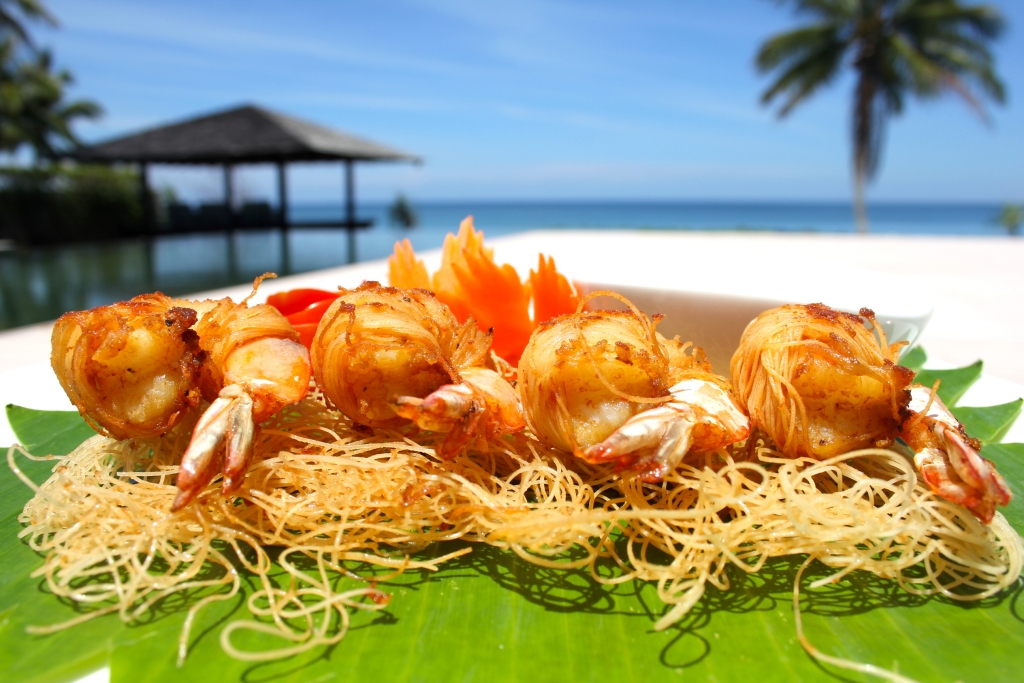 Elite Havens: What is your cooking background?
Chef Lek: I worked as a housekeeping attendant at Villa Saanti, but the villa didn't provide a chef. Therefore, I needed to learn cooking to help out the owner. Later on, I worked as a comis chef at Akyra Hotel for a year and a half. There, I learnt how to cook many kinds of western dishes.
EH: What do you think makes a good cook?
CL: Ensuring that all the ingredients are fresh and of good quality. A good eye for detail and being able to adapt to different styles and requests from guests.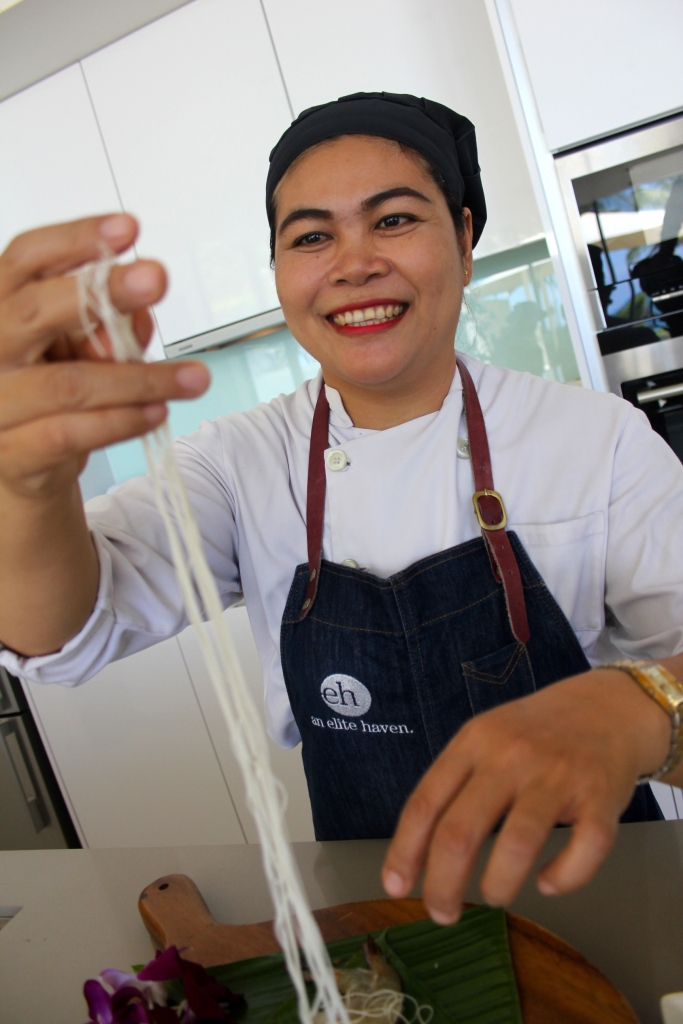 EH: What did you cook for us today?
CL: Goong Sarong, which is whole prawns wrapped in rice noodles.
EH: Why did you choose to make this dish for us?
CL: Thailand, especially the south, produces amazing fresh seafood, and the prawns are a must-try if you visit Phuket. Local prawns and local Phuket noodles together make a great-tasting and wonderful-looking dish.
EH: What is your specialty dish or the flavors you like to cook with?
CL: I love local Southern Thai food. It has such amazing flavors. I really love to cook Southern Thai Red Curry with beef.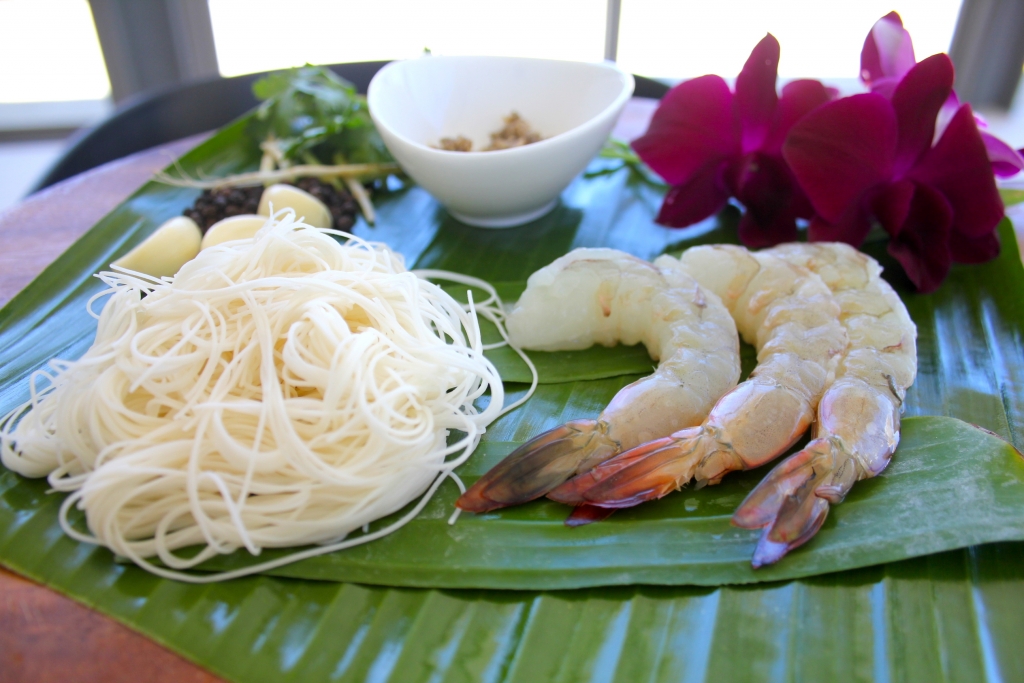 EH: Can you tell us how your cooking adds to the villa?
CL: We make you feel like you are staying at a home away from home.
EH: What should guests expect from you when you cook for them?
CL: Great taste.
Chef Lek's Goong Sarong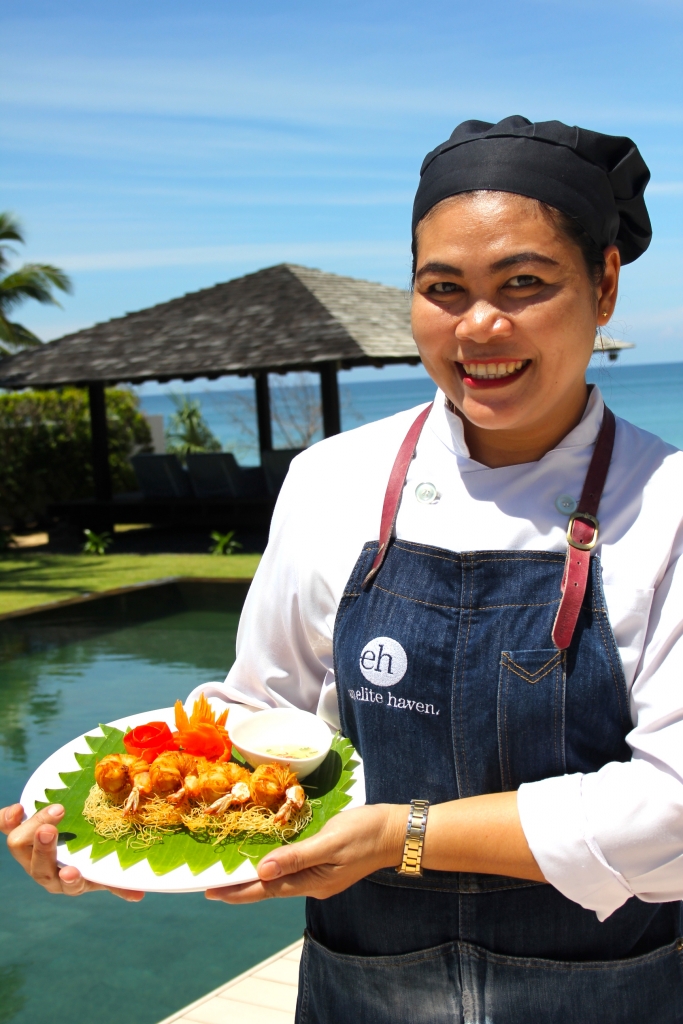 Makes 10 – 11
Ingredients
½ lb. fresh prawns
¼ lb. rice noodles
1 tbsp chopped coriander root
2 tbsp chopped garlic
1 tsp ground black pepper
Vegetable oil for frying
Directions
Step 1: Peel and devein the prawns, leaving the tail on.
Step 2: Pound the coriander and garlic with a pestle and mortar (or use a food processor) to form a paste.
Step 3: Rub the spice mix all over the prawns and leave to marinate.
Step 4: Soak the rice noodles in hot water until soft and then drain.
Step 5: Take a few noodles and wrap up each prawn until they are covered in a 'sarong'.
Step 6: Fry in hot oil until the noodles are golden and crisp.
Step 7: Drain any excess oil on a paper towel and serve with some plum sauce.
Click here to learn more about Villa Amarelo.