Thailand is one of the most popular holiday destinations in the world, and with good reason. It is home to beautiful, pristine beaches, magnificent temples, breathtaking scenery, rich culture and unforgettable archaeological sites. Need we give you more reasons to visit?
Well, there is one more thing we haven't mentioned yet – the delicious, exotic Thai cuisine. But what do you do when you're a vegan going to Thailand for a break? You might be concerned that you won't be able to fully enjoy Thailand's culinary scene as a vegan. This is simply not the case.
Thai cuisine largely lends itself to delicious vegetarian and vegan dishes as locals use lots of fresh vegetables in their cooking. Not only this but with the vegetarian and vegan scene growing in large cities like Bangkok and Chiang Mai, more and more vegan options are appearing every day.
In fact, in some of the more popular destinations, there are entire restaurants and supermarkets that only offer vegetarian and vegan items. So, no matter what your dietary requirements, you're bound to find something tasty to fall in love with. If you're travelling to Thailand as a vegan, you should try some of their delicious signature Thai dishes, including:
1. At least one traditional Thai vegan curry
You've probably heard of some of the most popular curries served in Thailand. Thai red, green and yellow curry, as well as Massaman and Panang curry would sound familiar to you. It wouldn't be right to visit this great kingdom and not sample at least one of their curries and find one that suits your taste.
Traditionally, the first three Thai curries are made with the same ingredients but with one big difference. Thai red curry is made with red chillies for a hotter dish, while green curry is made with green chillies and yellow with yellow chillies. This impacts the heat of each curry.
In addition to Thailand's defining curries, Massaman curry offers a milder level of heat. It's made up of additional spices such as cinnamon, cardamom and peanuts. These curries can be cooked using vegetables or meat substitutes such as tofu and seitan.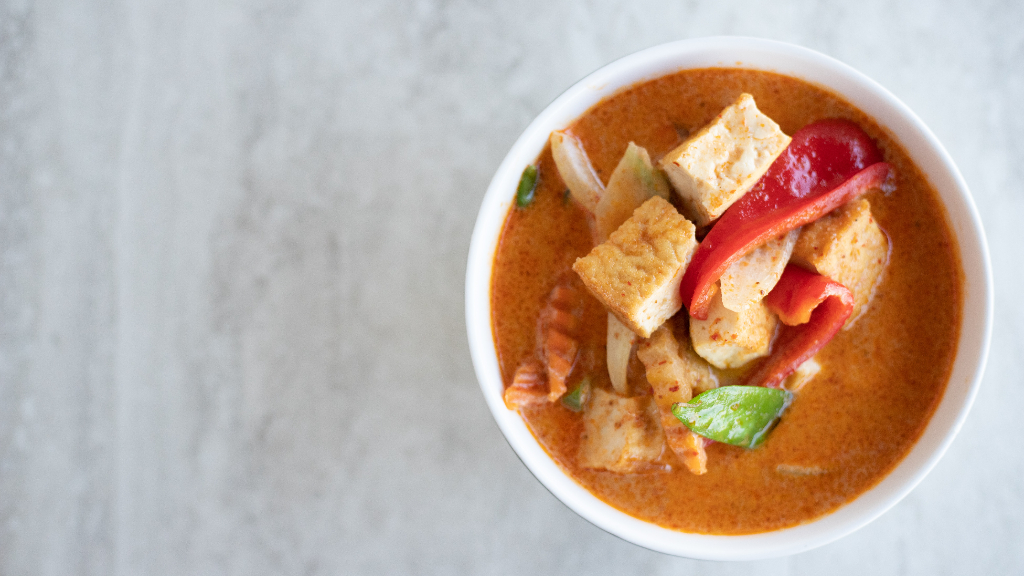 2. Delicious vegan Pad Thai
Pad Thai, or stir-fried rice noodles, is one of Thailand's most famous dishes. It's the most commonly served as street food that can also be enjoyed in most restaurants. Typically, it will include eggs, meat and/or seafood, but thankfully many have begun adapting their dishes to make them vegan-friendly too.
The use of tofu and nuts instead of meat and egg makes the dish rich in protein, while the mixture of sweet and salty flavours gives it a wonderful taste. What gives the dish its signature tangy and savory taste is the pad thai sauce made of lime, pineapple and soy sauce. One of the best things about Pad Thai is that not only is it tasty, but it's authentically Thai and easy to get your hands on.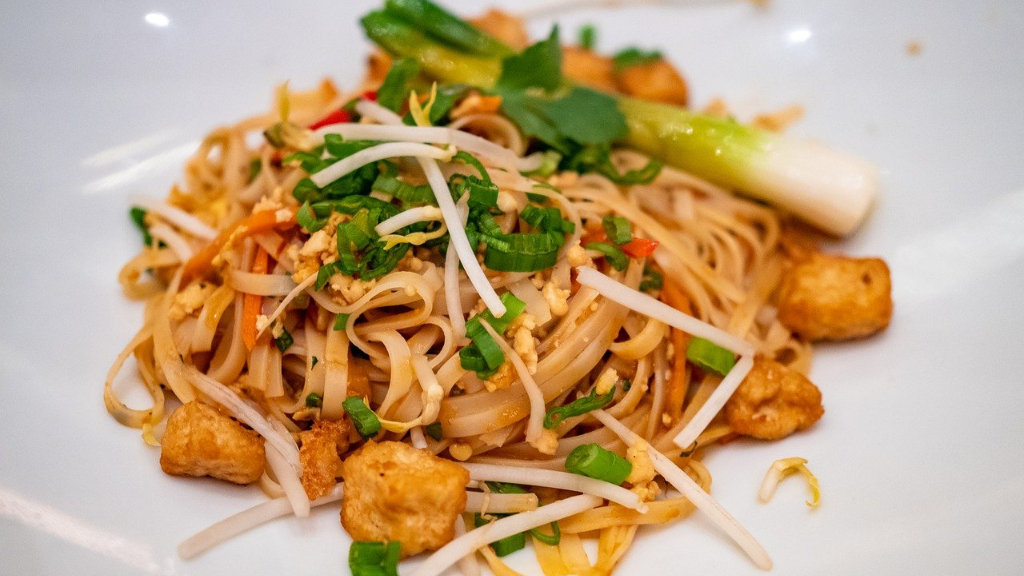 3. Perfectly baked vegan satay
Although tofu was originally made in China, it has become a firm favourite for vegans around the globe. With the help of traditional Thai spices and flavours, it became a delicious meat substitute to help create beautiful Thai cuisine without using meat or fish.
There are some specific dishes that you should try, such as tofu satay in coconut sauce and tofu in Thai peanut sauce. But ultimately, any version of a homemade peanut sauce and marinade will do.
Perfectly baked satay tofu is packed with flavour and can be served on its own or with fried rice, noodles or sautéed vegetables. But even as a solo satay skewer, tender tofu is a real treat for your tastebuds.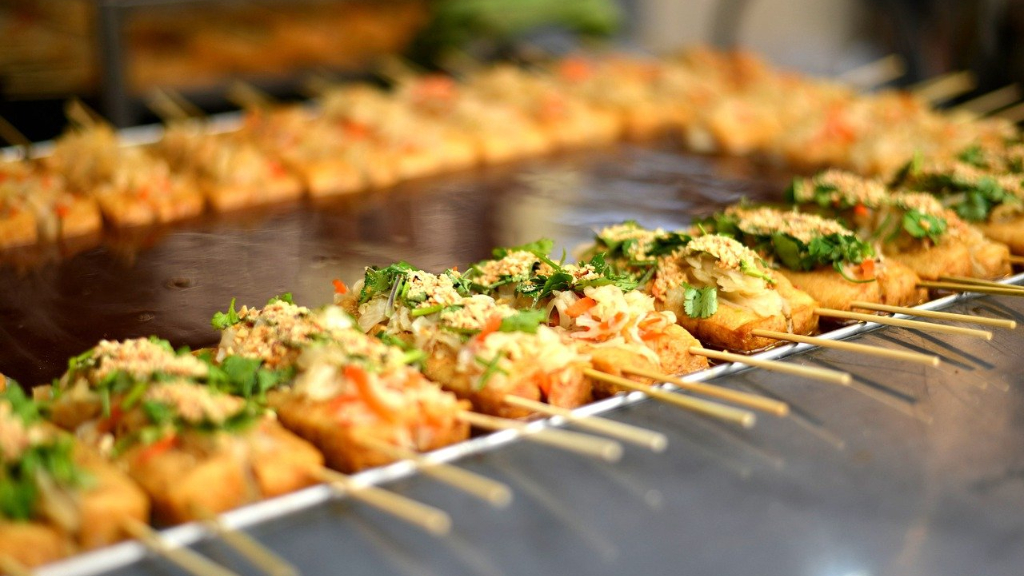 4. Som tam or other refreshing salads
Salads play an integral part in any Thai meal, usually served as a main meal or a side dish. Some salads use rice, noodles and meat to add a huge source of protein. However, some smaller salads are used as a simple way of adding healthy and refreshing veggies to your meal.
Some of the best Thai salads you need to get your hands on include Som Tam or green papaya salad. Som Tam is made up of shredded papaya, sliced tomatoes, raw beans and peanuts. There is also Thai cucumber salad, with chillies and cilantro or mango salad with fresh garlic and peanut dressing.
No matter what salad you go for, you can guarantee that it'll be healthy and bursting with flavour.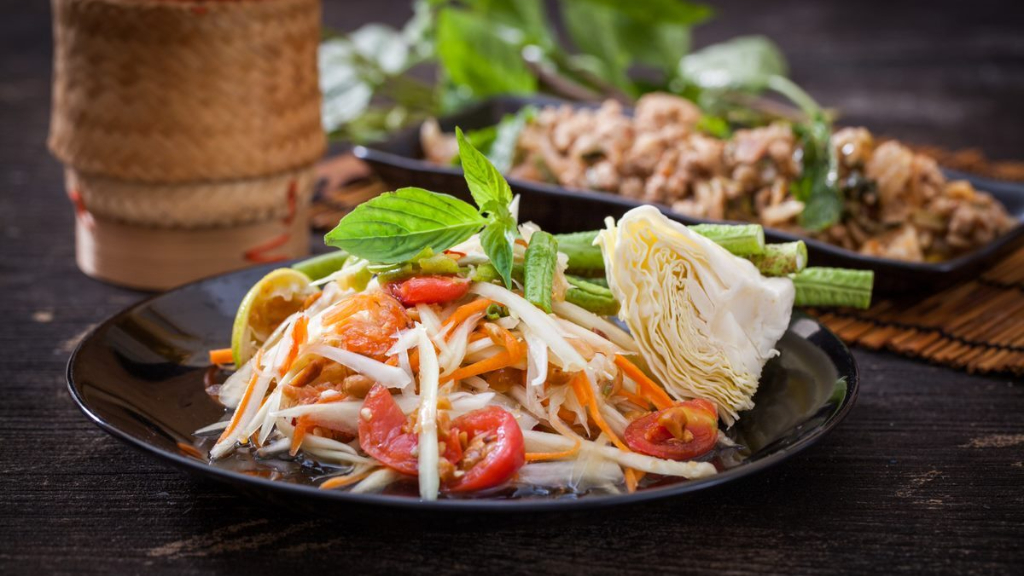 5. Tasty Kao Pad
As in many Asian cultures, rice is the staple grain of Thai cuisine and is typically eaten with most meals. One of the most popular rice dishes is called Kao Pad which translates as stir-fried rice, and fried rice. It's a popular dish amongst the locals.
Similarly to Pad Thai, this dish typically contains egg, salty fish sauce, soy sauce and/or oyster sauce or some kind of meat. However, as the vegan scene grows, more and more vegan-friendly options have begun emerging.
Other than Kao Pad, there are plenty of other delicious fried rice dishes for you to choose from. There is Thai basil fried rice or Thai pineapple fried rice with the perfect blend of sweet and savoury flavours, healthy vegetables and nuts.
Of course, you can always add tofu or seitan to make vegan rice dishes. They'll give it additional flavour, a meaty texture and more protein.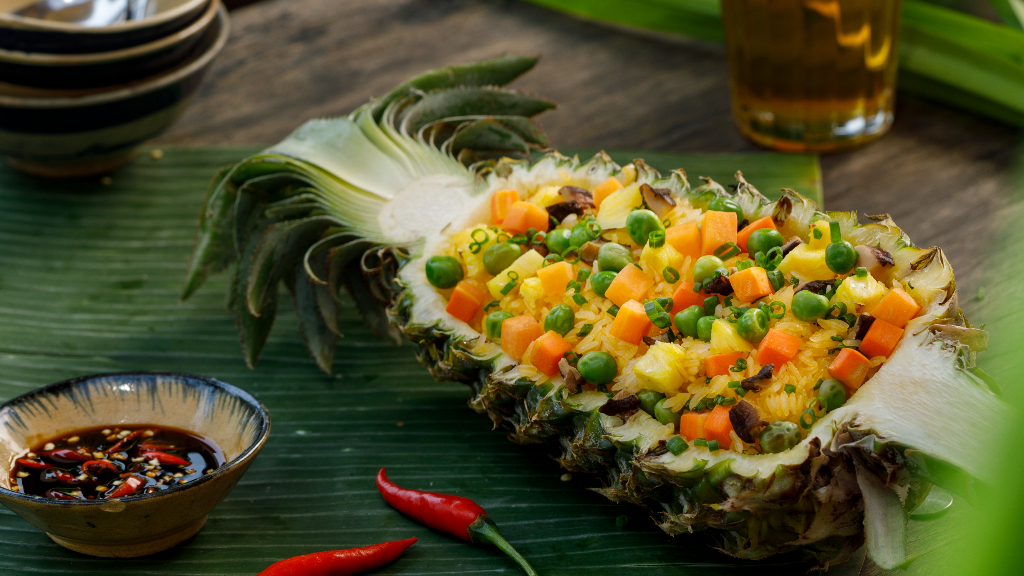 Is your mouth watering yet?
There you have it, five dishes you absolutely must try if you are a vegan in Thailand. With any luck, you'll be able to sample each of these dishes at least once. If not, you should certainly try to get your hands on as many as possible. Ask your personal chef to cook up a storm of Thai vegan dishes for you when you stay at an elite haven and enjoy the bounty of Thailand, customised to your taste.