There is nothing more pleasing to the eye than modern and edgy design aesthetics with wide windows, high ceilings, clean lines and unquestionable sleekness. From open floor plans and glass walls to industrial metals and concrete interiors, the possibilities are endless when it comes to contemporary styling. Add to that all mod-cons and the warmth of the friendly, in-villa staff and you are assured of a memorable holiday.
Here's our hand-picked list of modern Bali luxury villas that any discerning traveller would love to see and experience.
1. Arnalaya Beach House
A five-bedroom party pad created by architectural genius Sonny Chan in collaboration with interior design guru Albano Daminato, Arnalaya Beach House is a contemporary beachside retreat which rests within lush, terraced gardens and offers a private tennis court, gym, dazzling 20-metre pool, and a spa. It boasts attractive, sculptural terrazzo walls and clean lines softened by canopied beds and chic sitting areas. Two bedrooms have mesmerising views of the Indian Ocean from freestanding baths set by huge bay windows, while another two bedrooms enjoy fantastic ocean views. Every piece of furniture and lighting was custom designed in the Daminato studio specifically for the villa – split bamboo wall panels juxtapose reeds and grasses crafted with natural linens for window shades; sofas are wrapped in rich, delicate European and Indonesian textiles.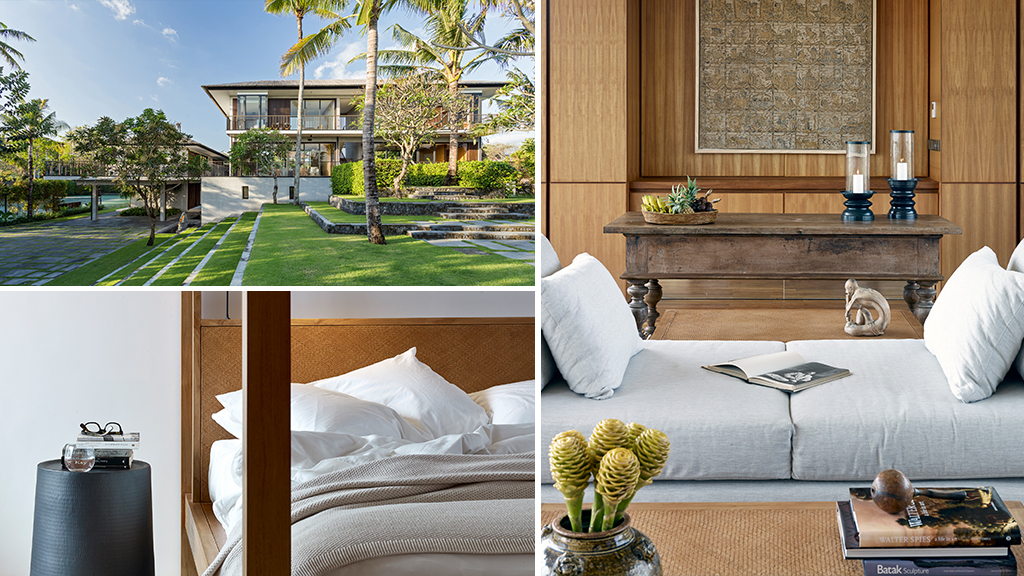 2. Grand Cliff Nusa Dua
Grand Cliff Nusa Dua is a breathtakingly modern five-bedroom property carved into the southernmost cliff of Bali's Bukit Peninsula. It sprawls over three levels with a myriad of sleek indoor and outdoor living and dining areas. If that's not enough, there is also a 16-metre cliff-edge swimming pool, poolside jacuzzi, well-equipped gym, sophisticated furnishings and five-star facilities.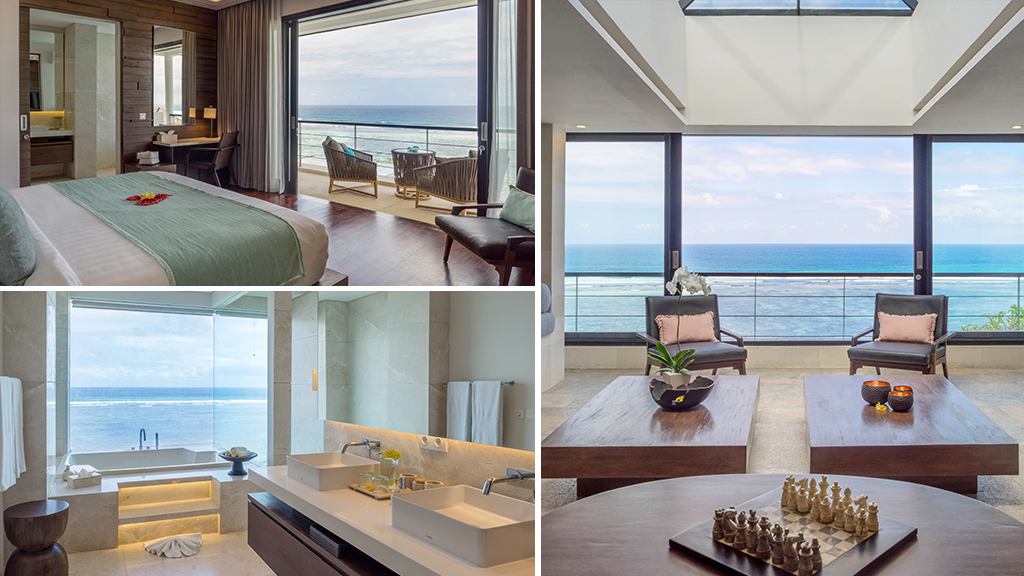 3. Grand Cliff Ungasan
A chic five-bedroom villa resting in the grounds of an exclusive, clifftop resort on the spectacular Bukit Peninsula in south Bali, Grand Cliff Ungasan is an awe-inspiring enclave that boasts of wonderful ocean views, a 20-metre private swimming pool, breezy terraces and balconies, a cinema room, and many more recreational facilities. Guests will not only have all the comforts of their own stunning holiday home but the high-class conveniences of a luxurious boutique resort are also at their disposal.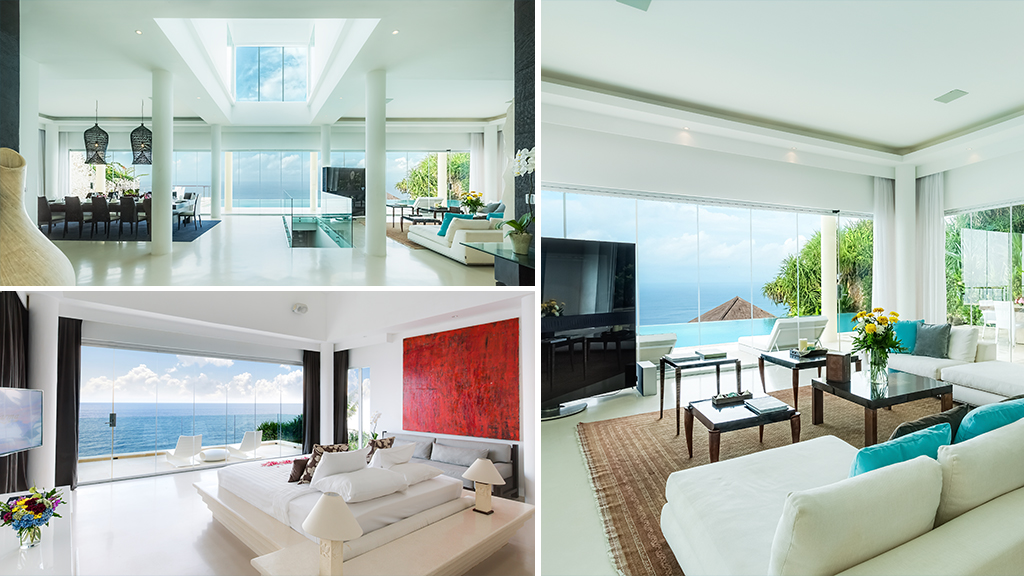 4. The Iman Villa
With its terraced design and state-of-the-art facilities, The Iman Villa contrasts nicely with its surrounding rice fields and emerald palm groves. Finished in gleaming local stone and honey-hued wood, this villa is minimalistic yet infused with tropical warmth, offering countless open spaces and endless views from every room. The white stone buildings are reminiscent of the Mediterranean, while eco-friendly 'green' roofs topped with plants and water features blend in with the natural surrounds. Featuring five luxurious bedrooms, a 21-metre personal pool, sunken poolside lounge, large plasma screens, and Apple TV to name a few, expect only the best of luxury living when staying here.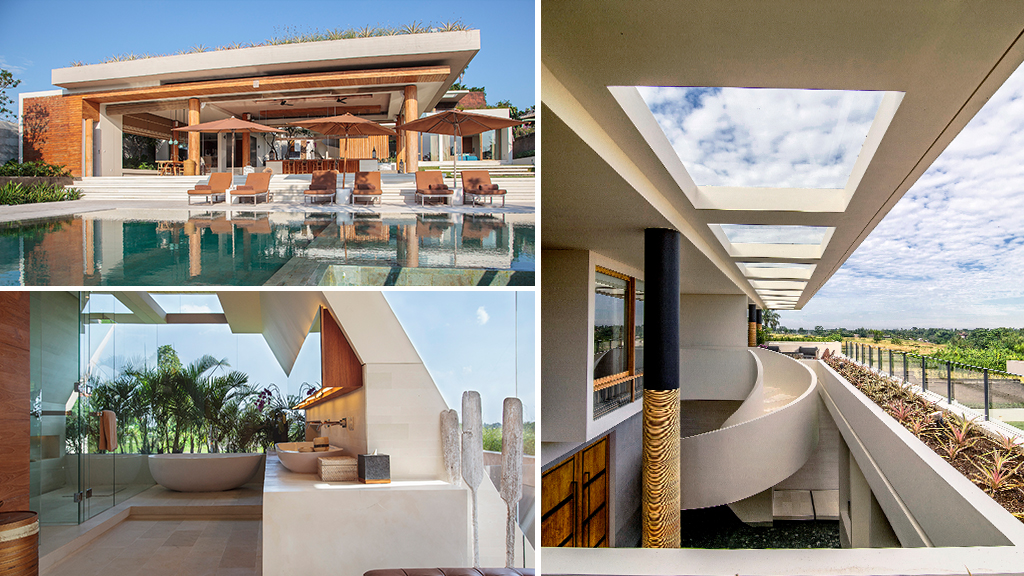 5. Villa Issi
For discerning travellers for whom only the best will do, four-bedroom Villa Issi is like answered prayers. Award-winning Indonesian architect Budi Pradono has created a haven that beautifully combines cutting-edge, contemporary design with laid-back tropical living. This architectural masterpiece is another stunning example of contemporary design sitting prettily amongst an idyllic Balinese setting. Its standout feature is a unique light-filtering 'metal' skin that wraps around the upper floor, providing cooling shade from the sun and an ever-changing ambiance.
6. Villa Kalyani
Great for those who like to party, five-bedroom Villa Kalyani offers a sophisticated respite in trendy Canggu. With vast living spaces, a 22-metre private pool, luxurious king-sized bedrooms and modern amenities such as a media room, playroom and bar, look no further for the perfect place to park yourself as you enjoy the best that Bali has to offer.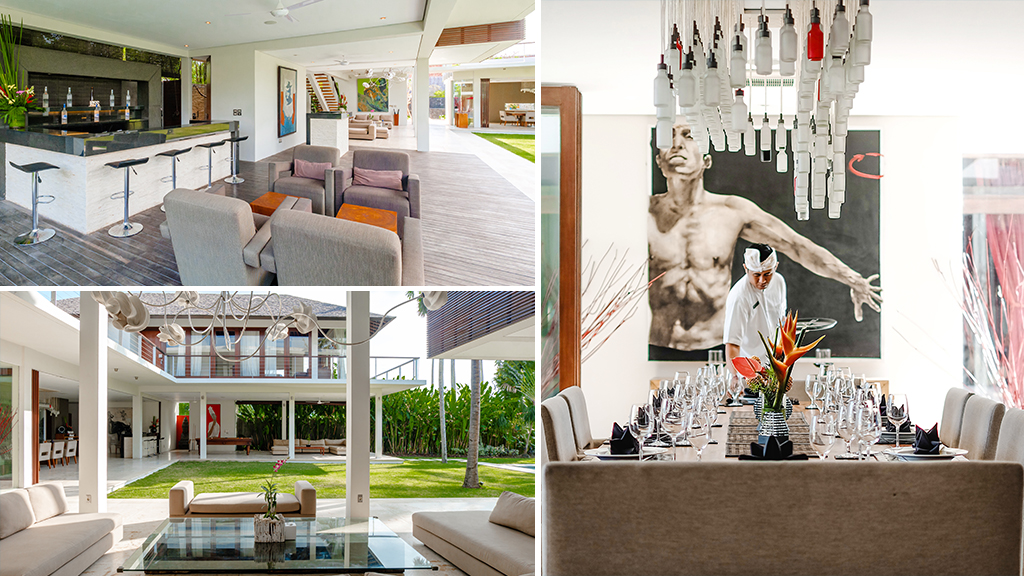 7. The Layar
Nothing spells modern-chic like the individual villas at The Layar. Featuring distinctive pitched roofs that taper dramatically to the ground like the triangular rigging of traditional fishing boats, these roofs create exciting split-level open living spaces with curved and angled walls and contrasting natural finishes that include tropical hardwoods, marble and stone sourced from the Indonesian archipelago. Each villa comes with Instagrammable private pools, gorgeous living spaces and rolling gardens. The innovative architecture combines with superb resort facilities to give you a great stay experience in the middle of chic Seminyak.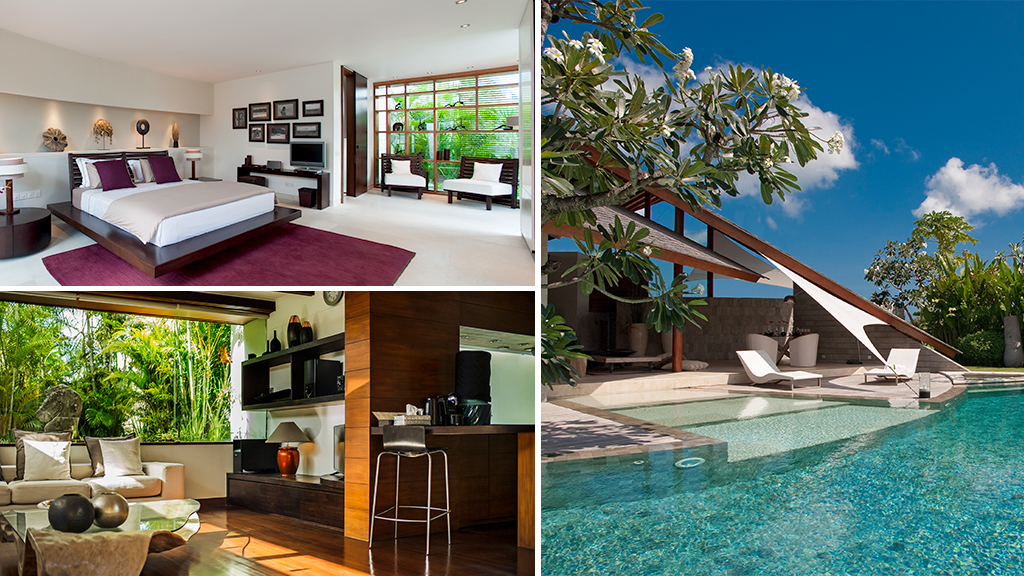 8. Villa Mana
Larger than life, seven-bedroom Villa Mana does nothing half-heartedly. This stunning villa features dark stone walls, contemporary furnishings, enormous rooms with massive tropical bathrooms, towering high ceilings, an infinity-edge pool and open-plan living spaces. The villa makes ample use of local natural materials, with striking walls of rough river stone, woven rattan and tropical woods. Brightly coloured kilim rugs and upholstered sofas littered across the black concrete floors bring boho-chic to the minimalist interiors.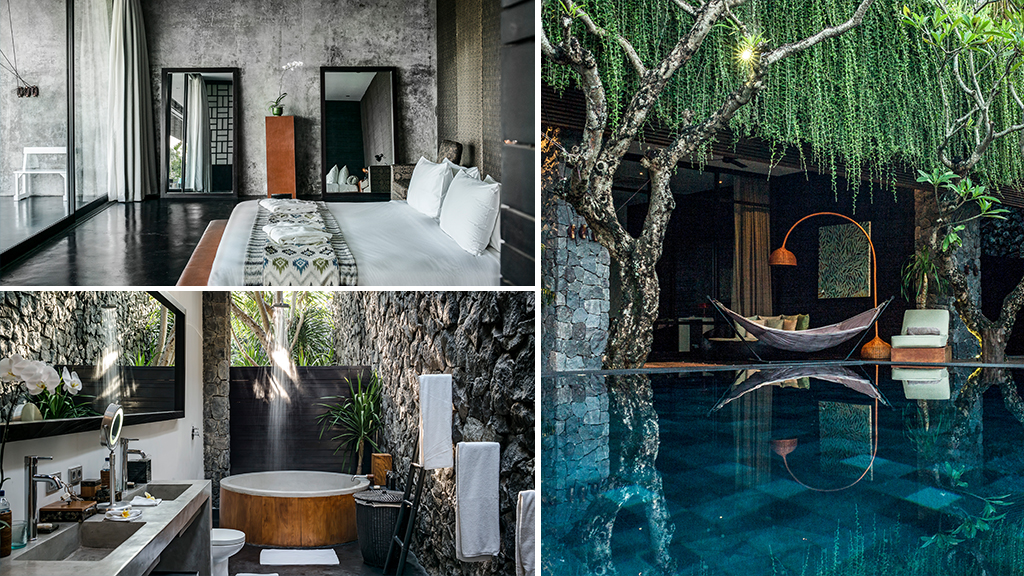 9. Sohamsa Ocean Estate
Perched on a clifftop commanding jaw-dropping views of the ocean, Sohamsa Ocean Estate includes the five-bedroom Villa Soham and four-bedroom Villa Hamsa. Famed Singapore architect Ernesto Bedmar created the stunning contemporary buildings, using Indonesia's abundant natural materials in soaring recycled ironwood pillars, Merbau-wood pavilion roofs, and walls of riverstone and Palimanan stone. Both beautifully appointed villas offer abundant living and dining spaces, generous air-conditioned bedrooms and bathrooms, large infinity pools, and well-equipped gyms and massage rooms.
10. Villa Canggu North and South
These elegant villas are situated merely 100m from the beach in the tiny fishing village of Nelayan. They offer expansive living rooms, floor-to-ceiling glass doors, private pools, stylish design aesthetics, plus a vibrant collection of colourful paintings and sculptures. Two-bedroom Villa Canggu North adjoins the four-bedroom Villa Canggu South, offering you the option to rent either of them individually or both together thanks to high-tech retractable garden walls.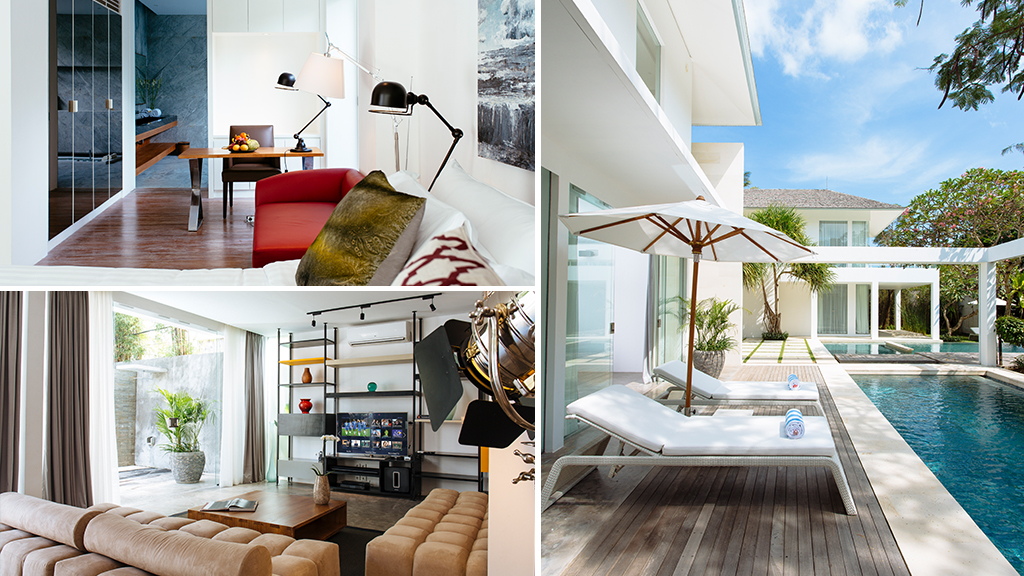 Spark joy in one of our modern villas in Bali and expect only the best that the Island of the Gods has to offer.