On India's west coast, discover Goa, a unique blend of Indian and Portuguese culture. Whether a party hub or a tranquil retreat, Goa has something for everyone. Dive into its vibrant festivals, colourful dances, or delicious cuisine. Explore this diverse region, or simply relax in a spa or at one of its sun-kissed beaches. But Goa is more than just a beach and nightlife destination. It is a place where you can unwind yourself into luxurious bliss. Here's how to uncover the cultural side of Goa.
1. Old Goa
Are you a luxury traveller with a penchant for rich cultural history? If yes, then allow yourself to be transported to the captivating realm of Old Goa. Here, the echoes of a bygone era still resonate within its ancient walls. Quite a few churches and cathedrals form part of Goa's illustrious past, tracing its religious history. As you wander through the streets of this UNESCO World Heritage site, you will find yourself weaving through time, discovering the architectural and historical gems that have stood witness to centuries of captivating narratives.
The majestic Basilica of Bom Jesus is a masterpiece of Baroque architecture. It houses the mortal remains of Saint Francis Xavier, perpetuating his legend through the ages. Continue your reverie at the Se Cathedral. This awe-inspiring edifice with its Portuguese-Manueline façade offers a glimpse into the opulence of the past.
Allow the gentle breeze from the Mandovi River to carry you to the iconic Church of St. Cajetan. Let the Corinthian columns and exquisite frescoes whisk you away to a world of opulence. Standing amidst these glorious structures, you can almost feel the whispers of history caressing your soul. Unearth the stories that lie dormant within these hallowed halls.
Do not forget the charming wonders of Old Goa. The awe-inspiring masterpieces at the Museum of Christian Art at Monte Santo are a big draw. And the ancient artefacts at the Archaeological Museum of Goa, near the Catholic Church of St. Francis of Assisi, will captivate your senses. The best way to discover these places is with a heritage walk.
2. Portuguese Heritage at Goa's Latin Quarter
Not too far away, lies the enchanting allure of Goa's Latin Quarters. Its rich Portuguese heritage is just waiting to charm you. Be captivated by the vibrant colours and inviting streets of this historical gem. Embrace the extraordinary as you stroll through the cobbled pathways, feeling the echoes of a bygone era whispering in your ear.
The beautifully preserved colourful Portuguese-style mansions have an ambiance of a quaint European town. Further down on the street are the famous colourful steps found in many postcards. A great photo spot, sit here and imagine the times gone by. You can also find umpteen upmarket cafes and restaurants around to replenish your energy levels.
3. Carnivals and festivals
Immerse yourself in the local traditions and festivals to get a true flavour of the cultural side of Goa. The famous Pre-Lenten Carnival, a vibrant and joyous event celebrated with fervour, is a must-attend. Join the locals in the parade as they dance exuberantly in colourful costumes, savouring the carefree spirit of Goa. The dates for this the largest Carnival Parade of India change each year depending on Easter.
Christmas is always an amazing time to be in Goa. This is when the state comes alive and there is cheer all around. Attend mass at a nearby church or visit local restaurants donning Christmas colours. Get into the Christmas spirit for a glimpse of cultural Goa.
Imbibe the spiritual essence of the region by partaking in festivals like Diwali and Ganesh Chaturthi. Witness the awe-inspiring spectacle of illuminated temples. Feel the collective energy as the streets come alive with devotion and festivities. Allow yourself to unwind in the warm embrace of the cultural richness of Goa's traditions by participating in these celebrations with an open heart.
4. Feni tasting
Delve into the soul of Goa by exploring the Feni culture. Visit a traditional family-owned distillery like Fazenda Cazulo and learn the art of crafting this distinctive traditional cashew-based spirit. Meet locals who take pride in preserving their heritage through Feni production. Share stories with friendly villagers, gaining insights into their way of life while Feni gives your taste buds a soulful experience.
These unforgettable memories will leave you with a sense of joy that can only be found in authentic experiences. Let cultural Goa enchant you, offering a luxurious experience that transcends time and place.
5. Goa's culinary delights
Goa delights you with culinary wonders which have evolved from centuries of Konkani and Portuguese influence. Indulge in a gastronomic journey like no other, savouring the rich flavours and unique aromas of Goan cuisine.
First and foremost, you cannot miss the iconic Vindaloo. It is a meat-forward dish with a fiery blend of spices and tangy vinegar. Every bite will take you on a delightful rollercoaster, leaving you craving for more. And speaking of seafood, prepare to be enchanted by the Goan fish curry, a true coastal delight that celebrates the bounty of the sea in a burst of tanginess and coconut cream. For those who crave bold and intense flavours, the xacuti or shagoti is a must-try. This complex blend of spices will transport your taste buds to new heights.
Cafe Ritz Bar and Restaurant, located not too far from Fontainhas, is one of the oldest restaurants which serves wholesome and delicious Goan Thali.
Of course, no culinary adventure is complete without indulging in unique desserts. Treat yourself to Bebinca, a decadent lip-smacking layered pudding, a sweet treat made with the finest ingredients that will surely satisfy your sweet tooth.
6. Cooking classes
Explore local markets to find fresh produce. You can also request your villa chef to take you while market shopping. A cooking class can be organised in the villa for your group, should you wish to learn how to cook local delicacies. Recreate the magic of Goa's dishes when you return to your home.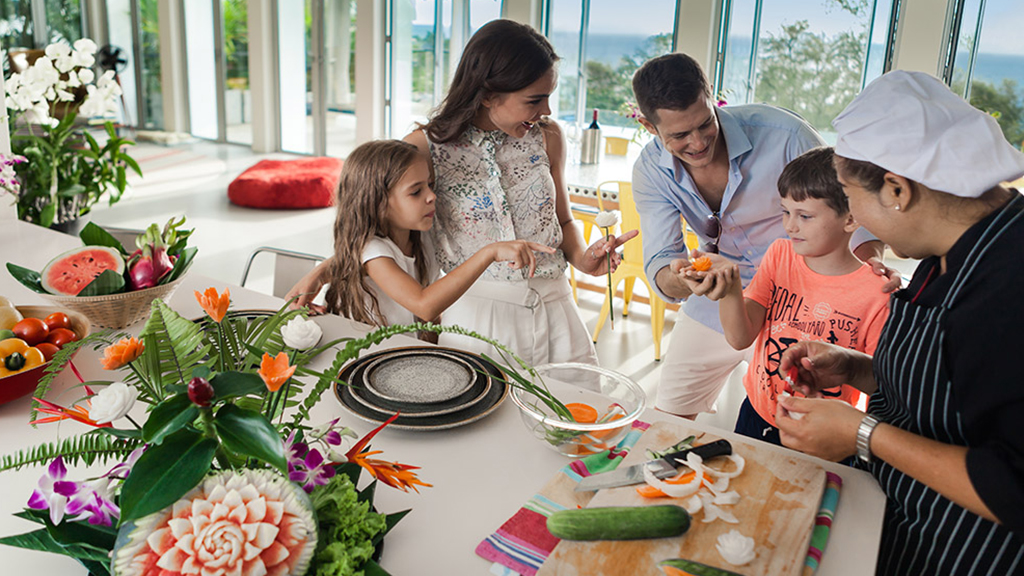 7. Spice plantations
A cultural visit to Goa is incomplete without touring its spice plantations. Experience the true essence of Goa's cuisine. Witness the cultivation of the very spices that lend a magical touch to the dishes you will come to adore. There are many spice farms, where the owners would gladly provide you with a tour. Goan cashew is very famous and most of these spice farms like Dudhsagar Plantations, brew their own Feni and serve authentic Goan cuisine.
8. Shake a leg
Once in Goa, you cannot resist its melodic heartbeat. Goa's cultural fusion of music and dance can be seen everywhere as you walk through its lanes. For Goans, music is as important to their life as oxygen. Let the vivacious spirit of Goan music swing you into a state of pure bliss, for this coastal paradise has a way of captivating your heart and soul. Many restaurants along the coast and most nightclubs have live music belting out the latest chartbusters and retro hits.
Jazz in Goa is a fusion of Western and Indian musical traditions. It is influenced by Portuguese colonial history and Konkani culture. Visit Goa during the Goa International Jazz Festival, which showcases local and international talents.
Find yourself irresistibly drawn to the melodic tunes and traditional Goan dances. The lively and graceful Fugdi and the exuberant Dekhni will beckon you to join in their rhythmic revelry. Embrace the contagious joy of the Goan people, who, with warm smiles and infectious laughter, will make your experience one that you will cherish for a lifetime.
9. Goa's fascinating forts
Forts in Goa stand as a testament to the diversity of cultures that have shaped Goa's history, including Portuguese, Maratha, and British influences.
Embark on an idyllic journey to the sixteenth-century Reis Magos Fort on the narrowest point on the North shore of Mandovi River. Here, you can witness the now-restored fort walls, cannons and other exhibits. This is also home to the works of the famous Goan cartoonist, Mario Miranda.
Another important fort is the well-preserved seventeenth-century Fort Aguada. Fort Aguada is located right at the junction where the Mandovi River drains into the Arabian Sea. It symbolises the region's maritime defence legacy. Enjoy its ancient architecture which offers myriad photo opportunities. Explore its lighthouse, panoramic ocean views, and indulge in water sports on the adjacent beaches. Fort Aguada also housed the largest prison in Goa for centuries. This has now been converted into a museum dedicated to the freedom fighters who were jailed here.
Chapora Fort, a picturesque haven in Vagator, North Goa, is nestled close to Anjuna Beach. This ancient fortress holds historical importance as a former Northern outpost of the Portuguese Colony. You can relish stunning vistas, time travel to its past, and witness captivating sunsets.
As the sun sets over the azure waves of the Arabian Sea, Goa's cultural wonders beckon you to embark on a journey like no other. Beyond the idyllic beaches lies a realm of heritage, music, dance, and flavours waiting to be explored. Pack your bags, dear sapient traveller, and let the cultural odyssey of this haven on the Indian west coast rejuvenate your soul with unforgettable memories. Your personalised cultural escapade awaits; an experience like this is meant to be cherished forever.