The dreamy beaches on the Indonesian island of Lombok are on every visitor's 'Things to Do' list. One of them presents a rare natural phenomenon you need to see for yourself.
Tangsi Beach, better known as Pink Beach is on the island's far south-eastern shore, and it's one of only 10 pink sand beaches in the world. Indonesia boasts two beautiful pink beaches – the other is on Lombok's neighbour island, Flores.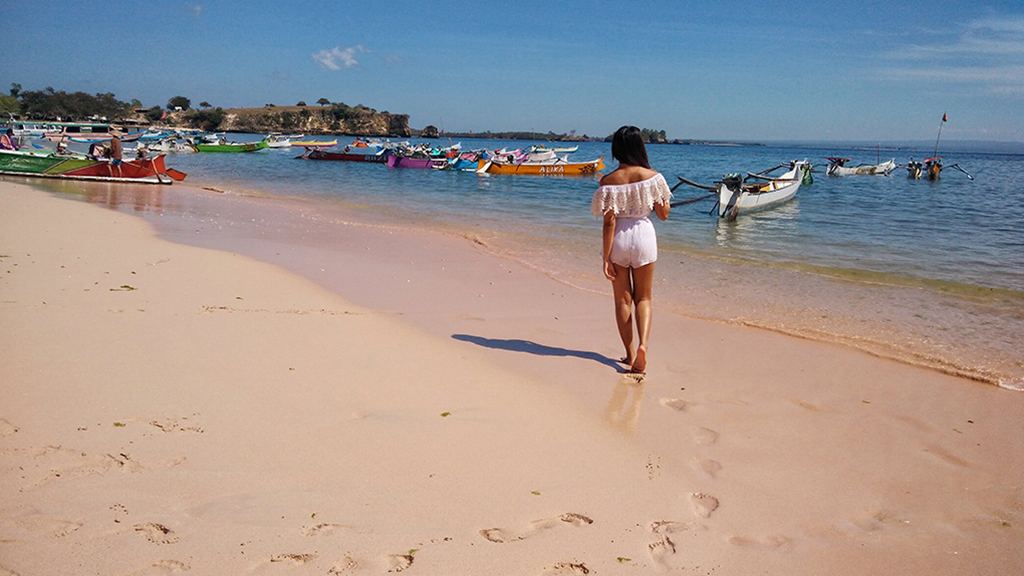 WHAT MAKES THE SAND PINK?
The waves bring millions of dead red coral fragments to the beach, blending them with the white sand and giving it its glorious pink tint.
A hidden gem untouched by mass tourism due to its secluded location, Tangsi Beach is a perfect destination as part of a memorable day out exploring the unique natural beauty of Lombok. And the calm waters of Pink Beach are perfect for swimming.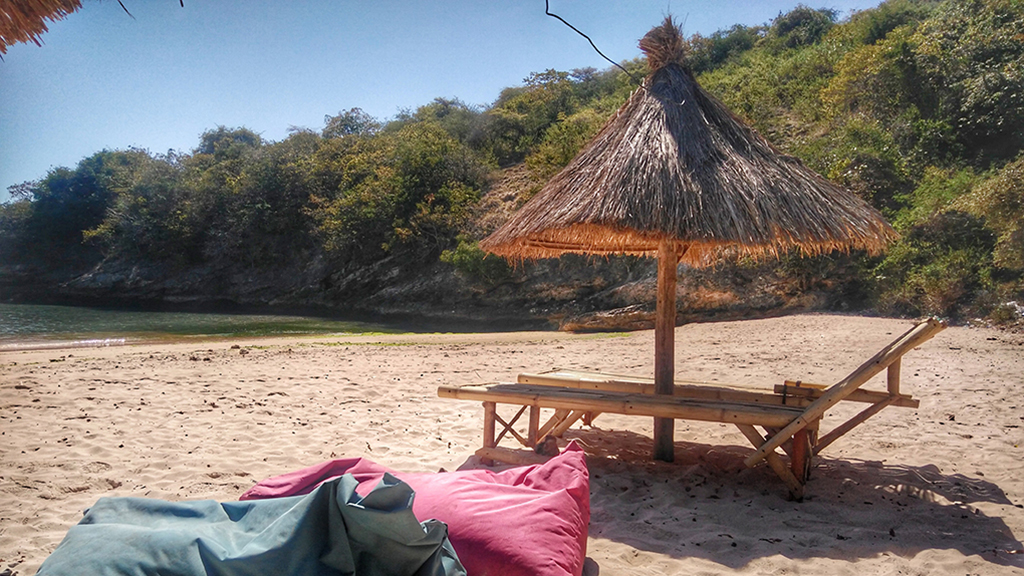 THINGS TO DO AT PINK BEACH
Enjoy the view and the sea breeze in the sun or shade while sipping a coconut. Right on the beachfront are simple sunbeds and loungers with shade umbrellas for day use at a small fee.
Vendors selling bottled water and cold drinks are common, but visitors should always carry drinking water and sun protection for a day trip to the beach.
Cool off in the ocean. Play in the gentle waves. The water here is safe for swimming with friends (however, there are no lifeguards on duty).
For a breathtaking vista from above the beach, take an easy 30-minute hike up the hillside to the shaded berugak (a simple hut with roof and pillars, a traditional chill-out spot).
HOW TO GET TO PINK BEACH
Pink Beach is a 2-hour drive from Mataram city (3 hours from Tanjung). The best way to get there is by private car hire with a driver-guide. Alternatively you can get there by hiring a fishing boat from Tanjung Luar Port. The journey by sea takes around 3 hours, but you will see the wonderful scenery of southern Lombok en route.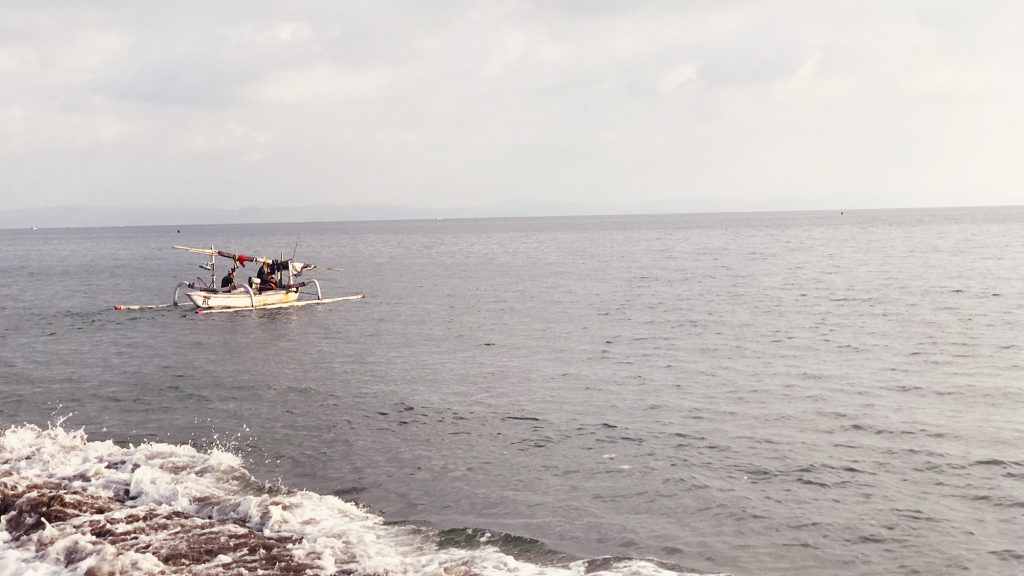 Photo by Baiq Daling on Unsplash
OTHER PUBLIC BEACHES IN LOMBOK
Many of Lombok's beaches have pristine powder-soft white sand or light golden-coloured sand lapped by gentle waves from the dreamy turquoise sea.
The best beaches for day trips are along the southern coastline of Lombok (near Pink Beach, also about 2-hours' drive from Mataram). Make a special trip to each, or plan a Lombok tour for an unforgettable day of beach hopping from one picture-perfect natural environment to the next.
HOW TO FIND THEM
Follow the links to Google Maps of the must-see beaches in south Lombok – all ideal for swimming and surfing:
Pink Beach
Tanjung Aan
Selong Belanak
Mawun Beach
Cemara Beach
HIDDEN BEACHES IN LOMBOK
On the north-western tip of Lombok in Tanjung is the pristine white-sand Sira Beach (Pantai Sire in Indonesian). This stretch of the coastline juts far out into the sea toward the famous Gili Islands, as if making a move to join as a fourth Gili.
No waves for surfing, the calm sea here calls for snorkelling, kayaking and boating. The ocean floor descends gradually here and the crystal-clear shallows of Sira Beach make it one of the safest Lombok beaches for swimming.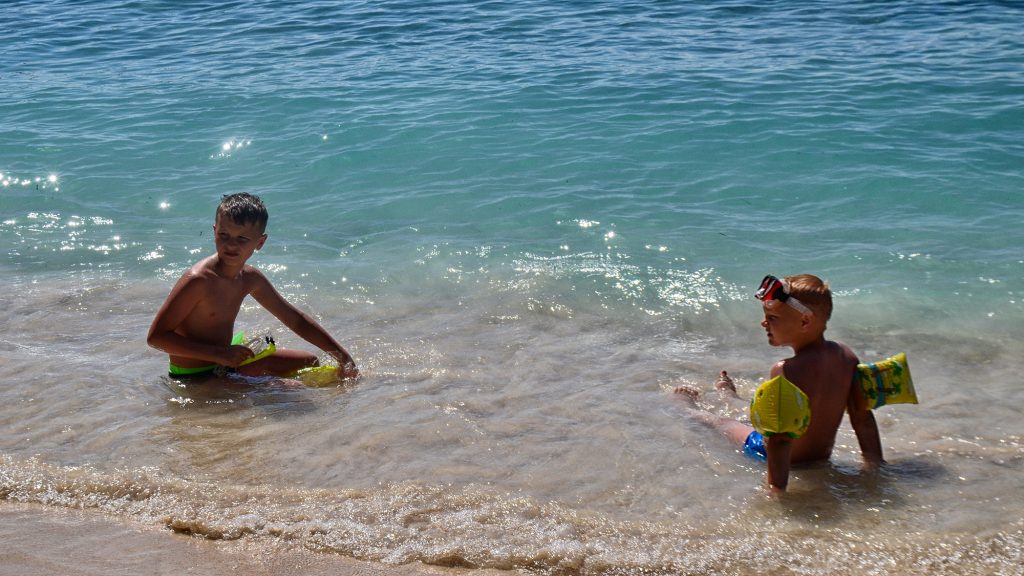 HOW TO GET TO SIRA BEACH
Beach access is limited and near privacy is enjoyed by the guests of the private beachfront villa rentals there.
Transfers from Lombok International Airport or from Teluk Nara harbour (for those coming by high-speed boat from Bali) are provided for villa guests.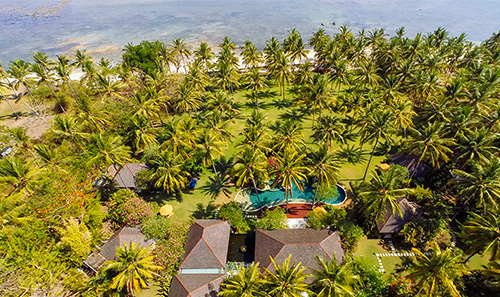 THE ANANDITA
4-bedroom tropical oasis designed by Bali-based Australian architect John Lincoln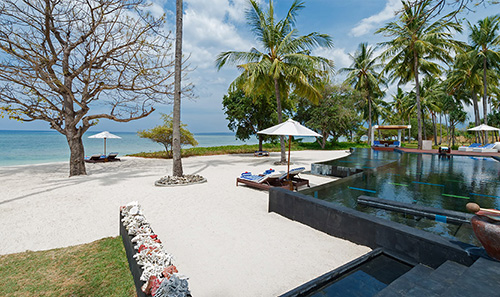 VILLA SAPI
5-bedroom modern beachfront villa designed by Canadian architect David Lombardi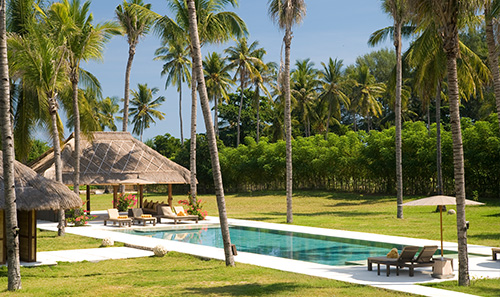 VILLA SEPOI SEPOI
6-bedroom exclusive hideaway designed by British architect Jane Taylor