Dreaming of a tropical holiday to cleanse your mind and body from stress, chemicals and environmental toxins? Thanks to the runaway success of 'Eat Pray Love', everyone associates Bali with yoga retreats, soul-searching and D.I.Y. detox. But what about its more secluded neighbour island Lombok? In many ways, this lush evergreen landscape with its pristine white sand beaches is even better. Crack open a coconut and drink to a healthy holiday paradise found. It's time to embrace Lombok wellness holidays.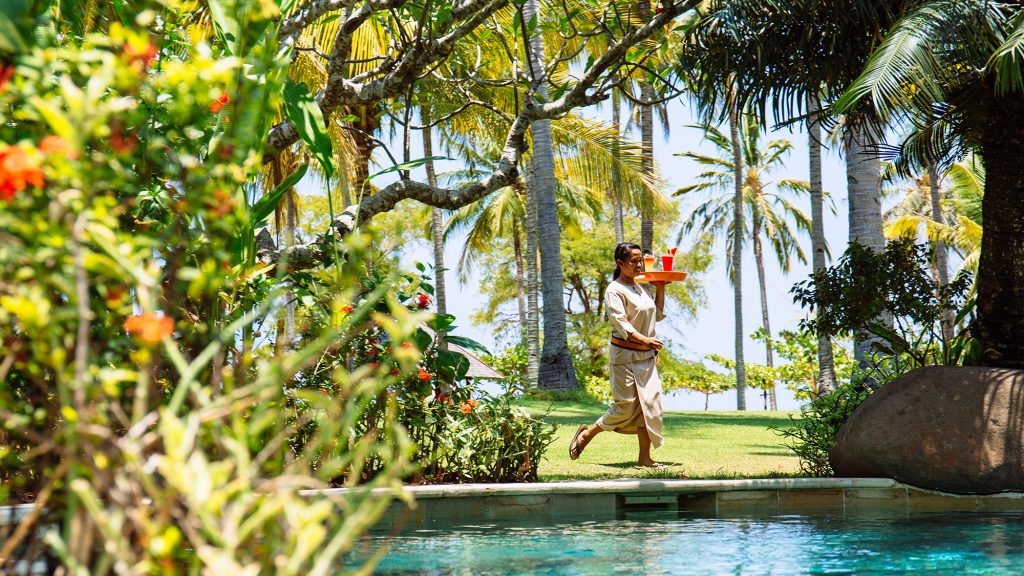 Take a look at these tips for choosing the right accommodation, nutrition programs, fitness activities and spa treatments to create your unique wellness vacation in Lombok.
Located on picture-perfect Sira Beach on the north shore of Lombok, The Anandita has all the elements for a healthy holiday. This private sea-front villa has four luxurious bedroom suites, sprawling grounds, private swimming pool, a deserted white-sand beach and attentive staff at your service.
Healthy Hydration
Hydration is key. Drink a half-litre of water when you wake up and at least three litres throughout the day. The heat and humidity can easily dehydrate you – especially when you're active.
Try Jamu, a traditional Indonesian healing and detoxifying drink used to cure everything from weight gain to flu. All you need is a shot-glass-sized serving. The main ingredient is turmeric, whose powerful healing properties include helping your liver with the detoxifying process. Make a trip to the attractive Tanjung Traditional Market to buy some fresh or powdered turmeric to add to any drink.
Avocado-banana juice is an excellent power boost. The healthy fats in avocado help you to slim down while banana fights against bloating. Remember to order your fresh fruit juice without sugar, as it's normally added.
Sip on a young coconut while watching the sunset. It goes without saying, fruity cocktails are a no-go during detox. Coconut water is a deliciously refreshing drink packed with vitamins and minerals.
Island Nutrition
Good news. You don't have to restrict yourself to a juice-only fast during your Lombok wellness getaway.
As any D.I.Y. detox-er already knows, short-term low-calorie cleanses are not successful programs for detoxification and long-term weight loss, as they can rob your body of vital nutrients and cause you to lose weight through fluid rather than fat loss. A healthy balance of wholesome carbs and fiber is the ticket to losing weight on holiday or any other time. A plant-based diet promotes good health, helps you lose weight and is the most sustainable way to look after our planet.
Sit down with your villa chef to create a grocery list brimming with the fresh organic foods that Lombok has to offer. Then relax and enjoy delicious healthy meals prepared especially for you.

The skilled chef at Malimbu Cliff Villa is on hand to craft exquisite dishes tailored to your palate. Begin your day with a nourishing breakfast of gluten-free oatmeal and a delectable tropical fruit salad. This energy-boosting breakfast provides plenty of fibre, vitamins and minerals while keeping you hydrated. Go for papaya, pineapple, watermelon and banana. For your morning drink, why not try replacing coffee with a cup of green tea.
It's easy to get out and explore Lombok without breaking your healthy holiday diet. Try Nasi Campur (mixed rice) for lunch. Choose wholegrain red rice if possible, and vegetables such as water spinach, cassava leaves, beansprouts and green beans to cleanse your system. Add some fresh sambal (Indobesian chili sauce) to boost your metabolism.
For dinner, must-try healthy Indonesian dishes are Cap Cay (stir fried vegetables), Gado Gado (boiled vegetables with peanut sauce) or Cah Kangkung (stir fried water spinach).
Coco Beach is a lovely beachside restaurant surrounded by coconut trees, located north of Senggigi. Veggies and herbs come from their organic garden, and healthy, medicinal drinks and teas are available. The chef at Villa Sapi prepares three gourmet meals a day and uses the freshest vegetables and fruits, mostly harvested from Villa Sapi's own organic garden or from the local market.
Fitness Activities
Aim for light exercises every day during detox. The Anandita and Sira Beach House offer various activities on the villa's sprawling lawns and beachfront, as well as a good choice of local excursions. Take yoga sessions by the pool or play volleyball on the grass field.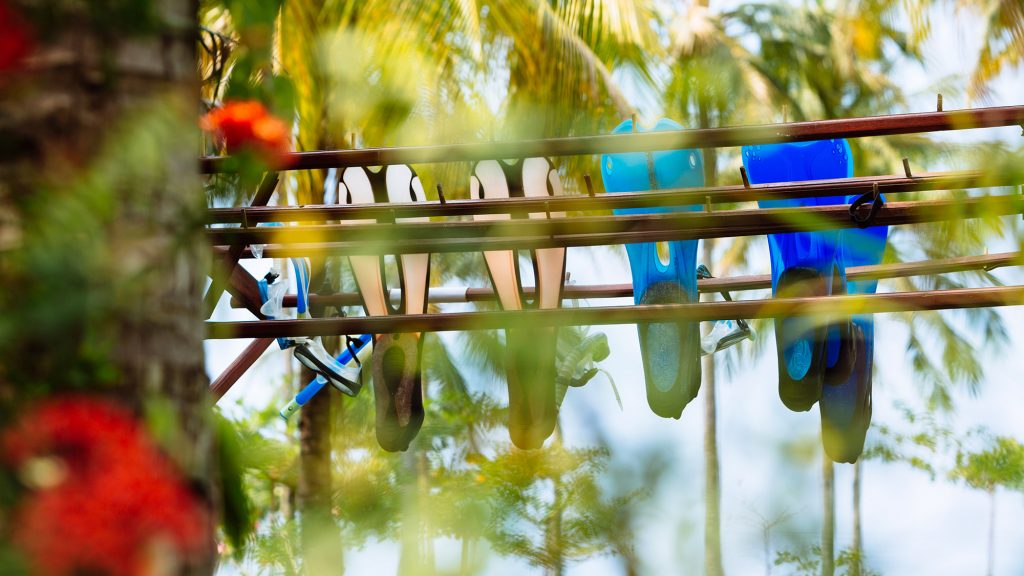 Snorkel the crystal-clear waters of Sira Beach and discover the magical underwater life of the coral reef. The friendly staff at Malimbu Cliff Villa can help you arrange a private boat for a snorkelling trip to the nearby Gili islands.
Tone your arms and core and explore the coastline by kayak. If you're looking to pump up the adrenaline, try waterskiing or wakeboarding. Rent a bicycle to explore the charming scenery or trek to the magnificent Tiu Kelep waterfall.
Whatever activity you choose, protecting your skin from the strong equatorial sunshine is a must. Even with a healthy coating of SPF 100 you'll still get your daily dose of vitamin D.
Spa Treatments
Pamper yourself with reviving and detoxifying wellness treatments, in the privacy of your luxury villa.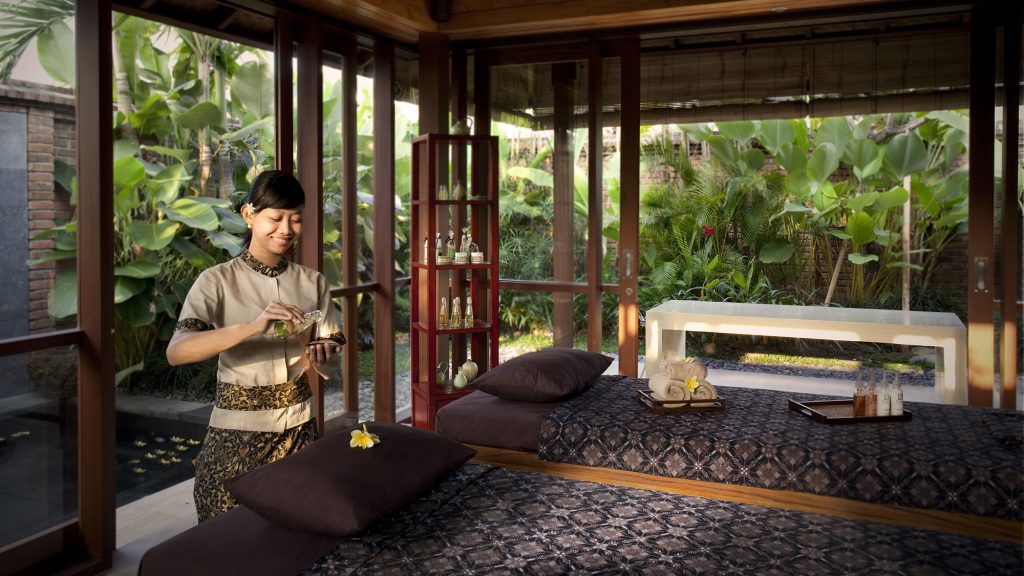 Head to Tugu Spa for "Pijitan" Wangi Bunga Floral Aromatherapy. This massage supports circulation and lymphatic drainage while calming your nervous system and soothing your mind. The tropical floral essential oils promote detoxification and fight against free radicals when inhaled and absorbed through the skin.
Rejuvenate your skin with a Balinese massage and Javanese Lulur. Also known as Lulur Mandi, brides traditionally include this treatment in their wedding preparations for soft, glowing skin. Using only pure, natural ingredients such as rice powder, turmeric and jasmine, this scrub exfoliates your skin from impurities and dead skin cells, improving its tone and texture.
All our properties offer deluxe treatments that are carried out in the privacy of your own villa – perhaps in the poolside balé or on the master suite's private deck – by fully trained therapists from a reputable local spa. Other treatments include foot reflexology, body scrubs, massages, and manicure and pedicures.
So, wait no longer. Escape to Lombok for the barefoot wellness holiday you've been dreaming of. Detoxify your mind, body, and soul in the comfort of one of our elite havens in Lombok, or explore the rest of our villas in Indonesia.