Chef Tanaka San, a former instructor at the famous Tsuji Culinary Institute and TV personality, is well-known for curating meals from fresh local produce. A resident chef of Niseko Gourmet, guests are sure to experience a fantastic gastronomic affair with meals prepared by this celebrated chef. We caught up with him for a short one-on-one.
Elite Havens: Hi, Chef Tanaka San. When and why did you decide to become a chef?
Chef Tanaka San: I was in elementary school when I wanted to be a chef. I used to watch a TV show called "Cooking Heaven" and "Kagurahum Car World Cooking Show". On the show, I admired the beauty of cooking, and the chefs featured from all over the world cooked food and made the TV show entertaining.
Elite Havens: What do you like most about Japanese cuisine?
Chef Tanaka San: The characteristic of Japanese cuisine is about seasonality and delicacy.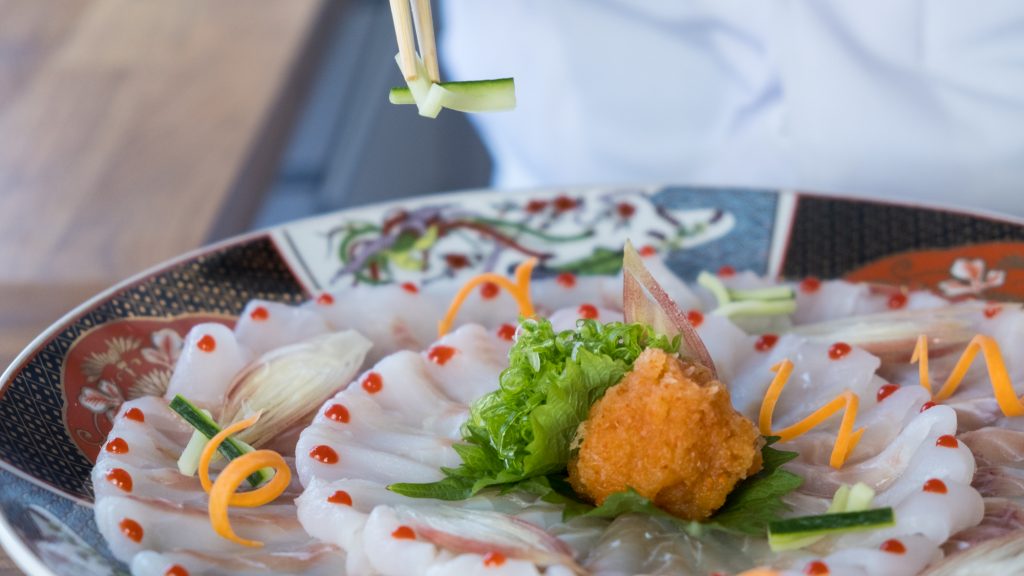 Elite Havens: Have you ever cooked for famous people/guests?
Chef Tanaka San: Yes, when I worked on a cooking TV program. I cooked for celebrities, actresses, entertainers, politicians, athletes and singers. While working with Niseko Gourmet, I cooked for Thai celebrities, Jack Ma, the founder of Alibaba, and the last Emperor of China.
Elite Havens: What is your favourite season to get the fresh ingredients in your menu?
Chef Tanaka San: I like fall, especially autumn to winter. It is minori-no-aki (autumn of harvest season), as plants lose their bitterness, and become sweet and succulent. Fish is also in season during this time.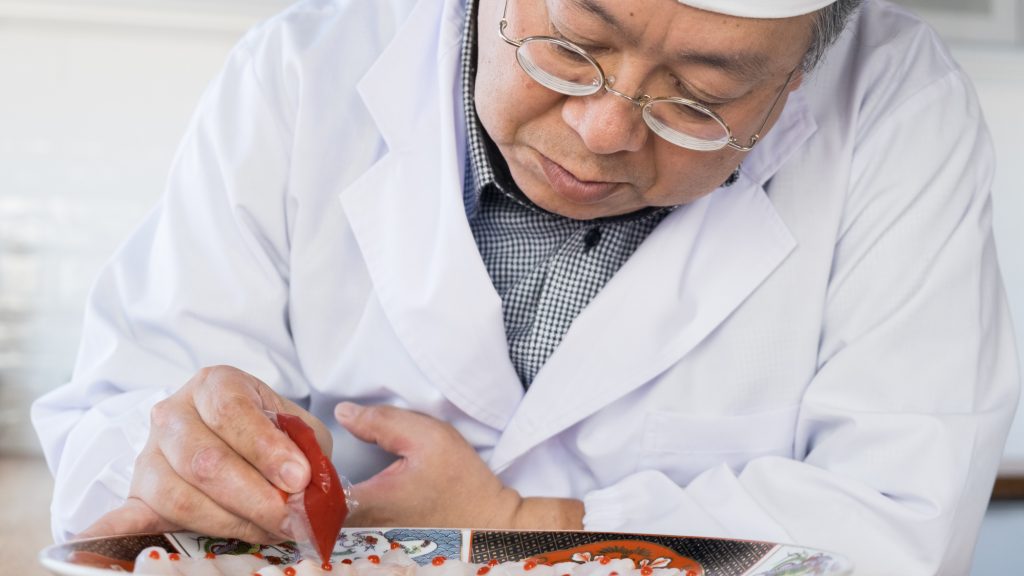 Elite Havens: In winter, where do the ingredients in each menu come from? Are there any imported ingredients?
Chef Tanaka San: Most of the ingredients are from Hokkaido, except the Omar Shrimp (lobster) in our Seafood and Wagyu dinner. That is imported.
Elite Havens: What would be your speciality dish?
Chef Tanaka San: Fish dishes.
Elite Havens: Could you share the recipe with us?
Chef Tanaka San: Of course. The dish is prepared the moment the fish is delivered, which I usually make into sashimi or boil. Here is my Nitsuke recipe. It is a must-try!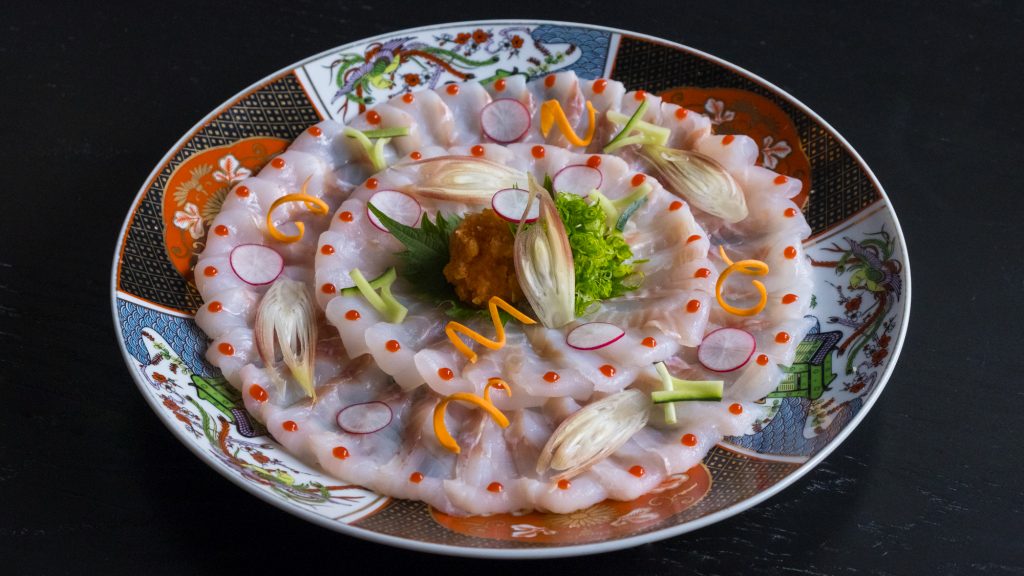 Nitsuke
Ingredients:
2 cups of sake
1 cup of mirin
1/2 cup of sugar
1/2 cup of soy sauce
2 cups of water
1 cup of ice
Kinki fish (Hokkaido Rockfish) or any kind of white fish
Directions:
Remove the scales and organs of the fish then cut relatively deep slits into its surface.
Boil one cup of water in a small pot.
In a bowl add one cup of water with ice in it.
Put the fish in another bowl and pour boiling water on top of it to make it marble. Clean the dirt off the fish, then immediately put the fish in a bowl of cold water. Gently remove any remaining scales or other unwanted materials and debris by using your fingers.
In another pot, combine sake, mirin, sugar, and soy sauce together and bring to a boil (low heat).
Add the fish to the broth, cover with otoshibuta (a drop lid) and simmer in medium heat until the broth is reduced to 1/3.
Remove the otoshibuta, reduce the heat to low, spooning it on the top until the sauce thickens.
Transfer the Kinki to a serving dish.
Elite Havens: Why is this dish special?
Chef Tanaka San: Sashimi is a combination of the freshness of the fish in various cuts and presentations. People can enjoy it with their eyes and with their taste buds. And because of the freshness of the fish, it can be eaten as sashimi. It is even more delicious when cooked over a fire.
Elite Havens: When choosing fish, what do you look for?
Chef Tanaka San: When choosing fish, the essential things to consider are size, freshness, and appearance. The gills should be bright red, the eyes should be crystal-clear, plump, and shiny. It should be firm and slippery but not sticky. The scales should be shiny and firm.
Elite Havens: What are the best knives to use in your line of work?
Chef Tanaka San: As for the best knife, Japanese food is different from other foods, and there are many knives that match various ingredients and dishes, but I like Yanagiba Houcho which is a sashimi knife.
Elite Havens: Who is your inspiration in terms of cooking?
Chef Tanaka San: Mr. Shizuo Tsuji was the most inspirational person for me. He was the founder of Tsuji Culinary School and also had a knack for world-class French cuisine. He had a lot of cooking knowledges, techniques, he knew ingredients and wines like it was the back of his hand. I often joined him for dinner while I worked at Tsuji Culinary School. I used to shave the ice for him during summer as I was the only person who could do this.
Elite Havens: What is your favourite childhood dish? Why?
Chef Tanaka San: My favourite food when I was a child was gratin. It was my mother's recipe and speciality. My mother cooked it religiously every 10 days. Now I am the one making gratin for her.
At the end of this lovely conversation with Chef Tanaka San, we met a dedicated and passionate person who loves the art of curating authentic and fabulous Japanese meals.
Treat your tastebuds to one of Chef Tanaka San's delectable creations via Niseko Gourmet in the comfort and privacy of your own Japan chalet.