Villa Ananda is one of four luxury private villas in the exclusive Jivana Beach Villas estate on Natai Beach, located just 25 minutes north of Phuket International Airport. Set against a lush tropical backdrop, the villa extends languidly over palm-strewn lawns to meet Natai's pristine white sands, boasting 80 metres of absolute beachfront. Arriving at Villa Ananda gives one a remarkable sense of peace and tranquillity. The slow pace of life in this remote coastal region conjures up dreamy days spent relaxing under the sun, paired with romantic evenings bathed in moonbeams. Nestled within groves of tall coconut palms swaying to the sound of the waves, Villa Ananda is a lavish luxury retreat worlds away from its bustling southerly neighbour, Phuket.
Warm Thai hospitality makes a stay at Villa Ananda all the more memorable and relaxing. The knowledgeable on-site villa manager ensures guests' needs are met and all runs smoothly at the villa, while the discreet attendants take care of housekeeping duties and provide service at mealtimes.
One of the great expectations of staying in a luxury private villa is the superb food prepared exclusively for you by skilled in-house chefs – many of whom have trained in internationally renowned restaurants. Villa menus comprise of an extensive range of Asian delights and cater to every guests' tastes, however, every chef has his or her very own 'special' recipe that proudly reflects their culinary expertise. After a little arm twisting, we have managed to prise the standout recipes from a few of our chefs.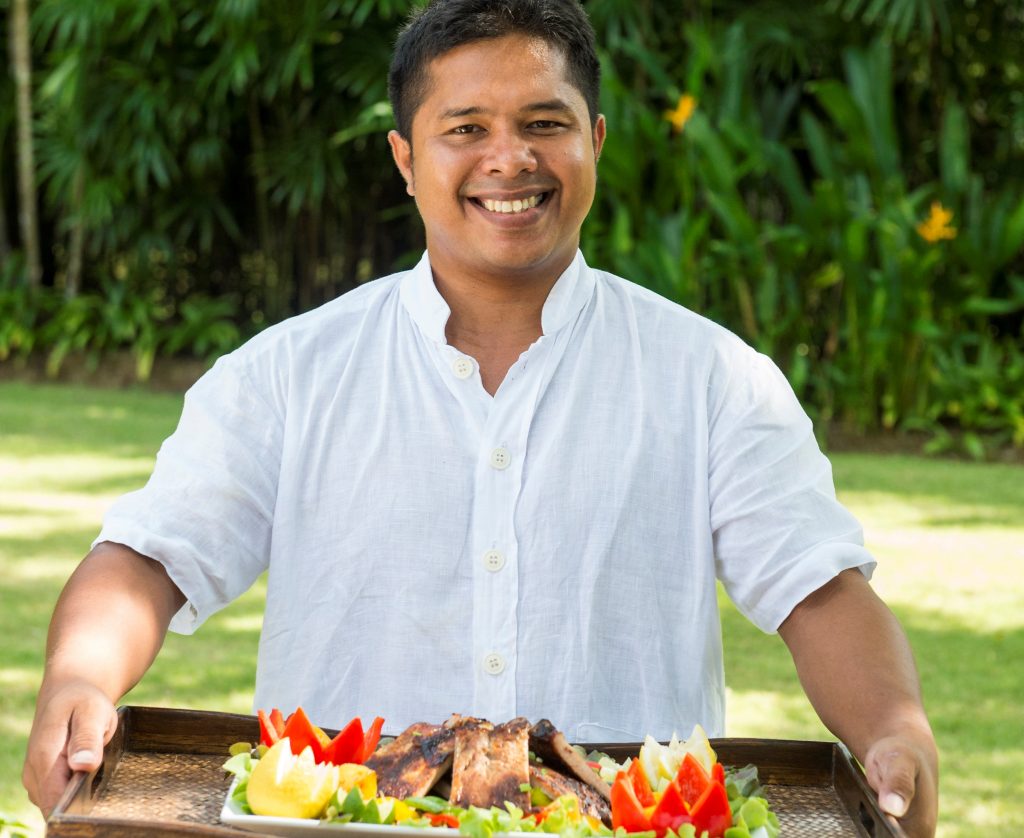 Chef Aoy is the outstanding creator of food at Villa Ananda, (one of the stunning beachfront Jivana Beach Villas on Natai Beach) and has kindly offered her version of the all-time classic – Pad Thai with prawns.
This is equally popular street food as it is on every menu in Thai restaurants, hotels and cafes and is arguably the National Dish of Thailand.
It can be with made with prawns, chicken, crispy pork or just tofu.
Chef Aoy's Prawn Pad Thai
Ingredients:
5 peeled Thai shrimps 1 Tbsp.
chopped garlic 1/2 tbsp.
red pepper flakes 3 tbsp.
vegetable oil 2 tbsp.
fish sauce 1 tbsp.
tamarind juice 1 tbsp.
finely chopped shallot 1 tbsp.
Thai Radish, finely chopped 1 tbsp.
roasted peanuts 50 grams
palm sugar 10 grams
dried shrimps 50 grams
firm tofu, thinly sliced 150 grams
thin noodles, 100 grams
bean sprouts, 20 grams
chives, cut in one-inch lengths
1 egg
1/4 lime
Instructions:
Soak the thin noodles for 5 minutes in water before cooking to soften.
Heat 1 tbsp. of vegetable oil in a pan, fry the garlic and shallot, then add the thin noodles and sprinkle with water until the noodles are soft.
Add fish sauce, palm sugar, red pepper flakes and tamarind juice. Stir quickly to prevent the noodles from sticking together.
Heat another tbsp. of oil and add the Thai radish, tofu, shrimps and dried shrimps. Stir and mix together with the noodles and push to one side of the pan leaving space to heat the remaining 1 tbsp. of oil.
Crack the egg into the pan and spread thinly. Mix in the prepared noodles, add chives and bean sprouts. Transfer to a serving dish and sprinkle with roasted peanuts, squeeze in fresh lime juice, and garnish with the uncooked chives and bean sprouts.