Silky white sand between your toes and an endless choice of stunning beaches lapped by the crystal clear turquoise sea. If this sounds like your idea of a tropical paradise, Phuket is the place for you. Use this handy guide to find the beach that suits your personality best. Once you've picked the best Phuket beach for your holiday, all you have to do is find and book a gorgeous beach haven.
Phuket is home to some of the finest and most celebrated beaches in Asia. Besides popular hotspots such as Patong and Kata, there are also other deserted 'secret' beaches. Some of these are located along the island's scenic western and southern coastline.
How to pick the best Phuket beach?
Make sure you explore Phuket's beaches beyond the main tourist destinations. You won't be disappointed. Phuket is truly a beach lover's paradise. But which beach to choose?
Mai Khao Beach
Let's start in the quieter and less developed part of the island on the west coast, north of the airport. Here, a newish collection of luxury resorts spreads out along a section of the magnificent Mai Khao Beach. Discover a wide, 11km stretch of soft golden sand which runs south from the northern tip of the island.
This wild and wonderful beach is great for swimming during the dry season from November to April. However, during the monsoon season of May to October, big rolling surf pounds the beach with strong undercurrents. Irrespective of the season, this is a place for long and exhilarating or romantic beach walks, surf watching and Phuket's epic sunsets.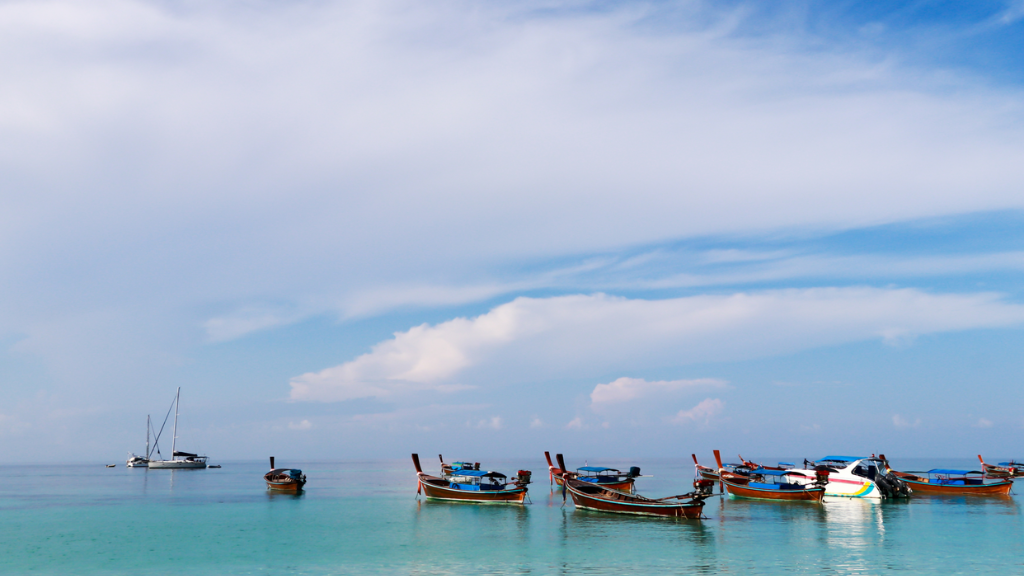 Nai Yang and Nai Thon Beaches
At the southern end of Mai Khao Beach, find Nai Yang Beach. A shaded, shallow, casuarina-lined bay, it is known for kite surfing and a slew of tiny fun bars and restaurants to hang out.
Just around the headland, is the equally peaceful Naithon Beach. This is one of Phuket's best-kept secrets. Imagine a secluded strip of shimmering white sand and swaying palms, perfect for honeymooners and couples. One of our gorgeous villa estates called Malaiwana Estate climbs up the hill overlooking Naithon Beach.
Tucked away between Naithon and Bang Tao Beaches, Banana Beach is one of Phuket's truly hidden treasures, with fine white sand and clear blue waters which are a snorkelers' paradise. It's not easy to find but the adventure is well worth the effort. Quiet but not deserted, you'll find beach chairs and umbrellas for hire and a rustic local restaurant serving delicious, freshly caught seafood beneath the coconut palms.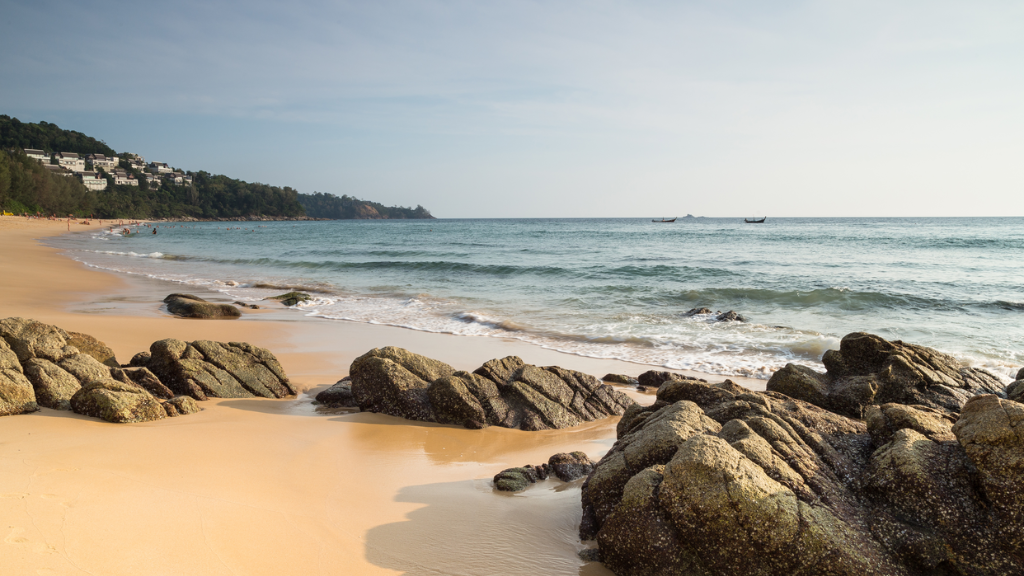 Layan Beach
Heading further south will bring you to Layan Beach – a quiet and secluded cove at the northern end of Phuket's renowned Bang Tao Beach. Layan is popular with locals and expatriate families for its off-the-beaten-track, slower pace. The beach is around 2.5km long and is known for its soft, white sand. Lush green hills surround it and lofty casuarina trees provide plenty of natural shade for family beach picnics and games.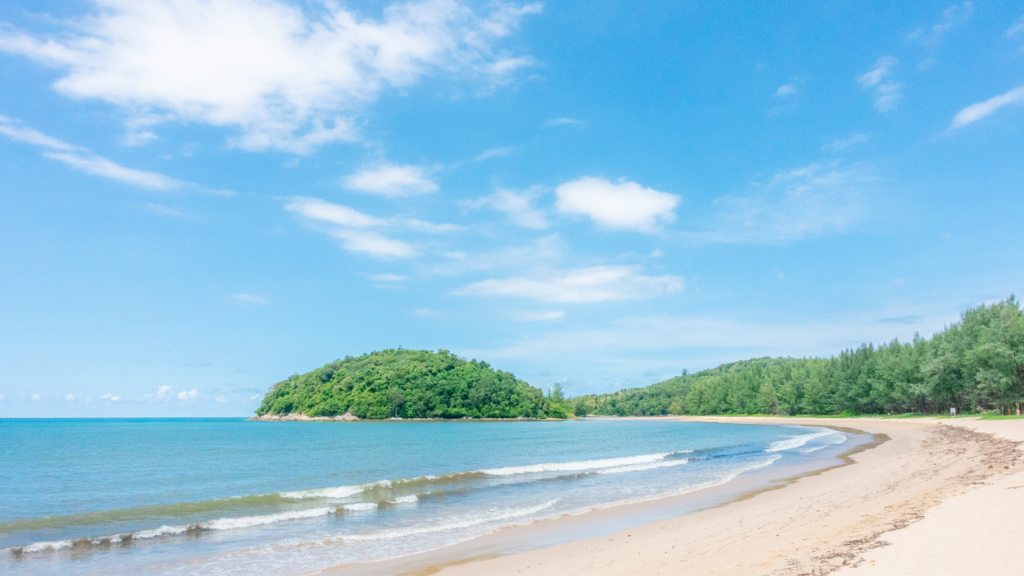 Bang Tao Beach
Just to the south, Bang Tao Beach is a 6km wide, straight stretch of soft sand and clear shimmering sea. Bang Tao is home to the sprawling Phuket Laguna with its manicured estate of luxury private residences, a host of 5-star beach resorts as well as chic beach clubs and restaurants.
Although not as busy as some of Phuket's more popular beaches, there's plenty to do here. Sports such as sailing, kayaking, and kite surfing can be arranged in the area. You can also enjoy eating at rustic local restaurants with your feet in the sand and enjoy a chilled beer at small bamboo bars on the beach. For something more glamorous, head to beach clubs such as Catch. Always a great idea to spend the day at the beach and party at night.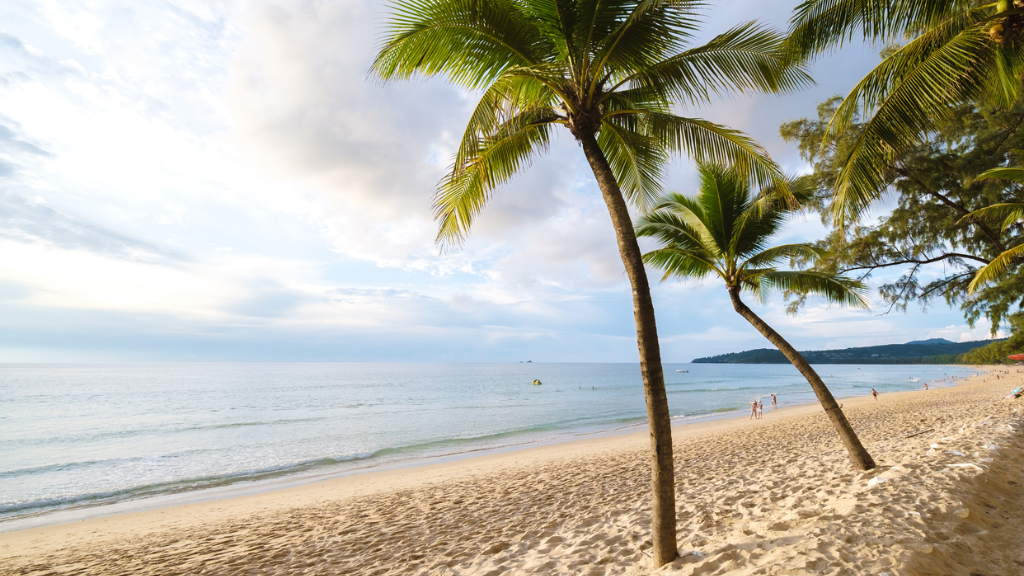 Surin Beach
Around the next headland is the delightful Pansea Beach home to the exclusive Amanpuri resort, and next door, Surin Beach. Once a vibrant playground of popular beach clubs attracting Phuket's social set, it has changed over the past five years. A quieter vibe surrounds Surin with the beach vendors and massage stalls all gone and the beach clubs having moved to Bang Tao and Kamala. It remains a hugely popular, beautiful stretch of beach at the hub of the island's trendy Cherngtalay district.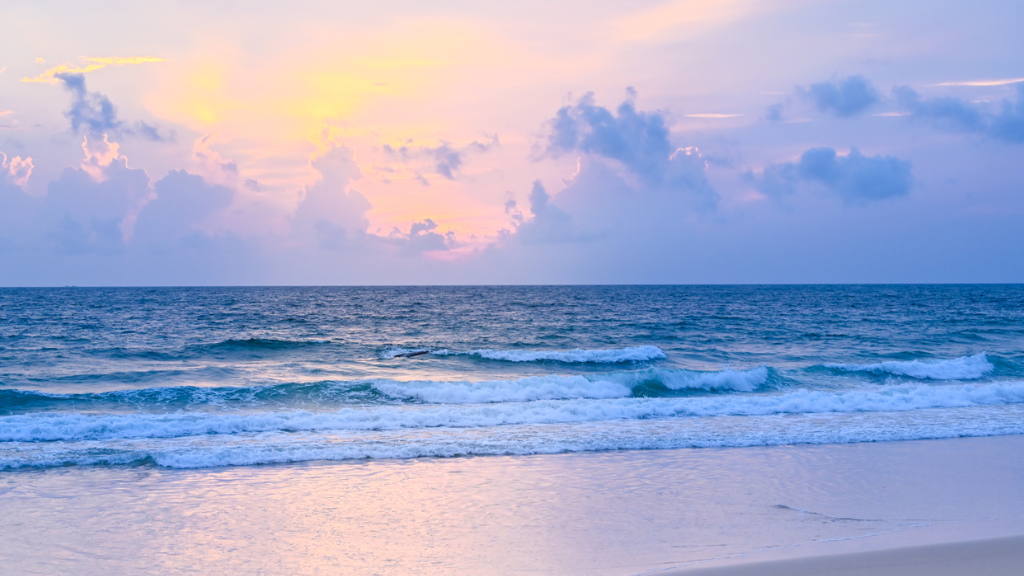 Kamala Beach
Just over a hill lies Kamala Beach, a long arc that is rougher at its southern end with pebbles and receding tides beaching fishing boats. You will find some of the island's coolest beach clubs and nightlife venues near Kamala. The beach here is wide and inviting and swimming conditions are usually safe, making it a popular family beach destination. The absence of loud water sports makes it one of the island's quietest and cleanest beaches.
Further south is the ever-popular Patong, well known for its bright neon lights and colourful nightlife. But it is Patong Beach which is the star of the show. A crescent-shaped bay of fine white sand framed by headlands, it is lined with luxury hotels and residences overlooking this magnificent natural bay. It's one of the island's busiest beaches with plenty of water sports and beach activities, as well as vendors, masseuses and beachside dining spots.
In complete contrast and just minutes away is one of the prettiest beaches in Phuket, the picturesque Freedom Beach. It is accessible only via a 20-minute boat ride from Patong. This scenic 300-metre expanse of dazzling white sand set against a backdrop of jungle-covered hills and brilliant blue sea is the epitome of paradise. Here, it's all about nature, tranquillity and seclusion.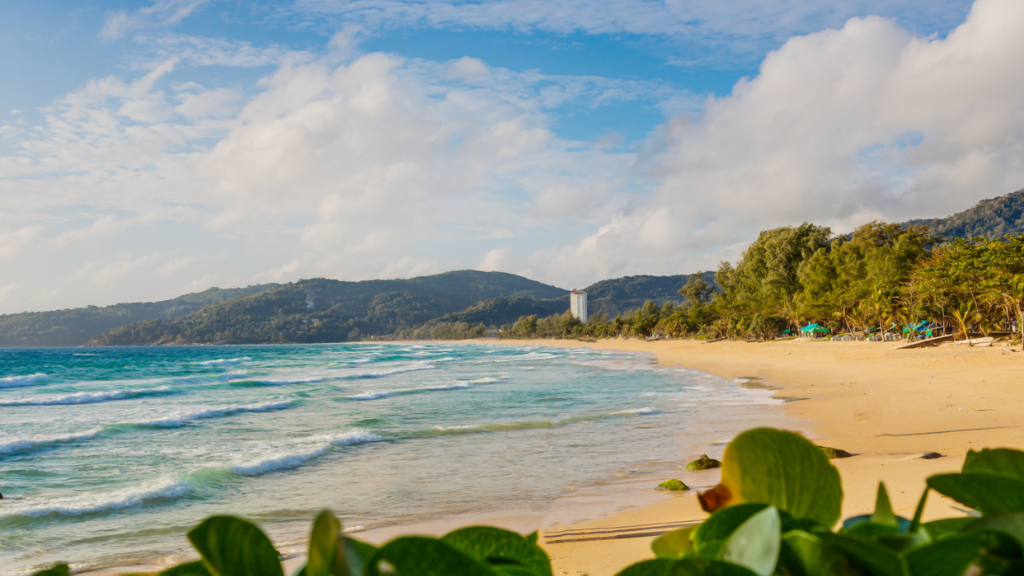 Karon Beach
Just to the south is Karon Beach, the longest in Phuket. This glorious, sun-drenched stretch of soft sand with very little vegetation is quieter than its neighbour Patong. It offers a more laid-back experience, making it ideal for families. Follow the coast road to find the beach lined with small boutiques and cafes. The southern end is the best for snorkelling and from November through to April. The water is crystal clear, calm and great for swimming. However, from May to October, Karon Beach can be unsuitable for swimming.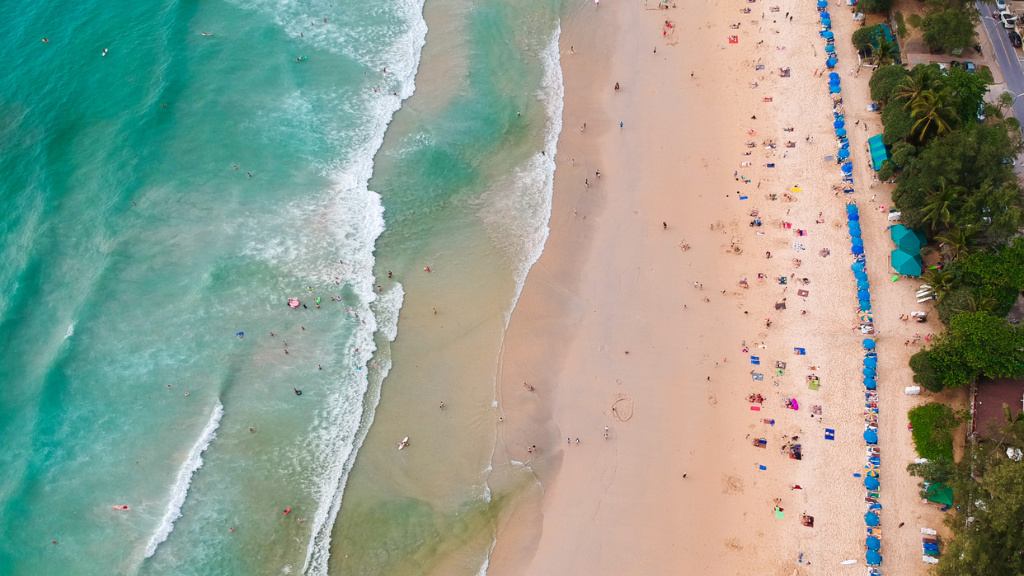 Kata and Kata Noi Beaches
Further south is Kata Beach and its smaller, cosier neighbour Kata Noi Beach. More private and cleaner, Kata Noi Beach is secluded with calm waters and is a favourite for families and couples to relax, snorkel and body surf. Elite Havens offers some beautiful villas near the beach.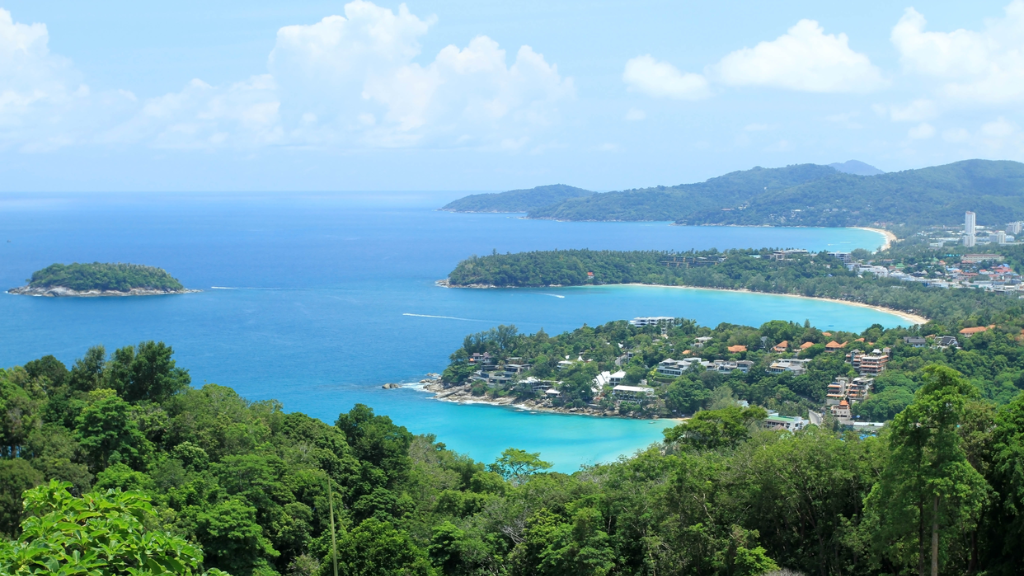 South and East Coast
Phuket's southern (and eastern) coastline is rocky and less appealing for swimming. However, there are several intimate sandy coves here, the most notable of which is Nai Harn Beach. This quiet bay with its soft white sand and calm waters is one of the island's most popular beaches for swimming year-round. It's got a more local, village atmosphere and the vibe is slightly bohemian. You'll even find small stalls selling beachwear and Thai souvenirs and crafts, and rustic local restaurants which serve up inexpensive local cuisine.
As you round the coast, past its southern tip at Promthep Cape, you'll come to Rawai Beach. We love this scenic, shaded and very local spot for a semi-rural feel. Get your camera along to find local fishing boats bobbing at their moorings at high tide, or lurching to one side as the tide goes out exposing Rawai's mudflats and rocks. The atmosphere is laid-back and many local restaurants serving some of the island's best local food attract plenty of visitors day and night.
From Rawai, Phuket's large public beaches peter out as you head back up the rocky east coast.
Which is the best Phuket beach for you?
Phuket's 'Big Five' Beaches are a major draw for families, water-sports enthusiasts, couples and honeymooners. They offer a fantastic choice of activities, a lively atmosphere, chic beach clubs, rustic restaurants and bars. There's something for everyone here.
If you're looking for an activity-filled holiday, pick one of these: Karon Beach | Kata | Bang Tao | Surin | Kamala
However, if you're looking for a quiet and secluded beach to swim and snorkel, Phuket offers twice as many options. Quiet beach holidays are best around: Mai Khao | Natai (on mainland, north of the island) | Naithon
If you want a glimpse of what Phuket used to be like a couple of decades ago, take the time to explore some of its best-kept secrets such as: Kata Noi | Banana Beach | Freedom | Nai Harn | Laem Singh
Whatever beach you may choose, you are sure to find an elite haven perfect for your needs nearby.